BritBox is adding two period dramas to their streaming service this August, for British TV fans watching in North America.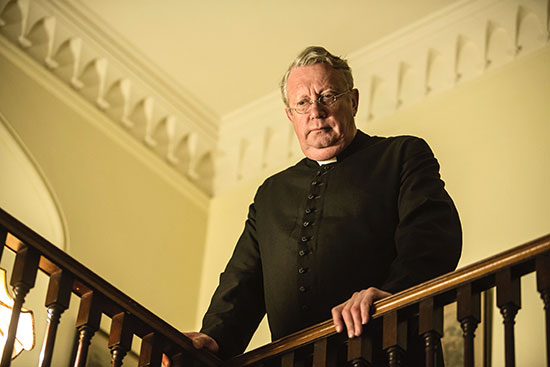 ---
To help keep this site running: Willow and Thatch may receive a commission when you click on any of the links on our site and make a purchase after doing so.
---
The US premiere of Season 7 of BBC's Father Brown is available August 1 on BritBox, with two new episodes every Tuesday. 
Set in the early 1950's, the series, inspired by the books by G. K. Chesterton, centers around the local catholic priest at St. Mary's, who often finds himself in the middle of some of the biggest crimes in and around the quaint English village of Kembleford in the Cotswolds.
---
---
Assisted in his efforts by a motley and not always godly squad of allies and guided by his own playful wit and a razor-sharp intellect, Father Brown solves cases often to the neglect of his less interesting parish duties – much to the dismay of the local police who don't always appreciate his aid.
(By the way, it turns out that "Father Brown" will soon make BritBox its new permanent streaming home, so maybe we were right regarding our hypothesis about only select BBC programs coming off Netflix.)
With the news of the upcoming adaptation of "All Creatures Great and Small," we thought you'd like to know that three seasons of the original BBC series are available on BritBox on August 30th. It's a perfect time to watch the original series, ahead of the release of the new period drama.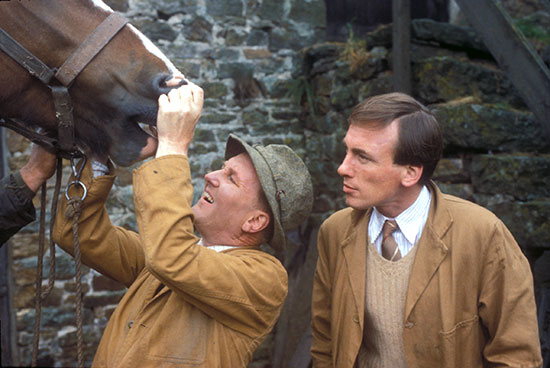 The 1978 BBC series, based the books of the British veterinary surgeon James Herriot, "All Creatures Great and Small" follows the trials and misadventures of the staff of a country veterinary office in 1940's Yorkshire. It stars Christopher Timothy (Eastenders), Robert Hardy (Sense and Sensibility) and Peter Davison (Gentleman Jack).
"All Creatures" had two runs; the first was based directly on Herriot's books and ran from 1978 to 1980 with the three seasons available in August on BritBox. 
BBC's 4-season revival (1988 to 1990), was set beginning in 1949 with the original cast, minus Carol Drinkwater. Two 90-minute Christmas Specials were subsequently made, in 1983 and 1985, set after the war and based on Herriot's 1981 book The Lord God Made Them All. The final broadcast was another Christmas Special, in 1990.
There is no word yet if the specials or seasons 4 through 7 are coming to BritBox, but that shouldn't stop you from watching the first three seasons of "All Creatures Great and Small" now.
And while it's not a period drama, you may be interested in watching "Age Before Beauty" which will have its North American premiere on BritBox on August 27, 2019. Featuring "Grantchester's" Robson Green, and based in Manchester, England, "Age Before Beauty" is a family drama written by "Poldark's" Debbie Horsfield.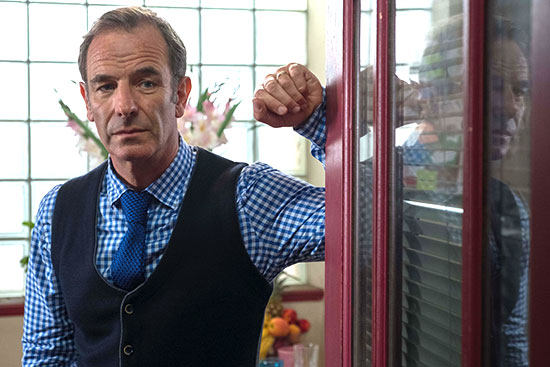 Set in a beauty salon, the series follows a married couple whose lives get more complicated when an old friend returns seeking their help with his troubled business. Starring Robson Green (Grantchester), Polly Walker (Mr. Selfridge) Eugene Collins (Coronation Street) and Sue Johnston (Downton Abbey).
Again, not period, but Agatha Christie fans can enjoy two additional classic films in August on the streamer. Murder Most Foul (1964) is available August 2, 2019. The sole dissenting member of a jury that aims to convict a man of murdering an actress, beloved Agatha Christie character Miss Marple (Margaret Rutherford) joins a theatrical company to investigate the crime on her own. As she gets closer to H. Driffold Cosgood (Ron Moody) and his fellow performers, yet another actor is found dead. Her digging uncovers evil deeds that date back several years, but Miss Marple finds herself in danger as she closes in on the killer.
And "Alphabet Murders" (1965) is available August 9, 2019. Agatha Christie's enigmatic sleuth Hercule Poirot (Tony Randall) trails a killer whose murdering spree appears to be linked to the letters of the alphabet (read about the book in our review of the more recent adaption of the story). This exciting and comedic film also features a cameo from Margaret Rutherford as Christie's other iconic sleuth, Miss Marple.
The BritBox Amazon Channel is available for Prime members online, and on all Amazon Video capable devices and platforms including Amazon Fire TV and tablets.
BritBox is now available for $6.99 per month—after an introductory free trial period—on Roku®, Apple TV 4th Gen, all iOS and Android devices, AirPlay, Chromecast, and online at http://www.britbox.com.
About BritBox: BritBox is a digital video subscription service offering the largest collection of British TV in the U.S. and Canada. Created by two British content powerhouses—BBC Studios, the subsidiary arm of the BBC, and ITV, the UK's biggest commercial broadcaster—the service features iconic favorites, exclusive premieres, and current series and soaps—most available within 24 hours after their UK premier. BritBox also offers expert curation and playlists that enable fans to easily find programs they know and discover new favorite via web, mobile, tablet and connected TV's.
---
If you enjoyed this post, be sure to see The Period Films List,with the best British, historical and costume dramas sorted by era. Also see the news about the new adaptation of "All Creatures Great and Small," coming to PBS Masterpiece.