Pluto TV – free on all your favorite devices – offers a selection of period dramas, and a now has a British TV channel with BBC programs.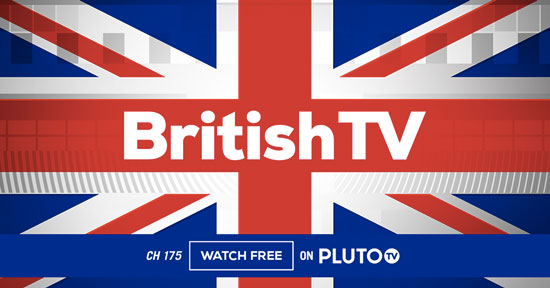 Below, we highlight some of our favorite period dramas, from literary adaptations to romance and mystery, that are currently available on demand on the free streaming service.
New movies and TV series are added all the time to the On Demand section of the service, but titles also leave, so if there's something on our list that you want to watch, don't wait. The British costume dramas and historical movies on our list stream for free, but they do have a few ads. 
---
---
Pluto TV also has Live TV: you'll find British TV in the live section on Channel 175 with "Robin Hood" and other non-period programs you may enjoy, like "Midsomer Murders," and "Frankie." The Pluto TV Movies Channel (CH 54) is currently showing period dramas like "The Portrait of a Lady" and "The Four Feathers." 
Start with the British period dramas on our shortlist below, and then see our suggestions that follow for additional TV series and movies to stream. You can watch movies in both the On Demand and Live TV sections on your desktop, Smart TV, connected TV devices like Roku, and with the Pluto TV App.

Little Dorrit (2008) BBC
This timeless rags to riches story concerns the vacillating fortunes of the Dorrit family. The kind-hearted Amy, the Little Dorrit of the title, looks after her proud father, William who is a long-term inmate of Marshalsea debtors' prison in London.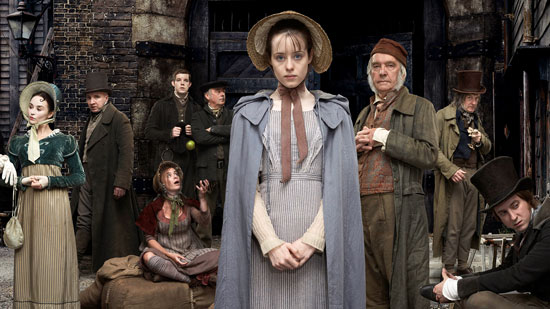 But their fate is transformed by the unexpected arrival from overseas of the benevolent Arthur Clennam, who is determined to solve the mystery of his father's dying words, "Put it right, Arthur." He is sure this phrase is in some way connected to the Dorrits' plight and sets about rectifying the situation – discovering they are sitting on a huge fortune, a fact which thrusts the family into the upper echelons of society.
As the Dorrits meet a variety of characters from rich to poor, a deep bond grows between Arthur and Amy, and a dark villain Rigaud threatens to spill a long-held family secret.
Andrew Davies (Bleak House, Pride and Prejudice) was delighted to be given the chance to get his hands on this perhaps neglected Charles Dickens epic and turn it into a compelling 14-part serial for the BBC. "It's a beautifully constructed novel," Davies enthuses. "There is a huge reversal in the middle where the story is turned on its head in a really convincing way. It's about reversals of fortune and how characters cope with poverty and wealth."
Starring Claire Foy, Matthew Macfadyen, Tom Courtenay, Emma Pierson, Andy Serkis.
Rated TV-PG
---
The Suspicions of Mr. Whicher (2011) BBC
In the early days of criminal investigation, before guilt and innocence were determined by forensic science, there was a detective, " a man of mystery", with an uncanny ability to read the human character and an unswerving instinct for the truth. In Victorian England, justice depended on The Suspicions of Mr Whicher. Based on the books by Kate Summerscale, the 4 episodes are:
Beyond the Pale: Whicher is hired by a powerful political grandee, Sir Edward Shore, to investigate violent threats made against his son, who has recently returned from India with his young family. Whicher's quest for justice, leads him into the most dangerous corners of London's docklands and to the exposure of a terrible crime.
The Murder at Road Hill House: Daybreak, 1860. In an elegant country house, the Kent family wakes to a shocking discovery: overnight an unimaginably horrible murder has taken place in their home. As local police struggle to solve the crime, the case becomes a national scandal. Inspector Jack Whicher, "the Prince of Sleuths", is despatched to restore justice, but at what cost? Adapted from the best-selling book, this is a gripping true story of murder, psychological suspense and courtroom drama.
The Murder in Angel Lane: Disgraced Scotland Yard detective, Jack Whicher saves a respectable country lady from a violent robbery. When he offers to help find her young niece, he is drawn into a disturbing case of murder which brings him up against wealthy and powerful figures and throws him into conflict with his former police colleagues. The investigation leads to a private lunatic asylum where Whicher must confront the darkness of his own demons.
The Ties That Bind: An apparently simple divorce case involving a wealthy landowner and his unhappy young wife spirals into something darker, drawing Whicher into the heart of the English countryside where he uncovers the most disturbing and destructive of secrets.
Starring Paddy Considine, Peter Capaldi, Tom Georgeson, Olivia Colman, James Wilson.
Rated TV-14
---
I Capture the Castle (2003)
A love story set in 1930s England that follows 17-year-old Cassandra Mortmain, and the fortunes of her eccentric family, struggling to survive in a decaying English castle.
Roger Ebert wrote that "I Capture the Castle is the kind of novel dreamy adolescents curl up with on rainy Saturdays, imagining themselves as members of a poor but brilliantly eccentric family living in a decrepit English castle. It's that kind of movie, too, about a sublimely impractical family given to sudden dramatic outbursts. It's a romance ever so much more inspiring for teenage girls than the materialist propaganda they get from Hollywood, teaching them to value genius above accessories"
Cassandra's father is desperate to repeat the spectacular success of his first novel, but hasn't written a word for 12 years; her exquisite sister Rose can only rail against their fate; and their bohemian step-mother Topaz is a nudist, and no help at all. Salvation comes in the form of their American landlord Simon Cotton and his brother Neil. Although initially repelled by Simon, Rose is determined to make him fall in love with her and succeeds.
A wedding is arranged and Cassandra is left on the sidelines as everyone around her is drawn into a maelstrom of interconnected relationships. But events spiral out of control, and before the summer ends she will experience frustrated desire, first love, and a broken heart.
Starring Romola Garai, Rose Byrne, Bill Nighy.
Rated R for brief nudity during a swim in the castle moat.
---
Ladies In Lavender (2004)
Aging spinster sisters Ursula and Janet discover a young man near death on the beach by their home in a small Cornish fishing village. Taking him in, they discover that he is Andrea, a violinist from Krakow.
New York Times writes "Ladies in Lavender offers the opportunity to watch two beloved dames of the British Empire rattle around a house in Cornwall, exchanging snippets of subtext-heavy dialogue in the breaks between picking flowers, knitting and listening to the radio. The year is 1936, and through the static we discern that across the English Channel, world war is a-brewing."
Starring Dame Judi Dench, Dame Maggie Smith, Natascha McElhone, Miriam Margolyes, David Warner, Daniel Brühl.
Rated PG-13
---
Murder on the Orient Express (1974)
In December 1935, having concluded a case, detective Hercule Poirot settles into what he expects will be a relaxing journey home aboard the Orient Express. But when an unpopular billionaire is murdered en route, Poirot takes up the case, and everyone on board the famous train is a suspect. Using an avalanche blocking the tracks to his advantage, Poirot gradually realizes that many of the passengers have revenge as a motive, and he begins to home in on the culprit.
The British-American mystery film is based on the 1934 novel of the same name by Agatha Christie. Read more about the different adaptations of the classic here.
"A splendidly entertaining movie of the sort that isn't made anymore: It's a classical whodunit, with all the clues planted and all of them visible, and it's peopled with a large and expensive collection of stars. Albert Finney, who plays Poirot, is the most impressive, largely because we can never for a moment that he is Finney. The performance is brilliant, and it's high comedy." – Roger Ebert
Starring Albert Finney, Lauren Bacall, Ingrid Bergman, Jacqueline Bisset, Sean Connery.
Rated PG
---
---
More Period Dramas on Pluto TV
As of July 2019, the following British or Brit-themed period dramas are also available for free On Demand on Pluto TV – some of these are in the British TV area, others are peppered throughout the service: Sherlock Holmes (2010), Bram Stoker's Dracula (1992), The Elephant Man (1980), The Other Boleyn Girl (2008), Much Ado About Nothing (1993), Young Sherlock Holmes (1985), Richard III (1995), Basil (1998), and A Child's Christmas in Wales (1987). The BBC's mini-series Anna Karenina (1997) and the UK-made Les Misérables (1998) are also available to stream.
Also look for Hugo, Where the Red Fern Grows, and Tom Sawyer And Huckleberry Finn in the Family section. You'll find Evelyn, Dances With Wolves, Places in the Heart, Yentl, Marie Antoinette, Finding Altamira, School Ties, Love Field, Goya's Ghosts, Chaplin, Bugsy, Of Mice and Men, and Legends of the Fall in the Drama section. The The Jane Austen Book Club is there too.
Renoir, The Whole Wide World, and Hysteria are in the Romance section. Perfume: The Story of a Murderer is in the Thrillers section. The Keeping Room is in the Indies section. Amistad, and Paper Moon are in the Award Winners section. Nothing Too Good for a Cowboy is a 1940s-set romantic comedy, in the Westerns section. War Flowers, 17 Miracles, and Ephraim's Rescue are there too.
The Australian mini-series Gallipoli (2015) starring Kodi Smit-McPhee, Harry Greenwood, and Sam Parsonson, is also available.
---
Pluto TV is the leading free streaming television service in America, delivering 100+ live and original channels and thousands of on-demand movies in partnership with major TV networks, movie studios, publishers, and digital media companies. The service also offers single-series Pop-Up channels for Classic Doctor Who and Antiques Roadshow. Pluto TV is a top free app and available on all mobile, web and connected TV streaming devices.
---
If you enjoyed this post, you'll want to wander over to The Period Films List. Also see our article about BBC Period Dramas on Hoopla.