Last Updated on April 14, 2021
We've gathered up some Christmas period dramas airing on television, and streaming on your favorite channels, this season in the US.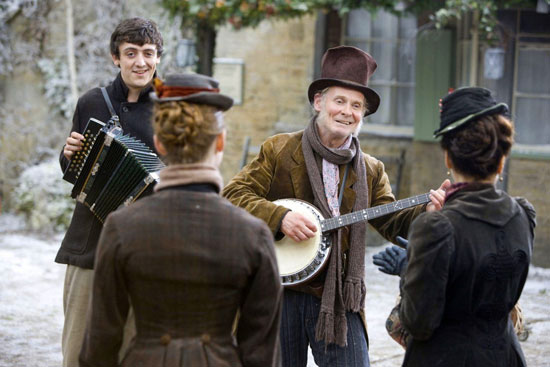 Whether you are looking for something traditional and classic, with a touch of romance or humor, or want to watch a movie you've never seen, there's no shortage of festive period films for the days before Christmas – and after.
We are also including some programs that aren't period dramas but are sure to bring Christmas cheer, that we think you may also like (look for YMAL). There's even a whole Christmas section below dedicated to movies you can watch for free.
Most of the Acorn TV and BritBox shows listed below are also available to rent as single episodes without a subscription; the "add to your watchlist" links will take you to the page where you can choose to do that. 
---
To help keep this site running: Willow and Thatch may receive a commission when you click on any of the links on our site and make a purchase after doing so.
---
 When you are done here, be sure to visit our Best Period Dramas: Christmas Classics List for additional titles. Merry Christmas!
---
---
On PBS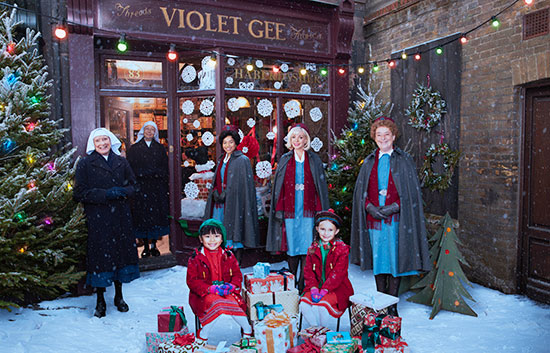 "Call the Midwife" returns to PBS on Christmas day with its 2020 Holiday Special, where everyone at Nonnatus House is looking forward to a traditional holiday. Premieres on PBS December 25, 9:00-10:30pm ET. Read more about it.
Join Lucy Worsley on a 12-day extravaganza in "Lucy Worsley's 12 Days of Tudor Christmas" as she discovers that much of what we enjoy in contemporary Christmas — from carols to turkey, gift-giving to mistletoe and mulled wine — has surprising Tudor origins, rooted in devotion and charity. Airs December 27, 10:00-11:00 p.m. ET Read more about it. 
YMAL: "Christmas With The Tabernacle Choir," the 2020 concert airs at 9PM on December 24, and is streaming for free until 1/11/21: Tony Award®–winning star Kelli O'Hara and renowned actor Richard Thomas (The Waltons) join The Tabernacle Choir, Orchestra at Temple Square, and Bells at Temple Square to create an unforgettable night of celebration. Filmed in 2019, it's a visual and musical spectacle with vocalists, instrumentalists, bell ringers, dancers, the Gabriel Trumpet Ensemble, and the Cold Creek bluegrass band. That's here.
YMAL: In collaboration with the Ella Fitzgerald Foundation, the American Pops Orchestra presents an evening celebrating the entire iconic album of holiday classics. This 60-minute performance stars host and vocalist Vanessa Williams with appearances by Dee Dee Bridgewater, Norm Lewis, Carmen Ruby Floyd, Nova Payton, Dave Detwiler and Morgan James. "Ella Wishes You a Swinging Christmas" airs December 25, 10:30-11:30 p.m. ET
YMAL: "All is Calm: The Christmas Truce of 1914" is also streaming for free until 12/31/20: The Western Front, Christmas, 1914. Out of the violence a silence, then a song. A German soldier steps into No Man's Land singing "Stille Nacht." Thus begins an extraordinary night of camaraderie, music, peace. A remarkable true story, told in the words and songs of the men who lived it. That's here. 
On Netflix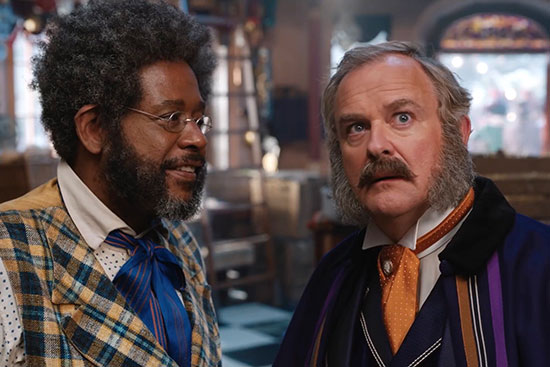 "Jingle Jangle: A Christmas Journey" is the closest thing you'll get this year on Netflix to a new period drama, but it's really more of a family fantasy musical. Decades after his trusted apprentice betrayed him, a once-joyful toymaker finds new hope when his kind and curious granddaughter comes into his life. Starring Forest Whitaker, Keegan-Michael Key, and Hugh Bonneville. 
It's not about Christmas, but Netflix's big Christmas day release is "Bridgerton." Romance and scandal unfold against the backdrop of the lavish, sexy and competitive world of London high society in 1813. Read more about it. 
"Angela's Christmas" is set in Limerick, Ireland, in 1914. A trip to church with her family on Christmas Eve gives young Angela an extraordinary idea. Based on Angela and the Baby Jesus, the only children's book written by Angela's Ashes author Frank McCourt. It's lovely for families, but is probably not for children under the age of 6, despite it being animated.
This year's follow up to "Angela's Christmas" is "Angela's Christmas Wish." With her father working far away in Australia, a determined Angela makes a plan — and a heartfelt wish — to reunite her family in time for the holidays.
In the Season 4, 2016 Christmas special "When Calls the Heart Christmas," an intriguing peddler comes to Hope Valley selling the townspeople his wares and teaching them valuable lessons about joy and giving. When the townspeople realize that the recently displaced settlers in the area will not have a proper Christmas, they come together to create a special holiday celebration — including a Nativity presentation from the schoolchildren — that will infuse everyone with the true spirit of Christmas.
Again, from "When Calls the Heart," Season 5's "The Christmas Wishing Tree" (2017) sees Hope Valley buzzing from the introduction of the Wishing Tree, with all the townspeople eagerly placing their wishes on its branches in the hopes they will be granted. 
Watch it again: the Season 8 2018 and Season 9 2019 "Call the Midwife" Christmas specials are on Netflix. 
YMAL: "The Knight Before Christmas" is a contemporary rom-com about a woman who had given up on love, when a man from the past — a knight in shining armor — shows up in the present day. 
YMAL: For something classic set in the past, Netflix has "White Christmas," filled with song and dance and laughs, and romance. Starring Bing Crosby and Danny Kaye as the war buddies who fall in love with two sisters.
YMAL: Let someone else do the cooking, with "The Great British Baking Show: Holidays" (Season 3). 
Included with Prime Video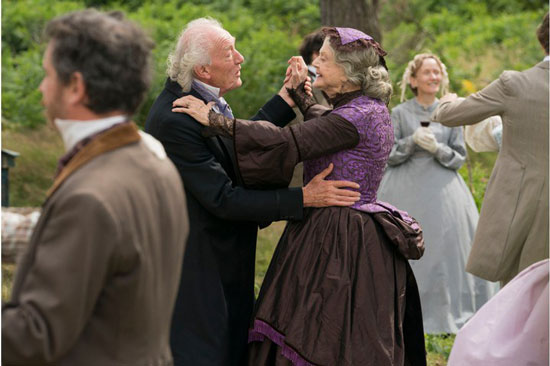 We love the 2005 BBC period drama "Under the Greenwood Tree." A wealthy man, a penniless musician (James Murray) and a cleric vie for the affections of a beautiful schoolteacher (Keeley Hawes). It's not exactly a Chrismas movie, but it's heartwarming, so well done, and very Christmasy! Add to your WATCHLIST
"Dickensian" isn't always cheery but it's always Dickens, for anyone who thinks Christmas and Dickens make a good match. A bold reinvention of Charles Dickens' timeless novels, the BBC's "Dickensian" takes familiar characters on new journeys as their stories intersect in the same world. Discover the events that lead up to Miss Havisham's wedding day (Great Expectations), the true sacrifices made by a young Lady Dedlock (Bleak House), what happens to ruthless moneylender Jacob Marley (A Christmas Carol), and more. Packed with romance, scandal and intrigue, "Dickensian" delivers a ride of twists and turns to the final episode. Add to your WATCHLIST
The 2017 PBS Masterpiece "Little Women" mini-series is available to stream and included with your Prime Video membership. Based on the novel by Louisa May Alcott, it is the story of sisters Meg, Jo, Beth, and Amy, as they navigate what it means to be a young woman: from gender roles to sibling rivalry, first love, loss, and marriage. Add to your WATCHLIST
In the 1950 movie "Little Women: Meg's Story," it's Christmastime and with their father fighting in the Civil War, sisters Jo, Meg, Amy and Beth are at home with their mother, a very outspoken women for her time. The story tells of how the sisters grow up, find love and find their place in the world. Add to your WATCHLIST.
If you are up for starting a new series, you'll find a Christmas episode in each of the two seasons of "Little Men." Set in rural Massachusetts, the series chronicles the heroic struggles of Jo Bhaer as she attempts to manage Plumfield, a boarding school for boys, after the tragic death of her husband Fritz. Based upon Louisa May Alcott's classic sequel to "Little Women." In Season 1, the episode is "The Christmas Angel," and in season 2 look for the finale "Home for Christmas."Add to your WATCHLIST
The 2017 "Victoria" Christmas special (Season 2, episode 9) is available to stream and included with your Prime Video membership. Victoria and Albert have very different expectations for a family Christmas, and the arrival of a young African orphan at the Palace puts them at loggerheads. After a terrifying accident calls the couple's priorities into question, Victoria and Albert finally realize that they must leave behind the pain of their upbringings if they are to give their own children the Christmas that they never had. Add to your WATCHLIST
From bestselling author, Max Lucado, "The Christmas Candle" is heartwarming. Legend has it every 25 years an angel touches a single candle, and whomever lights this candle receives a miracle on Christmas Eve. But in 1890, at the dawn of the electric age, this centuries old legend may come to an end when a progressive young minister arrives. Now, the fiery candlemaker must fight to preserve the legacy of the Christmas Candle. Add to your WATCHLIST (Also available for free to all, see below.)
"It's A Wonderful Life" is a classic film, but also is period-set. After George Bailey wishes he had never been born, an angel is sent to earth to make George's wish come true. George starts to realize how many lives he has changed and impacted, and how they would be different if he was never there. Add to your WATCHLIST Also find it on television, on 12/24, 8PM on NBC (WNBC).
For the kids, there's "An American Girl Story – Maryellen 1955: Extraordinary Christmas." It's Christmas, 1955 in Daytona Beach, FL, and middle child Maryellen longs to stand out amidst the hustle and bustle of her big family. When Benji, a family friend afflicted with polio comes to stay with them, Maryellen is intent on making the holiday special. After her plans for a big celebration fall through, she discovers the best gifts are often simple, meaningful gestures of friendship. Add to your WATCHLIST
YMAL: Episode 5 of "Royal Upstairs Downstairs" sees Rosemary Shrager and Tim Wonnacott visit The Royal Pavilion Brighton to reveal the story behind 19 year old Queen Victoria's visit during the Christmas Holidays in 1838 – the year she became queen. Add to your WATCHLIST.
YMAL: For those of you who like the British reality series where regular people go back in time, watch "Victorian Farm Christmas." It's part of the BBC Television series, "Victorian Farm," a historical observational documentary series following a team who live the life of Victorian Farmers for a year. In this Christmas special, Alex, Peter and Ruth return to the Shropshire farm to celebrate a traditional Victorian Christmas. There's an enormous amount of farm work and new tasks to be tackled on the estate in the lead up to the festive season. Add to your WATCHLIST
YMAL: In the same vein is "Tudor Monastery Farm at Christmas." Historian Ruth Goodman and archaeologists Tom Pinfold and Peter Ginn turn the clock back 500 years to rediscover how the farms of Tudor England celebrated the twelve days of Christmas. The culmination of Christmas was marked by a frenzy of music, food and alcohol. Tudor life was hierarchical and strictly organized but, at Christmas, the rules were relaxed and the roles reversed. Add to your WATCHLIST
YMAL: "The Spirit of Christmas" is contemporary set but there's an attractive ghost who lived a century ago. As Christmas approaches, attorney Kate Jordan travels to Vermont to oversee the sale of an inn, where she falls for a handsome but cursed ghost. Think Hallmark meets "Somewhere In Time." Add to your WATCHLIST
YMAL: Sometimes you need a little "Nutcracker." The colorful holiday classic "Nutcracker: The Motion Picture" is brought to the big screen, designed by famed children's story author and artist Maurice Sendak, and written for the first time to be as close as possible to the original story. A lavish, exciting and heart-warming celebration of dance, of music, and of life. It's available to stream and included with your Prime Video membership – but only until the end of December. Add to your WATCHLIST
On Acorn TV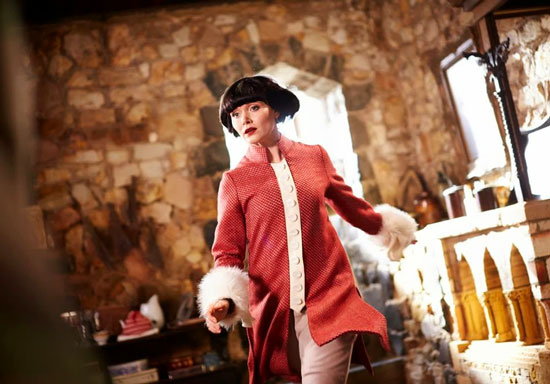 Mystery fans should catch "Murder Under the Mistletoe: Miss Fisher's Murder Mysteries": In series 2, episode 13, Phryne and company head to a chalet to celebrate Christmas in July, but when they get there they find one of the residents dead, electrocuted while hanging festive lights. Two other deaths quickly follow, though not before Jack and Constable Collins arrive on the scene and Phryne begins to figure out which of the chalet's residents might be the next victim. If you have Acorn as an Add-on Channel, add to your WATCHLIST.
Acorn TV typically delights fans with the new season of "Murdoch Mysteries" on Christmas Eve, but production has been delayed this year due to COVID-19. So the producers of this long-running, award-winning Canadian series have created a behind-the-scenes music special with a seven-piece ensemble from the Toronto Symphony Orchestra to perform a concert of Murdoch-era music (circa early 1900s.) Coming December 24, 2020. Also look for the following "Murdoch Mysteries" specials:
"A Merry Murdoch Christmas": At a Christmas charity gala for sick children, the host, dressed as Santa Claus, is found with a broken neck and all the presents are stolen. When witnesses report hearing a wild animal near the scene, Crabtree suspects the legendary creature Krampus. If you have Acorn as an Add-on Channel, add to your WATCHLIST. 
"Once Upon a Murdoch Christmas": When brazen robberies target Toronto's wealthiest businessmen just days before Christmas, Murdoch and Brackenreid's jobs are under fire if they don't quickly solve the case. If you have Acorn as an Add-on Channel, add to your WATCHLIST.
"Home for the Holidays": Murdoch and Ogden travel to Victoria, B.C. to visit Murdoch's brother, RCMP officer Jasper Linney. If you have Acorn as an Add-on Channel, add to your WATCHLIST.
If you loved "A Place to Call Home," and who didn't, it may be time to revisit the Christmas episode "The Ghosts of Christmas Past," episode 5 from series 2. George struggles to master his emotions following Sarah's disclosure. The Christmas holidays bring back memories of Elizabeth's youth and reveal the source of her special connection to Jack. Andrew spends the holidays at Ash Park in an attempt to win over Anna. If you have Acorn as an Add-on Channel, add to your WATCHLIST.
There's also "Oweneen the Sprat," which is an episode from "The Irish R.M": Christmas proves a tense time for the Yeateses when Philippa collides with Oweneen while driving the carriage. When it's discovered that one of the people injured in the carriage accident is an evil mountain man known as Oweneen the Sprat, the family is overcome with fear. If you have Acorn as an Add-on Channel, add to your WATCHLIST.
YMAL: "The Yorkshire Vet" has a Christmas special, and it should appeal to anyone looking forward to "All Creatures Great and Small." It's Christmas but life never stops at the practice! Peter is called to an emergency. At John Swales' farm one of his prize winning Limousins is struggling to give birth. The calf won't budge and the lives of both mum and baby are at risk. Can Peter save them both or is he too late? If you have Acorn as an Add-on Channel, add to your WATCHLIST.
On BritBox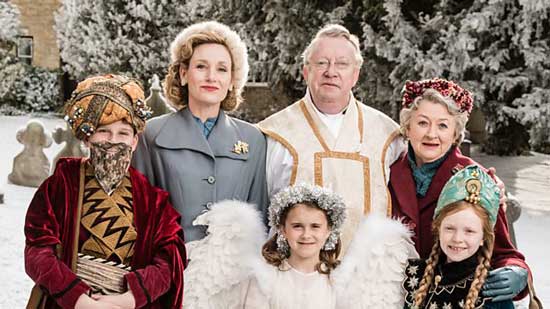 In addition to the titles below, see this big list of period dramas recently added to BritBox.
Mystery and Christmas mingle in "The Adventures of Sherlock Holmes: The Blue Carbuncle" (1984): When the Countess of Morcar's priceless blue carbuncle is stolen, a reformed thief is charged with the crime. Set on Christmas Eve. Season 1, episode 7. If you have BritBox as an Add-on Channel, add to your WATCHLIST. 
And the same in "Agatha Christie's Poirot: Hercule Poirot's Christmas" (1994): In Season 6, episode 1, the detective's hopes for a quiet holiday are dashed when he must investigate a murder at a wealthy man's country estate. He's the most-watched sleuth in the history of PBS's Mystery! David Suchet stars as the dapper, diminutive Belgian who solves the most serpentine cases with the sharpest of minds and the driest of wits. Set in the Art Deco elegance of 1930s England, each mysterious adventure is a treat for the eyes and the intellect. If you have BritBox as an Add-on Channel, add to your WATCHLIST. 
In the mood for some humor? "Blackadder's Christmas Carol" (1988) is Charles Dickens' classic tale of kindness, truth, and virtue, completely ruined by having a member of the Blackadder family involved. Rowan Atkinson is one of television's great anti-heroes, the black sheep of England's past, slyly scheming through a thousand years of history in a timeless comedy classic. After a genial spirit shows the benevolent Ebenezer Blackadder visions of his unscrupulous ancestors, he resolves to mend his generous ways. If you have BritBox as an Add-on Channel, add to your WATCHLIST. 
More Christmas sleuthing, in "Father Brown: The Star Of Jacob" Season 5, episode 1. Father Brown investigates when the son of a Duke is abducted from Lady Felicia's yuletide ball. Can he find the child in time for Christmas? If you have BritBox as an Add-on Channel, add to your WATCHLIST. 
Great for the whole family is the "Lark Rise to Candleford Christmas Special," set in Victorian era England. The first episode of Season Two of "Lark Rise to Candleford," a 75 minute Christmas special, sees Dorcas and Emma wanting to give Laura the same gift for Christmas. An old family wound is opened up and Laura finds herself torn between two mothers. As the inhabitants of Lark Rise and Candleford prepare for the festivities, loyalties are tested and, amid the gift-giving and carol singing, tensions are building. However, the arrival of a ragged, bare-footed young woman, who goes by the name of Cinderella Doe, introduces a note of Christmas mystery. If you have BritBox as an Add-on Channel, add to your WATCHLIST. 
Watch something classic with "Upstairs Downstairs: Goodwill to All Men" (1973). Upstairs: the wealthy, aristocratic Bellamys. Downstairs: their loyal and lively servants. For nearly 30 years, they share a fashionable townhouse at 165 Eaton Place in London's posh Belgravia neighborhood, surviving social change, political upheaval, scandals, and the horrors of the First World War. In this Christmas themed episode, Sir Richard's new ward, Georgina, and new parlor maid, Daisy, try to bring Yuletide cheer to Daisy's impoverished family. Georgina is shocked by the squalor of their lives. Season 3, episode 9. If you have BritBox as an Add-on Channel, add to your WATCHLIST. 
On Gazebo TV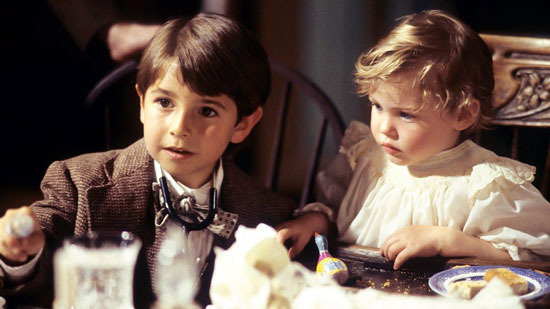 The two options below, suitable for the whole family, can be rented or purchased on Gazebo TV. Use the code WILLOWTHATCH for $10 off the Anne of Green Gables Trilogy on Gazebo TV.
"An Avonlea Christmas" (1998): The long-running period series Road to Avonlea is set in a fictional small east coast town on Prince Edward Island in the early 20th century. Based on characters and stories from the novels of Lucy Maud Montgomery, the 95 episode one-hour series was a spin-off from Sullivan Entertainment's miniseries of Montgomery's best known novel, Anne of Green Gables. Produced in 1998, this is the series' reunion movie with plenty of snow, horse-drawn sleighs and old-fashioned country charm amidst the wartime drama. The Christmas period movie stands on its own, and is easy to follow even if you haven't watched the Road to Avonlea series. That's here. 
"A Wind At My Back Christmas" (2001): Based loosely on the books Never Sleep Three in a Bed and The Night We Stole the Mounties' Car by Max Braithwaite, the "Wind at My Back" series tells the story of the Bailey family through the Great Depression. The series touches on the themes of family, forgiveness, hardship and love. Set in the 1930s, "Wind at My Back" reflects our modern world where many people hold on tenuously and pray that better times are just around the corner. The Christmas movie, simply titled "A Wind at My Back Christmas," wraps up loose ends and serves as the series finale. That's here. 
Streaming for Free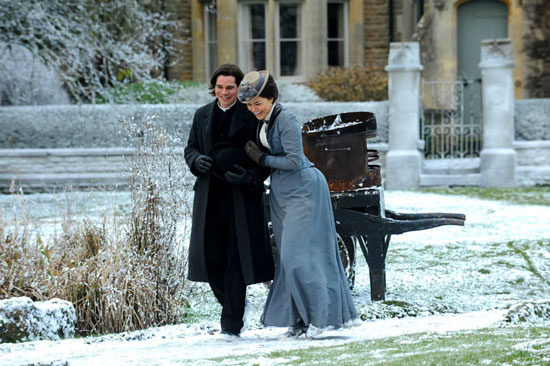 "A Child's Christmas in Wales" is fun. Made for television from the Dylan Thomas classic, the film concerns a traditional Christmas in Wales around the turn of the 20th century with some scenes set in present day. It's available to stream for free with ads on IMDb TV. Add to your WATCHLIST
Why not re-watch "Christmas at Downton Abbey" (Season 2, episode 9) and the "Downton Abbey" series finale? Both are available to stream for free on Peacock TV. You'll need to create a free account here to login, and start watching. (Downton Abbey is also included with your Prime Video membership, here.)
Arguably still the best adaptation to date, "Little Women" (1994), the classic 1868 tale about love, family and the female spirit from Louisa May Alcott, starring Winona Ryder, is available to stream for free with ads, here.
"Mr Pickwick's Christmas: A Charles Dickens Christmas" (1956) is available here on the Willow and Thatch YouTube Channel. The Christmas visit of Mr. Pickwick and his friends to Dingley Dell Farm — with dancing, games and a substantial supper — is dramatized in this enchanting short film. 
On Tubi, "The Christmas Candle" is available to stream for free: A pastor, who has suffered a personal loss, accepts a position in a town that believes in a Christmas miracle candle, which he strives to abolish. Starring Hans Matheson, Samantha Barks, and Lesley Manville. Also look for "Christmas Story," "Christmas Mountain: The Story of a Cowboy Angel," "Christmas for a Dollar," "Christmas Dress," "Mandie and the Forgotten Christmas," "An American Christmas Carol," "A Christmas Wish," and "Christmas Truce." The classic Christmas movie "The Bells of St. Mary's" is also there, as is our favorite Christmastime watch "The Bishop's Wife," a 1955 version of "Miracle on 34th Street." 
"Christmas Miracle at Sage Creek" is a family movie: Two families finally overcome prejudice and tragedy in 1888 when a Christmas miracle saves the life of a boy. Everyone can stream it for free here.
Go old school: and watch the 1935 British version of" A Christmas Carol." The classic film "Scrooge" is the original and considered the best adaptation of "A Christmas Carol" ever made. Seymour Hicks plays a classic Scrooge. Legend Films is proud to bring you this wonderful story of hope and redemption, beautifully restored and in color for the very first time. Everyone can watch it for free on the Willow and Thatch Period Drama YouTube Channel here. We also have the "A Christmas Carol" (1910) if you want to go really old school. That's here.
Brigham Young University's BYUtv has a couple of period-set movies available to stream for free. "Silent Night" tells the inspiring story behind the creation of the popular Christmas carol Silent Night—discover how Joseph Mohr, as new assistant priest, went against his superior to organize a church choir full of outcasts that performed in German instead of Latin. That's here. In the family movie "Christmas Oranges," a girl is suddenly forced to leave her happy orphanage home and move to a far more harsh institution, where the headmaster takes an instant dislike to her. She keeps her spirits up through her lonely life by looking forward to a traditional Christmas treat, and when the holiday arrives, something unexpected happens. That's here. 
On TCM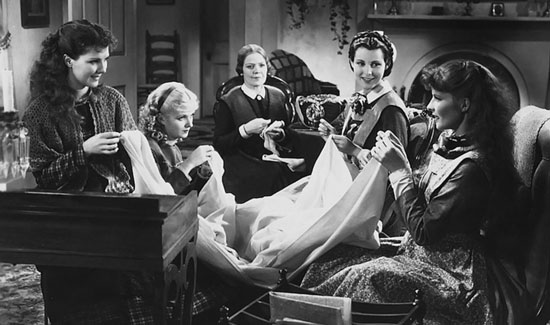 December 24, 8:15AM: "All Mine to Give" (1957): In this fact-based drama set in the 1850s, the Eunsons move from Scotland to the American Midwest, where they live happily and run a successful business — until the untimely deaths of both the father (Cameron Mitchell) and the mother (Glynis Johns) of the family. Now orphaned, the six Eunson kids must fend for themselves. Robbie (Rex Thompson), the oldest, does his best to care for his siblings while he searches for foster parents kind enough to accept such a large family into their home.
December 24, 2PM: "In the Good Old Summertime" (1949): Judy Garland stars as a music store salesgirl in turn-of-the-century Chicago who corresponds with a man through a dating service. She falls in love only to discover he's a despised co-worker. Garland introduced the Christmas song "Merry Christmas" in this film. A musical remake of "The Shop Around the Corner."
December 24, 4PM: "Meet Me in St. Louis" (1944): A classic romantic musical comedy that focuses on four sisters (one of whom is the nonpareil Judy Garland) on the cusp of the 1904 St. Louis World's Fair. The film spotlights the sisters' education in the ways of the world, which includes, but isn't limited to, learning about life and love, courtesy of the prototypical boy next door. In the end, love — accompanied by song, dance and period costumes, all in glorious Technicolor — conquers all. Includes the holiday standard "Have Yourself a Merry Little Christmas," sung by Garland towards the end of the film.
December 25 at 7:15 AM: "Little Women" (1933): The four March sisters fight to keep their family together and find love while their father is off fighting the Civil War.
Available to Rent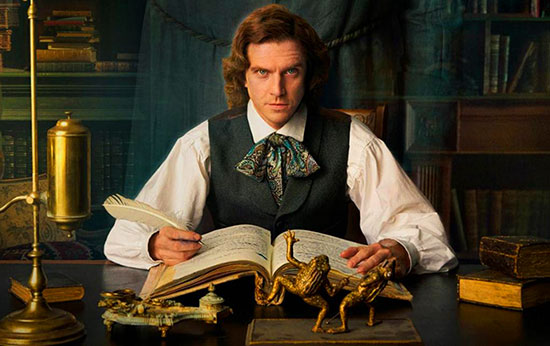 "The Man Who Invented Christmas," starring "Downton's" Dan Stevens, is a new take on Charles Dickens' "A Christmas Carol." Read our review here. Add to your WATCHLIST
For "Little House on the Prairie" fans, there are two Christmas specials that are streaming for the price of one, here as "A Merry Ingalls Christmas." 
"Christmas at Plum Creek": In this unforgettable holiday classic, the members of the Ingalls family work to make their very first Christmas at their new home in Plum Creek a memorable one full of joy, tears, and a whole lot of love.
"A Christmas They Never Forgot": After a sudden, fierce snowstorm traps all the members of the Ingalls family inside the little house on Christmas Eve, they pass the time by exchanging stories about their favorite Christmases of the past.
Other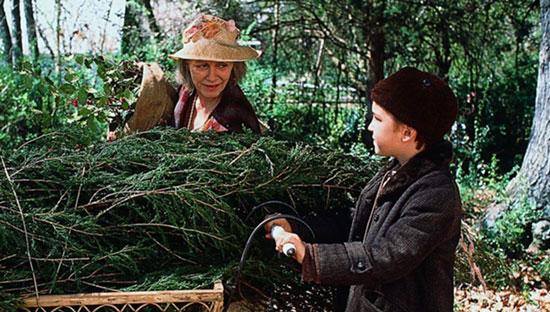 If you have Hallmark Movies Now, look for "A Christmas Memory" (1997): Based on a story by Truman Capote, 7-year-old Buddy is left by his parents to be raised by his extended family, including his free-spirited Cousin Sook (Patty Duke), but as Christmas approaches the other cousins wonder what's best for the boy. Watch it here. Read our review. Leaves Hallmark Movies Now on December 31.
---
If you enjoyed this post, wander over to The Period Films List. You'll especially like our list of Best Period Dramas: Christmas Classics.