Last Updated on December 28, 2020
With the staggering popularity of the Netflix series "The Crown," which looks at the life of Queen Elizabeth, fans hungry for more royal history should watch "The King's Speech," which takes place when Elizabeth is only a child.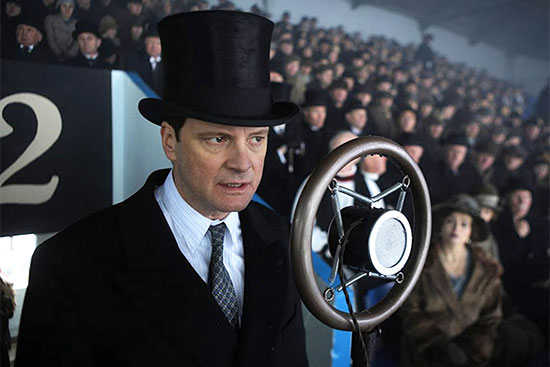 ---
To help keep this site running: Willow and Thatch may receive a commission when you click on any of the links on our site and make a purchase after doing so. 
---
This Oscar-winning film from 2010 looks at the events of her father, King George VI, in a pivotal series of events that finds him simultaneously taking the throne, overcoming his stutter, and ushering Britain into World War II.
Perfect down to the last detail and culminating in a thrilling sequence, the film swept in 12 Oscar nominations, and won Best Picture, Best Director, Best Actor, and Best Screenplay.
Eleven years later, and with "Crown"-mania gripping both sides of the pond, here are five reasons to watch "The King's Speech."
---
---
The Casting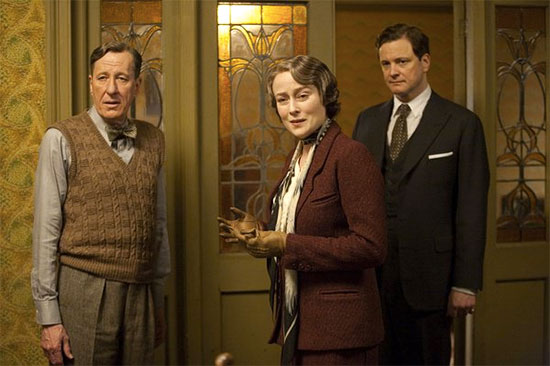 For Willow and Thatch readers who loved the 1995 BBC TV series "Pride and Prejudice," the reunion of Colin Firth and Jennifer Ehle, who played Mr. Darcy and Elizabeth Bennett, is a historical film fan's home run. Although they only share a single scene together in "The King's Speech," to see them in a production after so many years is sheer casting magic. Firth plays the breathtaking and poignant role of the stammering Bertie, while Ehle portrays Myrtle Logue, who has no idea her husband, speech therapist Lionel Logue, has The King for a client.
For his masterly work as the man who would be King, Firth received a much-deserved Academy Award for Best Actor, along with a BAFTA, a Golden Globe, and a SAG Award. Firth is unquestionably a great actor, and here he is heartbreaking and magnificent.
Other notables in the cast include award-winning actor Geoffrey Rush as Lionel Logue; Anthony Edwards from "Brideshead Revisited" as Stanley Baldwin, who served as Prime Minister before Churchill; and esteemed film and stage actress Claire Bloom.
They may be favorite actors for period drama fans, but Harry Potter fans will also delight in spotting Michael Gambon (Albus Dumbledore) as King George V, Timothy Spall (Wormtail) as Winston Churchill, and Helena Bonham-Carter (Bellatrixe Lestrange) as The Queen Mother.
Guy Pearce, who often excels at taking choice morsels of supporting roles, is both dashing and ruinous as Edward VIII.
Another cast member is the venerable Derek Jacobi, who has appeared in numerous historical dramas throughout his career, including "The Crown."
The Costumes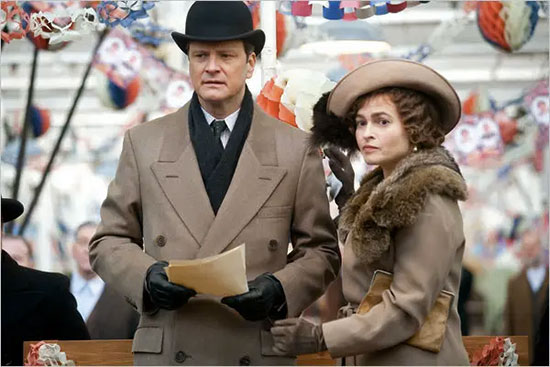 Tweed suits. Handmade sweaters. Fur-lined jackets. The King's paisley robe. A backless, sleeveless dress with a plunging necklace between her bare shoulder blades, worn by the character of Wallis Simpson, which manages to be shockingly revealing, desirously sexy, and wholly inappropriate. The massive epaulets and ribbon bars of Bertie's British Naval officer uniform, showing both his decorated military service and telegraphing his worthiness to assume the role of King.
Oscar-winning costume designer Jenny Beavan, whose credits include many Merchant-Ivory films, worked wonders with her small budget and had less than two months to research and find proper costumes for the players. She studied newsreels and photographs of the royal family and others in the story, mixing sourced vintage 1930s-period clothing with bespoke items sewn for the cast. She told The Hollywood Reporter the problem of finding the right costumes for Lionel and Myrtle Logue was instantly solved when Logue's grandson provided her with photographs of the Logue family in London.
The Set Design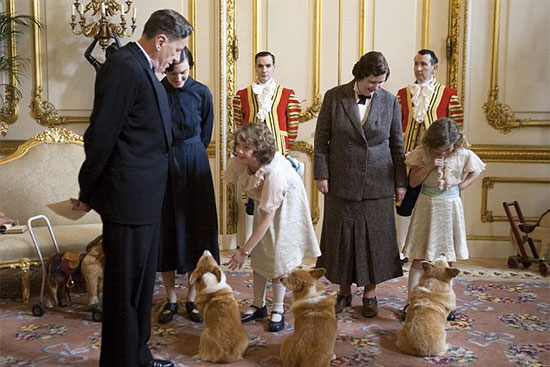 From the opening shot of the period microphone and vast radio transmitters to the British colonies, to the muted tones, peeling paint and shabby chic of Lionel Logue's subterranean office, the sets are fantastic. Look for period Art Deco wallpaper, heavy and dark Victorian furniture, oriental rugs, wooden Victrolas, Old Masters, and great rooms with massive chandeliers and fireplaces. The set pieces and locations are perfectly married, and lend an air of authenticity without overpowering the story line.
Done on a shoestring budget and with little time to source items, production designer Eve Stewart (who worked with director Tom Hooper for both the TV series Elizabeth I as well as the film Les Miserables) pulls off a true feat of cinema magic.
Be on the lookout for the unforgettable scene involving a replica of St. Edward's Chair. The original Coronation Chair was carved around 1297 and sits under lock and key at Westminster Abbey.
The Music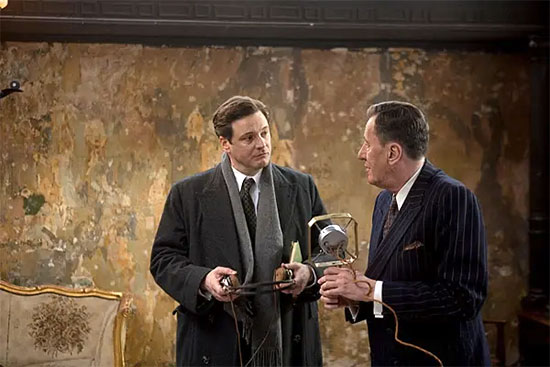 Alexandre Desplat, who has scored dozens of period films, from "The Queen" and Greta Gerwig's "Little Women" to "Girl with a Pearl Earring" and "The Shape of Water," received an Academy Award nomination for his work on "The King's Speech."
At turns whimsical, dramatic, powerful, and moving, Desplat recorded the score at famed Abbey Road Studios, using old microphones specifically made for King George VI. His approach was to convey the emotions that Bertie is unable or unwilling to voice. The soundtrack's central theme is elegant, precise, and unforgettable, like the film itself.
In the film's powerful finale, Beethoven's 7th Symphony provides additional dramatic build to an already riveting sequence. The juxtaposition of the German composer's most recognizable work, in a passage where Britain declares war against Germany, is a masterly conceit.
The History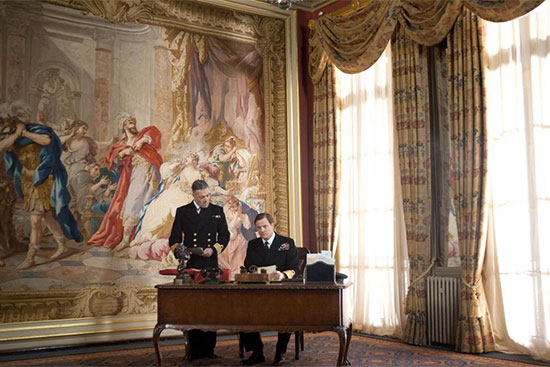 It's likely every Briton is familiar with the story of The Duke of York. For newbies to 20th century British royal history, it is beautifully unfolded here. Bertie's heart-rending stutter is on display to the world. Hooper's opening shot of the British Empire's far-reaching radio transmitters, delivering every trip of Bertie's tongue from Canada to Kenya, is there for a reason.
Everyone knows about his stutter, but not everyone knows why he has it. The advent of wireless radio increases the necessity for Bertie to speak publicly, while Edward's dalliance with the married Wallis and subsequent abdication of the throne pours on the pressure. Looming darkly in the background is Hitler, and only we, the film's observers, know what the future holds.
The events which bring Bertie ever closer to the throne are paralleled by his growing comfort and finally true friendship with Logue. Their relationship is the film's central paradox. The failed actor-turned-therapist, who originally set out to help soldiers shell-shocked during World War I find their voices again, is paired alongside the reluctant King, who is left with no choice but to usher Britain into a new war. Knowing The Great War is still fresh in the memories of so many, Bertie becomes an instant symbol of Britain's sacrifice and resolve.
"The King's Speech," so aptly named, is not just about Bertie's ability to conquer his notorious stutter, but the speech he is compelled to deliver, one that changes England's fate, and his own.
---
The King's Speech (2010) is AVAILABLE to STREAM
Rated R for some language
---
Ann Pryor is a media professional living in New York City, handling publicity and marketing campaigns for books and experts. Formally obsessed with actor Mark Rylance, she is an aficionado of soundtracks, foreign films, Off-Off-Broadway, and illustrated books.
If you enjoyed this post, be sure to see The Period Films List, with the best British, historical and costume dramas sorted by era.