Last Updated on August 8, 2021
Lily James and Emily Beecham chase love and personal fulfillment in "The Pursuit of Love" (2021), a three-part miniseries now streaming on Amazon Prime.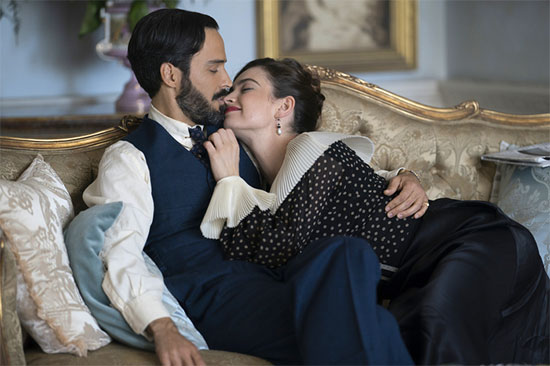 ---
To help keep this site running: Willow and Thatch may receive a commission when you click on any of the links on our site and make a purchase after doing so. 
---
Based on Nancy Mitford's 1945 novel of the same name, the coming-of-age period drama centers on the friendship between two privileged British young women, growing up between the wars.
The new adaptation breaks away from some costume drama norms, exploring the lives of aristocratic women with a fluorescent-hued, alt-rock aesthetic. Purists, fans of Nancy Mitford's book, and those who enjoyed the more traditional presentations of Mitford's novels (Love in a Cold Climate (1980) starring Judi Dench, and BBC's Love in a Cold Climate (2001) starring Rosamund Pike), should still take the leap.
The anachronistic choice works, adding an additional layer to the show's pointed satire.
---
---
Fanny Logan (Emily Beecham) has grown up spending winter holidays with her cousin Linda Radlett (Lily James) at the Radlett country house, Alconleigh.
The two cousins both have parental issues but deal with them in wildly different ways: Linda, whose terrifying father (Dominic West) doesn't believe in educating his daughters, is passionately romantic and desperate to escape Alconleigh; Fanny's mother (Emily Mortimer, who also wrote and directed), known only as the Bolter, abandoned her in order to pursue a string of doomed relationships, and Fanny's act of rebellion is to grow into a stolidly practical, loyal adolescent.
Yet the girls are devoted to one another, and to the belief that their real lives will start once they debut into society.
Linda immediately jumps into an ill-advised marriage with handsome banker Tony Kroesig (Freddie Fox), but after giving birth to a daughter, she finds herself drawn back into the exciting single life of the Bright Young Things. Meanwhile, Fanny marries an Oxford academic and settles happily into a quiet, domestic life. But she keeps getting pulled back into Linda's orbit to help her recover from failed love affairs, and she begins to wonder if perhaps she's made the wrong decision in pursuing domesticity.
Both women are trapped—Linda by her inability to live without a passionate romance, Fanny by her practicality—and the show peels back the layers of external expectations to reveal just how confined they really are.
With music choices like alt-rock group New Order and freeze frames overwritten with character titles, "The Pursuit of Love" feels decidedly modern. Centered shots are reminiscent of Wes Anderson films, and Linda's mentor, Lord Merlin (Andrew Scott), is introduced in an elaborate group dance routine that would be right at home in a French New Wave film.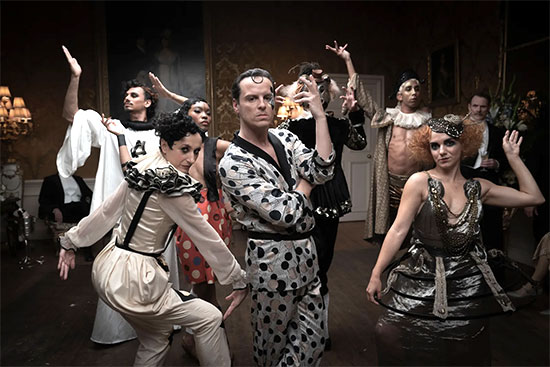 Director and writer Emily Mortimer is open about finding inspiration in both French film and Sofia Coppola's approach to period drama with Marie Antoinette, as she hoped to recreate the sense of excitement she felt when first reading the novel from which the show is adapted.
At first, this modern take is a bit jarring, but it adds to the bubbly, effervescent comedy of the first episode. In later episodes, this approach keeps the story feeling light even as the show deepens its critique of women's roles.
Mortimer thus captures the essence of Nancy Mitford's original novel. The Pursuit of Love, published in 1945, skewers the British aristocracy in the interwar period as well as the limited choices afforded to upper-class women, while retaining a good deal of affection for its characters.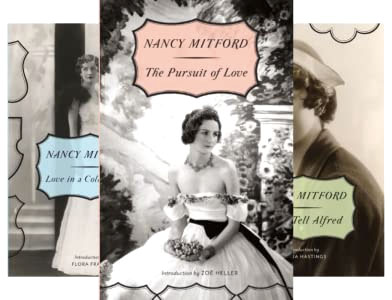 The semi-autobiographical novel offers tantalizing glimpses of author Nancy Mitford's own eccentric, aristocratic family, and this no doubt contributed to its instant success.
Nancy and her five younger sisters grew up in relative ignorance in their family's country house, due to their parents' lack of interest in providing their daughters with a formal education (brother Tom got to attend Eton). Upon their debuts into society, the girls were expected to marry well and settle into domestic peace.
But here some of the Mitford girls diverged from their path: Unity became obsessed with Adolf Hitler and moved to Germany in order to befriend him; Diana left her first, respectable husband for Sir Oswald Mosley, Britain's prominent fascist leader; and Jessica became a Communist and eloped with her cousin to fight fascism in the Spanish Civil War.
Their scandalous choices made them prime newspaper fodder, and the public eagerly snatched up Nancy's lightly fictionalized accounts of her family in The Pursuit of Love and its companion, Love in a Cold Climate.
Even a cursory knowledge of Nancy's background adds a layer of enjoyment to Mortimer's adaptation. Linda's first husband, Tony, sympathizes with Hitler and the fascists as war approaches, while Linda herself gets caught up in the Spanish Civil War. Fanny and Linda's childhood at Alconleigh replicates some of the more amusing details of the Mitfords' youth, from the secret Hons society (which meets in a linen cupboard) to the pet rodents Linda carries with her.
"The Pursuit of Love" may inspire you to seek out a biography of the Mitford girls, or it may serve as a delightful cap to summer's streaming entertainment.
Either way, it's a thoughtful critique disguised as a sugary confection, and it packs a real punch at the end.
The Pursuit of Love (2021) is AVAILABLE to STREAM
Watch the TRAILER
Rated 13+
---
Abby Murphy writes young adult books about girls discovering their strengths. A member of SCBWI and The Historical Novel Society, she is represented by Laura Crockett of Triada US Literary Agency. You can visit her blog here, where she writes about reading, writing, history, and her incurable Anglophilia.
If you enjoyed this post, wander over to The Period Films List. You'll especially like the Best Period Dramas: Interwar Era List.