Last Updated on June 1, 2021
We've gathered up the period dramas that are newly included with your US Amazon Prime Video membership in March, April and May 2021. 
Then, we share the historical / costume / period dramas that are coming to Prime Video Channels, are available to rent, and movies and TV series in the genre that are being released to DVD this spring.
Finally, we list some newly added non-period movies and series like British shows and romances that you may also like, that are included with your Prime Video membership.
Check this list throughout the spring; we'll update all the sections (alphabetically) as more titles become available. If some of these titles look familiar, it's because they were previously available with Prime, were pulled off, and now they are back.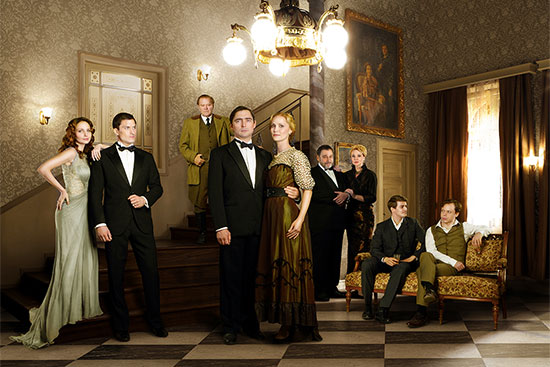 ---
To help keep this site running: Willow and Thatch may receive a commission when you click on any of the links on our site and make a purchase after doing so.
---
It's easy to watch the trailers for the films on this list, or add the movies and TV series to your watchlist: just click. This is a US-based list, but if you live in Canada or the UK, you can also use our "Add to your WATCHLIST" links to check availability in your country. 
From British costume dramas to sweeping romantic epics, there's a lot here by the end of the season, so to help you keep track: the blue TVs next to the title mean the film is included with your membership, the orange TVs mean it is available to rent or is available with a Prime Video Channel subscription.
Also see the list of Period Dramas New on Prime Winter 2021.

Period Dramas Added in March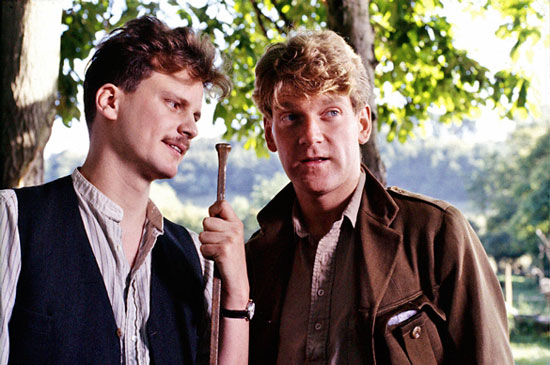 This section contains newly available historical, costume and period dramas (movies and TV series) that are included with your Prime Video membership.
---
---

Ambition (Season 1)
In this suspenseful romantic drama about a family living in Prague, Czechoslovakia in the period between World Wars, an aristocratic family's empire is at risk when the two heirs fall in love with the same woman. A lost son returns from the war to investigate the events that led to his abrupt departure 8 years ago.
The saga of the Valent family begins in 1918. World War II ends, Austria-Hungary disintegrates and the Czechoslovak Republic is formed. At the heart of the action are the varied destinies of the branched Valent family, who became rich on war commissions and move from the countryside to Prague, to Podolí. Against the background of the love story of two brothers and one woman, the secret of a brutal murder is slowly being revealed. This Czechl language period drama is also known as "History of Czechoslovakia," "The Manor House," "První republika," and "The First Republic."
Starring Ján Koleník, Jirí Vyorálek, Veronika Arichteva, Robert Urban, Tomás Töpfer.
Rated 16+
Available March 3
---

A Girl of the Limberlost (1990)
In this family TV period drama based on the book of the same name by Gene Stratton-Porter, it's 1908 in rural Indiana, and Eleonora Comstock is determined to attend high school. When an unexpected tax comes due, Eleonora's mother forces her to quit school to bring in their crops. But after their crops are ruined by a storm, both mother and daughter must learn to understand each other or lose what they love most.
Starring Annette O'Toole, Joanna Cassidy, Heather Fairfield, Chauncey Leopardi, Devon Odessa.
Rated 13+
Available March 13
---

A Month in the Country (1987)
Set in the early 1920s, Colin Firth and Kenneth Branagh star as two young war-weary veterans who spend a summer month in a peaceful Yorkshire town in order to escape the horrors of war. Whilst Tom Birken spends his month in the country uncovering and restoring a historical war painting in the local church, another veteran, Charles Moon, is looking for the grave of an ancestor of the patroness of the church who fought in the Crusades.
But their work at the church takes an explosive turn as one ignites long-denied passion within the Reverand's young wife, which forces the other veteran to face his own dark desires. The British period drama is an adaptation of the 1980 novel of the same name by J. L. Carr.
Starring Colin Firth, Kenneth Branagh, John Atkinsons, Natasha Richardson, Jim Carter, Patrick Malahide.
Rated PG
Available March 1
---

Breathless (Season 1)
Available for a limited time. From PBS and Masterpiece – Set in a London hospital in 1961 — when Britain was on the brink of cultural revolution — Otto Powell is a brilliant and charismatic surgeon, who believes he can make a difference in women's lives.
Starring Zoe Boyle, Shaun Dingwall, Jack Davenport, Oliver Chris, Catherine Steadman, Natasha Little.
Rated TV-14
Available March 1
---

Dances with Wolves (1990)
In this romantic historical period drama, a Civil War soldier develops a relationship with a band of Lakota Indians. Attracted by the simplicity of their lifestyle, he chooses to leave his former life behind to be with them. Having observed him, they give the name Dances With Wolves. Soon he is a welcomed member of the tribe and falls in love with a white woman who has been raised in the tribe.
Starring Kevin Costner, Mary McDonnell, Graham Greene, Rodney A. Grant, Tantoo Cardinal, Steve Chambers.
Rated PG-13
Available March 1
---

Doctor Finlay (Seasons 1-3)
A.J. Cronin's famous characters are lovingly recreated in the popular Scottish period drama. Set in the 1940s, John Finlay returns from war service and finds a small-town medical practice which is run-down. His new life paves the way for a new National Health Service and the modernisation of the medical practice at Arden House, Scotland.
Starring David Rintoul, Annette Crosbie, Ian Bannen, Jessica Turner, Jackie Morrison.
Rated TV-14
Available March 13
---

The Garden of the Finzi-Continis (1970)
A must-see period drama. In director Vittorio De Sica's Oscar-winning masterpiece (1972, Best Foreign Language Film), an aristocratic Jewish family retreats behind the walls of its lush, Italian country estate to take refuge from the approaching fascist storm of the 1930s.
In late 1930s Ferrara, Italy, the Finzi-Continis are a leading family: wealthy, aristocratic, and urbane; they are also Jewish. Their adult children, Micol and Alberto, gather a diverse circle of friends for tennis and parties at their villa with its lovely grounds, and try to keep the rest of the world at bay. But tensions between them all grow as anti-Semitism rises in Fascist Italy, and even the Finzi-Continis will have to confront the Holocaust.
Also known as "Il giardino dei Finzi Contini," the period drama is based on Giorgio Bassani's 1962 novel of the same name.
Starring Lino Capolicchio, Dominique Sanda, Helmut Berger, Romolo Valli.
Rated R
Available March 4
---

La Templanza / The Vineyard (2021)
Ready for a new soapy period drama? Set in 1860 against the backdrop of different historic world cities, this Spanish romantic period drama is based on the novel by María Dueñas, The New York Times bestselling author of "The Time in Between."
This series tells the story of Mauro Larrea and Soledad Montalvo, two strangers whose destinies cross in the second half of the 19th century and change their lives forever. A story of glory and defeat, of silver mines, family intrigues, vineyards, wineries, and fascinating cities whose splendor has faded with time.
Starring Rafael Novoa, Leonor Watling, Nathaniel Parker, David Caro Levy, Cesar Ramos, Juana Acosta.
Available March 26
---

Madame Bovary (2000)
Flaubert's story of the quest for fulfillment in love is an enduring classic. By marrying a local doctor, Emma Bovary feels that she will escape her provincial upbringing. But it is not long before she feels constrained and frustrated by married life, ignoring her devoted husband and daughter and immersing herself in romantic thoughts which lead, inevitably, to affairs. A BBC adaptation.
Starring Frances O'Conner, Eileen Atkins, Greg Wise, Hugh Bonneville, Hugh Dancy, Joe McGann.
Rated 16+
Available March 3
---

Miss Potter (2006)
The story of Beatrix Potter, the author of the best-selling children's book, The Tale of Peter Rabbit, and her struggle for love, happiness and success. Blending lush animation sequences with live-action drama, director Chris Noonan constructs this unconventional biopic about the personal life of beloved children's author and illustrator.
Starring Renée Zellweger, Ewan McGregor, Emily Watson, Barbara Flynn, Bill Paterson, Matyelok Gibbs, Lloyd Owen, Anton Lesser, David Bamber, Phyllida Law, Patricia Kerrigan, Lucy Boynton.
Rated PG
Available March 4
---

Out of Africa (1985)
"Out of Africa" tells the story of the life of Danish author Karen Blixen (pen name Isak Dinesen), who at the beginning of the 20th century moved to Africa to build a new life for herself. The romantic drama is based on the 1937 autobiographical novel.
Hoping to forge a better life, Denmark native Karen Blixen enters into a marriage of convenience with a womanizing baron. But when the couple moves to Nairobi, Karen falls in love with a free-spirited hunter who can't be tied down. Director Sydney Pollack's lush period drama earned seven Academy Awards, including statues for Best Picture, Best Screenplay and Best Cinematography.
Starring Meryl Streep, Robert Redford, Klaus Maria Brandauer, Michael Kitchen, Malick Bowens, Joseph Thiaka, Stephen Kinyanjui, Michael Gough.
Rated PG
Available March 3
---

The Portrait of a Lady (1997)
The story of a young American woman who is taken to Europe by her aunt after the death of her family and challenges the confines of her destiny on the hermetically closed American expatriate circuit in late 19th century Europe. The Portrait of a Lady is regarded by many as Henry James's finest work, and a lucid tragedy exploring the distance between money and happiness. 
Starring Nicole Kidman, John Malkovich, Barbara Hershey, Mary-Loiuse Parker, Martin Donovan, Shelley Winters, Richard E. Grant.
Rated PG-13
Available March 1
---

Pride And Prejudice And Zombies (2016)
Elizabeth Bennet a master of martial arts, and Mr. Darcy, a fierce zombie killer, must swallow their pride in order to conquer the undead.
In the 19th century, a mysterious plague turns the English countryside into a war zone. No one is safe as the dead come back to life to terrorize the land. Fate leads Elizabeth Bennet, a master of martial arts and weaponry, to join forces with Mr. Darcy, a handsome but arrogant gentleman. Elizabeth can't stand Darcy, but respects his skills as a zombie killer. Casting aside their personal differences, they unite on the blood-soaked battlefield to save their country.
Starring Lily James, Sam Riley, Jack Huston, Bella Heathcote, Douglas Booth, Matt Smith, Charles Dance, Lena Heady.
Rated PG-13
Available March 15
---

The Singer (2020)
In this touching Korean drama, song unites people. The voice changes the world. In the 10th year of King Youngjo, Joseon Dynasty goes through a dire phase of looting and human trafficking. A street singer Hak-kyu, a drummer Dae Bong and a secretive poor nobleman journey all over Joseon in search for Hak-kyu's wife, Gan-nan. Filled with joy and sorrow, they bring a show together.
Starring Lee Bong-geun, Lee Yu-ri, Kim Ha-yeon, Park Cheol-min, Kim Dong-wan, Jung Moo-sung.
Rated 16+
Available March 9
---

Sisters of War (2010)
In this tale of survival and forgiveness, a group of Australian nurses and Catholic nuns become Japanese prisoners of war as WWII rages on.
Starring Claire van der Boom, Sarah Snook, Susie Porter, Khan Chittenden, Gerald Lepkowski, Masa Yamaguchi.
Rated TV-14
Available March 15
---

Where Hands Touch (2018)
When the daughter of a white German mother and an African father meets a member of the Hitler Youth – compulsory for all Aryan boys in 1944 Germany, they must battle against the fates laid out before them during the most brutal of times. From the director of "Belle" and "A United Kingdom."
Starring Amandla Stenberg, George McKay, Abbie Cornish, Christopher Eccleston, Alec Newman.
Rated PG-13
Available March 24
---

The following period-set movies and series (and period-inspired titles) are also newly available and included with your Prime membership in March 2021. Click on the titles for more information, to watch trailers where available, and to start streaming full movies or episodes:
March 1: Beloved (1998), Rommel (2012), The Court Jester (1955), Shane (1953), Tombstone (1993), Silverado (1985), Robin of Sherwood (Seasons 1-3). March 2: Mary White (1977), The Gospel Of John (2015), The Gospel of Luke (2017), The Gospel of Mark (2017), The Gospel of Matthew (2018). March 3: Mulholland Falls (1996), The Adventures of Thomasina Sawyer (2020). March 8: A Dog of Flanders (1959). March 12: Ain't Misbehavin' (1997), Judy (4K UHD). March 19: She Stoops to Conquer (2003). March 19: American History's Biggest Fibs (Lucy Worsley). March 20: The Outsider (2019). March 31: Spring 1941 (2007)
---
---

Period Dramas Added in April 2021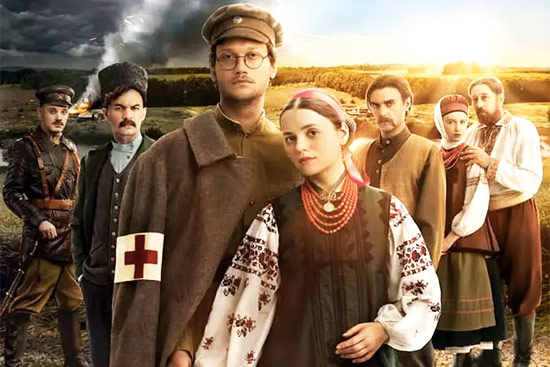 This section contains newly available historical, costume and period dramas (movies and TV series) that are included with your Prime Video membership.
---
---

Anna Karenina (2012)
Keira Knightley and Jude Law dazzle in director Joe Wright's (Pride & Prejudice) visually enchanting new vision of Leo Tolstoy's epic love story.
At the twilight of an empire, Anna Karenina, the beautiful high-ranking wife of one of imperial Russia's most esteemed men, has it all. But when she meets the dashing cavalry officer Vronsky, there is a mutual spark of instant attraction that cannot be ignored. She's immediately swept up in a passionate affair that will shock a nation and change the lives of everyone around her. 
Starring Keira Knightley, Jude Law, Aaron Taylor-Johnson, Emily Watson, Matthew Macfadyen, Domhnall Gleeson, Ruth Wilson, Alicia Vikander.
Rated R for some sexuality and violence
Available April 1
---

The Bletchley Circle (Season 2)
Four seemingly ordinary women become the unlikely investigators of a string of grisly murders in this original thriller, set against the backdrop of post-war London. Season 1 also included with Prime.
Starring Anna Maxwell Martin, Rachael Stirling, Sophie Rundle, Julie Graham.
Rated TV-14
Available April 15
---

Captain Kronos: Vampire Hunter (1974)
In a small village in the remote English countryside, several young maidens have been found dead – their beautiful faces horribly aged almost beyond recognition. Suspecting a supernatural evil at work, the local doctor calls on Army friend and famed vampire hunter Captain Kronos, an expert swordsman formerly of the King's Imperial Guard.
Aided by his expert assistant Professor Grost, the two quickly confirm the gruesome murders are the work of a unique type of vampire, one who drains its victims not of their blood, but of their youth! After forging a lethal new sword from a old graveyard cross, the vampire hunters set out to put an end to Evil's reign of terror in this Hammer Films horror classic.
Starring Horst Janson, John Carson, Shane Briant, Caroline Munro, John Cater, Lois Daine, William Hobbs, Brian Tully.
Rated R for some violence and nudity
Available April 1
---

Copying Beethoven (2006)
Young Vienna Music Conservatory student and aspiring composer finds her destiny forever interlinked with a legendary classical musician when she accepts a job as a copyist for Ludwig von Beethoven.
In desperate need of a copyist to complete Beethoven's "Ninth Symphony", Beethoven's ailing publisher Herr Schlemmer enlists the aid of ambitious student Anna Holz who readily accepts the job despite an explicit warning that the composer is a callous wretch. As Anna begins to arduously copy Beethoven's career-defining work, her kindness causes the composer to view their collaboration as a blessing that will enable him to produce some of the most sublime music ever created.
Starring Diane Kruger, Ralph Riach, Matyelok Gibbs, Ed Harris, Bill Stewart, Angus Barnett, Viktoria Dihen, Phyllida Law, Joe Anderson
Rated PG-13
Available April 1
---

The End of the Affair (1999)
In 1939 London, Sarah Miles, begins an affair with brooding novelist Maurice Bendrix after they meet at a party given by her worthy but dull husband, Henry. When Sarah inexplicably ends their deeply passionate affair, her heart-broken lover attempts to learn why. From Oscar-winning writer/director Neil Jordan, and based on the novel by Graham Greene.
Starring Ralph Fiennes, Stephen Rea, Julianne Moore, Heather-Jay Jones, James Bolam, Ian Hart.
Rated R for scenes of strong sexuality
Available April 1
---

Fiddler On the Roof (1971)
In this film version of the stage musical, based on the stories of Sholom Aleichem, Tevye the Milkman is a Jewish peasant in pre-Revolutionary Russia trying to support his family, marry off his five daughters, and maintain his Jewish tradition under a Czar that would like to run his people out of town. Tremendous songs and memorable dance sequences make this film a true classic.
Starring Topol, Leonard Frey, Molly Picon, Patience Collier, Norma Crane, Barry Dennen, Otto Diamant.
Rated G
Available April 1
---

Girl with a Pearl Earring (2003)
A daring, intimate fictionalization of the circumstances surrounding the inspiration behind the famous painting by the 17th-century Dutch artist Johannes Vermeer. Nominated for three Academy Awards, "Girl With a Pearl Earring" tells an intriguing and highly seductive story.
Starring Scarlett Johansson, Colin Firth, Essie Davis, Judy Parfitt, Tom Wilkinson, Cillian Murphy, Joanna Scanlan, Alakina Mann.
Rated PG-13
Available April 1
---

Little Women (1994)
In this adaptation of Louisa May Alcott's classic, the March sisters confront growing pains, financial shortages, family tragedies and romantic rivalries in mid-19th-century Massachusetts. Jo struggles for independence and sometimes clashes with her beloved mother and her sisters Meg, Amy and Beth. She also contends with their cranky Aunt March, their impulsive neighbor Laurie and kindly linguistics professor Friedrich Bhaer.
Starring Winona Ryder, Gabriel Byrne, Trini Alvarado, Samantha Mathis, Kirsten Dunst, Claire Danes, Christian Bale, Eric Stoltz.
Rated PG
Available April 2
---

Mad Ship (2012)
Driven by broken dreams and his wife's sudden death, an immigrant man, Tomas Sorensen, puts all of his passions into building a handmade ship and escape the Great Depression Dust Bowl. How far will Tomas's pursuit of escape go?
Starring Gil Bellows, Rachel Blanchard, Nikolaj Lie Kaas, Gage Munroe, Martha Burns.
Rated 13+
Available April 13
---

Magic in the Moonlight (2014)
One for Colin Firth fans! In the 1920s, magician Stanley Crawford enjoys widespread acclaim as Chinese conjurer Wei Ling Soo, his stage persona. As arrogant as he is talented, Stanley despises claims by phony spiritualists that they can perform real magic. At the behest of his friend, Stanley travels to the Côte d'Azur mansion of the Catledge family to expose a young medium named Sophie. However, Stanley is left surprised and shaken by evidence that Sophie's gifts may be real.
Starring Emma Stone, Eileen Atkins, Colin Firth, Marcia Harden, Jacki Weaver.
Rated PG-13
Available April 2
---

The Man in the Moon (1991)
Get out the tissues: director Robert Mulligan (To Kill a Mockingbird) brings us another touching drama set in a small Southern town. Maureen Trant and her younger sibling Dani share a strong connection, but local boy Court Foster threatens to throw their bond off balance. Features the film debut of Reese Witherspoon.
Starring Reese Witherspoon, Sam Waterston, Tess Harper, Gail Strickland, Jason London, Emily Warfield.
Rated PG-13
Available April 1
---

Memoirs of a Geisha (2005)
A Cinderella story set in a mysterious and exotic world, this stunning romantic epic shows how a house servant blossoms, against all odds, to become the most captivating geisha of her day.
In the 1920s, 9-year-old Chiyo gets sold to a geisha house. There, she is forced into servitude, receiving nothing in return until the house's ruling hierarchy determines if she is of high enough quality to service the clientele — men who visit and pay for conversation, dance and song. After rigorous years of training, Chiyo becomes Sayuri, a geisha of incredible beauty and influence. Life is better for Sayuri, but World War II is about to disrupt the peace.
Starring Shizuko Hoshi, Ziyi Zhang, Ken Watanabe, Michelle Yeoh, Koji Yakusho, Gong Li.
Rated PG-13
Available April 2
---

Pocketful of Miracles (1961)
In 1930 New York, a good-hearted gangster turns an old apple seller into a society matron so she can impress her daughter. Share the laughs in this bouncy spirit-lifter from director Frank Capra.
Beggar Apple Annie learns that her daughter, escorted by an aristocratic suitor, plans to visit. It's great news — except that she has tricked her daughter into believing she is a wealthy socialite. Fearing her true identity will disappoint, Annie petitions a superstitious mobster, who thinks the apples she sells are lucky, for help. Hesitant at first, the mafioso is persuaded by his girlfriend to disguise Annie, if only long enough to fool her daughter.
Starring Glenn Ford, Bette Davis, Peter Falk, Ann Margret, Hope Lange.
Rated G
Available April 1
---

The Restaurant (Season 1)
Described as the next "Downton Abbey," this sprawling ensemble drama begins at the end of WWII and runs across two decades, following the ever-changing lives of the Löwander family and the popular restaurant they run. When the series opens, it is Stockholm VE day 1945. In the jubilant crowd on Kungsgatan a spontaneous kiss between two strangers will have dire consequences.
Starring Suzanne Reuter, Mattias Nordkvist, Adam Lundgren.
Rated TV-14
Available April 2
---

The Scapegoat (2012)
Set in 1952, as England prepares for the Coronation, "The Scapegoat" tells the provocative story of two very different men who have one thing in common – a face. "The Scapegoat" is a morally complex, darkly comic and suspenseful movie featuring compelling performances from the film's ensemble cast.
Starring Matthew Rhys, Eileen Atkins, Anton Lesser, Jodhi May, Phoebe Nicholls, Alice Orr-Ewing.
Rated 13+
Available April 9
---

Sense and Sensibility (1995)
When Elinor Dashwood's father dies, her family's finances are crippled. After the Dashwoods move to a cottage in Devonshire, Elinor's sister Marianne is torn between the handsome John Willoughby and the older Colonel Brandon. Meanwhile, Elinor's romantic hopes with Edward Ferrars are hindered due to his prior engagement. Both Elinor and Marianne strive for love while the circumstances in their lives constantly change in this Jane Austen adaptation.
Starring Hugh Grant, Emma Thompson, Kate Winslet, Alan Rickman, James Fleet, Tom Wilkinson, Gemma Jones, Greg Wise.
Rated PG
Available April 1
---

Sweet Land (2006)
A wonderful period drama you may have missed! When Inge Altenberg, a young German woman, arrives in rural Minnesota, she meets Norwegian farmer Olaf Torvik, a fellow immigrant. Olaf's parents in Norway have arranged for the two to marry, but problems arise when she doesn't have the proper papers. Despite being unwed, the couple lives and farms together, causing a rift with their community. In the face of considerable hardship, Inge and Olaf toil away and grow closer in the process.
Starring Elizabeth Reaser, Tim Guinee, Lois Smith, Alan Cumming, Patrick Heusinger, Jodie Markell.
Rated PG
Available April 1
---

THEM (2021)
A limited anthology series that explores terror in America. The first season, set in the 1950s, centers a Black family who moves from North Carolina to an all-white Los Angeles neighborhood during the period known as The Great Migration. The family's idyllic home becomes ground zero where malevolent forces, next door and otherworldly, threaten to taunt, ravage and destroy them.
Starring Deborah Ayorinde, Ashley Thomas, Alison Pill, Shahadi Wright Joseph, Melody Hurd, Ryan Kwanten.
Not rated but intended for adults
Available April 9
---

There Will be People (2020)
Looks like it could be good! This Ukrainian production depicts the turbulent periods of the beginning of the 20th century through the eyes of ordinary people: the First World War, the revolution, the emergence of Soviet regime.
Based upon the novel by Anatoly Dimarov "There will be humans," each character who wants to live, love, and find his place in these turbulent times. 12 episodes. 12 main characters. 12 destinies, each reflecting an aspect of the nation's history.
Starring Ostap Dziadek, Akmal Huriezov, Olena Borozenets, Kateryna Hryhorenko, Viktor Zhdanov, Kostiantyn Temliak, Oleksandr Piskunov, Oleksandr Mavryts, Makar Tykhomyrov, Anna Tambova, Vitalii Azhnov, Alina Kostiukova, Ihor Koltovskyi.
Available April 2
---

Wolf Hall (Season 1)
Tony Award-winning actor Mark Rylance and Emmy Award-winner Damian Lewis star as Thomas Cromwell and King Henry VIII in this PBS adaptation of Hilary Mantel's novels. A historical drama for a modern audience, "Wolf Hall" charts Cromwell's meteoric rise in the Tudor court – from blacksmith's son to Henry VIII's closest advisor, trapped between his desire to do what is right and his instinct to survive.
Starring Mark Rylance, Damian Lewis, Claire Foy, Thomas Brodie-Sangster, Joss Porter.
Not rated
Available April 1
---

The following period-set movies and series (and period-inspired titles) are also newly available and included with your Prime membership in April 2021. Click on the titles for more information, to watch trailers where available, and to start streaming full movies or episodes:
April 1: Black Beauty (1946), The Big Country (1958), Chato's Land (1972), The Count of Monte Cristo (1934), The Bridge at Remagen (1969), Devil In A Blue Dress (1995), Eye of the Needle (1981), The Fortune (1975), The Greatest Story Ever Told (1965), Hour of the Gun (1967), The Kentuckian (1955), League Of Extraordinary Gentlemen (2003), Legend of the Lost (1957), Lizzie Borden Took an Ax (2014), Love & Mercy (2014), Master and Commander: The Far Side Of The World (2003), The Man Who Could Cheat Death (1959), Men of Honor (2000), Moonrise Kingdom (2012), Mr. Church (2016), Much Ado About Nothing (1993), The Skull (1965), That Thing You Do! (1996), The Vikings (1958), Valerie (1957), West Side Story (1961), Young Sherlock Holmes (1985). April 2: The Blue Lagoon (1980), Get Low (2010), Kill Your Darlings (2013). April 7: The Priest (2009), Chaplin (1993). April 9: Secrets of War (2015). April 12: Max and Helene (2015). April 14: Cézanne Et Moi (2017), Operation Cicero (2019). April 15: Little Kingdom (2020). April 16: On the Road to Berlin (2015), Jane Eyre (1997). April 17: Ballet Shoes (2007), The Canterville Ghost (1985), Little Kingdom (2020). April 20: Carol (2015). April 24: The Maiden and the Wolves (2008). April 25: Diary of a Chambermaid (1964). April 28: The Warlords (2010).
---
---

Period Dramas Added in May 2021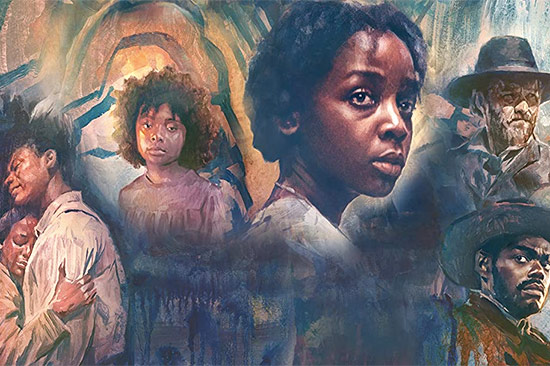 This section contains newly available historical, costume and period dramas (movies and TV series) that are included with your Prime Video membership.
---
---

Dracula (2006)
Maybe not the best version of this period thriller, but starring "Poirot's" David Suchet, and "Downton's" Dan Stevens. Hoping for a miracle cure, an ailing young Lord on the verge of being married sends for the enigmatic Count Dracula – said to possess incredible powers – and unknowingly releases an ancient evil upon London. A television adaptation of Bram Stoker's 1897 novel, produced by Granada Television for WGBH Boston and BBC Wales in 2006. Returning to the original novel for his inspiration, Stewart Harcourt's script draws both on elements of Bram Stoker's own life and Victorian society to give this version of the vampire classic a new, modern sensibility. 
Starring David Suchet, Dan Stevens, Marc Warren, Sophia Myles, Stephanie Leonidas, Tom Burke.
Rated 18+
Available May 14
---

Emma's War (1988)
After the start of the Second World War, a mother takes her children from Sydney to the countryside. Emma is a 14-year-old adolescent, unconcerned with World War II although her father, Frank, is in the army, and her mother, Anne, does war work. She meets a conscientious objector and becomes infatuated with him.
Starring Lee Remick, Miranda Otto, Mark Lee, Terence Donovan, Donal Gibson.
Rated 13+
Available May 1
---

Hidalgo (2004)
In the 1890s, rugged cowboy Frank Hopkins is an expert horseman who performs in Buffalo Bill's Wild West Show. When affluent Sheik Riyadh, piqued by tales of Hopkins' talent, challenges Hopkins to prove himself in a treacherous long-distance horse race called the Ocean of Fire, Hopkins is forced to oblige. In the Middle East with his American mustang, he must race against thoroughbred horses ridden by the best riders in the world with his reputation — and his life — at stake.
Starring Viggo Mortensen, Malcolm McDowell, Omar Sharif, Louise Lombard, J.K. Simmons, Peter Mensah.
Rated PG-13
Available May 1
---

Monarch (2000)
An injured King, Henry VIII, is forced to take refuge at a manor house. He must confront his mortality and the ghosts of his past. An intimate portrait of a monarch before this death. The debut feature for double BAFTA-nominated writer and director John Walsh makes ingenious use of a single location and a setting of one stormy night. Rated 4 stars by BBC Radio Times.
Starring T.P. McKenna, Jean Marsh, Peter Miles, James Coombes, Peter Sowerbutts, Mark Montgomerie.
Rated 16+
Available May 27
---

Paper Moon (1973)
Ryan O'Neal teams up with his daughter, Tatum in this film for which Tatum won an Oscar in her role. Con man Moses Pray, driving through depression-era Kansas with a carload of deluxe bibles and a list of newly widowed prospects for his line.
Starring Ryan O'Neal, Tatum O'Neal, Madeline Kahn, John Hillerman, P. J. Johnson, Randy Quaid, Noble Willingham.
Rated PG
Available May 18
---

Poor Liza (2000)
In this period romance, a beautiful, pure, innocent peasant girl from a neighboring village is romanced by a seductive handsome yet cunning aristocrat. The Russian Empire's 18th Century class system is exposed in a drama phantasma as the author of the sentimentalist movement, Nikolai Karamzin appears as a ghostly narrator to lament this tale of betrayal and the unraveling of a youthful soul at the hands of high society.
Starring Lee Grant, Ben Gazzara, Barbora Bobulova, Gabriel Olds, Irina Kupchenko.
Rated 18+
Available May 14
---

The Secret Life of Bees (2008)
In the 1960s, haunted by memories of her late mother and abused by her father, 14-year-old Lily Owens runs away with her friend and caregiver Rosaleen to the South Carolina town that holds the key to her mother's past. There, Lily meets the Boatwright sisters, who take her in and teach her about beekeeping, honey, and the Black Madonna. Lily also discovers that the truth about her mother is closer than she thinks. Based on The Secret Life of Bees, a fiction book by the American author Sue Monk Kidd.
Starring Dakota Fanning, Queen Latifah, Jennifer Hudson, Alicia Keys, Sophie Okonedo, Paul Bettany, Hilarie Burton.
Rated PG-13 / 18+
Available May 1
---

The Underground Railroad (2021)
From Academy Award-winner Barry Jenkins and based on the Pulitzer Prize-winning novel by Colson Whitehead, "The Underground Railroad" is a new limited series that chronicles Cora Randall's desperate bid for freedom in the Antebellum South. After escaping a Georgia plantation for the rumored Underground Railroad, Cora discovers no mere metaphor, but an actual railroad beneath the Southern soil.
Starring Thuso Mbedu, Chase W. Dillon, Joel Edgerton, Sheila Atim, Ben Walker, Jeff Pope, Sean Bridgers, Aaron Pierre.
Not rated
Available May 14
---

The following period-set movies and series (and period-inspired titles) are also newly available and included with your Prime membership in May 2021. Click on the titles for more information, to watch trailers where available, and to start streaming full movies or episodes:
May 1: A Handful of Dust (1988), Ivanov (2009), Nanny Mcphee (2006), Nanny McPhee Returns (2010), The Age of Adaline (2015), The Dalton Girls (1957), The French Connection (1971). May 5: The Last King (2016). May 12: The Resistance Fighter (2019). May 14: Sweet Country (2018). May 19: Trumbo (2015), May 22: The Old Rifle (2014). May 24: Love Story of Court Enemies (2021), The Legend of Xiao Chuo (2020). May 25: Great Expectations (1974), A Man Called Horse (1970).
---
---

Period Dramas New to Prime Video Channels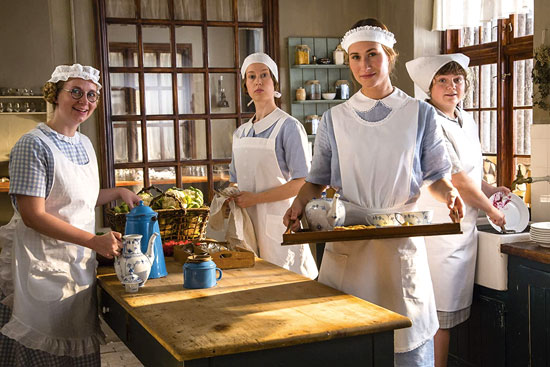 This section contains period dramas added in March, April and May 2021 (movies and TV series) that are included with add-on Prime Video Channels. If you don't already subscribe to the channel, follow the link below the film description that says "Available …" to sign up for a free trial.
---
---

Agatha and the Truth of Murder
In 1926, with her writing in crisis and her personal life in tatters, a young Agatha Christie decides to solve a real-life murder. With Dean Andrews, Bebe Cave, Amelia Dell and Ruth Bradley as Agatha Christie. (This film imagines what might have happened to the young author Agatha Christie.)
Available May 11 with the PBS MASTERPIECE Prime Video Channel
---

Agatha and the Curse of Ishtar
1928: Bruised from divorce and struggling with fame, Agatha travels to Iraq and finds a web of murder, intrigue and love. With Jonah Hauer-King and Lyndsey Marshal as Agatha Christie. (This film imagines what might have happened to the author Agatha Christie.)
Available May 25 with the PBS MASTERPIECE Prime Video Channel
---

Agatha and the Midnight Murders
London 1940: As the Blitz rages and her future is threatened by fallout from the war, Agatha makes the decision to kill off her most famous creation. With Blake Harrison, Jacqueline Boatswain, Gina Bramhill and Helen Baxendale as Agatha Christie. (This film imagines what might have happened to the author Agatha Christie.)
Available May 25 with the PBS MASTERPIECE Prime Video Channel
---

MASTERPIECE: Atlantic Crossing
Based on a true story of passion and politics, a friendship forged in war is beautifully portrayed by Kyle MacLachlan as U.S. President Franklin Roosevelt and Swedish star Sofia Helin as Norwegian Crown Princess Martha in "Atlantic Crossing." Ranging back and forth across the North Atlantic throughout World War II, the eight-episode series depicts momentous events in the changing fortunes of Norway, Great Britain and the United States, probing deeply into the rarely told story of Norway's struggle against Nazi invasion and occupation.
Available April 4 with the PBS MASTERPIECE Prime Video Channel
---

MASTERPIECE: Churchill's Secret
Starring Sir Michael Gambon, Romola Garai, and Matthew Macfadyen, "Churchill's Secret" is set in England during the summer of 1953. The film tells a little-known part of Winston Churchill's great life story. During his second term as Prime Minister, Churchill (Sir Michael Gambon) suffers a life-threatening stroke, which his inner circle conspired to hide from the public.
Beautifully directed by three-time Emmy® nominee Charles Sturridge the film charts the course of Winston's remarkable recovery and investigates the strain that his great public service wrought upon his private life. Told from the point of view of his family, his doctor, the men he championed and, most touchingly, his young nurse (Romola Garai), "Churchill's Secret" follows Winston's extraordinary battle to recover, casting an honest light on the tensions within his brilliant and dysfunctional family.
Available March 11 with the PBS MASTERPIECE Prime Video Channel
---

The Restaurant: 1951 (Season 4)
This standout Swedish drama series follows the Löwander family during the summer of 1951, as they operate a restaurant in the Stockholm archipelago for the season. Daughter Nina (Hedda Stiernstedt, Svartsjön) once had a passionate relationship with Calle (Charlie Gustaffson, Vikingshill) the chef, but both are now married and have children with others. In the light summer nights on the seaside, their love reawakens – but how great a price are they willing to pay to follow their hearts?
Is it really true that love conquers all? Or does it actually destroy all?
Available March 25 with the Sundance Now Prime Video Channel
---

Seaside Hotel (Season 7)
It is now the summer of 1940 and the seaside hotel opens for a new season. Denmark has been invaded by the Germans and the previous years' guests flee to the beach-side hotel to get some respite from the German occupation. It has been a year since Amanda and Philip have taken over the ownership of the hotel and they are looking forward to welcoming the guests back for a new cheerful and pleasant summer season.
However, the occupying forces have also discovered the cozy hotel and the guests and staff alike realize that even out on the dune range, they cannot hide from the war. They are faced with the uncomfortable choice of whether to cooperate with the Germans' demands or say no, risking Amanda's first season as hotel owner, possibly making it her last. Will the hotel stay open for its usual relaxation and scandals or will it shutter early for the season?
Available March 12 with the PBS MASTERPIECE Prime Video Channel
---
In addition to the above, the other period-set titles that will be streaming on the PBS MASTERPIECE Prime Video Channel this May include Masterpiece: Indian Summers, Seasons 1 & 2, and Walter Presents: 1864.
Also see BritBox Adds 75 Period Dramas in December if you have BritBox as an Add-on Channel, and Period Dramas on Acorn TV in 2021 if you have Acorn TV as an Add-on Channel.
---
---

New Period Dramas to Rent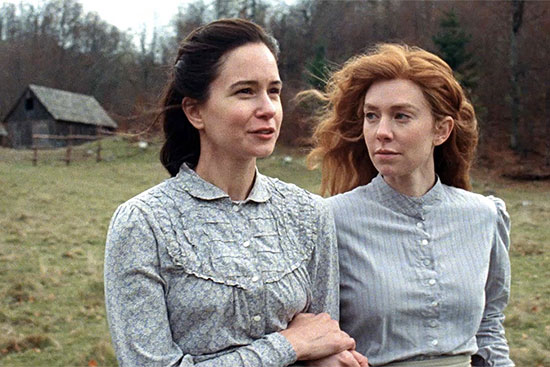 This section contains historical, costume and period dramas (movies and TV series) that are newly available to rent on Amazon this season.
---
---

The Luminaries (2021)
An epic story of love, murder and revenge, as men and women travel across the world to make their fortunes in the boom years of the 1860s gold rush. Based on the Man Booker prize-winning novel.
Starring Eve Hewson, Himesh Patel, Marton Csokas.
Rated TV-MA
Available March 18
---

News of the World (2020)
A Civil War veteran agrees to take a child to her rightful family. Together they travel into the unforgiving wilderness, searching for a place they can call home.
Five years after the end of the Civil War, Capt. Jefferson Kyle Kidd crosses paths with a 10-year-old girl taken by the Kiowa people. Forced to return to her aunt and uncle, Kidd agrees to escort the child across the harsh and unforgiving plains of Texas. However, the long journey soon turns into a fight for survival as the traveling companions encounter danger at every turn — both human and natural.
Starring Tom Hanks, Helena Zengel, Tom Astor, Travis Johnson.
Rated PG-13
Available March 9
---

When Calls the Heart (Season 8)
More surprises and challenges are in store for the residents of Hope Valley. Elizabeth's relationships with Nathan and Lucas continue to deepen, Faith and Carson must make choices about their future, a new family arrives to town, Lee and Rosemary get some unexpected news, Bill is asked to return a prized possession and the whole town joins in the excitement as another wedding takes place.
Starring Erin Krakow, Martin Cummins, Jack Wagner, Pascale Hutton.
Rated TV-G
---

The World to Come (2020)
In this powerful 19th century romance set in the American Northeast, Abigail, a farmer's wife, and her new neighbor Tallie find themselves irrevocably drawn to each other. A grieving Abigail tends to her withdrawn husband Dyer as free spirit Tallie bristles at the jealous control of her husband. Together, their intimacy begins to fill a void in each other's lives they never knew existed.
Starring Vanessa Kirby, Katherine Waterston, Christopher Abbott.
Rated R for some sexuality/nudity
Available March 2
---
Also newly available to rent: March 17: Tolkien in 4K UHD. March 18: The Aftermath (2019), Country Life (1995). April 12: Interlude In Prague (2017).
---
---

New Period Drama DVD Releases
This section contains a selection of historical, costume, and period dramas and other titles of interest that are being released this season to DVD and Blu-ray.
---
---
The Alienist: Angel of Darkness: An unflinching psychological thriller amidst the underbelly of New York City's "Gilded Age," The Alienist follows Laszlo Kreizler (Brühl), a brilliant and obsessive "Alienist" in the controversial new field of treating mental pathologies, who holds the key to hunting down a never-before-seen ritualistic killer murdering young boys. Available HERE May 18, 2021.
A Suitable Boy: This "groundbreaking" (The Guardian) BBC period drama based on the global bestseller by Vikram Seth is directed by Mira Nair (Monsoon Wedding) and adapted by Andrew Davies (Pride and Prejudice). Amid the cultural upheaval of 1950s India, Lata (Tanya Maniktala) is torn between romance and responsibility, while wayward Maan (Ishaan Khatter) has a perilous affair with a glamorous courtesan (Tabu). Available HERE May 11, 2021. 
The Chaperone / Flesh and Blood / Mrs. Wilson (Masterpiece Triple Feature): Enjoy these three acclaimed dramas from Masterpiece on PBS: Mrs. Wilson with Ruth Wilson; Flesh and Blood featuring Imelda Staunton and Francesca Annis; and The Chaperone starring Elizabeth McGovern and Haley Lu Richardson. Available HERE May 4, 2021.
Fearless Females 4-Movie Collection (Harriet / Elizabeth / Mary Queen of Scots / On the Basis of Sex): Harriet: Harriet Tubman leads a dangerous mission to liberate hundreds of slaves through the Underground Railroad. Elizabeth: Elizabeth's reign begins when England is divided by bloody turmoil and she must quickly decide who she can trust. Mary Queen of Scots: Widowed at 18, Mary returns to Scotland to reclaim her rightful throne where she experiences the bitter cost of power. On the Basis of Sex: Ruth Bader Ginsburg teams up with her husband as she takes on a ground-breaking case that will alter the courts' view of gender discrimination. Available HERE March 2, 2021.
The Furies (Criterion Collection) [Blu-ray]: In 1870s New Mexico Territory, megalomaniacal widowed ranch owner T. C. Jeffords (Huston, in his final role) butts heads with his firebrand of a daughter, Vance (Stanwyck), over her dowry, choice of husband, and, finally, ownership of the land itself. Sophisticated in its view of frontier settlement and ablaze with searing domestic drama, "The Furies" is an often-overlooked treasure of American filmmaking, boasting Oscar–nominated cinematography and vivid supporting turns from Judith Anderson, Wendell Corey, and Gilbert Roland. Available HERE April 20, 2021.
Jekyll And Hyde: Critically acclaimed writer Charlie Higson transforms the classic story of good versus evil in this stylish fantasy adventure immersed in the golden age of Hollywood horror. Opportunity fills the air in 1930s London, but for the young, sensitive and naive Doctor Robert Jekyll (Tom Bateman, Beecham House, Vanity Fair), a dark past lurks in the shadows. Jekyll has inherited his grandfather's curse, and in extreme moments is overcome by an inexplicable power Hyde. Superhuman and uninhibited, the devilishly alluring Hyde is everything Jekyll isn't. Available HERE March 9, 2021.
Masterpiece: Atlantic Crossing: Inspired by true events, this is the untold story of the Norwegian Crown Princess becoming an influential figure in world politics during World War II, depicting the tragic events of the war from a unique and unseen perspective. Starring Sofia Helin and Kyle MacLachlan. Available HERE May 4, 2021.
Vienna Blood: Set in early 1900s Vienna, this thrilling crime drama follows brilliant young English doctor Max Liebermann (Matthew Beard, The Imitation Game) as he studies under famed psychoanalyst Sigmund Freud. When Max meets Austrian DI Oskar Rheinhardt (Juergen Maurer), he applies recent discoveries in psychology and forensics to solve Vienna's most mysterious cases. Three feature-length episodes from the writer of the hit series Sherlock. Available HERE March 7, 2021.
When Calls the Heart Double Feature: Open Season & From the Ashes: In Open Season, Elizabeth has at last finished her manuscript, and frets when Lucas's mother Helen comes to Hope Valley to start edits … but Helen also has another reason for coming to town. And Nathan finally reveals how he truly feels about Elizabeth. Then, in From The Ashes, the town comes together when a geyser erupts at the oil rig, while Nathan's declaration is sidetracked when he is summoned for an inquiry by a Mountie from his past. Available HERE May 11, 2021.
---
---

Other Shows You May Also Like 
This section contains a curated list of movies and TV series new and are included on Prime, that are NOT period dramas. We think fans of historical and costume dramas will enjoy them just the same. Follow the links to watch the trailers. You may also like:
Added in March: March 1: Brad Meltzer's Decoded (Season 1), Back to the Future (1985), E.T. the Extra-Terrestrial (1982), The Terminal (2004), Rain Man (1988), What Women Want (2000), Failure to Launch (2006), Mystic Pizza (1988), As Good as It Gets (1997), The Full Monty (1997), A Christmas Recipe for Romance (2019). March 2: Crimes of the Heart (1986), Misty (1961). March 4: Nanny Diaries (2007), Fever Pitch. March 17: Main Street (2011) with Colin Firth! March 26: Falls Around Her (2020). March 28: Life with Elizabeth (1954).
Added in April: April 1: Aber Bergen (Season 1), A Hologram For The King (2016), Art of Falling In Love (2019), Because I Said So (2007), Breathless (1983), Did You Hear About the Morgans? (2009), Evan Almighty (2007), Forgetting Sarah Marshall (2008), Four Weddings and a Funeral (1994), The Gift (2000), Ghost (1990), Inception (2010), Johnny English (2003), Keeping Faith (Season 1), Lady In A Cage (1964), Larry Crowne (2011), The Lincoln Lawyer (2011), Loch Ness (2019), Losing Isaiah (1995), Manhattan (1979), Mark Twain (PBS), Milk (2009), Monster's Ball (2001), Moonstruck (1987), My Cousin Vinny (1992), New In Town (1992), North (1994), The Prince and Me (2004), Return to Me (2000), The Squid and the Whale (2005), The Truman Show (1998), Witness for the Prosecution (1957). April 2: Catch and Release (2007), The Holiday (2006), The Jane Austen Book Club (2007), The Out-of-Towners (1999). April 28: Arrival (2016), The Commune (2017).
Added in May: May 1: An Officer and a Gentleman (1982), The Da Vinci Code (2006), Angels & Demons (2009), Scent Of A Woman (1992), The Indian in the Cupboard (1995), The Ladykillers (2004), The Sixth Sense (1999), Almost Royal (Seasons 1 & 2), Flightplan (2005). May 26: Ondine (2009).

---
---
If you enjoyed this post, be sure to see The Period Films List, with the best British period dramas, historical and costume movies and TV series sorted by era.