Last Updated on November 1, 2022
The 2006 movie "The Prestige" is set at the end of the 19th century, an exciting time when cinema, photography and intellectual pursuits were driving society forward in the name of progress. The Victorians were fascinated by Spiritualism, leading illusionists to adapt their performances to channel the magical and mystical, bridging paradigms with seances and wonder.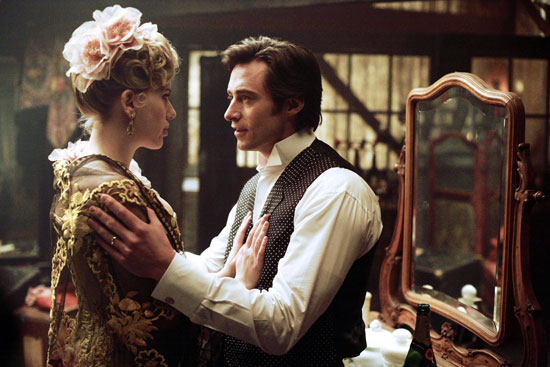 ---
To help keep this site running: Willow and Thatch may receive a commission when you click on any of the links on our site and make a purchase after doing so.
---
Entertainers and spiritualists intermingled, and connecting the real world with the spiritual realm became an art form. In this era of knowledge-seeking and library-building, scientists like Edison and Tesla were blurring the lines between magic and science, competing in a race to discover and build their scientific empires.
Against this backdrop, in the period mystery "The Prestige," two magicians are locked in a bitter rivalry. The result is an atmospheric thriller perfect for Halloween, or anytime you want a smartly dark and moody costume drama.
---
---
Based on the novel by Christopher Priest, "The Prestige" follows the careers of Robert Angier and Alfred Borden in late 1800s London. Celebrated illusionists, these rival magicians made it their mission to sabotage one another's acts after a disastrous collaboration.
Whether by espionage or intimidation, Angier and Borden take their professional jealousy to the point of criminality. Bending the rules, deconstructing tricks and betraying trust with a series of carefully calibrated deceptions, their pristine suits and top hats become sheep's clothing.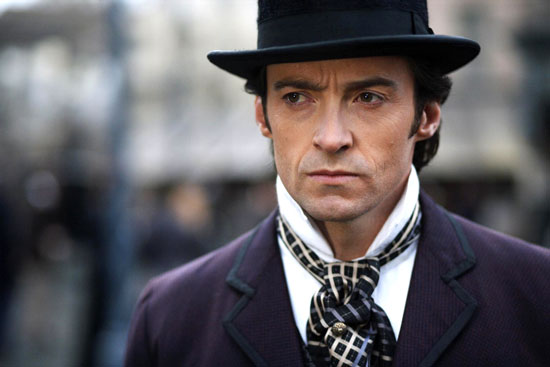 "The Prestige" is stellar, featuring Hugh Jackman as Angier and Christian Bale as Borden, the two heads to a coin. Jackman is a likable and charming actor who has the versatility to play Leopold in the time-traveling romantic comedy "Kate & Leopold," P.T. Barnum in "The Greatest Showman," and Jean Valjean in the 2012 adaptation of "Les Misérables." Here, Jackman keeps Angier determined and obsessed with becoming the best at any sacrifice.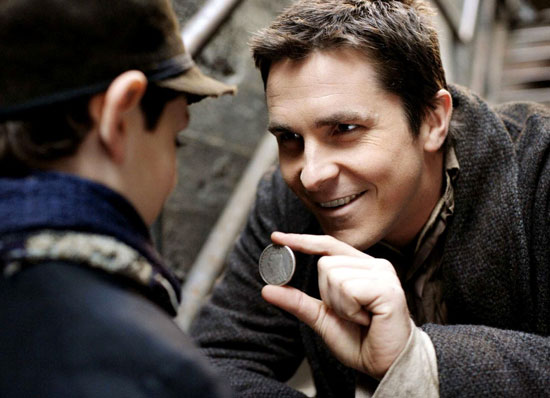 His equal-opposite is Bale (The Promise, The Flowers of War) as the more streetwise Borden, who is equally dedicated to being a thorn and a spanner (Editor's note: that's a British term folks, for someone who is an annoyance). Bale's focussed intensity informs the character and tone of the suspenseful period piece. The film, which has exquisitely crafted set design, is rounded out by a first-rate supporting cast of Michael Caine (The Cider House Rules), Scarlett Johannsson (Girl with a Pearl Earring), Rebecca Hall (Parade's End), Andy Serkis (Little Dorrit) and the late David Bowie.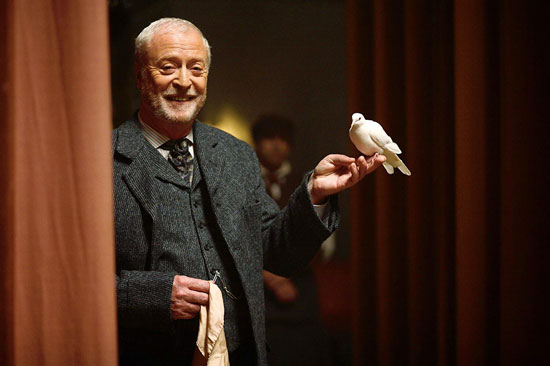 "The Prestige" writer-director Christopher Nolan (Dunkirk, The Dark Knight) has made his mark on Hollywood with clinical, foreboding and exquisite genre films that have arthouse and commercial appeal. Magic and filmmaking have a great number of parallels, forging the idea of illusion creating a suspended reality and allowing ourselves to be persuaded by a master storyteller. "The Prestige" channels this quality, using the idea of a magic trick having three acts: the 'Pledge' sets the scene with something normal, the 'Turn' flips normal upside down before bringing the trick back to normal with the 'Prestige'.
Nolan captures the energy of his performers by shooting with handheld cameras, adding an immediacy and modernity to "The Prestige." Coupled with Director of Photography Pfister's frequent use of natural light, costume designer Joan Bergin's (A Little Chaos, The Tudors) downplayed muted earth tones ground the period piece, letting the performances take the spotlight. 
The storytelling is non-linear, representing multiple perspectives and giving the audience an omniscient point-of-view where each magician has his own personal war to wage. The central conflict may be a rivalry, but dualities are soaked through, contrasting art and science, pretense and reality, young and old… there are many rich layers to this game of cat and cat.
An underground world of secrets and obsessions, "The Prestige" has heft, powered home by powerful themes, multi-pronged storytelling, solid performances and thoughtful filmmaking. The dark colour palette, fleeting edit, quick pacing and cinematographic choices give it an immediacy and reality not frequently found in period dramas. Inviting the audience to watch the film on stage and from behind-the-scenes, Christopher Nolan has crafted a dark and reflective gem.
The Prestige (2006) is AVAILABLE to STREAM
Watch the TRAILER
Rated PG-13
---
Stephen 'Spling' Aspeling is a "thought leader" (AFDA) and "our generation's Barry Ronge" (Brothers Streep), who continues to review, write, present, promote and adjudicate film for a host of websites, radio stations, magazines, newspapers, TV shows, festivals and events. You'll also find him at his movie review website SPL!NG. 
Spling's reviewmyscript.com provides professional reviews of screenplays before they've been made. Whether you're writing your first short or seventh feature film, consider connecting with the team to help you get from the page to the screen. Getting key insights, valuable feedback and a comprehensive review from an independent film critic will enable you to: gain perspective, adjust your story, address weaknesses and leverage the review to punt your script to prospective producers and film studios. They also provide other screenwriting services such as The Three Wells Analysis, live table reads, "radio" plays, script editing and script walks.
---
If you enjoyed this post, be sure to see The Period Films List, with British, historical and costume dramas sorted by era. You'll especially like the Best Period Dramas: Victorian Era List. Also see Paranormal and the Period Drama and Chilling Period Dramas for Halloween