Last Updated on November 28, 2020
BritBox, the subscription streaming service from BBC Studios and ITV, offering the largest collection of streaming British television in North America, has added some period dramas and mysteries to their line-up this fall that Anglophiles will want to know about.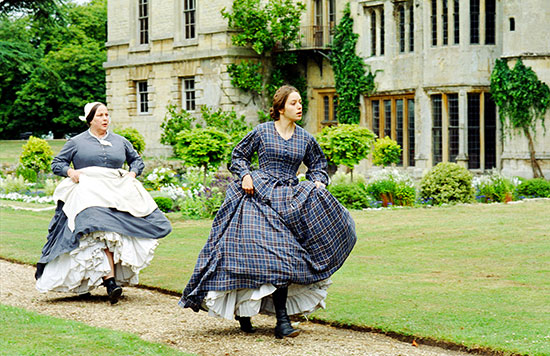 ---
To help keep this site running: Willow and Thatch may receive a commission when you click on any of the links on our site and make a purchase after doing so. 
---
Here's what to look for in September, October, and November on BritBox US if you love period-set movies and TV series. (If you missed what was added over the summer, that's here.) 
If you have BritBox as a Prime Add-On Channel, click on our "Add to your WATCHLIST" links to do just that. 
---
---
New Period Dramas: September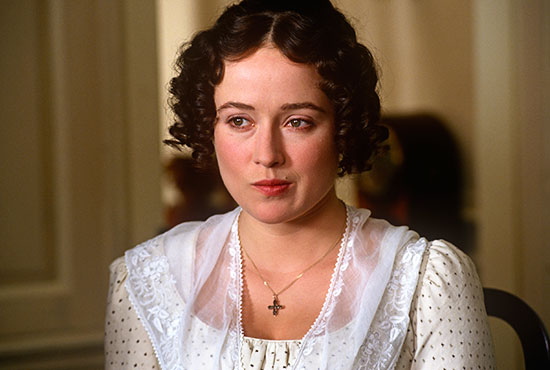 ---
---

Agatha Christie's Partners in Crime (1983)
In this 10-episode television series, Francesca Annis (Lillie) and James Warwick (Agatha Christie's The Secret Adversary) star as the famous crime-fighting duo, Tommy and Tuppence Beresford, as they solve mysteries and search for enemy spies in 1950's Britain.
Super sleuths Tommy and Tuppence are now married and established as secret agents under the eagle eye of Scotland Yard. Also starring Reece Dinsdale as Albert and Arthur Cox as Inspector Marriott with guest stars including Graham Crowden, Joan Sanderson, Liz Smith, T.P. McKenna and Anne Stallybrass. Exclusive to BritBox.
Available September 22, 2020
---

Pride and Prejudice (1995) Remastered
Critically acclaimed and famously adapted from Jane Austen's iconic story, watch this six-episode television drama as you've never seen it before, restored in 4K UHD. In this performance that launched Jennifer Ehle (A Quiet Passion) and Colin Firth (The King's Speech) to international fame, follow the beloved Elizabeth Bennet and Fitzwilliam Darcy as they overcome their differences in social standing. World Premiere of the remastered version.
Available September 25, 2020
---
---
New Period Dramas: October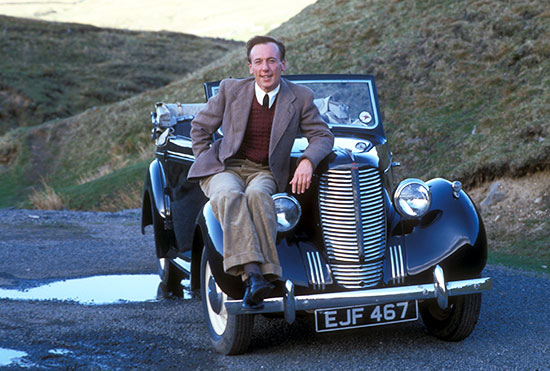 ---
---

All Creatures Great and Small (Seasons 4-7)
The classic British series. In 1937, young, newly-qualified surgeon James Herriot (Christopher Timothy, EastEnders), arrived in a rural Yorkshire village to take up his first job in an established veterinary practice. But the treatment of sick animals here still seems to be rooted in the Dark Ages, not to mention the country-folk's suspicion of strangers. Follow James in this beloved comedy classic as he continues the challenge of not only tending to the animals, but to win round the community too. Exclusive to BritBox. (Seasons 1-3 were previously added.)
Available October 1, 2020
---

Agatha (1979)
Inspired by the December 1926 two-week disappearance of famed British author Agatha Christie, this romantic mystery drama exposes the mystery and the revenge she plotted against her faithless husband. Academy Award winners Vanessa Redgrave (Howards End) and Dustin Hoffman (The Graduate) star as world famous mystery author Agatha Christie and the man with whom she allegedly shared a mysterious romantic tryst.
Available October 9, 2020
---

Alphabet Murders (1965)
Tony Randall (Pillow Talk) stars as the redoubtable Belgian detective, Hercule Poirot in this crime mystery drama based on Agatha Christie's novel The ABC Murders. Watch as Hercule Poirot confronts murder and mayhem when a demented killer murders in grisly alphabetical order, beginning with the initials A.A and slashing blithely towards Z.Z.
Available October 9, 2020
---

Murder at the Gallop (1963)
Based on the 1953 novel After the Funeral by Agatha Christie, Margaret Rutherford (Murder Most Foul) stars as the iconic fictional character Miss Jane Marple in this crime drama sprinkled with light comedy. When Miss Marple and Mr. Stringer (Stringer Davis, Murder She Said) are out soliciting for charity donations, they cross paths with a wealthy and eccentric man who appears to have been frightened to death by his pathological fear of cats. Suspicious that the man was intentionally murdered by an heir to his estate, Miss Marple investigates his death.
Available October 9, 2020
---

Murder Most Foul (1964)
Based on Mrs. McGinty's Dead by Agatha Christie, Academy Award winner Margaret Rutherford (Murder at the Gallop) stars as Miss Marple as the beloved character opposes a guilty verdict for Harold Taylor in the murder of his landlady, and investigates the case. When clues lead her to believe the landlady was blackmailing someone in a rundown theater company, she auditions for a part, but the killer strikes again as the curtain goes up. Can the spinster sleuth identify the murderer before he claims his next intended victim – Miss Marple herself?
Available October 9, 2020
---

Murder, She Said (1961)
Based on the novel 4:50 from Paddington by mystery novelist Agatha Christie, intrepid spinster sleuth, Miss Marple (Margaret Rutherford, Murder at the Gallop), reveals a closet full of skeletons as she tracks a killer in this strange case of the strangler-killer on the night express. Determined that the crime she saw does not go unpunished, Miss Marple goes undercover and discovers awful secrets tied to the Ackenthorpe estate and a series of terrible murders.
Available October 9, 2020
---

The Turn of the Screw (1999)
A hauntingly atmospheric adaptation of Henry James' classic gothic horror story starring Jodhi May (Emma) and Colin Firth (Pride and Prejudice). A young, inexperienced governess is hired to look after two small children abandoned by their uncle, following the death of their parents, at his grand country house. Unsettled by glimpses of ghostly figures that only she can see, she quickly believes that something malevolent is stalking the children in her care. She learns that her predecessor and her sinister lover both died under curious circumstances and prior to their death, they spent most of their time with Flora and Miles. Could they be the figures appearing to the new governess? But are appearances everything they seem to be? Are these apparitions truly supernatural or simply products of her overactive imagination? James' novel is brilliantly brought to life in this evocative drama – full of ambiguity, eeriness and menace.
Available October 30, 2020
---
---
New Period Dramas: November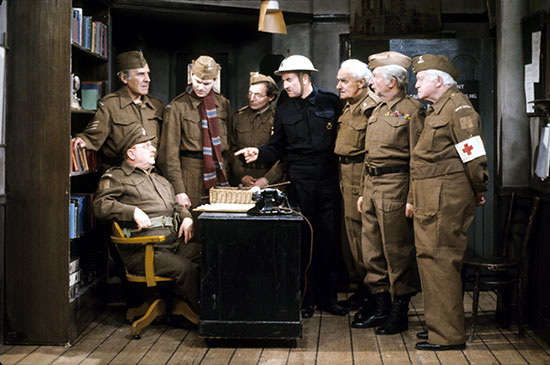 ---
---

Dad's Army (Seasons 1-9)
Period-set comedy. Written by Jimmy Perry (Hi-de-Hi!, The Gnomes of Dulwich) and David Croft ('Allo 'Allo!, Hi-de-Hi!), this iconic British sitcom follows the struggles of a Home Guard platoon during World War II. With the threat of invasion from Nazi Germany, Home Guard was formed with men not yet in the regular army. Due to many of the Home Guard volunteers being older, the force became known as "Dad's Army". Filled with beloved characters, coined catchphrases and hilarious incompetence, it's no wonder that this BBC program is undoubtedly regarded as one of the most iconic British sitcoms of all time.
Available November 7, 2020
---

'Allo 'Allo! (Seasons 1-9)
Period-set comedy. Meet René, the most wanted man in Occupied WWII France and a mustachioed café owner. Women want his body, the Resistance wants his brain and the Nazis want his sausage! In a small café in Nouvion, the harassed proprietor is having a trying war. With the German army in residence in the bar, René is risking his neck to aid the Resistance by hiding two British airmen and a radio transmitter upstairs in his mother-in-law's bedroom.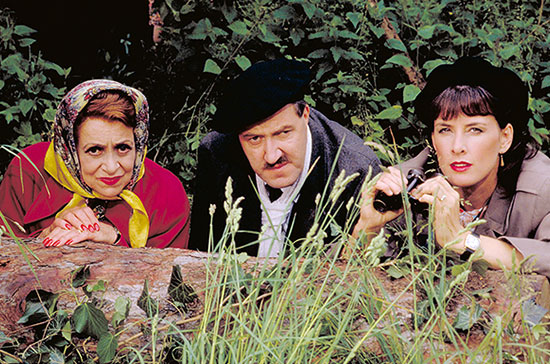 But Rene's real problem is his wife, Edith, and what she will do to him when she finds out about the affairs he is having with his two sexy waitresses. From outright farce to unsubtle double entendres and mother-in-law jokes, this British sitcom is humor which easily travels. It has crazy characters and even crazier plots, a wealth of catchphrases and, of course, René – the most improbable French hero since Inspector Clouseau
Available November 7, 2020
---
---
You May Also Like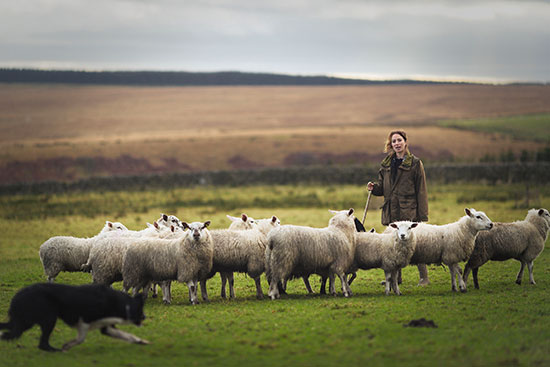 This section contains new-this-fall non-period movies and series that we think you'll also enjoy. 
---
---

This Farming Life (Season 4)
This BAFTA-winning documentary series returns, following the ups and downs of new farming families in Scotland and Northern Ireland, as they face tough economic times and an uncertain future. This warm, compelling series weaves intimate personal stories with the dramatic events that make up life on a farm, with families carving out a living in some of Britain's most beautiful landscapes. (Seasons 1 – 3 were previously added.)
Available September 18, 2020
---

To the Manor Born (Seasons 1-4)
When Audrey fforbes-Hamilton (Penelope Keith, Good Neighbors) is forced to sell the house that has been in her family for years, Grantleigh Manor, she takes matters into her own hands by moving into a lodge on the estate to keep an eye on the property. The manor is bought by Richard DeVere, a rich supermarket owner, whom Audrey develops a love-hate relationship with.
Available November 13, 2020
---

Play for Today Collection
While all of these titles aren't period dramas, some, like the WWII-set "Rainy Day Women," are. A unique collection of this iconic, star-studded anthology series that includes both original plays and adaptations of stage plays and novels is making its way to BritBox in honor of its 50th anniversary. A milestone in the history of British television, this flagship BBC single drama strand is as relevant as ever, challenging its audience to examine real-world issues that still resonate today. Boasting spectacular talent, the series features Helen Mirren in "Soft Targets," Nigel Hawthorne in "Jessie" and Alison Steadman in "Abigail's Party," "Nuts in May" and "Hard Labour." Exclusive to BritBox.
Available October 13, 2020
---
If you enjoyed this post, wander over to The Period Films List. You'll also want to check out our list of Period Dramas on Acorn TV in 2020.