Last Updated on March 6, 2021
We have your period drama line-up for what's new to streaming on Netflix Instant in the US this winter – and also what's leaving.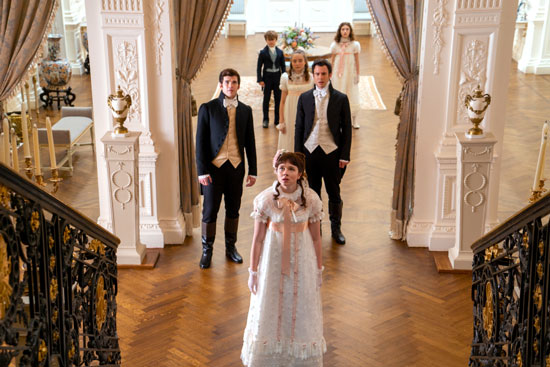 ---
To help keep this site running: Willow and Thatch may receive a commission when you click on any of the links on our site and make a purchase after doing so.
---
This list will be updated all winter: it will house all the historical, costume, and period dramas added to Netflix in December 2020, and January and February 2021, that we think you'll enjoy.
New titles – from British period dramas to romantic television series and biopics –  will be added alphabetically to the appropriate areas all throughout the months, as soon as we learn of them. If you recognize a title from the service, it's because movies and series often get pulled off for a period of time, and then they come back.
Be sure to click through to watch the trailers – they may save you from watching something you'll wish you hadn't (or help you find something you nearly skipped over).
We've also curated some other non-period feel-good movies and TV series including comedies and romances, that are coming to Netflix that you might like. See the "You May Also Like" section for these additional suggestions of what to watch.
The Spring 2021 list is here. 
---
---

Period Dramas Added in December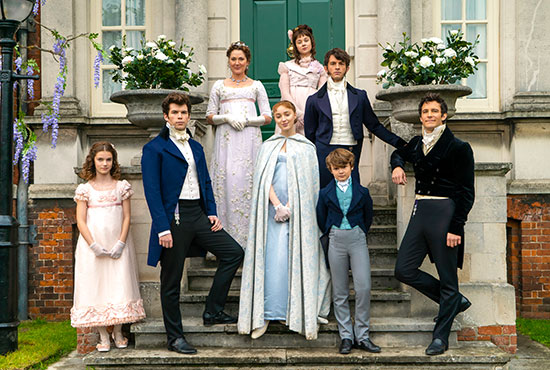 ---
---

Bridgerton (2020)
A new British period drama series is inspired by Julia Quinn's novels, "Bridgerton" follows Daphne Bridgerton, the eldest daughter of the powerful Bridgerton family as she makes her debut onto Regency London's competitive marriage market. Hoping to follow in her parent's footsteps and find a match sparked by true love, Daphne's prospects initially seem to be unrivaled.
But as her older brother begins to rule out her potential suitors, the high society scandal sheet written by the mysterious Lady Whistledown (Julie Andrews is the voice of Lady Whistledown) casts aspersions on Daphne. Enter the highly desirable and rebellious Duke of Hastings, committed bachelor and the catch of the season for the debutantes' mamas. Despite proclaiming that they want nothing the other has to offer, their attraction is undeniable and sparks fly as they find themselves engaged in an increasing battle of wits while navigating society's expectations for their future.
"Bridgerton" is a romantic, scandalous, and quick-witted series that celebrates the timelessness of enduring friendships, families finding their way, and the search for a love that conquers all.
Starring Phoebe Dyvenor, Regé-Jean Page, Golda Rosheuvel, Jonathan Bailey, Luke Newton, Claudia Jessie, Nicola Coughlan, Ruby Barker, Sabrina Bartlett, Ruth Gemmell, Adjoa Andoh, Polly Walker, Bessie Carter and Harriet Cains
Available December 25
---

Effie Gray (2014)
Trapped in a loveless marriage, Effie Gray, the young wife of Victorian-era art critic John Ruskin, finds herself falling for Pre-Raphaelite painter John Everett Millais – and looking for a way out.
Starring Dakota Fanning, Greg Wise, Emma Thompson, Tom Sturridge, Polly Dartford.
Rated PG-13
Available December 1
---

Lee Daniels' The Butler (2013)
As Cecil Gaines serves eight presidents during his tenure as a butler at the White House, the civil rights movement, Vietnam, and other major events affect this man's life, family, and American society. Set beginning in 1926, and loosely based on the real life of Eugene Allen.
Starring Forest Whitaker, Oprah Winfrey, Terrence Howard, Michael Rainey Jr.
Rated PG-13
Available December 16
---

Mank (2020)
1930s Hollywood is reevaluated through the eyes of scathing wit and alcoholic screenwriter Herman J. Mankiewicz as he races to finish "Citizen Kane."
Starring Gary Oldman, Amanda Seyfried, Lily Collins, Charles Dance.
Rated R for some language
Available December 4
---

Ma Rainey's Black Bottom (2020)
Tensions rise when the trailblazing, fiery, fearless Mother of the Blues and her band gather at a Chicago recording studio in 1927. Based on Pulitzer Prize winner August Wilson's play, the period drama celebrates the transformative power of the blues and the artists who refuse to let society's prejudices dictate their worth.
Starring Chadwick Boseman, Viola Davis, Glynn Turman, Colman Domingo.
Rated R for language, some sexual content and brief violence
Available December 18
---

The Patriot (2000)
In 1776 South Carolina, peaceful farmer Benjamin Martin is driven to lead the Colonial Militia during the American Revolution when a British officer murders his son.
Starring Mel Gibson, Heath Ledger, Joely Richardson, Jason Isaacs, Lisa Brenner.
Rated R for strong war violence
Available December 1
---

The Professor and the Madman (2019)
Based on the 1998 book The Surgeon of Crowthorne by Simon Winchester, the life of Professor James Murray is portrayed as he begins work on compiling words for the first edition of the Oxford English Dictionary in the mid-19th century. As he led the overseeing committee, the professor received over 10,000 entries from one source in particular – a patient at Broadmoor Criminal Lunatic Asylum, Dr William Minor.
Starring Mel Gibson, Sean Penn, Eddie Marsan, Natalie Dormer, Jennifer Ehle.
Rated 16+
Available December 15
---
Other Just-added Period Movies & Series 
Available December 1: The animated early 1900s-set family tale based on characters from Angela's Ashes author Frank McCourt, Angela's Christmas Wish (2020), Quigley Down Under (1990). Available December 7: the historical rom-com K-drama 100 Days My Prince (Season 1).  
---
Also see the list of period dramas added to Netflix over this past fall.
---
Period Dramas Leaving Netflix in December 
Leaving December 31, 2020: An Education (2009), Anna Karenina (2012), Frida (2002), Grand Hotel: Seasons 1-3, The Notebook (2004), Pride & Prejudice (2005), Troy (2004).

---
---
Period Dramas Added in January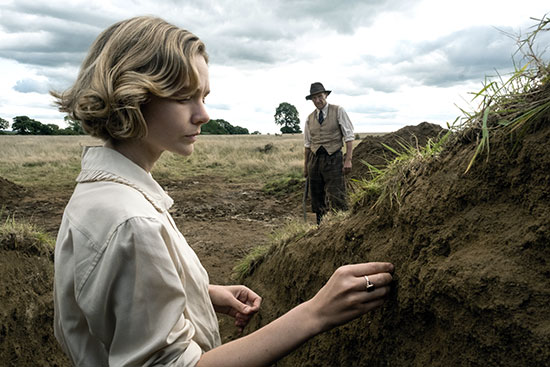 ---
---

Bonnie and Clyde (1967)
In 1934 America, bored waitress Bonnie Parker falls in love with an ex-con named Clyde Barrow and together they start a violent crime spree through the country, stealing cars and robbing banks. Warren Beatty and Faye Dunaway are the legendary Depression-era bandits and lovers in this landmark film that won two Academy Awards®.
Starring Warren Beatty, Faye Dunaway, Michael J. Pollard, Estelle Parsons, Gene Hackman.
Rated R for violence 
Available January 1
---

The Dig (2021)
In this British period drama, an  amateur archaeologist embarks on the historically important excavation of Sutton Hoo in the late 1930s, when a wealthy widow hires him to excavate burial mounds on her estate. Together, they uncover history-changing treasure. Based on the 2007 novel of the same name by John Preston.
Starring Carey Mulligan, Ralph Fiennes, Lily James, Johnny Flynn, Ben Chaplin, Ken Stott. 
Rated PG-13
Available January 29
---

Fatima (2020)
Based on historical events, three young shepherds in Fátima, Portugal, report visions of the Virgin Mary, inspiring believers and angering officials of the Church and the government, who try to force them to recant their story.
Starring Joaquim de Almeida, Goran Visnjic, Stephanie Gil, Alejandra Howard, Jorge Lamelas.
Rated PG-13
Available January 31
---

Lagaan (2001)
In 1890s India, an arrogant British commander challenges the harshly taxed residents of Champaner to a high-stakes cricket match. Also known as "Lagaan: Once Upon a Time in India." The "Lagaan" making-of documentary "Chale Chalo: The Lunacy of Film Making" is also newly available on Netflix.
Starring Aamir Khan, Gracy Singh, Rachel Shelley, Raghuvir Yadav, Paul Blackthorne.
Rated PG
Available January 10
---

Outlander (Season 4)
Season four of "Outlander" continues the story of time-traveling 20th century doctor Claire Fraser and her 18th century Highlander husband Jamie Fraser as they try to make a home for themselves in colonial America.
Starring Caitriona Balfe, Sam Heughan, Sophie Skelton.
Rated TV-MA
Available January 27
---

Radium Girls (2018)
Based on true events, sisters Bessie and Jo Cavallo paint dial watches at the American Radium factory in New Jersey in the 1920s. When Jo's health starts to decline, Bessie starts to question if Radium is safe. She discovers a veil of corporate lies, motivating a group of factory workers to advocate for safer work conditions. 
Starring Joey King, Abby Quinn, Cara Seymour, Scott Shepherd, Susan Heyward, Neal Huff.
Not rated
Available January 16
---

Sherlock Holmes (2009)
When a string of murders terrorizes 1890 London, it doesn't take long for legendary detective Sherlock Holmes and his crime-solving partner, Dr. Watson, to find the killer, Lord Blackwood. A devotee of the dark arts, Blackwood has a bigger scheme in mind, and his execution plays right into his plans. The game is afoot when Blackwood seems to rise from the grave, plunging Holmes and Watson into the world of the occult and strange technologies.
Starring Robert Downey Jr., Jude Law, Rachel McAdams, Mark Strong, James Fox, William Hope.
Rated PG-13
Available January 1
---
Other Just-added Period Movies & Series 
Available January 1: Goodfellas (1990), Julie & Julia (2009) January 8: Creating The Queen's Gambit (2021).  
---
Period Dramas Leaving Netflix in January 
Leaving January 7: The Tudors: Seasons 1-4. Leaving January 8: Mary Poppins Returns (2018). Leaving January 15: A Serious Man (2009). Leaving January 24: When Calls the Heart: Seasons 1-5.
---
---
Period Dramas Added in February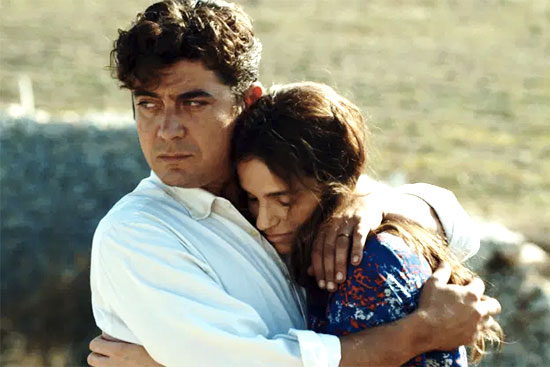 ---
---

The Last Paradiso (2021)
In 1950s Italy, a passionate free spirit dreams of love, justice and a better life till a forbidden affair threatens everything. The story of an impossible love, a dream of an indomitable man who has a sense of rebellion and justice coursing through his veins. Based on real events.
Starring Riccardo Scamarcio, Gaia Bermani Amaral, Valentina Cervi, Antonio Gerardi.
Rated TV-MA
Available February 5
---

The Last Bastion (2018)
The Robles family, born and raised in the Americas, experiences the highs and lows of the revolutionary drive to Peru's independence in the early 1800s. The story is told through Paco Robles, a young middle-class lawyer who in some way relates to all the characters in the story. He and his girlfriend tell us about the great change that takes place at that time. This Spanish-language series is also known as "El Ultimo Bastión."
Starring Giovanni Arce, Mayella Lloclla, Rodrigo Palacios, Priscila Espinoza, Mayra Nájar, Sergio Galliani, Laly Goyzueta, Diego Lombardi.
Rated TV-MA
Available February 25
---
Other Just-added Period Movies & Series 
Available February 1: Alexander (2004), The Patriot (2000). February 2: Our Lady of San Juan, Four Centuries of Miracles (2020). February 5: Hache (Season 2).
---
Period Dramas Leaving Netflix in February 
Leaving February 14: Alone in Berlin (2016), Hostiles (2017).Leaving February 28: Saving Mr. Banks (2013).

---
---
You May Also Like
This section contains a curated list of movies and TV series new on Netflix, that are NOT period dramas. We think fans of historical and costume dramas will enjoy them just the same.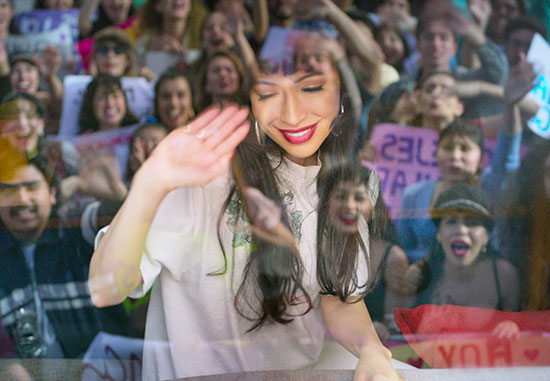 For non-period, new-this-winter movies and series that you may also like, see the following:
Available in December: Available December 1: 50 First Dates (2004), The Da Vinci Code (2006), E.T. the Extra-Terrestrial (1982), The Holiday Movies That Made Us (2020), Jurassic Park (1993), Jurassic Park III (2001), Runaway Bride (1999). Available December 4: Bhaag Beanie Bhaag (2020), The Great British Baking Show: Holidays (Season 3). Available December 4: Selena (The Series). Available December 14: A California Christmas (2020). Available December 18: Home for Christmas (Season 2). Available December 23: The Midnight Sky (2020), Your Name Engraved Herein (2020).
Available in January: Available January 1: Catch Me If You Can (2002), Into the Wild (2007), Mystic Pizza (1988). What's Eating Gilbert Grape (1993). Available January 5: History of Swear Words (2021). Available January 12: Last Tango in Halifax (Season 4). Available January 14: Is Love Enough? Sir (2018) Available January 15: Hook (1991). Available January 20: Daughter From Another Mother (Madre solo hay dos). Available January 23: Love (ft. Marriage and Divorce). Available January 27: Penguin Bloom (2021).
Available in February: February 1: Eat Pray Love (2010), Love Daily (Season 1), My Best Friend's Wedding (1997). February 2: Firefly Lane (2021).

---
If you enjoyed this post, be sure to see The Period Films List, with the best British, historical and costume dramas sorted by era.