Last Updated on March 23, 2021
This spring, look for "The Nevers," a new British period drama set in the last years of Victoria's reign.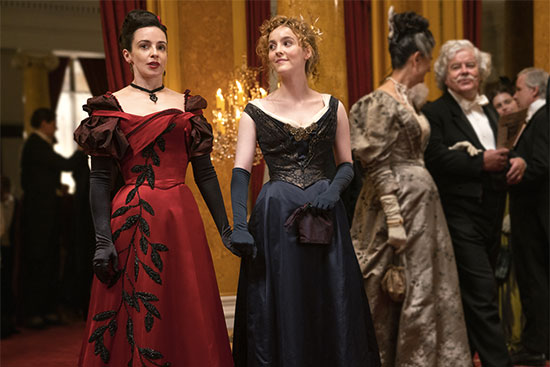 ---
To help keep this site running: Willow and Thatch may receive a commission when you click on any of the links on our site and make a purchase after doing so. 
---
But there's nothing buttoned up here: women with superhuman abilities are standing up for women at a time when most women have little power of their own. "X-Women," if you will.
The epic science fiction tale follows a group of women who find themselves with "a power that mocks God" — unusual abilities, relentless enemies, and a mission that might change the world.
Read more about "The Nevers" and watch the trailer below. 
---
---
In the television series "The Nevers," late-Victorian era London is beset by the Touched: people – mostly women – who suddenly manifest abnormal abilities – some charming, some very disturbing.
Joss Whedon (Buffy the Vampire Slayer), who developed the series, explains that the Touched don't see themselves as afflicted: "The Nevers" is how society sees them, "a phrase that's meant to evoke a sort of reaction to their oddity, to what is considered unnatural. The idea that you should never be like this, you should never have existed."
Among the Touched women are Amalia True (Laura Donnelly, Outlander's Jenny Fraser), a mysterious, quick-fisted widow. A danger to the British elite, she's described as the "most reckless, impulsive, emotionally damaged hero of her time."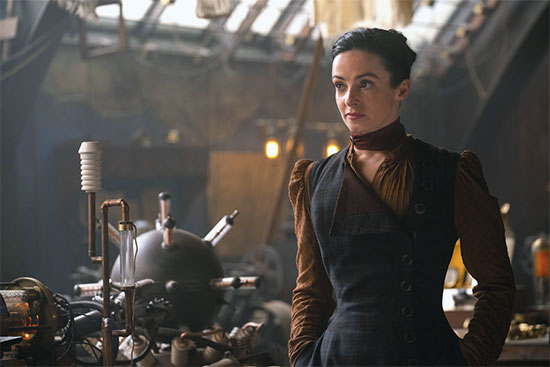 Her best friend, Penance Adair (Ann Skelly, Vikings' Ethelfled), is a brilliant young inventor who joins Amalia's cause.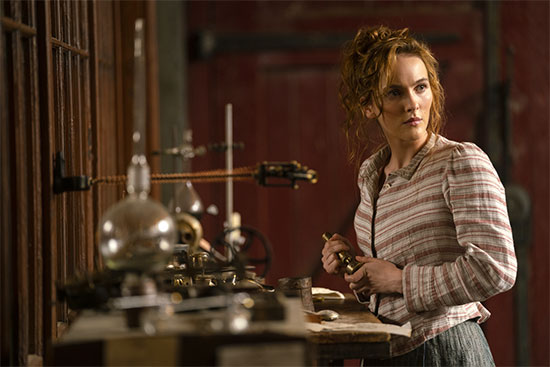 Together they are the champions of this new underclass, making a home for the Touched, while fighting the forces of… well, pretty much all the forces – to make room for those whom history as we know it has no place.
Olivia Williams (The Halcyon) is Lavinia Bidlow, the "stern and old-fashioned"  wealthy spinster, champion of the Touched, who funds the orphanage where Amalia and many of them live.
Hugo Swann (James Norton, Grantchester) is the nefarious, pansexual, aristocratic secret club owner who's fascinated by the Touched. He's best friends with Lavinia's sweet, disarming younger brother Augustus "Augie" Bidlow (Tom Riley, The Collection), a keen ornithologist who's more than happy to let his older sister take the reins of the family fortune.
Eleanor Tomlinson (Poldark) is Mary Brighton, a gentle but resilient woman who pursued her dream of singing on stage despite a disappointing career and broken engagement. Her life is about to take a very unexpected turn. 
Amy Manson (The White Princess) joins the cast as Maladie, a woman so warped by a power she can't understand that she's driven to live underground, run a gang and go on an infamous murder spree.
Also involved are Pip Torrens (The Crown), as the staunch, unflappable Lord Massen, a former General who's determined to protect the established order from these strange people.
Zackary Momoh (Harriet) portrays Doctor Horatio Cousens, a successful West Indian physician whose fortunes took a dark turn when he met Amalia and discovered his own ability, but now works with her and the other Touched.
Rochelle Neil takes the role of Annie Carbey (aka Bonfire), a career criminal with the ability to control fire who came up rough and stayed that way; Denis O'Hare is cast as Dr. Hague: a gifted but brutal American surgeon; Nick Frost portrays Declan Orrun, aka the Beggar King, a low-level crime lord who's perfectly happy to help Amalia and her cause — and equally happy to sell them out.
The ensemble cast includes other faces familiar to period drama fans, including Elizabeth Berrington (Sanditon) as Lucy Best, and Ben Chaplin (The Dig), who serves as the big, gruff and deeply moral Detective Frank Mundi, a man caught between the powerful (who ignore the laws of the land) and the Touched (who ignore the laws of physics.).
Set decoration is from Tina Jones (Jane Eyre, Anna Karenina) and costumes are by Michele Clapton (The Crown, Sense & Sensibility); both worked on "Game of Thrones." 
---
---
"The Nevers" premieres in April 11, 2021 with six-episodes on HBO and will be available to stream on HBO Max. Watch the official trailer below.
---
If you enjoyed this post, wander over to The Period Films List. You'll especially like the Best Period Dramas: Victorian Era List.