Last Updated on March 31, 2019
Gather your friends and family for some old-fashioned play, because "Marrying Mr. Darcy: The Pride and Prejudice Card Game" is back in stock! To celebrate, we are giving away the card game to one person.

---
To help keep this site running: Willow and Thatch may receive a commission when you click on any of the links on our site and make a purchase after doing so.
---
Marrying Mr. Darcy is a strategy card game for 2-6 players where players are one of the female characters from Jane Austen's novel "Pride and Prejudice." Though no knowledge of the novel is needed to play, the game is perfect for fans of Austen aged 13 and up, who want to step back in time for an hour.
Players work to improve themselves and attract the attention of the available Suitors. The ladies do this by attending Events and improving their Characters, but advantage can be gained by the use of Cunning. All of their efforts are in hopes of marrying well and becoming the most satisfied character at the end of the game.
The giveaway has ended. Check the end of this post on 3/31 for the winner. Comments are now closed.

Who are The Heroines and The Suitors?
The game involves two groups of people from the book, The Heroines and The Suitors.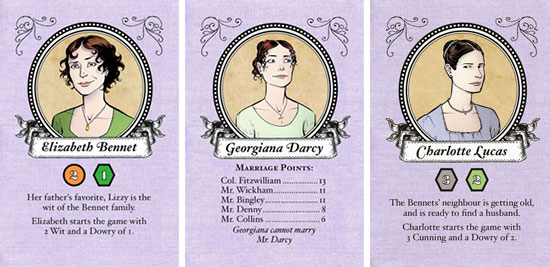 The Heroines are the unmarried female characters from "Pride and Prejudice" who are searching for the best possible husband. In the beginning of the game, each player will choose a Heroine which they will play for the duration of the game. Each heroine has a defining characteristic or special ability that allows for different strategies during play.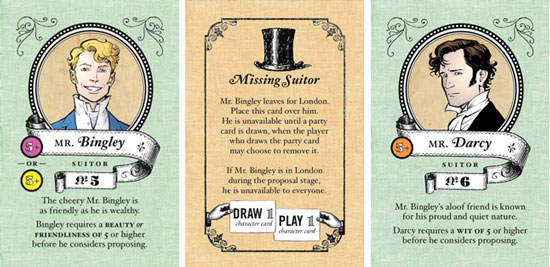 The Suitors are the six potential husbands in "Marrying Mr. Darcy." Each suitor has different ideas of what sort of wife they are looking for. You must meet a Suitor's requirements before he will consider proposing to you.
What happens in The Courtship Stage?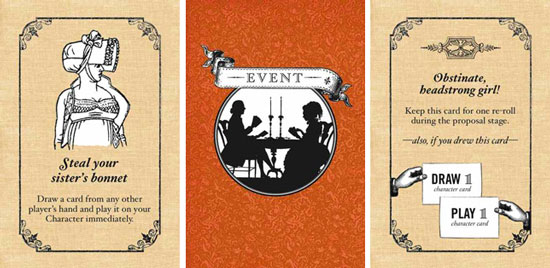 Events from "Pride and Prejudice," such as the Netherfield Ball or Visiting Pemberley, instruct players on how their turn will proceed. The game will change each time you play depending on when events occur in the deck. For example if Mr. Bingley leaves for London early in the game, chances are good he will return to Netherfield and be available to marry. If he leaves near the end of the game, there could be one less suitor available to everyone.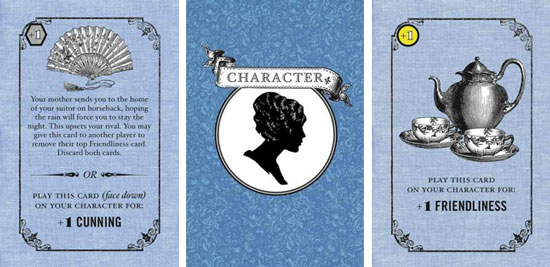 Character cards can be used in a variety of ways. As the game begins, you are most concerned with earning points and building your Heroine's character to make yourself attractive to the best suitors possible. However, as the game proceeds, you might become more concerned with making other players less attractive to suitors you are interested in, or in concealing cards to help secure your chances of a finding a good husband.
---
---
What happens in The Proposal Stage?
When all Event Cards have been played, the Proposal Stage begins. In this stage, players will roll a die to see which Suitor proposes to them, decide if they will marry them, and calculate their final score. The winner is the player who has the highest sum total of Character Points from the Courtship Stage, and Marriage Points earned by marrying the best Suitor.
What's included in the card game?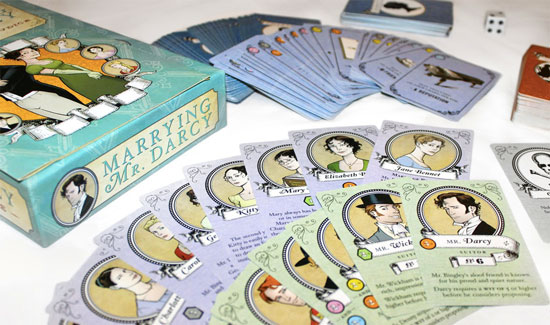 The complete "Pride and Prejudice" card game comes with 180 cards (an Event card deck and a Character card deck), rules, and a die. Full rules are available here. 
Isn't this the name of a movie?
Yes, there's an Austen-inspired Hallmark movie with the same name, but they aren't related. 
Where can I buy the card game? 
"Marrying Mr. Darcy: The Pride and Prejudice Card Game" is available to purchase here. 
How do I enter to win the card game? 
You'll get two chances to win when you publicly share any of our articles from the Willow and Thatch website to any of your social networks. You can also share The Period Films List. Then leave a comment here saying what you shared, and where (just the platform – Facebook, Pinterest, Instagram, Twitter – and your account name are fine). 
If you want just one chance to win, leave a comment below saying why you'd like to win. (But why not share? Not only will you have another chance at winning, but you will help spread the word about Willow and Thatch. Thank you.) Please note: comments are approved manually, so if you don't see yours right away, that's why. 
The winner will be chosen randomly. Open to residents of the United States only, aged 18 and older. 
See the Official Rules. Contest closes Saturday, March 30, 2019 at 9:59 PM EST and the winner will be announced here March 31. Good luck!
Congratulations to Shea Failmezger, our winner!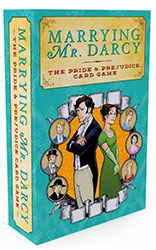 Marrying Mr. Darcy is the first game designed by Erika Svanoe, conductor, musician, and lover of all things Austen. Art and graphic design are provided by award-winning illustrator and graphic novelist, Erik Evensen. The Marrying Mr. Darcy edition of Pride and Prejudice, featuring the original text by Jane Austen, with introduction and annotation by Svanoe and cover art by Erik Evensen, is also available, as are expansion sets for the game. The most recent expansion is based on Jane Austen's novel Emma, and is available now. 
Willow and Thatch exists because of you: You can shop our Jane Austen Period Drama Adaptations merchandise, click on our links (like these that take you to Etsy and Amazon) and make purchases on those sites, and buy period-inspired products from the Lovely Things Shop. You can also continue to share our articles, or make a financial contribution here. All these things allow us to write feature articles, update The Period Films List, mail out our newsletter, maintain the website and much more. Thank you!


If you enjoyed this post, be sure to see The Period Films List, with the best historical and costume dramas sorted by era. You'll want to read about the upcoming adaptation of Emma. You'll also want to see the news about Sanditon.