Last Updated on June 7, 2023
BBC's "Little Dorrit" (2008) opens with a baby's wail. It echoes sharply through the dingy halls of the Marshalsea, the notorious debtor's prison south of London's stinking River Thames. Outside, the drab streets are noisy with hard-working Victorians, the soot and smoke inescapable.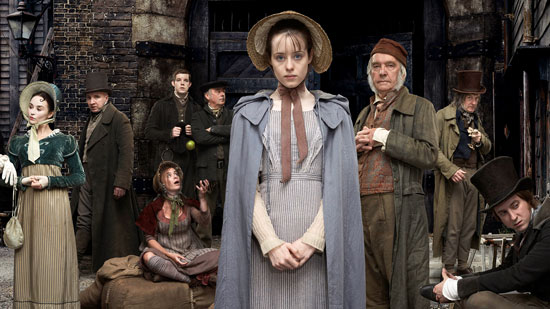 ---
To help keep this site running: Willow and Thatch may receive a commission when you click on any of the links on our site and make a purchase after doing so.
---
Inside the stony shelter of the prison, little Amy is born. The girl's mother dies, and the impecunious William Dorrit, "Father of the Marshalsea," must raise his three children alone.
Esteemed "Pride and Prejudice" screenwriter Andrew Davies, and the "Little Dorrit" directors have transformed Charles Dickens' classic novel into a must-watch eight-part British period drama with a stand-out cast.
---
---
Now a young woman of twenty-one years of age, Amy (Claire Foy, The Crown) is affectionately nicknamed Little Dorrit. She supports her troubled father, her spendthrift brother, and conceited sister, by working as a seamstress for Mrs. Clennam (Judy Parfitt, Call the Midwife).
At the same time, Mrs. Clennam's son Arthur (Matthew Macfadyen, Pride and Prejudice), travels home to England from China, with a pocket watch and his father's dying wish that he "put it right" with his mother. Arthur delivers the watch as per his father's instruction. Mrs. Clennam hides the cryptic note her husband concealed inside: "Do not forget."
Unaware of the note, and perplexed by his father's request to put things right, Arthur begins a search for answers that lead him to the Dorrit family. Little does he know that others aim to unravel the mystery Mr. Clennam left behind.
Between 1855 and 1857, Dickens originally published his story of changing fortunes – and how its characters navigate them – as a serial.
His character William Dorrit, played here in the costume drama by Tom Courtenay (Nicholas Nickleby), was inspired by his own father, John Dickens, imprisoned for months in Marshalsea when he was unable to pay his creditors the £40 and 10 shillings he owed. With rambling antics and unfocused gaze, Courtenay aptly depicts a man of breeding, driven to madness by his own ceaseless reach for former grandeur. In a patterned vest and slightly heeled shoes like a man of leisure, he fills the esteemed role as "Father of the Marshalsea" with relish.
Amy is doe-eyed and perceptive, her empathy written on her face. Foy is the perfect embodiment of the angel of the Marshalsea, born and raised there and bound to stay for as long as her father. For most of the series the humble servant Amy wears plain, but becoming clothing signaling a character without vanity: old-fashioned full sleeves and a simple pinned apron. If Dickens' biographer Claire Tomalin has it right in Charles Dickens: A Life, Amy Dorrit is the child Dickens wishes he had been to his father during his imprisonment in the Marshalsea.
Macfadyen portrays Arthur as equally benevolent. Mrs. Clennam demands that he touch only her hand when he attempts to kiss her cheek. Nevertheless, Arthur continues to reach out for affection from a woman who has always treated him with unexplained disdain. In the face of his mother's unusual cruelty, Macfadyen's Arthur is puppy-like, his response to her abuses rich in sad pathos.
Distracted by his quest for answers, Arthur doesn't see how Little Amy Dorrit pines for him. He treats her family with respect, despite their selfish pretensions of prestige. Amy and Arthur nurture a friendship throughout the series that steadily flourishes into love. Their slow-burn romance is the warm center to a story about the gritty realities of Dickens' England.
Seemingly minor characters are interspersed throughout the tale; for example, the devilish murderer Rigaud, depicted by the diverse talent, Andy Serkis (A Christmas Carol) and Maxine Peake's (The Village) mysterious Ms. Wade. The audience discovers how all these characters, both morally good and deliciously wicked, are inextricably linked.
While the romance, mystery, and winding yarn will easily please viewers, "Little Dorrit's" greatest value lies in its dark satire of British society. Without sacrificing entertainment, the period series evokes the ethical questions Dickens tackled. Arguably, Charles Dickens' work remains popular today because it confronts timeless topics like prisoner's rights, told through William Dorrit's decades-long incarceration. 
In his depiction of the Circumlocution Office, Dickens' humor surrounding governmental incompetence is spot-on. Arthur searches the ineffective department led by the duplicitous Mr. Barnacle (Robert Hardy, Sense and Sensibility) for anyone to answer his inquiries about the Dorrit family. What he finds is a solitary pencil pusher surrounded by skyscrapers of unfulfilled requests and a futile promise. 
Faithful to the text, this adaptation expertly balances social commentary and human interest. Amid the 1820s London streets full of poverty and despair are the inimitable characters Dickens so artfully rendered in text. "Little Dorrit" is a poignant nod to the great Boz.
Rated TV-PG
---
Kailey Rhone makes use of her English degree working as a production editor in the world of academic publishing. She can be found rewatching "Downton Abbey" and sipping on another cup of Earl Grey when she's not writing about the intersection of feminism and Jane Austen's novels. Her work can be found in Persuasions.
---
If you enjoyed this post, be sure to see The Period Films List, with the best British, historical and costume dramas sorted by era. You may also want to see 6 Ways Les Mis (2018) Stands Out.