Last Updated on November 1, 2022
October is coming to a close, which means Halloween is almost here. If you haven't thought about your costume yet, there's no reason to get into a frightful state; you still have time to put together a knock-out, period film-inspired costume on a budget.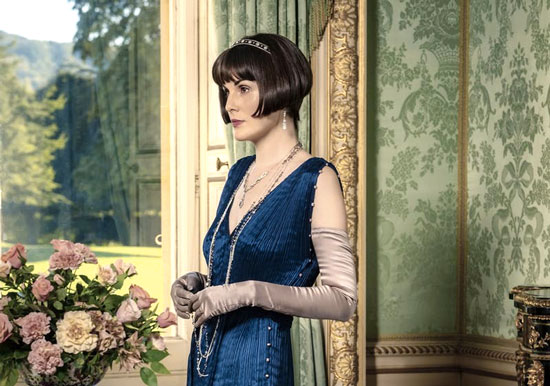 ---
To help keep this site running: Willow and Thatch may receive a commission when you click on any of the links on our site and make a purchase after doing so.
---
We've selected a few of our favorite ladies from period films and TV series, thought about what you may already have in your closet, and searched Amazon for other items that will help you achieve last-minute costumes inspired by these looks.
We've also found a few ready-made costumes in case you need something even easier. Many of the pieces here are available with Prime 2-day shipping, and to keep this affordable, none of them are much more than $75 at the most.
---
---
Katrina Van Tassel, Sleepy Hollow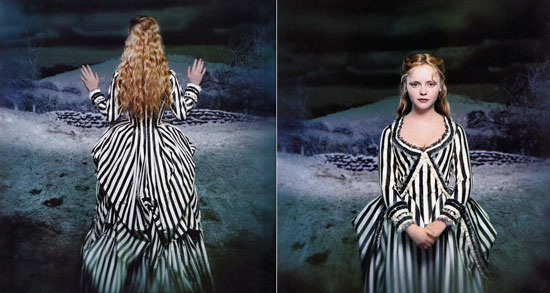 Katrina's black-and-white striped dress from the final scene of Sleepy Hollow is iconic, and served as an entry point to a love of historical and film costumes for many. Replicating the exact dress on such a short time limit would be very difficult (or very expensive), and though ready-made costumes of the striped dress are also available, with a more affordable skirt and top combination, you can achieve a look that is close enough to the original for everyone to be able to tell who you are.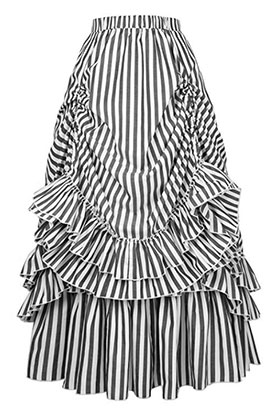 An added advantage of buying two pieces is that you can wear them separately, any time of year. (But what could be better than wearing a Halloween costume inspired by a period drama that's perfect to watch at Halloween?) Just add a long, flowing blonde wig like this one and very pale makeup.
Apparently, the costumes worn by Katrina were created to look like they were from circa 1785, about a decade earlier than the period drama's setting. Colleen Atwood, the costume designer, stated she wanted the costumes to reflect the period 1794. Atwood's rationale was that the residents of Sleepy Hollow were years behind the latest fashion trends. By 1794, women's dresses were beginning to reflect the Regency period: the dresses were closer to the body with a higher waistline and much less elaborate than those displayed in the film.
---
---
Lady Mary Crawley, Downton Abbey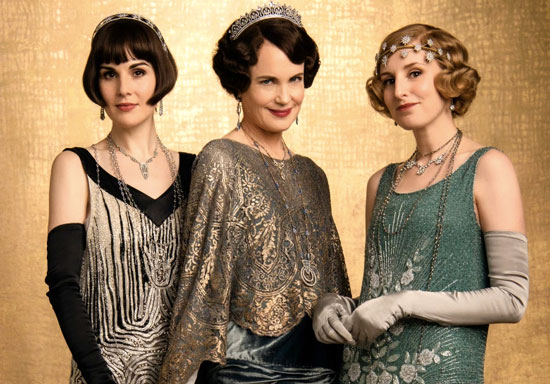 "Downton Abbey" has always been known for its exquisite costume design, but it's possible to approximate the look the Crawley ladies wear in the 1927-set movie, by building off of something that's already in the back of your closet.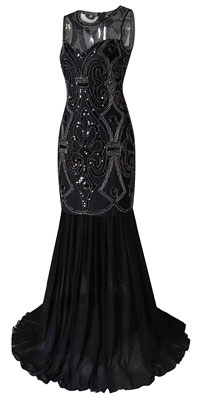 Look for a straight cut evening dress with no waist seam, something with a drop-waist silhouette and elegant beading, or maybe even a prom or bridesmaid's dress.
Any of these can do for Lady Mary, or even Edith or Cora, costume in a pinch. Just add elbow-length gloves like these and a 1920s fingerwave or bob wig, or go for the elegant up-dos of the 1910s we saw in the British television series.
Maybe some long pearls and a vintage-inspired headband?
If you don't have the right dress, there are a few affordable options on Amazon, like the 1920s Black Sequin Gatsby Maxi Long Evening Prom Dress pictured here, or this one.
---
---
Cecilia Tallis, Atonement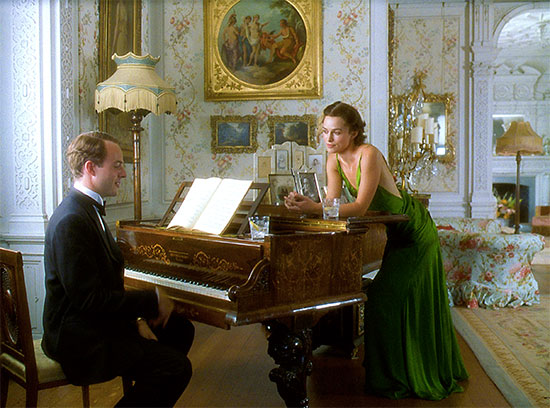 A most memorable part of Atonement was Keira Knightley's gorgeous green evening gown. There are a lot of green evening gowns out there, but finding one that has the right 1930s silhouette can be tricky.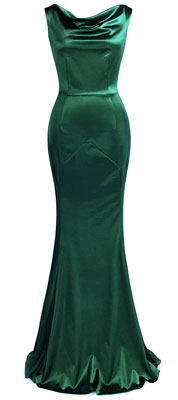 The one pictured here doesn't have the exact look of Cecilia's gown with its spaghetti straps, but it does have a 1930s-inspired cut and style with a deep opening at the back. With the right hair and accessories like a wide, glittering tennis bracelet, and some faux emerald and diamond post earrings, it will be clear to everyone which character you are.
When Ian McEwan penned the novel the movie is based on, he dedicated lengthy passages to Cecilia's choice of gown for the dinner party, finally reaching this sentence: "As she pulled it on she approved of the firm caress of the bias cut through the silk of her petticoat, and she felt sleekly impregnable, slippery and secure; it was a mermaid who rose to meet her in her own full-length mirror."
Costume designer Jacqueline Durran wasn't as concerned about creating a historically accurate design as she was about making something that would move with Keira Knightley "as if she were underwater." Initially, white silk was dyed in three different shades of green. Durran said that "In the end, we put together three fabrics — one on top of the other — which were two transparents and one solid… We chose one of these composite colors made up of layering, which gave us the intensity of the green. We then took that and, which is a horrible thing to do to someone, gave them that composite color and said, "Can you dye this white fabric to this composite color?"
Reportedly, multiple dresses with slight variations were used throughout the evening, to reflect the emotional progression of the moments as they were remembered by young Briony.
---
---
Peggy Carter, Captain America: The First Avenger & Agent Carter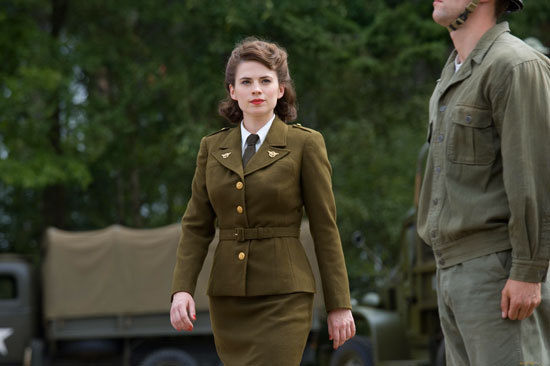 Here's a costume choice for anyone who thinks that Peggy is the best part of Captain America, and that there should be more episodes of Agent Carter. Peggy, played by Hayley Atwell, has a lot of great looks throughout the film (with early 1940s styles) and the series (with post-war New York looks), but her most recognizable costume is her military uniform.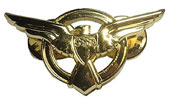 Fortunately, the look of her Women's Royal Service military uniform is easy to replicate. If you already have an olive green skirt suit, or even brown or tan, you can pair it with a white button shirt, brown or black pumps, victory rolls, and red lipstick. If you don't have a suit, there is an option available on Amazon for about $50. Another choice would be to buy an affordable separate jacket and skirt. Or if you want something more ready-made, there are slightly more expensive Agent Carter costumes and Second World War costumes for women. 
Whatever you decide on, you'll want to get a pair of Agent Carter Strategic Scientific Reserve lapel pins to complete the look.
---
---
Joan Holloway, Mad Men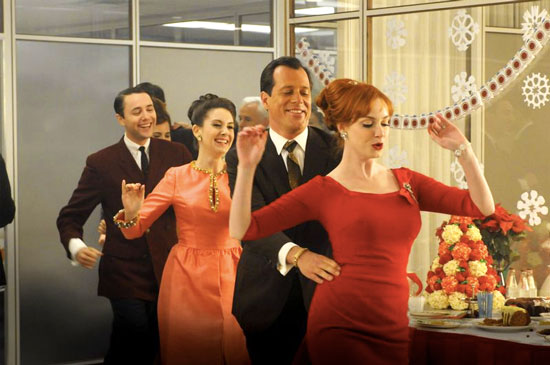 All the women of Mad Men have fabulous 1960s style, but Joan's form-fitting dresses and fiery red hair steals the show. If you're not a redhead, you can wear a red beehive wig, and 1960s-inspired dresses are fairly easy to find on Amazon, or get the real deal on Etsy. If you work in an office setting, any of these would be cute to wear to work as well.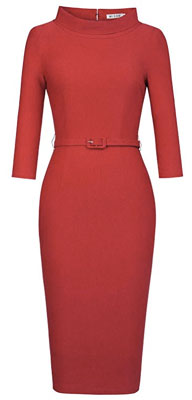 One of costume designer Janie Bryant's favorite looks from the series was in Season four, episode two. During "Christmas Comes But Once a Year," Joan is asked to wear to this dress pictured above at the agency's Christmas party, calling it "the red dress, the one with the bow on the back, that makes you look like a present." You can probably guess who said that: Partner Roger Sterling.
To get the look, there's the Women's Vintage 3/4 Sleeve Elegant Collar Dress pictured here, or if you are thinking Joan needs a lower neckline, try the Women's Classic Vintage Sweetheart Neckline Dress. We can also see her looking stunning in this wrap style dress.
Hopefully, this will be helpful in putting together your last-minute costume, whether you're going to a party, taking kids trick-or-treating, or even just staying at home and watching scary movies in style. Whatever costume you choose, don't forget the candy, and Happy Halloween!
---
Rhonda Watts loves all things historical and literary and often daydreams of living in past eras, but just for the clothes. She is one half of Pop DNA Podcast, a monthly show exploring the literary and historical influences in current popular media. In the past she has worked as a teacher, a library page, and a docent for a history museum, and currently spends a lot of time daydreaming about making historical costumes that will probably never happen. She has a BA in English Literature, specializing in Victorian popular fiction, and lives in Tacoma, Washington with far too many books.
---
If you enjoyed this post, be sure to see The Period Films List, with British, historical and costume dramas sorted by era. Also see Haunting Period Dramas for Halloween, our review of The Prestige, Paranormal and the Period Drama and Chilling Period Dramas for Halloween.