Last Updated on September 29, 2023
If your idea of fun for grown-ups on Halloween is more about watching a costume drama than wearing a costume, you are in luck. When the little goblins are in bed, and you are ready for a mild-to-very chilling, somewhat scary, kind of creepy, totally period kind of drama, you can get snug under the blankets and watch one of these films below.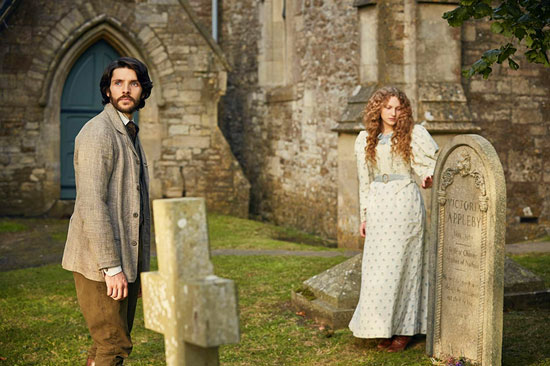 ---
To help keep this site running: Willow and Thatch may receive a commission when you click on any of the links on our site and make a purchase after doing so.
---
Beware: Some of these historical / costume / period dramas are truly chilling; if you are sensitive, consider staying away from the R rated movies, and have a look at 15 Haunting Period Dramas for Halloween for more titles that may better suit your taste. You've been warned! But if you can handle the BBC mini-series "Dracula" with Claes Bang as the Prince of Darkness, you'll do just fine with all of the below, which are far less creepy.
For those of you with Netflix, don't miss "The Pale Blue Eye" (2022), a great period drama for Halloween, adapted from Louis Bayard's novel. Read about the production here. 
---
---
The Living And The Dead (2016) BBC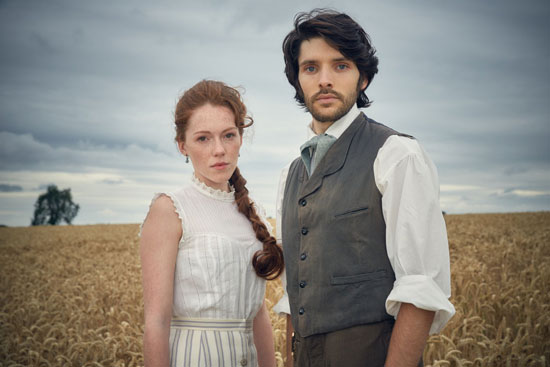 A brilliant young couple inherit the farm and are determined to start a new life together. But their presence in this isolated corner of England starts to unleash strange, unsettling and dangerous supernatural phenomena that will start to threaten their marriage. Think Thomas Hardy with ghosts. Filmed almost entirely in and around Horton Court, a 16th-century manor house in Gloucestershire that has also been used in "Poldark" and "Wolf Hall.".
"We talked a lot in pre-production about what this was going to be and I was really keen that it wouldn't be horror. The word we used was eerie. It's about things you see from the corner of your eye. I was thinking a lot about what hauntings actually are. Are they echoes from the past or something else?" – Ashley Pharoah
Set in 1894 in the Victorian era.
Starring Colin Morgan, Sarah Counsell, Amber Fernée, Tallulah Rose Haddon, David Oakes.
Rated TV-14
---
---
Affinity (2008)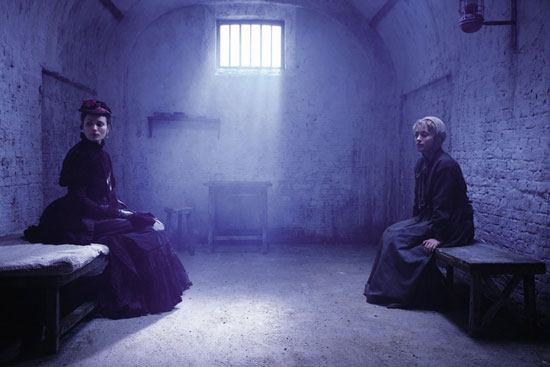 After the death of her father, wealthy socialite Margaret Prior struggles to find direction in her life. Yearning for experiences outside her insulated world of privilege, Prior becomes a "lady visitor" to a nearby women's prison in hopes of finding purpose through volunteering. Yet one inmate in particular, disgraced medium Selina Dawes, holds a strange fascination over Prior. As she becomes more involved with Dawes, Prior's life opens to a dark, unknown world.
Based on Sarah Waters' 1999 novel of the same name.
Set in 1874 in the Victorian era.
Starring Zoë Tapper, Anna Madeley, Domini Blythe, Amanda Plummer, Mary Jo Randle.
As of September 2023, "Affinity" is available to STREAM for FREE with ads.
Rated 16+
---
---
And Then There Were None (2015)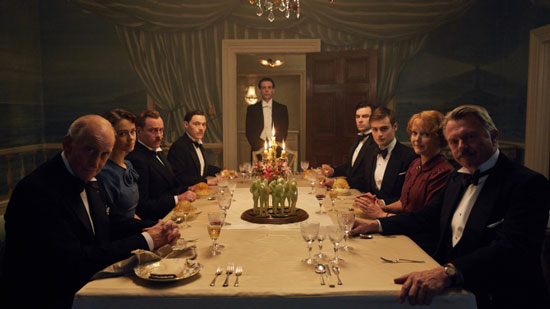 Ten strangers are invited to an island by a mysterious host, and start to get killed one by one. Could one of them be the killer? Based on the bestselling crime novel of all time by Agatha Christie.
As the world teeters on the brink of World War II, 10 strangers are invited to isolated Soldier Island. Among them are young secretary Vera Claythorne (Maeve Dermody, Serangoon Road), soldier Philip Lombard (Aidan Turner, Poldark), General John MacArther, spinster Emily Brent (Miranda Richardson, Parade's End), and Judge Lawrence Wargrave (Charles Dance, Game of Thrones). With seemingly nothing in common, the guests wonder who their mysterious host may be. But the ominous reason for their visit soon becomes clear…and by the end of the night, the first of them is dead.
Set in 1939 in the Interwar era.
Starring Aidan Turner, Maeve Dermody, Charles Dance, Miranda Richardson, Toby Stephens.
Rated TV-14
---
---
Ghost Story: The Turn of the Screw (2009) BBC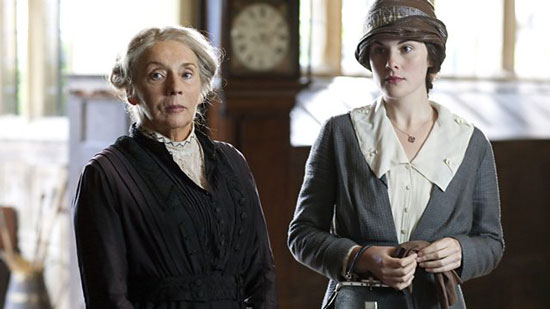 Based on the Henry James 1898 novella, this period drama studies the interactions between the living and the dead.
A young governess, Ann, is sent to a country house to take care of two orphans, Miles and Flora. Soon after her arrival, Miles is expelled from boarding school. Although charmed by her young charge, she secretly fears there are ominous reasons behind his expulsion.
With Miles back at home, the governess starts noticing ethereal figures roaming the estate's grounds. Desperate to learn more about these sinister sightings she discovers that the suspicious circumstances surrounding the death of her predecessor hold grim implications for herself. As she becomes increasingly fearful that malevolent forces are stalking the children the governess is determined to save them, risking herself and her sanity in the process.
Set in the Victorian era.
Starring Michelle Dockery, Sue Johnston, Dan Stevens, Mark Umbers, Nicola Walker.
Rated 16+
---
There is also Henry James' The Turn of the Screw (1999), shown on PBS Masterpiece Theater, starring Jodhi May, Colin Firth, Pam Ferris, Joe Sowerbutts, Grace Robinson, Jason Salkey, Caroline Pegg and Jenny Howe, and 1974 adaptation of the story that stars Lynn Redgrave, John Barron, and Eva Griffith that is AVAILABLE to STREAM. And for those of you open to a modern adaptation, try the excellent Netflix series "The Haunting of Bly Manor," which even has a period-set episode. 
You may also be interested in The Nightcomers (1971), a prequel to the Henry James classic Turn of the Screw about the events leading up to the deaths of Peter Quint and Ms. Jessel, and the the slow corruption of the children in their care. And also see The Innocents, which was based on the same story.
---
---
Angelica (2015)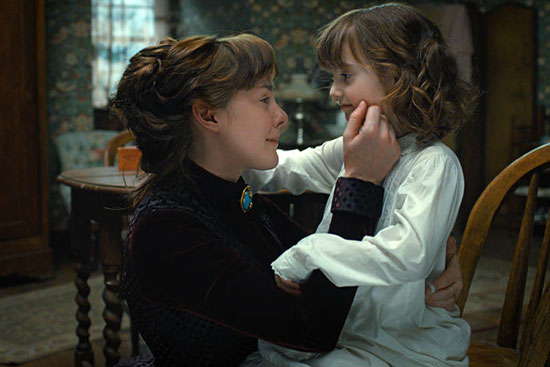 In Victorian London, innocent shop girl Constance falls in love and marries Dr. Joseph Barton, a medical researcher. After a honeymoon phase, they endure an unusual series of psychological and supernatural happenings following the birth of their child. As Constance becomes more and more protective of little Angelica, a ghostly predator begins to make its way through the house late at night in this spellbinding ghost story about desire, repression, and its consequences.
Set in the Victorian era.
Starring Jena Malone, Janet McTeer, Ed Stoppard, Tovah Feldshuh.
Rated 18+ (Sensitive viewers should be aware that there are some disturbing scenes involving medical research on animals.)
---
---
The Night of the Hunter (1955)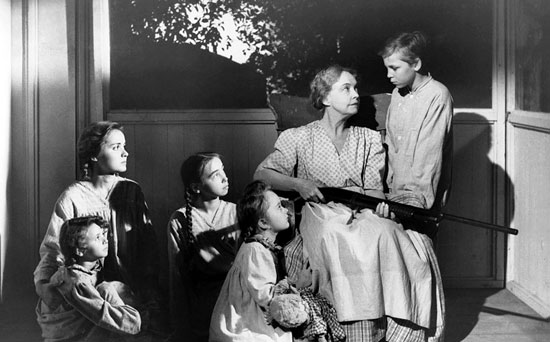 A religious fanatic marries a gullible widow whose young children are reluctant to tell him where their real daddy hid $10,000 he'd stolen in a robbery.
The only film the great actor Charles Laughton ever directed—is truly a stand-alone masterwork. A horror movie with qualities of a Grimm fairy tale, it stars a sublimely sinister Robert Mitchum as a traveling preacher named Harry Powell (he of the tattooed knuckles), whose nefarious motives for marrying a fragile widow, played by Shelley Winters, are uncovered by her terrified young children. Graced by images of eerie beauty and a sneaky sense of humor, this ethereal, expressionistic American classic—also featuring the contributions of actress Lillian Gish and writer James Agee—is cinema's most eccentric rendering of the battle between good and evil.
Charles Laughton's "The Night of the Hunter" (1955) is one of the greatest of all American films…an expressionistic oddity, telling its chilling story through visual fantasy. People don't know how to categorize it, so they leave it off their lists. Yet what a compelling, frightening and beautiful film it is! And how well it has survived its period. – Roger Ebert
Set in the 1930s during the Great Depression.
Starring Robert Mitchum, Shelley Winters, Billy Chapin, Lillian Gish, Peter Graves.
Rated 13+ (Aside from a couple of somewhat graphic scenes, this is old-fashioned and thoughtful fright at its best.)
---
---
The Reflecting Skin (1990)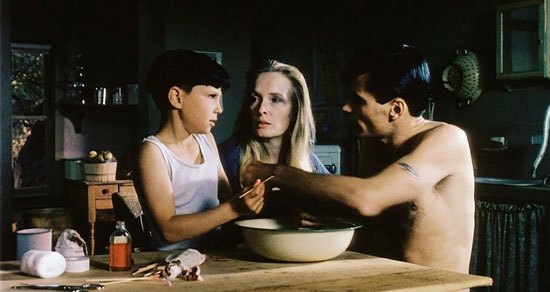 Growing up in the 1950s in small-town Idaho, 8-year-old Seth and his friends play a prank on the town recluse, a widow named Dolphin Blue. When his friends start disappearing, Seth becomes convinced Dolphin is a vampire, stealing the souls of the neighborhood children one by one. After his brother, Cameron, returns home and takes a liking to Dolphin, Seth feels it's up to him to save Cameron from his friends' fate.
"The Reflecting Skin" is British director Philip Ridley's fascinating and very strange investigation into the horrors of childhood innocence and fantasy. It is not surprising that writer/director Philip Ridley has also published books for children, since watching the movie is a lot like reading a young adult novel, albeit a horrific one. Presented from a child's strangely warped point-of-view, this film should be appreciated by anyone looking for films far outside the mainstream.
Set in the Postwar era in the early 1950s.
Starring Viggo Mortensen, Lindsay Duncan, Jeremy Cooper.
As of September 2023, "The Reflecting Skin" is also available to STREAM for FREE with ads. 
Rated R
---
---
Sherlock: The Abominable Bride (2016) BBC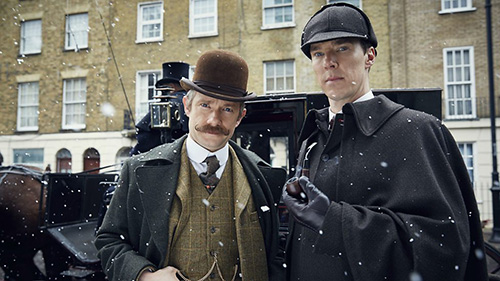 Benedict Cumberbatch and Martin Freeman return as Sherlock Holmes and Dr. Watson in the acclaimed modern retelling of Arthur Conan Doyle's classic stories. But now, our heroes find themselves in 1890s London. Beloved characters Mary Morstan, Inspector Lestrade and Mrs. Hudson also turn up at 221b Baker Street.
Shown on PBS Masterpiece.
Set in the Victorian era and the present day.
Starring Benedict Cumberbatch, Martin Freeman.
Rated TV-14
---
---
The White Ribbon (2009)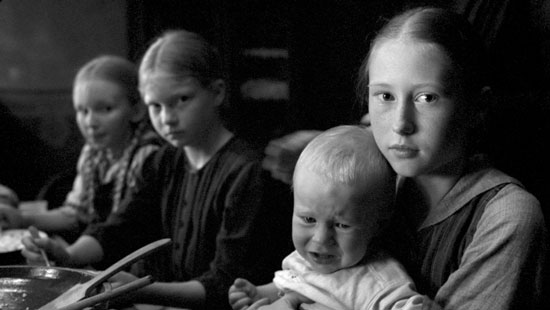 Strange events happen in a small village in the north of Germany during the years before World War I, which seem to be ritual punishment. Who is responsible?
In this German town, there is a need to solve the puzzle. Random wicked acts create disorder and erode the people's faith that life makes sense. The suspicion that the known facts cannot be made to add up is as disturbing as if the earth gave way beneath our feet. – Roger Ebert
Mr. Haneke, born in 1942 and perhaps the most lauded living European filmmaker with a surname other than Dardenne, traffics in shock and terror, but in a cerebral, systematic way. His films rarely foreshadow their jolts or speed up their plots to generate suspense, but rather proceed, with almost meditative calm, to weave a cocoon of dread around intimations of mystery and implications of violence. The effect is something like a ghost story, the horror of which is at once elusive and pervasive. – New York Times
Set in the Edwardian era from 1913 to the outbreak of World War I.
Starring Christian Friedel, Ernst Jacobi, Leonie Benesch, Ulrich Tukur, Ursina Lardi, Fion Mutert, Michael Kranz.
In German with English subtitles.
Rated R
---
---
The Woman in Black (2012)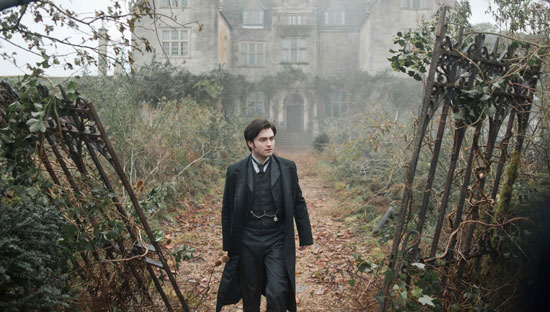 A young lawyer travels to a remote village where he discovers the vengeful ghost of a scorned woman is terrorizing the locals.
Arthur Kipps (Daniel Radcliffe), a widowed lawyer whose grief has put his career in jeopardy, is sent to a remote village to sort out the affairs of a recently deceased eccentric. But upon his arrival, it soon becomes clear that everyone in the town is keeping a deadly secret. Although the townspeople try to keep Kipps from learning their tragic history, he soon discovers that the house belonging to his client is haunted by the ghost of a woman who is determined to find someone and something she lost… and no one, not even the children, are safe from her vengeance.
Authentically enigmatic, finely understated and efficiently chilling return to classic horror. -Ted Fry
Set in 1889 in the Victorian era and in the Edwardian era.
Starring Daniel Radcliffe, Ciarán Hinds, Emma Shorey, Molly Harmon, Ellisa Walker-Reid, Sophie Stuckey, Misha Handley, Jessica Raine, Roger Allam.
Rated PG-13
Note: There is also The Woman in Black (1989) starring Adrian Rawlins, Bernard Hepton, David Daker and Pauline Moran.
---
---
Sleepy Hollow (1999)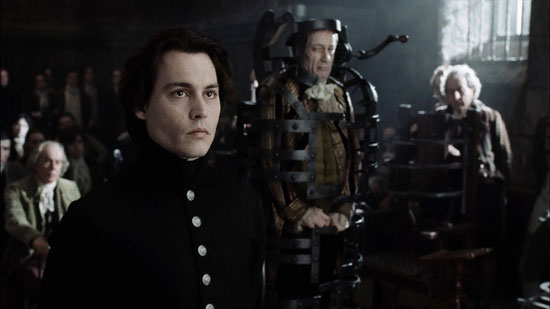 Ichabod Crane is sent to Sleepy Hollow to investigate the decapitations of three people with the culprit being the legendary apparition, the Headless Horseman. Faithful to the dreamy custom-bound world that Irving paints in his story, the film mixes horror, fantasy and romance and features an extraordinary cast of characters that dabble in the supernatural.
This is among other things an absolutely lovely film, with production design, art direction and cinematography that create a distinctive place for the imagination. This is the best-looking horror film since Coppola's "Bram Stoker's Dracula." What it depends upon is Burton's gift for bizarre and eccentric special effects, and a superb performance by Johnny Depp, who discards everything we may ever have learned or thought about Ichabod Crane and starts from scratch. – Roger Ebert
Set in 1799 in the Georgian era.
Starring Johnny Depp, Christina Ricci, Miranda Richardson, Michael Gambon, Casper Van Dien.
Rated R
Note: Different film, but "The Legend of Sleepy Hollow" is AVAILABLE to STREAM for FREE with ads.
---
---
Frankenstein (1931)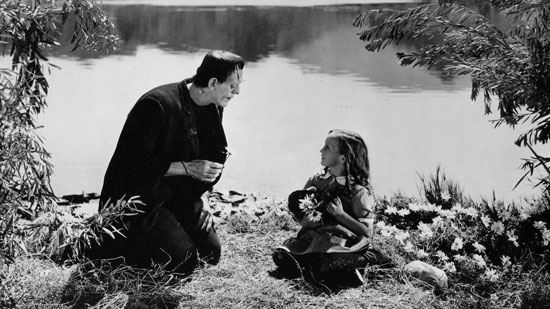 Go old school! Boris Karloff stars as the screen's most memorable monster in what many consider to be the greatest horror film ever made. Dr. Frankenstein (Colin Clive) dares to tamper with life and death by creating a human monster (Karloff) out of lifeless body parts. It's director James Whale's adaptation of the Mary Shelley novel blended with Karloff's compassionate portrayal of a creature groping for identity that makes Frankenstein a masterpiece not only of the genre, but for all time.
Shocking in its day and still a genuinely creepy experience, director James Whale's primitive yet enthralling interpretation of Mary Shelley's classic tale of man playing God is the most influential genre movie ever made. – Radio Times
The novel is set near the end of the 18th century in the Georgian era, the film has Victorian undertones.
Starring Boris Karloff, Colin Clive, John Boles, Mae Clarke, Edward Van Sloan.
Not rated.
---
---
The Crucible (1996)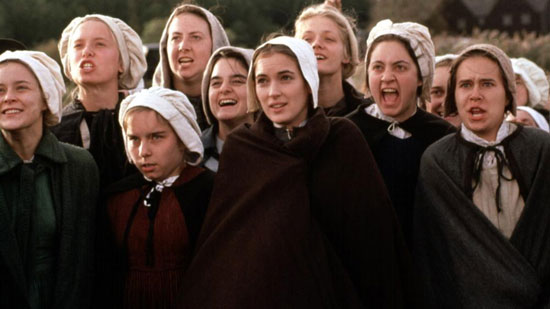 In this historical drama, a Salem resident attempts to frame her ex-lover's wife for being a witch in the middle of the 1692 witchcraft trials.
A group of teenage girls meets in the woods at midnight for a secret love-conjuring ceremony. But instead of love, Abigail Williams wishes for the death of her former lover's wife. When the ceremony is witnessed by one of the town s ministers, the girls are accused of witchcraft. Soon the entire village is consumed by hysteria, and innocent victims are put on trial, leading to a devastating climax! Nicholas Hytner (The Madness of King George) directed this modern classic based on a play by the great Arthur Miller (Death of a Salesman), and the movie received two Academy Award nominations for Best Supporting Actress (Allen) and Best Adapted Screenplay (Miller).
Set in Massachusetts in the late 17th century.

Starring Daniel Day-Lewis, Winona Ryder, Paul Scofield, Joan Allen, Jeffrey Jones, Bruce Davison.
Rated PG-13
---
---
Gothic (1987)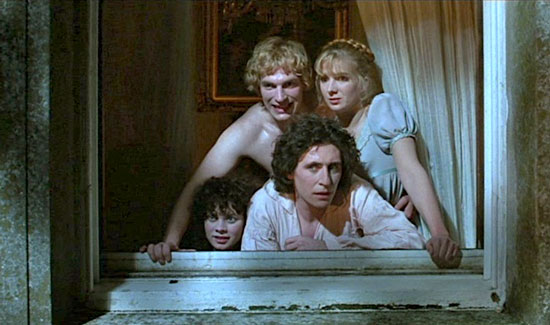 Conjure up your deepest, darkest fear… now call that fear to life. The Shelleys visit Lord Byron and compete to write a horror story. Directed by cult favourite and "enfant terrible" Ken Russell, "Gothic" delves into the erotic and terrifying night in 1816 that ultimately gave birth to Mary Shelley's classic horror novel "Frankenstein" and Polidori's "The Vampire".
While a wild storm rages in the sky over poet Lord Byron's literary house party on the shores of Lake Geneva, the exiled English poet suggests everyone invent a ghost story. As the dead of night closes in, he and his guests go on to hold a séance to conjure up their deepest, most secret fears. But is it their intense lusts and vivid imaginations at work, or have they truly created a monster?
Set in 1816 in the Georgian era.
Starring Gabriel Byrne, Julian Sands, Timothy Spall Natasha Richardson.
Rated R
---
---
Pride and Prejudice and Zombies (2016)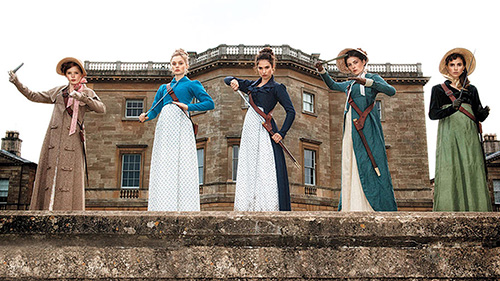 Five sisters in 19th century England must cope with the pressures to marry while protecting themselves from a growing population of zombies.
Set in the early 1800s.
Starring Lily James, Sam Riley, Jack Huston, Bella Heathcote, Douglas Booth, Matt Smith, Charles Dance, Lena Heady.
Rated PG-13
Note: Perhaps this one isn't exactly chilling, but is the perfect Halloween watch for lovers of Jane Austen who haven't seen it yet.
---
---
The Mystery of a Hansom Cab (2012)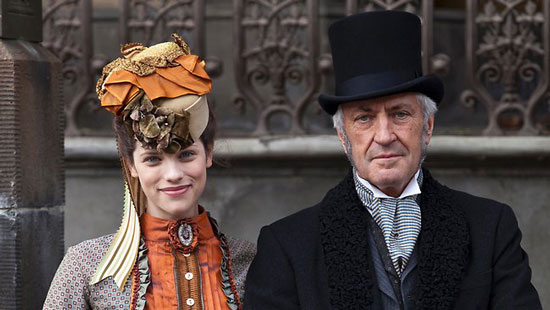 This Victorian period mystery based on the popular Fergus Hume novel explores the mystery of a murdered gentleman, inexplicably found dead following a carriage ride. Though the man's romantic rival appears to be the prime suspect, a series of twists and turns soon prove that the truth is less simple, and far more sinister. 
Hansom Cab is handsomely produced, bringing colonial Melbourne to life with wonderful detail. Use of locations, costumes by Wendy Cork and production design by Otello Stolfo are lavish. – TV Tonight
Set in 1886 in the Victorian era.
Starring John Waters, Jessica De Gouw, Oliver Ackland, Marco Chiappi, Shane Jacobson.
As of September 2023, "The Mystery of a Hansom Cab" is available to STREAM for FREE with ads. 
Rated 16+
---
Rowing With the Wind (1988)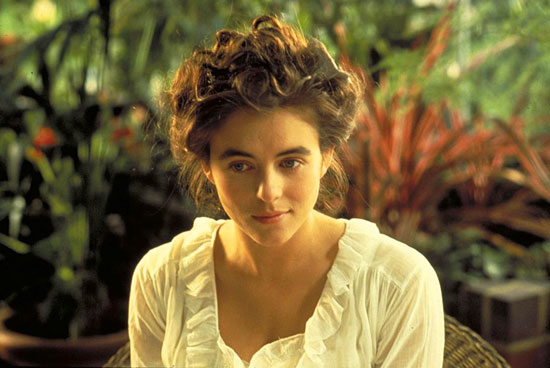 At a villa overlooking Lake Geneva in the idyllic summer of 1816, Lord Byron (Hugh Grant) suggests that each of his friends write a story of horrors. Young Mary Wollstonecraft (Lizzy McInnerny) is inspired to begin her novel "Frankenstein." But as the lives of her new husband, Percy Bysshe Shelley (Valentine Pelka), and her stepsister, Claire Clairmont (Elizabeth Hurley), who has had Lord Byron's child, fall apart, Mary begins to imagine that the monster she created is behind their troubles.
The events that led Mary Wollstonecraft Shelley to write her horror masterpiece Frankenstein provide the basis of this haunting, romantic drama. The story opens aboard a beat up schooner as it carefully makes its way through a massive broken ice pack near the North Pole. There Shelley writes her fantastic tale and reminisces about the events of the previous summer when she was courted by the poetic Percy Byshe Shelley. They elope and go to Switzerland where they become friends with dashing Lord Byron and his companion Dr. Polidori. Over the next few years, strange, tragic and troubling events occur and whenever they do, Shelley sees her monster lurking in the shadows.
Set in 1816 in the Georgian era.
Starring Hugh Grant, Lizzy McInnerny, Valentine Pelka, Elizabeth Hurley, José Luis Gómez.
Rated R
---
Haunted Summer (1988)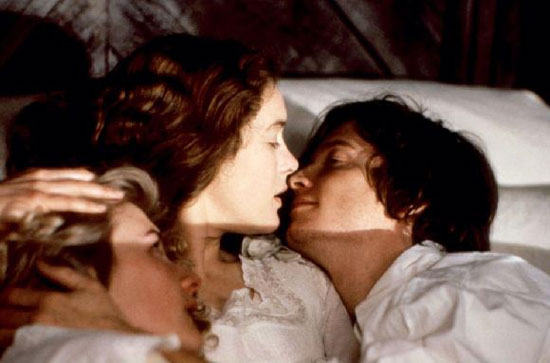 Romantic poets Lord Byron and Percy Bysshe Shelley, along with Shelly's future wife, Mary, and her beautiful stepsister, Claire, travel blissfully through Switzerland one summer. Both women share Shelley's bed, while the tortured Lord Byron flounder in a secret relationship with his physician. They experiment with opium, "free love", and the nature of good and evil. The events form the foundation for Mary Shelley's famous novel, Frankenstein. This drama is part surreal, part historical – of lust and fantasy, of ecstasy and horror, of the inner strings of creativity.
Set in 1816 in the Georgian era.
Starring Philip Anglim, Alice Krige, Eric Stoltz, Laura Dern, Alex Winter.
Rated R
---
Heavenly Creatures (1994)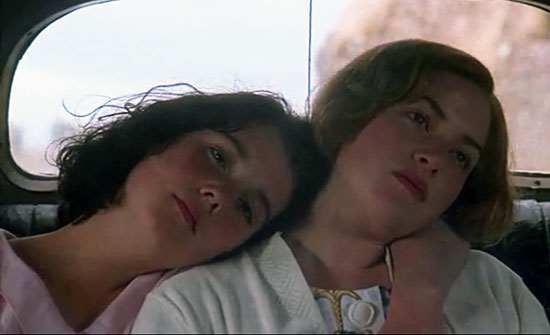 Wealthy and precocious teenager Juliet transfers from England to Christchurch, New Zealand, with her family, and forms a bond with the quiet, brooding Pauline through their shared love of handsome big screen tenor Mario Lanza and games of make believe. But when their parents begin to suspect that their increasingly intense friendship is becoming unhealthy, the girls decide to run away to America, hatching a dark plan for those who threaten to keep them apart.
The insight of "Heavenly Creatures" is that sometimes people are capable of committing acts together that they could not commit by themselves. A mob can be as small as two persons. What makes Jackson's film enthralling and frightening is the way it shows these two unhappy girls, creating an alternative world so safe and attractive they thought it was worth killing for.
Set in the early 1950s in the Postwar era.
Starring Melanie Lynskey, Kate Winslet, Sarah Peirse, Diana Kent, Clive Merrison, Simon O'Connor, Jed Brophy.
Rated R
---
---
The Thirteenth Tale (2013)
The Thirteenth Tale is a haunting psychological mystery, adapted by Oscar winning screenwriter Christopher Hampton from Diane Setterfield's bestselling novel. Biographer Margaret Lea (Olivia Colman – Broadchurch) is summoned to the Yorkshire home of reclusive, dying novelist Vida Winter (Vanessa Redgrave – Atonement) who has handpicked Margaret to write her biography. Though initially hesitant, as Vida has a reputation for distorting facts in interviews, Margaret becomes fascinated by her previously untold story. As the novelist recounts her dark and disturbing childhood, Margaret is compelled to finally face the trauma of her own past. But as time runs out, Margaret, desperate to hear the end of Vida's story, begins to wonder if she is hearing the confessions of a murderer.
Shown on BBC.
Set in the Postwar era and present day.
Starring Steven Mackintosh, Robert Pugh, Vanessa Redgrave, Janet Amsden, Alice Barlow.
You'll need a multi-region player, but: Available on DVD
Not rated but more psychologically involving than anything else. 
---
The Witchfinder General / The Conqueror Worm (1968)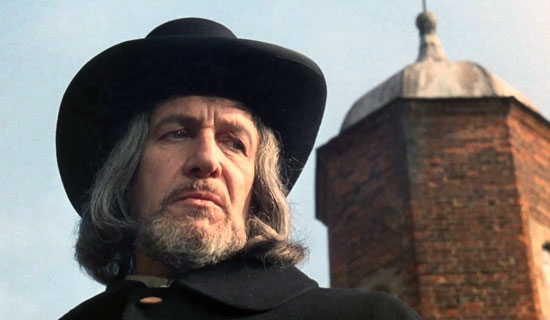 By consensus, Vincent Price's finest performance among his gallery of horror-movie rogues comes in "Witchfinder General." Price plays Matthew Hopkins, a sadistic 17th-century "witchfinder" who uses barbaric methods to identify (and invariably execute) supposed witches. Witchfinder is also the best film by the talented and ill-fated director Michael Reeves, who was only 24 when he shot the movie (and was ) blessed with a great feeling for English landscapes and an eye for blackly telling details (peasants roasting potatoes in the ashes of a burned witch.
The most vivid thing about "Witchfinder General" is the way it explicitly links paranoia and witch-hunting to misogyny, and how female sexual energy is seen by the ruling order as a threat. The final sequence is perhaps the most harrowing fade-out of any Sixties horror picture, and offers no comforting resolution.
This is not the kind of horror that comes from cobwebs and creaky doors. Its horrors are all too human and impossible to cast off with a simple fade out. – PopMatters
Set in the 17th century.
Starring Vincent Price, Ian Ogilvy, Rupert Davies, Hilary Heath, Robert Russell.
Not rated.
---
If you enjoyed this post, you'll also want to see 15 Haunting Period Dramas for Halloween, 5 Reasons to Watch The Woman in White, the True Story Behind Alias Grace, our review of Rebecca (2020), and be sure to visit The Period Films List, for less frightening, ghoulish costume dramas, all sorted by era. And with Thanksgiving and Christmas on the way, see An Old Fashioned Thanksgiving, and Best Period Dramas: Christmas Classics.