Last Updated on October 29, 2018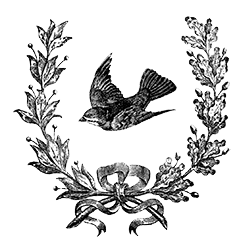 The summer brings so many wonders: swims in the ocean with friends, cool watermelon on a hot day, cotton voile white dresses and fireflies that call to each other in the night.
But the past few months have also brought new costume dramas and historical period films to the US, and with all that summer fun, you may have missed them.
Listed below are the period films that are newly or recently released in cinemas, and on your favorite streaming services in the United States. There are a few here that are new in September, too.
---
---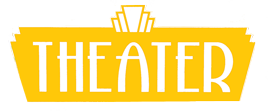 IN MOVIE THEATERS IN THE U.S.

Anthropoid (2016): Set in the Second World War era in Prague.
Based on the extraordinary true story of Operation Anthropoid, the Second World War mission to assassinate SS General Reinhard, the main architect behind the Final Solution and the Reich's third in command after Hitler and Himmler.
Ellis and his team do a superb job in recreating events from start to finish, quite literally, with an obviously well-researched script by the director and co-writer Anthony Frewin. – Reeling Reviews
Starring Cillian Murphy, Jamie Dornan, Harry Lloyd, Toby Jones, Charlotte Le Bon, Bill Milner.

Also STREAMING ON AMAZON.
Rated R.
---

Ben-Hur (2016): Set in the Classical Period.

The epic story of Judah Ben-Hur (Jack Huston), a prince falsely accused of treason by his adopted brother, an officer in the Roman army. After years at sea, Judah returns to his homeland to seek revenge, but finds redemption. Judah Ben-Hur, or just Ben-Hur, is a fictional character and the title character from Lew Wallace's 1880 novel Ben-Hur: A Tale of the Christ.

Starring Jack Huston, Morgan Freeman, Toby Kebbell, Rodrigo Santoro.

Rated PG-13.
---

Café Society (2016): Set in 1930s in Hollywood.

Looking for an exciting career, young Bobby Dorfman leaves New York for the glitz and glamour of 1930s Hollywood. After landing a job with his uncle, Bobby falls for Vonnie, a charming woman who happens to be his employer's mistress. Settling for friendship but ultimately heartbroken, Bobby returns to the Bronx and begins working in a nightclub. Everything falls into place when he finds romance with a beautiful socialite, until Vonnie walks back into his life and captures his heart once again.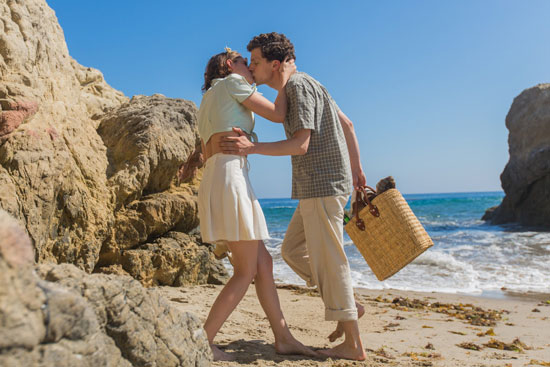 The fine cast includes Parker Posey, Blake Lively, and a rubicund Ken Stott as Bobby's father, but it's Stewart who takes the honors, allowing Vonnie's shyness to shade into mystery. – The New Yorker
Starring Kristen Stewart, Blake Lively, Jesse Eisenberg, Parker Posey.
Also STREAMING ON AMAZON.
Rated PG-13.
---

Diary of a Chambermaid (2015): Set in the late 19th century / around the year 1900.

A chambermaid from Paris relocates to a remote household in Provence in the late 19th century, engages in trysts and finds herself enraptured with a coach driver.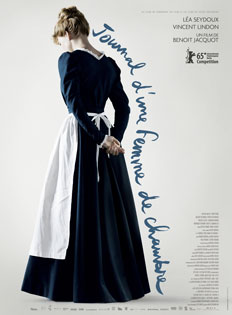 For this film, Jacquot, always a remarkably assured filmmaker (his other pictures include wonderful '90s movies such as "A Single Girl," "Seventh Heaven," and, more recently, "Farewell My Queen") expands the source material's contempt for middle-class hypocrisy into a more expansive misanthropy. But because he (and, of course, his cast) makes his people so engaging, the cynicism feels strangely embracing. – Glenn Kenny for Roger Ebert
In French with English subtitles.
Starring Lea Seydoux, Vincent Lindon, Clotilde Mollet, Herve Pierre, Melodie Valemberg, Patrick D'Assumcao, Vincent Lacoste, Josephine Derenne; Dominique Reymond.
Not rated.
---

Finding Altamira (2016): Set in the Victorian era.

A Spanish archaeologist and his daughter cause worldwide controversy when they discover cave paintings that are 10,000 years old. In English.

The cave of Altamira brings the world together in amazement, drawing people of all types to see the paintings in person. But, Marcelino soon realizes that the art on the walls must be 10,000 years old, earlier than anyone believes possible. The theory threatens to tear Maria and Marcelino's family apart while the outside world's astonishment soon turns to fury and fear. The Catholic Church sees his claims as an attack on biblical truth while scientists prove just as dogmatic and reactionary. Maria's fairytale world grows darker as her family faces disaster and Marcelino's discovery is repressed. Only their love for each other can guide them toward redemption as Marcelino fights to spread the truth.

Starring Antonio Banderas, Allegra Allen, Clément Sibony, Rupert Everett, Javivi.

Not rated.

Opens September 16th.
---

Florence Foster Jenkins (2016): Set in the 1940s.

This film tells the inspirational true story of a New York heiress, Florence, who obsessively pursued her dream of becoming a great singer. The voice she heard in her head was divine, but to the rest of the world it was hilariously awful. At private recitals, her devoted husband and manager, St. Clair Bayfield, managed to protect Florence from the truth. But when Florence decided to give her first public concert at New York's Carnegie Hall, St. Clair realised he had perhaps bitten off more than he could chew.

Pitch perfect costumes and sets make this a delightful trip to 1944 New York and a sweet, if over imaginative, love story. – It's Just Movies

Starring Meryl Streep, Hugh Grant, Rebecca Ferguson, Simon Helberg, Brid Brennan.

Also STREAMING ON AMAZON.

Rated PG-13.
---

Free State of Jones (2016): Set during the Civil War and Reconstruction.

In 1863, Mississippi farmer Newt Knight serves as a medic for the Confederate Army. Opposed to slavery, Knight would rather help the wounded than fight the Union. After his nephew dies in battle, Newt returns home to Jones County to safeguard his family but is soon branded an outlaw deserter. Forced to flee, he finds refuge with a group of runaway slaves hiding out in the swamps. Forging an alliance with the slaves and other farmers, Knight leads a rebellion that would forever change history.

The director and screenwriter Gary Ross illuminates immense historical spans with the true story of one man's revolt during the Civil War. – New Yorker

Starring Matthew McConaughey, Gugu Mbatha-Raw, and Keri Russell.

Also STREAMING ON AMAZON.

Rated R.
---

Genius (2016): Set in the 1930s in New York City.

A stirring period drama about the friendship between Thomas Wolfe and editor Maxwell Perkins (who discovered F. Scott Fitzgerald and Ernest Hemingway).

An intriguing study of the personalities and torturous process behind some of the early 20th century's great writing. – Boston Globe

Starring Nicole Kidman, Jude Law, Colin Firth, Guy Pearce, Laura Linney.

Also STREAMING ON AMAZON.

Rated PG-13.
---

Indignation (2016): Set in 1951 in Ohio.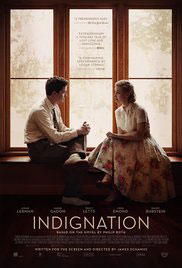 Marcus Messner, a brilliant working class Jewish boy from Newark, New Jersey, travels on scholarship to a small, conservative college in Ohio, thus exempting him from being drafted into the Korean War. But once there, Marcus's growing infatuation with his beautiful classmate Olivia Hutton, and his clashes with the college's imposing Dean, Hawes Caudwell, put him and his family's best laid plans to the ultimate test. Based on Philip Roth's novel.
"Indignation" is an elegant debut for longtime producer Schamus; a visit to the past, with both sunshine and darkness. – Seattle Times
Starring Logan Lerman, Sarah Gadon, Tracy Letts, Ben Rosenfield.
Also STREAMING ON AMAZON. Available on Oct 25, 2016
Rated R.
---

Love & Friendship (2016): Set in 1790s London.

Love & Friendship centers on the recently widowed Lady Susan Vernon (Kate Beckinsale), who seeks refuge with her in-laws to escape the scandalous rumors surrounding her private life. While at their estate the scheming Lady Susan decides it's time to secure a husband for herself and for her somewhat reluctant and awkward daughter.

Based on the early novella Lady Susan, by Jane Austen.

Starring Kate Beckinsale (Stonehearst Asylum, The Aviator, The Golden Bowl, Alice Through the Looking Glass, Emma), Chloe Sevigny, Xavier Samuel, Emma Greenwell, Justin Edwards, Tom Bennett, Morfydd Clark, Jemma Redgrave, James Fleet, Jenn Murray, Stephen Fry.

Also STREAMING ON AMAZON.

Rated PG.
---

Mohenjo Daro (2016): Set in 2016 B.C.

During the Pre-historic Indus Valley, the evil greed of a man is about to destroy one of the oldest cities in the ancient world, Mohenjo Daro. A young indigo farmer, Sarman, enters the city and meets Chaani, the daughter of the Priest, predicted to be the Origin of a New Society. Sarman, in his attempt to win Chaani's love, uncovers the secrets that nobody was ever supposed to know – about Chaani, about Mohenjo Daro and about his own past!

Writer-director Gowariker took over three years to research and develop a script, working closely with archaeologists whose lifework is documenting the Indus Valley civilization to ensure authenticity behind the presentation of his fictional story.

In Hindi with English subtitles.

Starring Hrithik Roshan, Pooja Hegde, Kabir Bedi.

Not rated.
---

The Dressmaker (2015): Set in the Postwar era

In 1950s Australia, beautiful, talented dressmaker Tilly returns to her tiny hometown to right wrongs from her past. As she tries to reconcile with her mother, she starts to fall in love while transforming the fashion of the town. Based on Rosalie Ham's best selling novel.

A stylish drama with comic undertones about love, revenge and haute couture. – Sue Maslin

The film led the 5th AACTA Awards with thirteen nominations, including Best Film, Best Direction, Best Production Design, Best Original Music Score, Best Sound, Best Editing, Best Cinematography[19][20] and won Best Lead Actress, Best Supporting Actress, Best Supporting Actor, Best Costume Design and People's Choice Award for Favorite Australian Film.

Starring Kate Winslet, Liam Hemsworth, Sarah Snook.

Not rated.

Opens September 23rd.
---

The Innocents (2016): Set in Warsaw, December 1945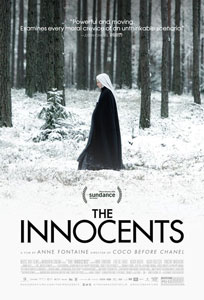 The Second World War is finally over and Mathilde is treating the last of the French survivors of the German camps.
A French Red Cross doctor is called to a convent on an urgent matter. Once there, she not only helps a nun give birth, but discovers that several other women at the monastery are also pregnant. Soon, she is tasked with keeping the secret of what happened at the convent during World War II.
In French with English subtitles.
Also STREAMING ON AMAZON. Available on Sep 27, 2016
Rated PG-13.
---

The Legend of Tarzan (2016): Set in the 1880s in the Congo and in London, England.

Tarzan, having acclimated to life in London, is called back to his former home in the jungle to investigate the activities at a mining encampment.

It has been years since the man once known as Tarzan (Alexander Skarsgård) left the jungles of Africa behind for a gentrified life as John Clayton III, Lord Greystoke, with his beloved wife, Jane (Margot Robbie) at his side. Now, he has been invited back to the Congo to serve as a trade emissary of Parliament, unaware that he is a pawn in a deadly convergence of greed and revenge.

What makes it more enjoyable than a lot of recycled stories of this type is that the filmmakers have given Tarzan a thoughtful, imperfect makeover. – New York Times

Starring Alexander Skarsgård, Margot Robbie, Samuel L. Jackson.

Also STREAMING ON AMAZON.

Rated PG-13.
---

The Light Between Oceans (2016): Set after the First World War in Australia.

DreamWorks Pictures' "The Light Between Oceans" is a heart-breaking drama about fate, love, moral dilemmas and the lengths to which one couple will go to see their dreams realized.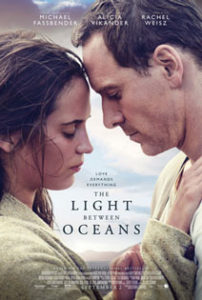 The lives of Tom and Isabel are forever changed when a rowboat with a dead man and infant girl mysteriously washes ashore, Isabel believes their prayers may have finally been answered. As a man of principle, Tom is torn between reporting the lost child and pleasing the woman he loves, and against his better judgment he agrees to let Isabel raise the child as their own.
Starring Michael Fassbender, Alicia Vikander, Rachel Weisz, Caren Pistorius.
Opens September 2nd
Rated PG-13.
---

The Magnificent Seven (2016): Set in the American West.

With the town of Rose Creek under the deadly control of industrialist Bartholomew Bogue, the desperate townspeople employ protection from seven outlaws, bounty hunters, gamblers and hired guns – Sam Chisolm, Josh Farraday, Goodnight Robicheaux, Jack Horne, Billy Rocks, Vasquez, and Red Harvest. As they prepare the town for the violent showdown that they know is coming, these seven mercenaries find themselves fighting for more than money.

Starring Chris Pratt, Denzel Washington, Matt Bomer, Haley Bennett, Ethan Hawke.

Opens September 23rd

Rated PG-13.
---
---

PERIOD FILMS RECENTLY ADDED TO NETFLIX

Beginning of the Great Revival (2011)
This historical propaganda epic tells the story of the Chinese Revolution and the events leading up to the creation of the Chinese Communist Party.
Starring Bingbing Fan, Daniel Wu, John Woo, Andy Lau, Xun Zhou, Leehom Wang, Jie Dong, Ye Liu, Kun Chen, Han Geng, Xuebing Wang, Nick Cheung.
In Mandarin with English subtitles.
Not rated.
---

La Esclava Blanca (2016)
In Colombia in 1821, a white orphan is taken in by black slaves. Years after being torn from them, she returns to find her family and childhood love.
Taken from her adoptive slave parents due to race and sent to Spain, now-grown Victoria returns to Colombia under a false identity to free her family.
In Spanish with English subtitles.
Starring Nerea Camacho, Orián Suárez, Miguel de Miguel, Modesto Lacen.
Rated TV-14.
---

Marco Polo Season 2 (2016)
Set in a world of greed, betrayal, sexual intrigue and rivalry, "Marco Polo" is based on the famed explorer's adventures in Kublai Khan's court.
Kublai is more powerful than ever, but so are the threats to his throne. Marco Polo bears witness to new levels of betrayal, intrigue and deception.
Starring Benedict Wong, Rick Yune, Olivia Cheng, Ron Yuan, Jason Chong, Michelle Yeoh.
Rated TV-MA.
---

My Own Swordsman (2011)
The goofball residents of a failing inn fight back when a corrupt government official sends an assassin to drive them off their land.
Starring Ni Yan, Chen Yao, Sha Yi, Entai Yu, Hongjie Ni, Chao Jiang, Jian Xiao, Ming Fan, Ma Wu, Yao-li Yue, Meng Zhang.
In Mandarin with English subtitles.
Not rated.
---

Penny Dreadful Seasons 1 & 2 (2014)
The classic tales of Dracula, Frankenstein, Dorian Gray and more are woven together as an unlikely band of heroes searches for a missing woman and discovers supernatural terror lurking in the shadowy streets of Victorian London.
Starring Josh Hartnett, Eva Green, Timothy Dalton, Reeve Carney, Rory Kinnear, Billie Piper, Danny Sapani, Harry Treadaway.
Rated TV-MA.
---

Sleepy Hollow (1999)
New York detective Ichabod Crane is sent to Sleepy Hollow to investigate a series of mysterious deaths in which the victims are found beheaded.
Starring Johnny Depp, Christina Ricci, Miranda Richardson, Michael Gambon, Casper Van Dien, Jeffrey Jones, Richard Griffiths, Ian McDiarmid, Michael Gough, Christopher Walken, Christopher Lee, Marc Pickering, Martin Landau, Lisa Marie.
Rated R.
---

The Teacher Who Defied Hitler (2013)
Follow the inspiring story of Leonore Goldschmidt, who opened a school and sanctuary for hundreds of Jewish children as the Nazis rose to power.
Rated TV-PG.
---

Winter in Wartime (2008)
A teen in Nazi-occupied Holland wrestles with family loyalties, painful choices between safety and courage, and the harsh realities of war.
Starring Martijn Lakemeier, Yorick van Wageningen, Jamie Campbell Bower, Raymond Thiry, Melody Klaver, Anneke Blok, Mees Peijnenburg, Jesse van Driel, Dan van Husen, Ad van Kempen, Tygo Gernandt.
In Dutch with English subtitles.
Rated R.
---
Also be sure to visit 100 Period Dramas Streaming on Netflix.
---
---

PERIOD FILMS RECENTLY ADDED TO AMAZON PRIME INSTANT VIDEO

A Good Woman (2004)
While retaining her secret identity, the illustrious Mrs. Erlynne saves Lady Windemere from making a grand social faux-pas with the scoundrelly Lord Darlington.
Starring Helen Hunt, Scarlett Johansson, Tom Wilkinson, Milena Vukotic, Stephen Campbell Moore.
Rated PG.
---

Annie (1982)
America's favorite orphan dreams of life outside the orphanage. Based on the smash hit Broadway musical.
Starring Albert Finney, Carol Burnett, Ann Reinking, Tim Curry, Bernadette Peters, Aileen Quinn, Geoffrey Holder, Roger Minami, Toni Ann Gisondi, Rosanne Sorrentino, Lara Berk, April Lerman, Robin Ignico, Lucie Stewart, Edward Herrmann, Lois De Banzie, Peter Marshall, Loni Ackerman, Murphy Cross, Nancy Sinclair.
Rated PG.
---

A Royal Affair (2012)
A young queen, who is married to an insane king, falls secretly in love with her physician — and together they start a revolution that changes a nation forever. The true story of an ordinary man who wins a queen's heart and starts a revolution.
Starring Alicia Vikander, Mads Mikkelsen, Mikkel Boe Følsgaard, Trine Dyrholm, David Dencik, Thomas W. Gabrielsson, Cyron Melville, Bent Mejding, Harriet Walter, Laura Bro, Søren Malling, Jakob Ulrik Lohmann, Søren Spanning, Frederik Christian Johansen, John Martinus, Rosalinde Mynster, Nikol Kouklová, Egob Nielsen, Michaela Horká, Alzbeta Jenická.
In Danish with English subtitles.
Rated R.
---

Disappearances (2006)
Forced to smuggle whiskey in an attempt to save his family, Quebec Bill and his son embark on an unforgettable trip: a treacherous journey through the wilderness that leads them to discover a haunted past.
Starring Kris Kristofferson, Charlie McDermott, Gary Farmer, William Sanderson, Geneviève Bujold, Lothaire Bluteau, Heather Rae, Bill Raymond, Luis Guzmán, John Griesemer, Christy Scott Cashman, Rusty De Wees, Steve Small, Josh Pellerin, Munson Hicks, Ken Winter, Tessa Klein, William Rough, Bow Thayer, Marc Grégoire.
Rated PG-13.
---

Doctor Thorne (2016)
From the creator of Downton Abbey. Dr. Thorne lives a quiet life with niece Mary in Greshambury, home of the wealthy Gresham family. Unbeknownst to others, the Greshams have lost their fortune and matriarch Lady Arabella has a scheme to regain it via an arranged marriage with her son and an American heiress. However, her son plans to elope with Mary, which complicates Lady Arabella's plans. Set inVictorian England in 1855.
Starring Tom Hollander, Ian McShane, Alison Brie.
Rated PG-13.
---

Elvis & Nixon (2016)
The untold true story behind the meeting between the King of Rock 'n Roll and President Nixon, resulting in this revealing, yet humorous moment immortalized in the most requested photograph in the National Archives.
Starring Michael Shannon, Kevin Spacey, Alex Pettyfer, Johnny Knoxville, Colin Hanks, Evan Peters, Sky Ferreira, Tracey Letts, Tate Donovan, Ashley Benson.
Rated R.
---

In Search of Beethoven (2009)
If we had to choose ten great things about humanity, there would probably be several Beethoven works amongst them. This is the story of one of the Gods of western music, Ludwig Van Beethoven. Historical documentary telling the life story of Beethoven with live musical performances.
Starring Emanuel Ax, Jonathan Biss, Riccardo Chailly, Alban Gerhardt, Hélène Grimaud, Janine Jansen, Roger Norrington, Ilona Schmiel, Juliet Stevenson, Lars Vogt.
Rated G.
---

Macbeth (2015)
From the producers of THE KING'S SPEECH comes the feature film adaptation of Shakespeare's play MACBETH about Scottish General Macbeth (Michael Fassbender) whose ambitious wife (Marion Cotillard) urges him to use wicked means in order to gain power of the throne over the sitting king.
Starring Michael Fassbender, Marion Cotillard, Paddy Considine.
Rated R.
---

Miracle at Sage Creek (2005)
With a history of feuding, horse rustling and violence the Franklin and Red Eagle families are well known rivals in the lawless western frontier. When disaster strikes, these two families will be forced to confront their many differences as lives hang in the balance. Set against the breathtaking backdrop of Wyoming's majestic open range, Miracle at Sage Creek is an uplifting western classic; a story of faith, filled with action and suspense that will thrill the whole family.
Starring David Carradine, Wes Studi.
Rated PG.
---

Mr. Holmes (2015)
Mr. Holmes, of Sherlock fame, has one last case to solve at the ripe old age of 93. The mystery has haunted him for fifty years. Now he must quietly slip out of retirement and pay a secret visit to his past in order to determine the future, in this intriguing and thoughtful suspense-thriller.
Starring Ian McKellen, Laura Linney.
Rated PG.
---

Scarlet Letter (1934)
Taking its place alongside many of the screen's classic thrillers of the 1930s, The Scarlet Letter has never been seen in a high quality version on home video… until now. Though inspired by one of the all-time classic novels, the story told here is as bizarre as any told by Hollywood as revenge-crazed madman Chillingworth proves to be one of the of the movies' greatest figures of the macabre. In Puritan New England, an era of torture and witch burnings, Chillingworth's mind snaps upon hearing of his wife's adultery and her bearing an illegitimate child. This man of medicine becomes a "mad doctor" and uses his insane power over people's minds and bizarre medical treatments to attain his vengeance.
Starring Colleen Moore, Hardie Albright, Henry B. Walthall.
Not rated.
---

Solomon Kane (2009)
A ruthless mercenary renounces violence after learning his soul is bound for hell. When a young girl is kidnapped and her family slain by a sorcerer's murderous cult, he is forced to fight and seek his redemption slaying evil.
Starring James Purefoy, Mark O'Neal.
Rated R.
---

Spirit of the Pony Express (2012)
Documentary: With forces threatening to tear America apart at the beginning of the Civil War, one small enterprise united and held the land together. This is the story of the Pony Express, one of America's most celebrated institutions.
Starring Peter Sherayko, Jim Conlon, Cindy Sue Daffron.
Rated G.
---

The Age of Adaline (2015)
Blake Lively and Harrison Ford star in this stirring romantic drama about a 29-year-old woman who has stopped aging – and the timeless power of love.
Starring Blake Lively, Michiel Huisman.
Rated PG-13.
---

The Diary of Anne Frank (1959)
A diary discovered in the attic of an Amsterdam factory reveals the plight of a Jewish refugee family that lived there in hiding for two years during the Nazi occupation.
Starring Millie Perkins, Joseph Schildkraut.
Not rated.
---

The Story of Ruth (1960)
A touching story of the loyalty and friendship between two women, Ruth and Naomi, all based on the biblical account.
Starring Stuart Whitman, Tom Tryon.
Not rated.
---

The Others (2001)
A woman who lives in a darkened old house with her two photosensitive children becomes convinced that her family home is haunted. Set around the close of the Second World War.
Starring Nicole Kidman, Fionnula Flanagan.
Rated PG-13.
---

The Piano (1993)
A mute woman along with her young daughter, and her prized piano, are sent to 1850s New Zealand for an arranged marriage to a wealthy landowner, and she's soon lusted after by a local worker on the plantation. Winner of three 1993 Oscars, including Best Actress (Holly Hunter).
Starring Holly Hunter, Harvey Keitel, Sam Neill.
Rated R.
---

The Woman In Green (1945)
Sherlock Holmes investigates when young women around London turn up murdered, each with a finger severed off. Scotland Yard suspects a madman, but Holmes believes the killings to be part of a diabolical plot.
Starring Basil Rathbone, Nigel Bruce, Hillary Brooke.
Not rated.
---

Torchlighters: The Gladys Aylward Story
This animated favorite for children tells the true story of Gladys Aylward, the missionary who led 100 orphans 100 miles to safety through war-torn China.
Not rated.
---

Trumbo (2015)
In 1947, Dalton Trumbo was Hollywood's top screenwriter, until he and other artists were jailed and blacklisted for their political beliefs.
Starring Bryan Cranston, Diane Lane, Helen Mirren.
Rated R.
---

Vincent (1981)
A one-man filmed play of Leonard Nimoy's adaptation of "Van Gogh" (1979) by Phillip Stephens. Leonard Nimoy stars in this critically lauded one-man performance that movingly reveals Vincent van Gogh as few knew him. Based on more than 500 letters exchanged between van Gogh and his brother Theo, the play examines the passion and torment of the extraordinary artist's life and death as seen through his brother's eyes.
Starring Leonard Nimoy.
Not rated.
---

Wallis Simpson: The Secret Letters (2011)
Documentary: This film examines recently discovered letters written by socialite Wallis Simpson that reveal her secret love, and chart her fear as she found herself becoming trapped into marrying King Edward VIII.
Starring Jeremy Child, Elizabeth McGovern, Samuel West.
Rated PG-13.
---
Also SEE THEATRICAL RELEASES ABOVE for additional period dramas streaming on Amazon, and be sure to visit 50 Period Romances: Amazon Prime Video, and MASTERPIECE Classics on Amazon Prime.
---
---

PERIOD FILMS RECENTLY ADDED TO AMAZON INSTANT VIDEO
---

Sunset Song (2015)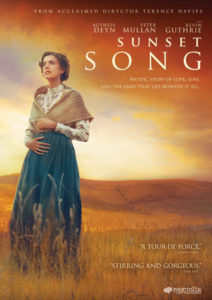 Set in a rural Scottish community, Sunset Song is driven by the young heroine Chris and her intense passion for life. The First World War reaches out from afar, bringing the modern world to bear on the community in the harshest possible way.
The movie immerses you in the intoxicating beauty of the natural world, but it doesn't ignore the hardships of the peasantry who toil day in and day out to raise crops and put food on the table. – The New York Times
Starring Agyness Deyn, Peter Mullan, Kevin Guthrie.
Rated R.
---
Also SEE THEATRICAL RELEASES ABOVE for additional period dramas streaming on Amazon.
---
---

PERIOD FILMS RECENTLY ADDED TO ACORN TV
---

Agatha Christie's Partners in Crime (2015)
Partners in Crime is an espionage adventure series about a suburban married couple, Tommy and Tuppence Beresford, who solve mysteries and foil plots in '50s Cold War Britain.
Starring David Walliams, Jessica Raine, James Fleet.
Also STREAMING ON AMAZON.
Not rated.
---

Being Poirot (2013)
After 25 years of playing one of television's most beloved characters, David Suchet attempts to discover why fans have gravitated toward the great Hercule Poirot for all these years and shares his experience of portraying the iconic, enigmatic detective.
Starring David Suchet.
Also STREAMING ON AMAZON.
Not rated.
---

Demob (1993)
As World War II ends, thousands of British soldiers get "demobbed"–demobilized and sent back into civilian life. Among them are Captain Ian Deasey (Griff Rhys Jones, Alas Smith & Jones) and Lance Corporal Dick Dobson (Martin Clunes, Doc Martin). Deasey and Dobson have had a "good war," much of it spent entertaining the troops with their bawdy stage routines. But after serving four years in the North African desert, they find it hard to adjust to peacetime London and long for the stage lights once more.
Starring Griff Rhys Jones, Martin Clunes, Amanda Redman.
Also STREAMING ON AMAZON.
Not rated.
---

Doctor Zhivago (2002)
War and revolution bring poet and physician Yury Zhivago (Hans Matheson, The Tudors) together with the beautiful Lara (Keira Knightley, Pride & Prejudice), his muse and all-consuming passion. But both are haunted-Yury by guilt over his betrayal of Tonya, his beloved wife, and Lara by fear of Komarovsky (Sam Neill, Jurassic Park), the powerful man who means to have her any way he can.
Starring Keira Knightley, Sam Neill, Hans Matheson.
Also STREAMING ON AMAZON.
Not rated.
---

Jericho (2016)
In 1870s Yorkshire, Annie Quaintain (Jessica Raine, Call the Midwife, Agatha Christies Partners in Crime), a recently widowed mother, is forced to sell her house and possessions to pay off her late husbands debts. Penniless and shunned by society, Annie and her two children set out for Culverdale Valley, where an enormous railway viaduct is being built. She sets up a lodging house in Jericho, a lawless shanty town full of rough and rowdy workers.
Also STREAMING ON AMAZON.
---

The Secret Life of Books (2014)
Great Expectations, Jane Eyre, and Great Expectations are just a few of the classic works of fiction that we all know and love. But how well do we really know them? In this series, presenters revisit original manuscripts and diaries of the authors themselves to reveal new insights into classic literature.
Also STREAMING ON AMAZON.
---

Also see the September Giveaway post, for a list of period dramas coming to Acorn TV and Acorn Online in September, 2016.
---
---
If you enjoyed this post, you'll want to see 100 Period Dramas Streaming on Hulu, the Fall 2016 PBS Line-up, and of course, visit The Period Films List, for the best historical costume dramas sorted by era.