It's time for the September Period Drama Giveaway!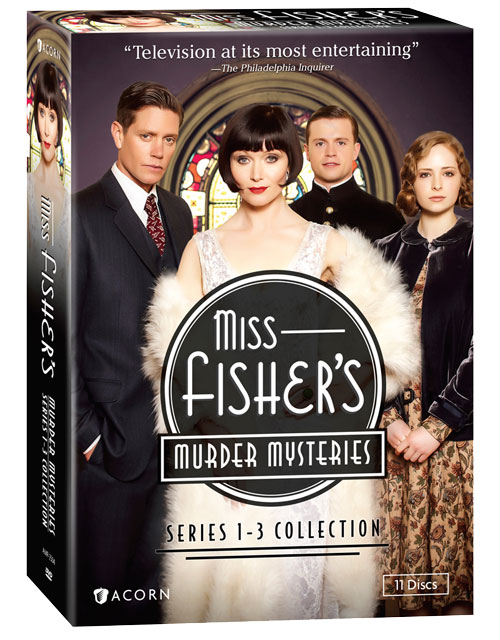 Miss Fisher's Murder Mysteries, Series 1-3 Collection was just released on DVD, and one lucky Willow and Thatch reader will win this set, courtesy of Acorn.
About the period drama: Armed with a razor-sharp wit (and a ladylike pistol), Essie Davis stars as the glamorous Miss Phryne Fisher, a lady detective in 1920s Australia with a fabulous sense of fun and a flair for solving crimes. This Australian hit sparkles with wit and intrigue and has become a breakout hit with U.S. viewers and media.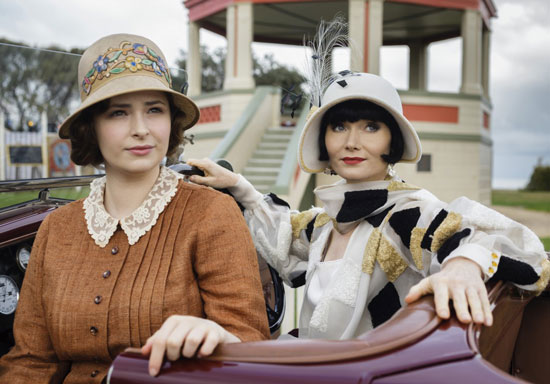 Gorgeously cinematic crime drama. – The New York Times
This is television at its most entertaining, stimulating best. – The Philadelphia Inquirer
Incredibly compelling Irish thriller. – Boston Herald
Based on the popular detective novels by Kerry Greenwood, the Interwar era series is filmed on location in Melbourne with stellar period detail and production values. The DVD 11-Disc features 34 episodes plus bonus behind-the-scenes featurettes, cast interviews, character clips, set tours and more ($119.99, Acorn Online).
Award-winning actress Essie Davis stars as Miss Phryne Fisher, a glamorous "lady detective" with a flair for fashion and a knack for solving crime. Armed with her pearl-handled revolver and vivacious charm, Phryne tackles the toughest cases 1920s Melbourne has to offer, to the bemused exasperation of handsome Detective Inspector Jack Robinson (Nathan Page). Aided by her ever-faithful companion, "Dot" Williams (Ashleigh Cummings), and Constable Hugh Collins (Hugo Johnstone-Burt, San Andreas), Phryne sashays through back-alley jazz clubs and Melbourne high society, fighting injustice and leaving a trail of admirers in her wake.
Guest stars in the Series 1-3 Collection include Miranda Otto (The Lord of the Rings), Miriam Margolyes (Little Dorrit), Nicholas Bell (Shine), John Noble (Fringe), Vince Colosimo (Janet King), Arianwen Parkes-Lockwood (A Place to Call Home), and Maeve Dermody (And Then There Were None).
Not rated.
Miss Fisher's Murder Mysteries, Series 1-3 Collection is available for purchase on Amazon and on Acorn Online.
Available to STREAM ON AMAZON.
The September Period Drama Giveaway is now closed and Linda K. is our winner! Thanks to everyone who entered, and be sure to look for the next giveaway. 

To enter, leave a comment below.
For a second chance to win, please do these two things:
Share any post from the Willow and Thatch website to any of your social networks.
Come back here and leave a comment below saying what post you shared where, and why. You can keep your answer short, but the idea is that you help Willow and Thatch to better understand what you like about period and costume dramas, and this site.
The winner will receive Miss Fisher's Murder Mysteries, Series 1-3 Collection on DVD!
The giveaway is courtesy of Acorn, specializing in world-class television from Britain and beyond. Acorn has DVDs available though Acorn Online, and has a streaming service, Acorn TV. Acorn TV is Emmy®-nominated, and the premier British and international TV focused streaming service in North America. The winner will be chosen randomly. Open to U.S. residents aged 18 and older.
See the Official Rules. Thanks, Acorn!

Willow and Thatch knows that Miss Fisher has a devoted following who are already wondering if, and when, there will be a Season 4.
As of September 2016, here is what we know: though there is no official word yet, the producers have looked at doing a fourth season as a co-production with Ireland. And Essie Davis who plays the title role of Phryne Fisher has committed to a Miss Fisher feature film, but hold tight… "Essie is now living in London – she had a part in season six of Game of Thrones. A 13-part series requires her to be here for half a year so we'll be lucky to get her back for a fourth. But she has committed to a feature and it's written." – Fiona Eagger, Producer: Miss Fisher's Murder Mysteries

More Period Dramas New on DVD in September from Acorn Online

BEING POIROT (September 6) – After 25 years of playing one of television's most beloved characters, David Suchet attempts to discover why fans have gravitated toward the great Hercule Poirot for all these years and shares his experience of portraying the iconic, enigmatic detective (Previously only available as part of the complete series DVD collection.)
Available to STREAM ON AMAZON.
---

FOYLE'S WAR REVISITED (September 6) – Two-time Emmy and Golden Globe nominee John Mahoney (Frasier) hosts a behind the scenes look at the series. Learn about the creation of Foyle's War, the decision to set it during World War II, the research that goes into each episode and the casting of Michael Kitchen as DCS Foyle. Previously only available as part of the complete series DVD collection.
---

JERICHO (September 27) – Acorn TV's new British Western stars Jessica Raine (Call the Midwife, Wolf Hall, Agatha Christie's Partners in Crime) as Annie Quaintain, a widowed mother-of-two who is forced to start a new life in the remote town of Jericho in the rugged Yorkshire landscape. She is able to find a home for her family, but must also provide lodging for the rowdy railroad workers passing through. When handsome worker Johnny Jackson (Hans Matheson, The Tudors) shows up on her door, he brings with him a load of trouble that could threaten Annie's new life. Love, loss, and intrigue abound in this British western set in 1870s Yorkshire. The atmospheric 8-part period drama co-stars Clarke Peters with guest star Mark Addy.
Available to STREAM ON AMAZON.
---

New Period Dramas Streaming Online in September from Acorn TV

THE SECRET AGENT (BBC) – London, 1886: The owner of a seedy Soho shop doubles as a spy for the Russian embassy, dragging his family into a tragic terror plot. Based on Joseph Conrad's timeless novel.
You can watch the trailer below.
On September 12th the BBC Period Drama THE SECRET AGENT starring Toby Jones will premiere in the U.S. exclusively on Acorn TV (including on Amazon!). The DVD will be released in December, 2016. 
---

AND THEN THERE WERE NONE – As the world teeters on the brink of World War II, 10 strangers are invited to isolated Soldier Island. Among them are young secretary Vera Claythorne (Maeve Dermody, Serangoon Road), soldier Philip Lombard (Aidan Turner, Poldark), General John MacArther (Sam Neill, Jurassic Park), spinster Emily Brent (Miranda Richardson, Harry Potter and the Goblet of Fire), and Justice Lawrence Wargrave.
Look for the new adaptation of Agatha Christie's Classic on Acorn TV on September 26th.
Available to STREAM ON AMAZON.
---

Be sure to enter the giveaway before the end of September 2016, and if you enjoyed this post, you'll want to wander over to The Period Films List, with the best historical dramas sorted by era. Good luck!