Last Updated on September 29, 2023
We have your period drama line-up for what's new to streaming on Netflix in the US this fall – and also what's leaving.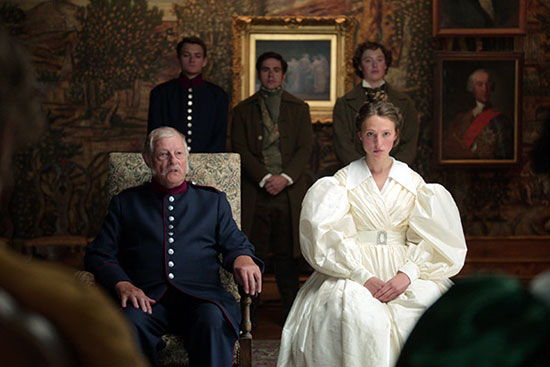 ---
To help keep this site running: Willow and Thatch may receive a commission when you click on any of the links on our site and make a purchase after doing so.
---
This list will be updated all fall: it will house all the costume, historical, and period dramas added to Netflix in September, October, and November 2023, that we think you'll enjoy.
New titles – from British period dramas to romantic television series, international films and biopics –  will be added alphabetically to the appropriate areas all throughout the months, as soon as we learn of them. If you recognize a title from the service, it's because movies and series often get pulled off for a period of time, and then they come back.
You can click through to watch the trailers where available – they may save you from watching something you'll wish you hadn't (or help you find something you nearly skipped over).
We've also curated some other non-period titles of interest, including feel-good movies and TV series, comedies and romances, that are coming to Netflix that you might like. See the "You May Also Like" section for these additional suggestions of what to watch.
---
---
Period dramas leaving Netflix this fall: Leaving 9/12/23: Colette (2018) – Read our review. Leaving 9/30/23: Hatfields & McCoys (Season 1), Lawless (2012), Nanny McPhee (2005), Titanic (1997). Leaving 10/31: Pride & Prejudice (2005).
The summer list for Netflix is here. The summer list for Prime Video is here.

Those who are new here should know that Willow and Thatch also has a special section for period dramas that have been added recently to different streaming services. See the "New to Streaming" drop-down menu at the top of the page.
---
---

Period Dramas Added in September 2023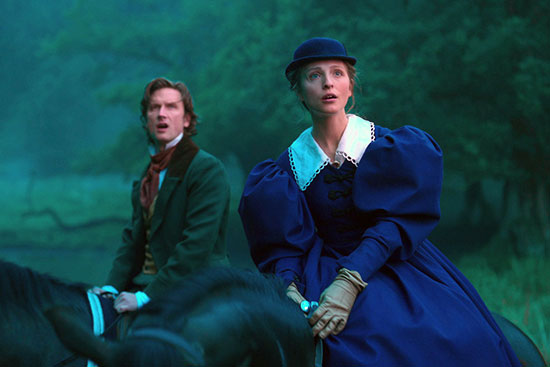 ---
---

Ehrengard: The Art of Seduction (2023)
In this comedic romantic feature-length period drama from Denmark. a love connoisseur finds himself in a scandal — and a romance of his own, when he is appointed to teach the Grand Duchess's timid son the intricacies of seduction. Directed by Bille August (Pelle the Conqueror, The Best Intentions), based on the book Ehrengard by Karen Blixen by Isak Dinesen.
Also available 9/14 is the documentary "Lifting the Veil: Behind the Scenes of Ehrengard" (2023). 
Starring Sidse Babett Knudsen, Mikkel Boe Følsgaard, Emilie Kroyer Koppel, Jacob Lohmann.
Rated TV-MA
Available September 14
---

Call the Midwife (Season 12)
Adapted by Heidi Thomas from the best-selling memoirs of Jennifer Worth, this drama series is a moving, funny, colorful look at midwifery and family in 1950s and 60s East End London. In Season 12, it's 1968, and Enoch Powell's infamous "Rivers of Blood" speech creates serious tension in Poplar, especially when a group of dockers march in support of Powell. The midwives welcome a new nun, Sister Veronica, who's an instant hit with everyone – except Nurse Crane. Meanwhile, Trixie's relationship with Matthew goes from strength to strength, while Nurse Crane helps Nancy with her financial woes.
Starring Helen George, Linda Bassett, Leonie Elliott, Laura Main, Jenny Agutter.
Rated TV-PG
Available September 4
---

Fences (2016)
Set in 1950s Pittsburgh, the film adaptation of August Wilson's Pulitzer Prize-winning play takes a passionate look at former baseball player Troy Maxson as he fights to provide for those he loves in a world that threatens to push him down. Viola Davis was the 2017 Oscar Winner for Best Performance by an Actress in a Supporting Role.
Starring Denzel Washington, Viola Davis, Stephen McKinley Henderson, Jovan Adepo.
Rated PG-13
Available September 1
---

Forgotten Love (2023)
In this feature length period dramas set in 1930s Poland, a once-respected surgeon who's lost his family and his memory gets a chance at redemption when he reconnects with someone from his forgotten past.
Starring Leszek Lichota, Maria Kowalska, Ignacy Liss.

Rated TV-14
Available September 27
---
For more period dramas added in September 2023, also see the following: September 1: Robin Hood (2010), Public Enemies (2009), Stand by Me (1986), The Great Waldo Pepper (1975), Hacksaw Ridge (2016), and the partially period-set Field of Dreams (1989). September 11: The Chosen (Season 1). September 15: Band of Brothers (2001), The Pacific (2010), The Club (Season 2). Additionally, the Netflix Original Game Vikings: Valhalla is available September 7.

---
---
Period Dramas Added in October 2023
---
---
Coming soon.
---
For more period dramas added in October 2023, also see the following: October 1: A Beautiful Mind (2001), Cinderella Man (2005), Gladiator (2000). October 20: The period-set fantasy limited series Creature (2023). October 27: The period-set horror film Sister Death (2023).
---
---
Period Dramas Added in November 2023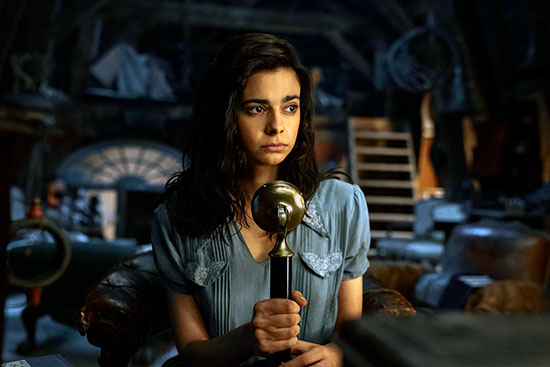 ---
---

All the Light We Cannot See (2023)
Based on the Pulitzer Prize-winning novel, "All The Light We Cannot See" is a groundbreaking limited series that follows the story of Marie-Laure, a blind French girl and her father, Daniel LeBlanc, who flee German-occupied Paris with a legendary diamond to keep it from falling into the hands of the Nazis. Deftly interweaving the lives of Marie-Laure and Werner over the course of a decade, All The Light We Cannot See tells a story of the extraordinary power of human connection — a beacon of light that can lead us through even the darkest of times.
Starring Aria Mia Loberti, Mark Ruffalo, Hugh Laurie, Louis Hofmann, Lars Eidinger, Nell Sutton.
Rated TV-MA
Available November 2
---

Rustin (2023)
The architect of 1963's momentous March on Washington, Bayard Rustin was one of the greatest activists and organizers the world has ever known. He challenged authority, never apologized for who he was, what he believed, or who he desired. And he did not back down. He made history, and in turn, he was forgotten. Directed by DGA award and five-time Tony award winner George C. Wolfe "Rustin" shines a long overdue spotlight on the extraordinary man who, alongside giants like the Reverend Martin Luther King Jr., Adam Clayton Powell Jr., and Ella Baker, dared to imagine a different world, and inspired a movement in a march toward freedom.
Starring Colman Domingo, Chris Rock, Glynn Turman, Aml Ameen, Gus Halper, CCH Pounder, Da'Vine Joy Randolph, Johnny Ramey, Michael Potts.
Rated PG-13
Available November 17
---
For more period dramas added in November 2023, also see the following: Coming soon.
---
---
You May Also Like
This section contains a curated list of movies and TV series new on Netflix, that are NOT period dramas. We think fans of historical and costume dramas will enjoy them just the same.
Available in September: September 1: Up in the Air, Mr Bean's Holiday, Arrival, Matilda, Miss Congeniality, Batman Begins. September 2: Love Again. September 7: Virgin River (Season 5 – Part 1). September 12: The Wolf of Wall Street (2013). September 15: Love at First Sight. September 16: My Big Fat Greek Wedding 2. September 29: The Great British Baking Show (Collection 11 – New Episodes Weekly). September 20: New Amsterdam (Season 5).
Available in October: October 1: My Best Friend's Wedding, Runaway Bride, Sex and the City 2, Sex and the City: The Movie, The Firm, Forgetting Sarah Marshall, Love Actually, Margot at the Wedding. October 17: Silver Linings Playbook.
Available in November: November 16: Best. Christmas. Ever! (2023). November 28: Love Like a K-Drama (2023) reality series. November 30: Family Switch (2023).
---
If you enjoyed this post, be sure to see The Period Films List, with the best British period dramas, historical and costume movies and TV series sorted by era.