Last Updated on January 28, 2020
"Colette" (2018): Colette is pushed by her husband to write novels under his name. Upon their success, she fights to make her talents known, challenging gender norms.
Starring Keira Knightley, Dominic West, Fiona Shaw, Robert Pugh, Eleanor Tomlinson, Denise Gough.
Rated R for some sexuality/nudity
"Colette" is AVAILABLE to STREAM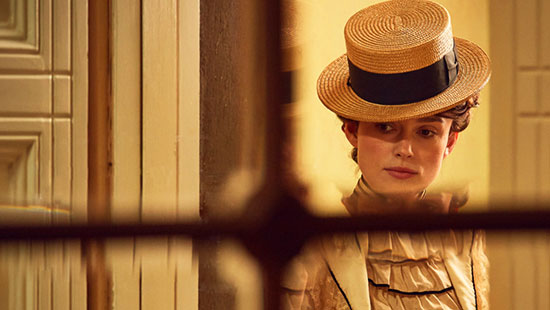 ---
To help keep this site running: Willow and Thatch may receive a commission when you click on any of the links on our site and make a purchase after doing so.
---

The Hand that Holds the Pen Writes History: Reviewing Colette
An orange tabby cat licks its paws languorously at the feet of a sleeping woman. A golden beam of light penetrates the gossamer curtains. The woman lets out a tired groan as her mother calls out "Gabrielle!" It's the late nineteenth century, and another tranquil morning in the French country cottage.
And so begins "Colette," the breathtaking period drama set at the height of La Belle Époque or the "Beautiful Era" in which western Europeans reveled in art and literature after the horrors of the Franco-Prussian War.
"Colette," the biographical account of writer Sidonie-Gabrielle Colette (1873 – 1954) from director Wash Westmoreland ("Z: The Beginning of Everything"), is a poignant film about one woman's transformation from a small town ingénue to the androgynous icon and author of more than thirty novels.
---
---
Sidonie-Gabrielle Colette, (Keira Knightley, "Atonement") is a self-professed "country girl without a penny to her name." She is happily sequestered in the bucolic Saint-Sauveur-en-Puisaye village in Burgundy until she marries the older, prepossessing writer and critic Henri Gauthier-Villars (Dominic West, "Les Misérables") —who uses the pen name "Willy."
After the wedding, the couple relocates to an 1893 Paris chockablock with the extravagantly ornate architecture that inspired post-impressionist artists. Colette arrives fresh-faced and momentarily reticent, with two slender braids and one canary yellow frock. Willy, a well-known libertine, introduces Gabrielle to the intellectual avant-garde scene.
Dominic West and Keira Knightley expertly exude the passion of their new love and the fiery jealousy that comes with it. When she isn't finding her footing among Parisian socialites – and when money becomes an issue – Gabrielle acts as her husband's newest ghostwriter.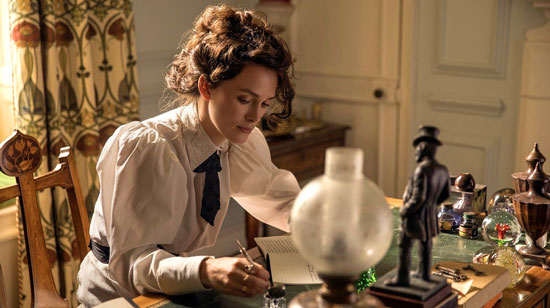 Her character Claudine is a fifteen year old witty and brazen country girl, loosely based on her schoolgirl self. The young auteur constructs the stories, and Willy modifies the feminine literary voice, claiming the work as his own. At first, the marriage seems strengthened by their artistic camaraderie. As Willy insists on a greater output and harbors the royalties for himself, Gabrielle seeks an identity independent from the dutiful wife, becoming simply "Colette."
Keira Knightley is unstoppable in her depiction of the revolutionary wordsmith that created a space for women. The new period drama concentrates on the Nobel Prize in Literature nominee's first works, the Claudine stories.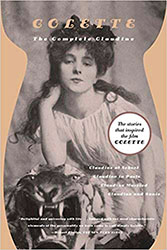 Costume designer Andrea Flesch creates a visual evolution of France's beguiling authoress through a series of subversive costumes. While Gabrielle is "simple" incarnate, with unadorned gowns and hair twisted messily into braids, Colette is the talk of the town. Vivacious with atypical boldness, she is jaunty and confident when her ensemble breaks the expected norm. Colette wears ties and collared shirts in a period where women were arrested if they wore trousers. (Women in 1800s Paris were required by law to ask the police permission to dress as men. They were permitted to wear pants only if they were riding a bike or a horse, a law only formally revoked in 2013.)
While at a party in a gilded Parisian flat, a man reads Colette's palms. Colette laughs and claims she has the hands of a man, to which her newfound female companion remarks: "You've a touch of Hermes, Colette!" As the divine messenger, Hermes was the god of transgressing boundaries, and his offspring Hermaphroditus is regarded as an androgynous deity. This comment marks the onset of Colette's self-discovery as a person with fluid gender and sexuality. 
When Willy claims the man was "after" Colette, she argues, with a frolicsome look in her eye, that his jealousy is misplaced. It was the wife she found interesting. When Colette does explore her attraction to women, she begins an affair with Louisiana-born socialite Georgie Raoul-Duval played by "Poldark's" Eleanor Tomlinson. But the core romantic relationship in the film is between Colette and Mathilde de Morny, Marquise de Belbeuf, otherwise known as Missy, played by Denise Gough ("Robin Hood"). Colette and Missy share a need to transcend strict definitions of gender and sexuality, leading to a romantic relationship that, in real life, lasted for five years.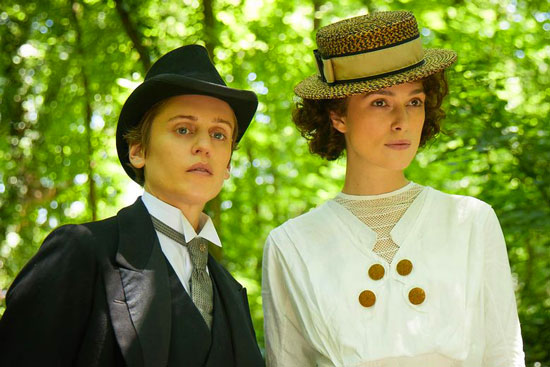 As Colette flourishes, her marriage to Willy disintegrates, and the idea that "the hand that holds the pen writes history" comes into dramatic focus. Willy owns the copyright to the "Claudine" series, and the marriage allows Colette to maintain a connection to the story that catapulted her into a new life of self-expression.
It's no spoiler to say that Colette's independence from both her husband and societal constructs was inevitable. Colette will outgrow "Claudine," the model of her more naïve self, but "Claudine" will also set her – and a whole generation of women – free.
"Colette" is AVAILABLE to STREAM
Read the book: "The Complete Claudine: Claudine at School; Claudine in Paris; Claudine Married; Claudine and Annie" is AVAILABLE HERE

Kailey Rhone makes use of her English degree working as a production editor in the world of academic publishing. She can be found rewatching "Downton Abbey" and sipping on another cup of Earl Grey when she's not writing about the intersection of feminism and Jane Austen's novels. Her work can be found in Persuasions.
---
If you enjoyed this post, be sure to see The Period Films List, with the best British, historical and costume dramas sorted by era. You'll especially like the Victorian Era List. Also see our Strong Women in Period Dramas List.