Last Updated on March 4, 2023
In "Miss Scarlet and The Duke," Kate Phillips (Peaky Blinders) stars as the headstrong, first-ever female detective in Victorian London, who won't let any naysayers stop her from keeping her father's business running.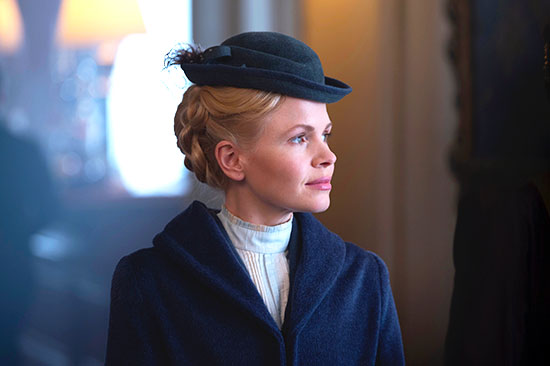 ---
To help keep this site running: Willow and Thatch may receive a commission when you click on any of the links on our site and make a purchase after doing so. 
---
Stuart Martin (Jamestown) stars as her childhood friend, professional colleague, and potential love interest, Scotland Yard Detective Inspector William Wellington, a.k.a., The Duke.
And good news: "Miss Scarlet and The Duke" will return for Season 4. Production on the new season began in late 2022. We expect it to premiere on PBS in January 2024.
---
---
In Season 3 of "Miss Scarlet and The Duke" on MASTERPIECE Mystery!, Eliza finds herself in fresh and surprising mysteries, ranging from a disappearing magician to police corruption, as she struggles to build her detective agency.
Growing competition from a rival agency creates new problems, and all the while she is still juggling her relationship with Inspector William Wellington, the Duke. And she has a new challenge on that front: a beautiful woman from her childhood has caught the Duke's eye.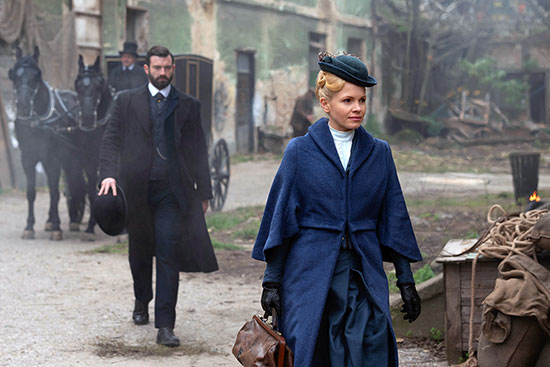 Find airtimes, episode descriptions, and watch the trailer below. Watch previous episodes here, and recently aired episodes for free for a limited time, here. 
Read our Q&A with Miss Scarlet herself here, learn the truth about Victorian-era female detectives here, and dive into the story behind her iconic Season 1 blue dress here.
Season 3 premieres Sundays, January 8 – February 12, 2023, 8:00 – 9:00 p.m. ET.
---
---
Episode Descriptions and Premiere Dates
---
Season 3: Episode 1 – The Vanishing
Premieres Sunday, January 8, 2023, 8:00 – 9:00 p.m. ET
A famous magician does the ultimate disappearing act and vanishes into thin air. All of London is talking about the mystery and Eliza is hired by a newspaper to investigate, despite the fact that Duke is already on the case.
Season 3: Episode 2 – Arabella's
Premieres Sunday, January 15, 2023, 8:00 – 9:00 p.m. ET
Eliza bumps into Arabella Herbert, the girl who made her life a misery growing up. But as an adult, Arabella seems kind and considerate and everybody loves her. So when Eliza suspects she may be a criminal, no one wants to hear it, least of all Duke.
Season 3: Episode 3 – Hotel St Marc
Premieres Sunday, January 22, 2023, 8:00 – 9:00 p.m. ET
Eliza is on the trail of a notorious conman and tracks him down to a hotel in a remote part of France. She believes she has finally caught Scotland Yard's most wanted man, but she's not the only hotel guest who wants to claim the reward.
Season 3: Episode 4 – Bloodline
Premieres Sunday, January 29, 2023, 8:00 – 9:00 p.m. ET
Detective Fitzroy sees one of his colleagues plant evidence on a suspect. With Duke away, Fitzroy turns to Eliza and hires her to look into a case of police corruption.
Season 3: Episode 5 – The Heir
Premieres Sunday, February 5, 2023, 8:00 – 9:00 p.m. ET
Eliza is on the verge of earning life-changing money when she offers to help the heir to an unclaimed fortune. It's a race against time to claim the money and Eliza will need Duke's help, but a revelation about his personal life makes working together impossible.
Season 3: Episode 6 – The Jewel of the North
Premieres Sunday, February 12, 2023, 8:00 – 9:00 p.m. ET
The season comes to an explosive climax when Eliza receives a bomb in the mail. Who sent it and why? Eliza teams up with Duke, Moses and her old enemy Patrick Nash to find out who is behind the deadly delivery.
---
---
If you enjoyed this post, wander over to The Period Films List. You'll especially like the Best Period Dramas: Victorian Era list, and want to see our series of posts about the period dramas that have aired on PBS Masterpiece.