Last Updated on February 27, 2022
January, 2022, "Vienna Blood," the cerebral crime drama set in glittering Golden Age 1900s Vienna, returns to PBS for a second season featuring three new two-part mysteries.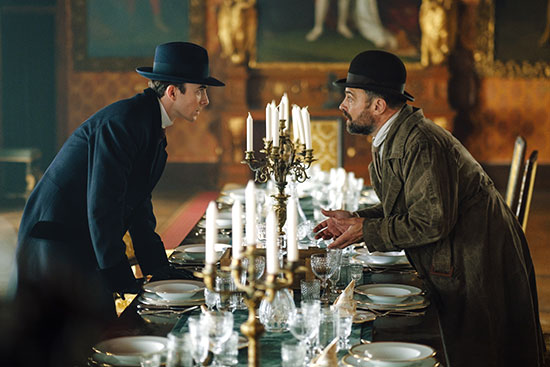 ---
To help keep this site running: Willow and Thatch may receive a commission when you click on any of the links on our site and make a purchase after doing so. 
---
Written by acclaimed screenwriter Steve Thompson (Sherlock, Jericho) and based on the best-selling novels by Frank Tallis, Season 2 of "Vienna Blood" premieres on six consecutive Sundays, beginning January 9, 2022 at 10 PM ET (check local listings). Keep reading for more on the series, to watch the trailer, and for episode descriptions and air dates.
Need to catch up? Seasons 1 and 2 are AVAILABLE to STREAM. And good news: "Vienna Blood" has been commissioned for a third season, with Robert Dornhelm (Anne Frank: The Whole Story), returning to direct season three.
---
---
The period drama "Vienna Blood" is set in the early 1900s in the dangerous and dazzling European capital, where radical new ideas about philosophy, psychology and art are espoused in the city's opulent cafes and opera houses.
But beneath the genteel glamour, a dangerous undercurrent of nationalism and anti-Semitism is on the rise—and murder is afoot.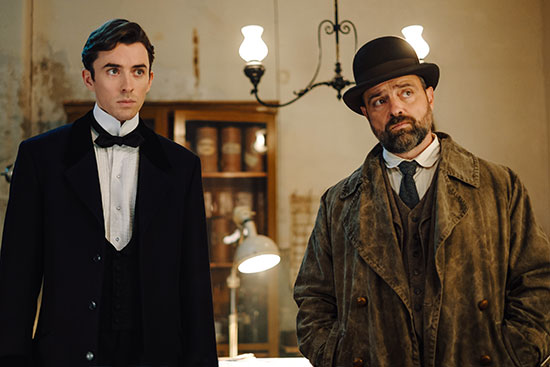 Joining forces to solve the crimes are Max Liebermann, a brilliant young doctor and disciple of the controversial psychoanalyst Sigmund Freud, and world-weary Detective Inspector Oskar Rheinhardt.
Combining Max's extraordinary understanding of deviant human behavior and Oskar's practical crime-solving experience, this odd couple has become a detective duo to be reckoned with, solving Vienna's most mysterious and baffling cases.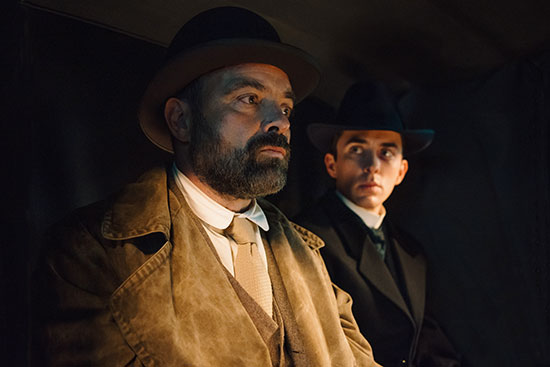 Filmed on location, "Vienna Blood" stars Matthew Beard as Max. Beard is best known for his performance in "The Imitation Game," and will also be seen on PBS in MASTERPIECE's upcoming "Magpie Murders" in 2022.
Also starring is Austrian actor Juergen Maurer as Detective Inspector Oskar Rheinhardt. Season 2 is directed by Academy Award® and Emmy® nominee Robert Dornhelm (Anne Frank: The Whole Story, Hotel Sacher).
---
---
Vienna Blood (Season 2) Episodes
"The Melancholy Countess" (Part 1)
Premieres Sunday, January 9 at 10 PM ET
When a depressed Hungarian countess drowns in the bath of her lavish hotel suite, it looks like suicide. Intense scrutiny falls on her psychoanalyst, Max. Oskar teams up with Max to solve the riddle of the countess's death and clear Max's professional reputation.
"The Melancholy Countess" (Part 2)
Premieres Sunday, January 16 at 10 PM ET
Circumstantial evidence points to the countess's young friend having poisoned her, but without a motive, Oskar and Max must widen the search. A breakthrough in Max's analysis of the countess's dreams opens a new line of investigation.
"The Devil's Kiss" (Part 1)
Premieres Sunday, January 23 at 10 PM ET
When a beggar girl finds a mutilated corpse in the slums, Oskar's superior informs him that the investigation is not their concern. But when Oskar receives anonymous messages relating to the murder, he can't resist delving further.
"The Devil's Kiss" (Part 2)
Premieres Sunday, January 30 at 10 PM ET
Oskar instigates a surveillance operation to catch the assassin and uncovers an intricate foreign plot. Can Max and Oskar defuse the scheme in time to save innocent lives? Meanwhile, Max's personal life faces yet more complications.
"Darkness Rising" (Part 1)
Premieres Sunday, February 6 at 10 PM ET
A monk is found brutally murdered in his monastery. Suspicion falls on a religious Jew who recently reprimanded the monk for spreading anti-Semitic rhetoric. The scandal reaches Clara, who pleads with her ex-fiancé Max for help.
"Darkness Rising" (Part 2)
Premieres Sunday, February 13 at 10 PM ET
Max discovers a clue that reveals a hint at the murdered monk's behavior. The atmosphere intensifies when another monk is found dead. To untangle the truth, Max will need to become acquainted with the devil, dressed in all his finery.
"Vienna Blood" will stream simultaneously with broadcast and be available on all station-branded PBS platforms, including PBS.org and the PBS Video app, available on iOS, Android, Roku, Apple TV, Amazon Fire TV, Android TV, Samsung Smart TV, Chromecast and VIZIO. All episodes of "Vienna Blood" (Season 2) will also be available to stream on the night of the premiere with PBS Passport. Read about the first season here.
"Vienna Blood" (Seasons 1 & 2) is AVAILABLE to STREAM
---
If you enjoyed this post, wander over to The Period Films List. You'll also like our Q&A with Kate Phillips, the star of Miss Scarlet and The Duke.