Last Updated on October 7, 2019
Follow the cast and crew of "Poldark" on location in beautiful Cornwall in "Poldark Revealed." PBS goes behind the scenes to reveal the history, the characters, and  the breathtaking backdrop of the MASTERPIECE series.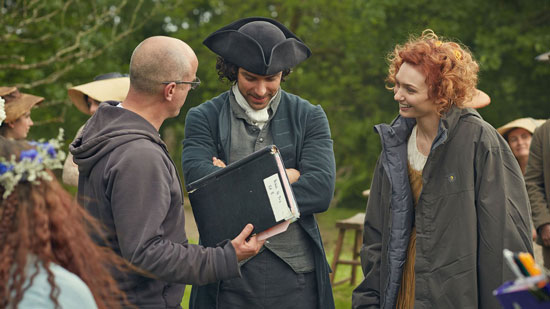 ---
To help keep this site running: Willow and Thatch may receive a commission when you click on any of the links on our site and make a purchase after doing so.
---
Here's what the folks at PBS have to say about the behind-the-scenes look at the television mini-series.
With unforgettable characters, gripping story, fiery passions and stunning scenery, the first season of "Poldark" took audiences by storm. Now with the second season almost here, PBS returns to the rugged Cornish coast to air "Poldark Revealed," a one hour special following cast and crew as they bring the next stage of Winston Graham's much beloved saga to life.
---
---
Poldark Revealed digs deep into the series' tumultuous background through exclusive interviews from cast and crew and the creative team behind the series. Additionally, hear interviews from "Poldark's" historical consultant, Dr. Hannah Greig, and an in-depth conversation with Andrew Graham (Winston Graham's son) who reveals how his father began writing the Poldark novels when he moved to Cornwall as a coastguard during the second world war:
I'm absolutely certain as he looked out to the sea, his imagination was taken by the space and the colours and the light…
And as Aidan Turner, the actor playing the gallant hero says:
We're doing this because the books are really good, Winston wrote really well for characters I think, from the first few pages you're in there with Ross, you get a sense of who he is.
The new "Poldark" series was born from executive producer Damien Timmer's desire to create "a big romantic sweeping saga like Poldark" and the response from executive producer Karen Thrussell, who had read and loved the original books. Working in collaboration with screenwriter and executive producer Debbie Horsfield, who after reading the books became enchanted with series, the team have created a new work in tune with the glorious track record of PBS's MASTERPIECE.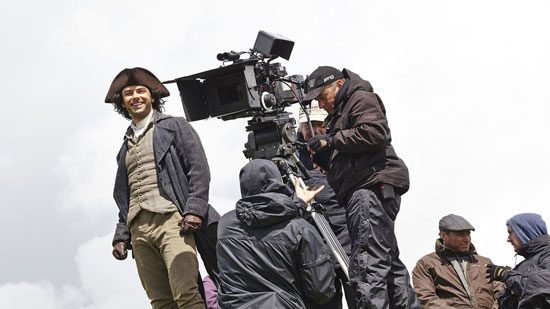 Looking back to the original MASTERPIECE series of "Poldark" from the 1970s, MASTERPIECE Executive Rebecca Eaton remembers, "Poldark aired in the mid 1970s and Robin Ellis as Ross Poldark instantly won the hearts of millions and millions of women."
In fact Robin Ellis makes a welcome return in the new series as the unpopular Judge Reverend Dr. Halse. "It was wonderful to be involved with something that meant a great deal to me forty years ago, once again," says Ellis, while Aidan Turner remembers "finishing the first take and Robin looking up and giving me a little nod with his judge's wig and glasses and I remember thinking that the baton maybe has been passes on and it was a lovely moment that we shared together"
Taking the viewers on an exclusive journey to the real life stories behind the history, the books and its characters, "Poldark Revealed" uncovers the passion behind the people bringing Winston Graham's much loved saga to live and reveals just what makes Ross Poldark the unforgettable hero we love so much.
While you're getting ready for Season 2, be sure to listen to this podcast from BBC History Magazine with "Poldark's" historical consultant, Hannah Greig, about the importance of historical accuracy in costume period dramas. You'll find it here. Also see the podcast Mining Poldark.
About the series: Season 1 begins in 1783, a time when Britain is in a crisis of falling wages, rising goods prices, and civil unrest. Dashing and adventurous, Ross Poldark returns home to Cornwall after fighting in the American Revolutionary War to find his world dramatically changed: his family estate is in ruins, his father has died, and his sweetheart is engaged to another.
Though he is encouraged to pack up and make a new life elsewhere, the stubborn Poldark resolves to change his destiny and restore his lost fortune. As he assembles a motley band of friends and servants, Ross finds a partner equally headstrong to share the twists and turns of his new life. But changing the status quo of this country hamlet creates powerful enemies, and soon Ross is caught between what he knows to be right, and what society dictates.
---
If you enjoyed this post, be sure to see the list of PBS Masterpiece Period Dramas that are streaming on Amazon Prime. As always, be sure to wander over to The Period Films List for suggestions of what historical costume dramas to watch, all sorted by era. You'll want to have a look at the growing Georgian and Regency Eras list.