Last Updated on April 22, 2017
Historian Hannah Greig, Poldark's historical adviser, and Horrible Histories consultant Greg Jenner recently sat down with BBC History Magazine to discuss the importance of historical accuracy in period dramas. 
With Poldark returning to PBS Masterpiece this month, Willow and Thatch thought you would be excited to know what they had to say in the podcast.
About the television mini-series: Aidan Turner stars as Ross Poldark, a redcoat who returns to Cornwall after battle to discover that his father is dead, his lands are ruined, and his true love is engaged to another. Though he is encouraged to pack up and make a new life elsewhere, the stubborn Poldark resolves to change his destiny and restore his lost fortune. Season 2, airing in Fall 2016, brings a new series of challenges, as Ross Poldark is falsely accused and behind bars. Can he win his freedom, or will his love Demelza be left to find her own way?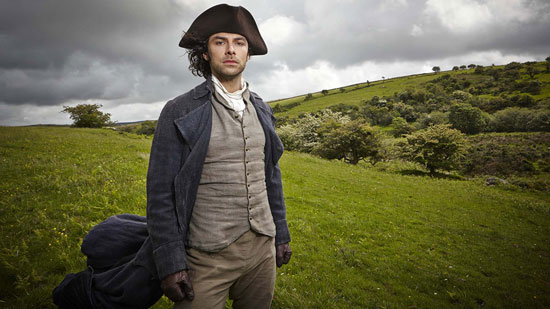 As historical advisor for Poldark, Hannah Greig reads the scripts just before filming begins, and gives feedback to the director, the scriptwriter, and the production team about the historical content of the scripts. During preparations for shooting, she's available to answer any questions about Poldark's late 18th century period setting. A lecturer in 18th century British history at the University of York, Hannah has also worked on The Duchess, Death Comes to Pemberley, and Jamaica Inn.
Greg Jenner co-hosts a discussion show called Inside Versailles to look at the costume drama series Versailles within the context of 17th century history. Before he was in front of the camera, Greg had long been the historical consultant (or "the guy in charge of all the facts") for Horrible Histories, a British sketch comedy television series based on the children's historical-comedy book series by Terry Deary. He teaches a Public History MA seminar at the University of York and Royal Holloway, University of London, and has also lectured in several universities on the philosophical and pragmatic problems of how historical television is made and consumed.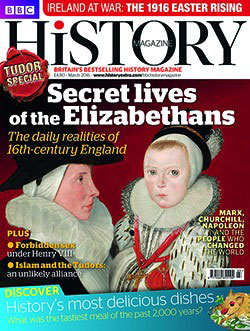 Just in time for the return of the Poldark television mini-series, BBC History Magazine brought the pair together to talk about the importance of historical accuracy in period dramas, for the podcast Poldark and Historical TV Drama (listen below). 
Setting the tone of the discussion, the BBC History Magazine podcast opens with a clip of Hannah Greig saying "I think there should be space for us to acknowledge and reward fictional interpretations more. I think if we continually have the conversation of accuracy, and everything must be accurate, then it weighs down dramas to become less creative. The whole joy of visual media, of television and film, is that creative expression and we should celebrate fictional interpretations. We should acknowledge them as permissible and right, and that they can inform and entertain us in different ways."
That doesn't mean that the producers of Poldark aren't concerned with historical accuracy; Hannah says that they are "quite interested and invested in the historical context, so they do take it all quite seriously, and it's given quite careful consideration." But their first commitment is to a well-told story and to the Poldark book series by Winston Graham, first published in 1945.
According to the Telegraph, "Graham was a master of period detail and atmosphere and always researched his books meticulously. For the Poldark series, he spent many hours in old archives, delving into parochial histories and accounts of smuggling and mining." As there is already a working document with an existing narrative, Hannah's role as the historical advisor is to use her knowledge of the past to move that story forward. She says:
Poldark is adapted from a novel so in some ways the burden of responsibility for the production is to make sure that it's as close an adaptation of that novel as possible. Whereas the Victoria series is about a British monarch, so there's a responsibility there with the history to ensure that that is a fair interpretation of those real and incredibly important characters in the British past, and to tell that history in a significant and informed way.
But even in the instances of re-telling an actual historical event, Jenner feels that the primary role of drama has always been one of entertainment. "Dramatists are there to spellbind us, to make us laugh and cry and fear for our favourite characters. I think the role of a historian in society is to engage with popular culture, probably after the fact, or secondary to it. When a great drama comes out, I think we should be on tele, and on the radio, write newspaper columns, write blogs, which is happening more and more…it's a really wonderful thing to see that dialogue. But I don't the drama itself has that duty. That's not what it is there for."
When asked how important it is that historical advisors are involved in the making of historical period films, Jenner replies "I think they can be hugely important and significant, but I'm not sure if they're essential. I think it depends on the project." Hannah agrees that the importance is project dependent, and finds more significance in creating a narrative that is representative of a historical period and its people, than in the minutiae of period details:
It depends a lot on the project, and what the project wants to do with the historical context that's involved. The discussion of accuracy is something that crops up a lot on Twitter and in newspapers – it's a way in which lots of (period) dramas are judged. As a historian involved in the process I'm always asking myself 'what does that mean? What are we trying to achieve by creating something that's accurate?' Because history is continually being made by new scholarship and by historians. So we can think about things being well informed by historical knowledge, but that's not quite the same issue as 'have they got everything right?' And I'm not sure that the second part of that is particularly helpful always, that kind of spotting  – 'oh, is that the exactly the right piece of clothing; is that the perfect period-precise room?'

For me what's important are 'is the narrative meaningful for the time in which it's set? Are the characters' motivations informed by the choices that I would understand as being the choices that were faced by the people at the time? Does it carry me emotionally in the way that I might think about the historical past?'
Hannah goes on to say that "Those are the issues that really matter to me as a historian, and less so about whether we've sourced exactly the right wine glass." She thinks you can tell which period dramas are inspired by and formed with history as the basis, rather than as an embellishment or set dressing that is added later; as a historian she prefers working on the former.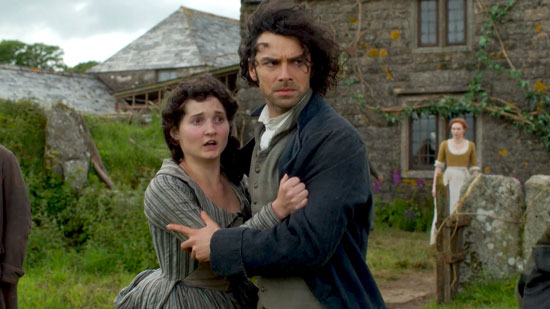 Greg expands on the thought that the nature of the project guides the historical treatment in period dramas:
You have the actual historical events that happened and you're trying to dramatise those – I think that's where perhaps there's more of a burden to get it right or at least be pretty respectful of the truth – or what you think is the truth, which is obviously an interesting debate.

And then you have the literary adaptations or the entirely fictional postulations where you invent historical scenarios. Poldark is a literary adaptation from the 1940s. Whereas if you're doing a drama about, say the Titanic or the First World War – something where real lives were lost or real stories were felt, where there's that potency of the real human story and the impact it might have had on the world – I think then perhaps that's when there is more of a responsibility to be at least engaging with history.
All this was just in the first 15 minutes of their conversation!
You can listen to the full hour-long podcast from BBC History Magazine below. BBC History Magazine aims to shed new light on the past to help you make more sense of the world today. And, good news – you can even subscribe to the magazine in the U.S. and Canada. If you prefer a Kindle edition, you can get that as well.
Poldark and Historical TV Drama: As the smash-hit series Poldark returns to our screens, its historical advisor, Hannah Greig, and Horrible Histories historian Greg Jenner join us to discuss the growing popularity of historical fiction on TV. The pair also consider the big question of accuracy in historical drama.
Remember, Poldark Season 2 begins September 25th with a 2 hour premiere at 8/7c on MASTERPIECE on PBS. Watch Season 1 again now.
What do you think? Is it important for costume period dramas to be historically accurate down to the last detail? Is it enough to base historical movies and mini-series on what historians understand of the past, to convey an accurate feeling of the time?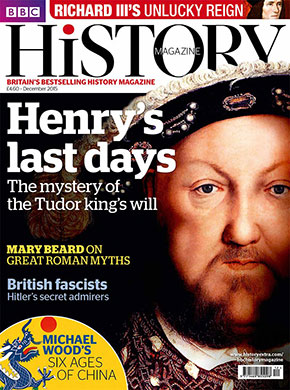 More about the magazine: BBC History Magazine is Britain's bestselling history magazine. It is published every four weeks and sold around the globe, in print and many digital editions. In each issue we offer fresh perspectives on a wide range of historical topics – everything from Ancient Egypt to the Tudors, medieval life to the Second World War.
Our articles are all written by expert historians, including well-known names such as Dan Snow, Antony Beevor, Mary Beard and Michael Wood. Alongside in-depth features, every edition also includes a comprehensive book reviews section, the latest history news and opinion, and ideas for heritage visits in the UK and abroad.
Throughout, the magazine is written in a knowledgeable yet accessible style and beautifully illustrated with historical images from the periods covered. Alongside the magazine, we are also the creators of the award-winning History Extra podcast, which is available to download for free each week and features interviews with some of the biggest names in the history world.
You can order a subscription of the printed magazine or get it on Kindle. 
Be sure to check out History Extra – History podcasts, historical quizzes, reviews, news and features from leading experts. In association with BBC History Magazine and History Revealed. In particular, you might enjoy the Historian at the Movies section. Willow and Thatch wants to thank the editors at BBC History Magazine for allowing the podcast to be shared here.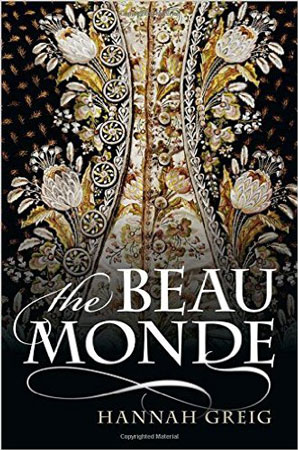 A recognized authority in eighteenth-century history, Hannah Greig is an established historical consultant for film, television and theater. Credits include the feature period film The Duchess (2008), the BBC mini-series Death Comes to Pemberley (2013) and Jamaica Inn (2014).
Hannah has also worked on the BBC documentaries Timewatch: The Young Victoria (2008), The Queen's Palaces (2011), and Pride and Prejudice: Having a Ball (2013).
The fast-living fashionable world of eighteenth-century London is the subject of her first history book, The Beau Monde: Fashionable Society in Georgian London.
You can purchase the book The Beau Monde here.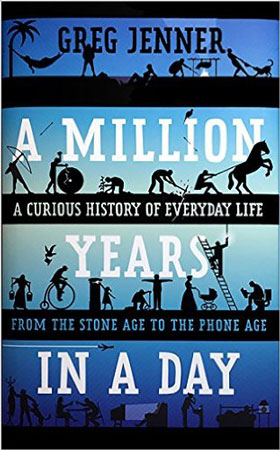 Greg Jenner's TV work is most notable for his role as historical consultant to BBC's multi-award winning Horrible Histories. Since 2008 he has been responsible for the factual accuracy of more than 1,500 comedy sketches and 100+ songs, with subject matter that spans the entirety of human history.
Greg has recently moved in front of the camera, appearing as an expert panellist on BBC2's The Great History Quiz and as co-host of BBC2's Inside Versailles: a historical discussion show broadcast after each episode of the BBC's Versailles costume drama.
He is author of the popular history book A Million Years In A Day: A Curious History of Everyday Life, From The Stone Age To The Phone Age! Greg is horribly addicted to Twitter. You can follow him @greg_jenner.
You can purchase the book A Million Years in a Day here.

If you enjoyed this post, you may also be interested in Fact & Fiction: Creating Anne Boleyn. You'll also want to see the list of PBS Masterpiece Period Dramas that are streaming on Amazon Prime (including Poldark). As always, be sure to wander over to The Period Films List for suggestions of what historical costume dramas to watch, all sorted by era. If you are a fan of Poldark, you'll want to have a look at the growing Georgian and Regency Eras list.
You may also be interested in the articles Is Poldark Faithful to its Literary Origins?  and Versailles – A Guide to its Historical Accuracy.
Last year, Austenprose interviewed Hannah Greig about her role in the production of Poldark and the historical context that it is set in.