Last Updated on August 2, 2022
Told from the female perspective, "Land Girls" is a warmhearted and inspiring World War II period drama about solidarity and courage in the face of adversity.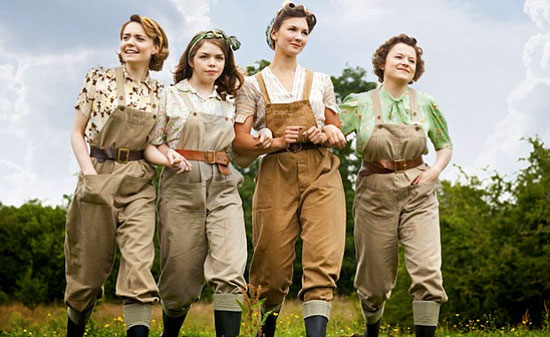 ---
To help keep this site running: Willow and Thatch may receive a commission when you click on any of the links on our site and make a purchase after doing so. 
---
Beginning in 2009, the 3-season British series originally aired during BBC's weekday teatime slot, and follows a group of girls who are away from home for the first time, doing their bit for the country by working on the run-down Pasture Farm at the grand Hoxley Estate.
The girls come from different classes and ideals, but through their hard work, their romances, and the trials they face, they forge friendships that form the heart of the story.
---
---
Filmed in and around the visually stunning Warwickshire, the can-do spirit "Land Girls" should be in the queue for relaxing home viewing. Four young women, each having an experience of wartime England different from the other, are bound together in their desire to contribute from the homefront.
With their trunks in hand, brassy Nancy Morrell (Summer Strallen, Hollyoaks) and self-effacing Joyce Fisher (Becci Gemmell, Call the Midwife) meet Esther (Susan Cookson, Emmerdale), the warden of the Women's Land Army, and soon-to-be mother figure to the girls.
The newcomers are soon joined by the teenage Bea Holloway (Jo Woodcock, Tess of the D'Urbervilles) and her serious older sister, Annie (Christine Bottomley, The Secret Diaries of Miss Anne Lister).
Nancy is sharp and sassy as she confronts class disparity when butting heads with Lady Hoxley (Sophie Ward, Jane Eyre). She yearns to be a sophisticated woman, even if she is stuck in rural England instead of charming men and attending parties. But she doesn't need to leave the estate to get close to Lord Hoxley (Nathaniel Parker, An Ideal Husband).
Joyce is an earnest patriot, and will face moral issues that press her in unexpected ways. The series commemorates the sacrifices that everyday people like Joyce made, but she's not the only one on the farm trying to balance what is best for her, against what is best for the country.
Bea is affectionately naive as she examines the racial disparity among the English and allied troops stationed in her small village. Early in the series, she falls for a GI, changing her life forever.
Annie is levelheaded and practical, and very protective of her sister, and there's reason to be. Bea is everything to Annie, especially while her husband is away at war.
---
---
Costume designer Holly Freeman mixes patterns and fabrics to create a quirky and vibrant 1940s wardrobe that reflects each girl's story. Nancy styles her hair in victory rolls and wears elegantly fitted blouses and floral dresses. Bea and Annie don cozy patterned cardigans while Joyce often elects to wear her plain brown farming uniform. But each character wears the top-knotted headscarf that the historic land girls transformed into iconic fashion items.
The complex and sometimes painful personal narratives in "Land Girls" are rooted in the larger story of a community enduring a changing global landscape. Roland Moore takes on the expansive topic of the Second World War and focuses on the domestic ways in which people preserve normalcy and contribute their extant resources for the greater good.
To this, add Germans on the loose, murder, Americans commandeering the manor, and a comedic farmer try to profit from homemade carrot whiskey.
The land girls engage in silly squabbles, fall in love, and fall out. They labor from sunrise to sundown milking cows and planting potatoes to feed their community, and savor weekend nights when they can freshen up and dance at local gatherings.
With singular warmth and full-bodied characters, "Land Girls" is a series that lifts the spirits and offers a comforting model of hope in troubling times.
"Land Girls" (Seasons 1 – 3) is AVAILABLE to STREAM
---
Kailey Rhone makes use of her English degree working as a production editor in the world of academic publishing. She can be found rewatching "Downton Abbey" and sipping on another cup of Earl Grey when she's not writing about the intersection of feminism and Jane Austen's novels. Her work can be found in Persuasions.
---
If you enjoyed this post, wander over to The Period Films List. You'll also want to see our review of The Crimson Field.