Last Updated on August 17, 2020
In 2020 PBS celebrates its 50th anniversary; in 2021 Masterpiece joins the party. We thought it a perfect time to look back on the period dramas that have aired on Masterpiece, season by season, one post at a time.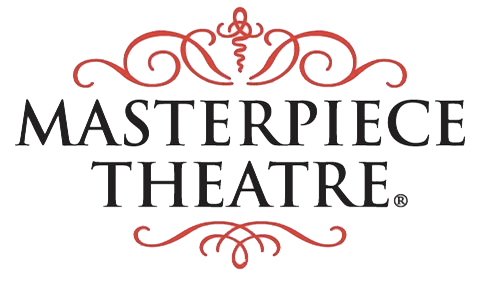 Masterpiece Theatre logo 1971 – 2007 TM and © PBS, Inc., all rights reserved
---
To help keep this site running: Willow and Thatch may receive a commission when you click on any of the links on our site and make a purchase after doing so. 
---
Below, we list the period drama line-up for the ninth season of Masterpiece Theatre, which aired in 1979 – 1980. 
Some of the earliest PBS Masterpiece programming is still available to stream or own, and in the following descriptions, we will let you know when it is (and we'll also link to the books that inspired the adaptations).
Let's take a stroll down memory lane, and see how the choice of British costume dramas and historical series on Masterpiece has evolved over the years. Titles are listed in order of their air date.
For some history of PBS Masterpiece, and the programming in other seasons, see this page.
---
---
Period Dramas on PBS Masterpiece Season 9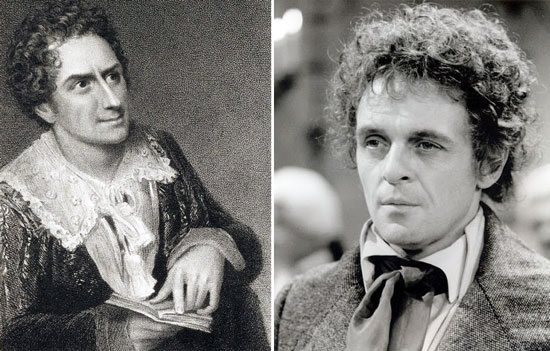 Kean (1979)
The story of flamboyant genius Edmund Kean, whose on-stage and private excesses made the 19th century actor a legend in his time, "Kean" is a 2-episode adaptation of Jean-Paul Sartre's 1953 farce comedy of the Alexander Dumas play.
Edmund Kean, the British actor known for his Shakespearean roles, is involved in a variety of romantic and other entanglements and wonders where acting ends and real life begins. Kean became the idol of critics and audiences alike. High living and loving, temper tantrums and tremendous talents characterized Kean.
Sartre wrote of this historical figure because of his reputation for relentless womanizing and uses him as a vehicle to develop a delightfully witty and satirical comedy about illusion and reality.
Anthony Hopkins stars as Edmund Kean, and Julian Fellowes stars as Lord Neville in this BBC Play of the Month. New York Times called Hopkins' part in "Kean" a "demanding role of long, impassioned speeches, mercurial changes of mood, drawing‐room repartee."
Starring Anthony Hopkins, Neville Phillips, Cherie Lunghi, Sara Kestelman, Adrienne Corri, Robert Stephens, Barrie Ingham, Julian Fellowes.
Currently unavailable.
First aired on Masterpiece in 1979
---

Love for Lydia (1977)
Adapted from the novel by H.E. Bates, provincial heiress Lydia Aspen grows from bashful teen to wild jazz-age flapper while toying with the affections of a young writer and three other men who fall passionately in love with her. Loving the beautiful, brazen, impulsive Lydia is both dangerous and irresistible.
The British miniseries "Love for Lydia" featured Mel Martin in the title role. A young and giddy heiress, Lydia spent the better part of the 1920s and early 1930s holding several eligible bachelors in her thrall. Meanwhile, long-suffering Edward Richardson (Christopher Blake), convinced that he'd be the heroine's one true love if only given the chance, stood quietly on the sidelines as the impulsive Lydia plated with the emotions of his rivals.
"A compelling, unusually Darwinian drama about surviving a difficult transition into adulthood during heady times. More than anything, performances make 'Love for Lydia' eminently watchable, particularly Mel Martin's difficult role as a complex siren and Jeremy Irons's sharp, colorful work as a tragic, lovable rake." –Tom Keogh
The 13 hour-long episodes of Love for Lydia were originally aired over London Weekend Television in 1977.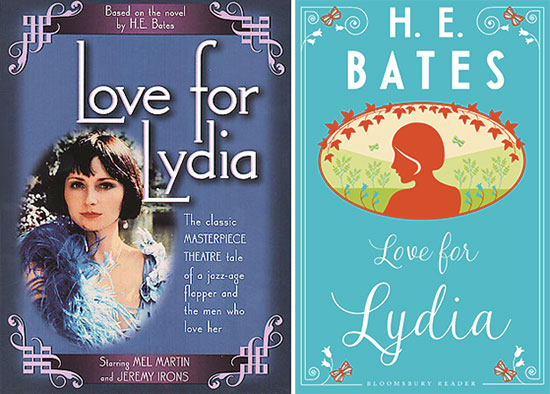 Episode 1: Young reporter Edward Richardson despises his job at Evensford's small-town newspaper and longs to be a real writer. As he gazes out the window through a sudden fall of snow, he glimpses a young girl, dark-haired and pale, riding between the elderly Aspen sisters in the back of their chauffeur-driven Daimler. "She's the niece," his crotchety boss explains, "the one who will come into the money."
Episode 2: Neglecting his job, Richardson sneaks away to go ice-skating with Lydia. Shy at first, she shows flashes of petulance as well as warmth. Richardson's friends Tom and Nancy Holland observe his growing infatuation with Lydia, and Richardson tells Alex, his rakish best friend, about her unsettling effect on him.
Episode 3: As winter ends, Richardson and Lydia quarrel and part. He takes a new job as a clerk, vowing to write on his own, but he is too despondent to begin. Alex suggests a picnic for four in the country might be just the thing to lure Lydia out of the house and back into Richardson's life.
Episode 4: Now sporting a stylish bob, Lydia grows bolder. Concerned about her niece's social isolation, Aunt Bertie urges Richardson to take Lydia to an upcoming charity dance and supplies the tickets for a party of six.
Episode 5: Lydia finds the raucous Sunday tea at the Holland farm amusing. At first enthusiastic about going to society dances with Richardson and his friends, she soon tires of the stuffy respectability of the parties. Richardson fumes over Lydia's mesmerizing effect on his friends Tom and Alex and on Blackie, the gruff local who drives their hired car to the dances.
Episode 6: Lydia finds the village dance exciting, but Richardson and Alex are put off by the rustic surroundings and Blackie's influence. After going off to drink, Richardson and Alex return to the dance to find their worst fears realized.
Episode 7: All Evensford attends Lydia's grand 21st birthday party at the Aspen estate. Lydia is thrilled by the glamour of the party and the attention she receives from everyone. Lydia's admirers all want to make this a special occasion, none more than Richardson. Before the evening is out, spirits are dampened by disappointment and disaster.
Episode 8: Richardson stops seeing Lydia and goes to live on Tom's newly acquired farm.
Episode 9: Grieving and at loose ends, Richardson is revived by hard work and companionship. Tom's kindness to a young woman is twisted by people he thought were his friends. On her birthday, Nancy tries to reunite part of the old group, but Richardson cannot bear watching Lydia direct her attentions elsewhere.
Episode 10: Richardson makes plans to move on. Lydia tries out her housekeeping skills. The accusations against Tom intensify until he sees only ruin ahead. For the first time, Richardson denies Lydia what she wants from him.
Episode 11: Richardson makes a new start, and Lydia embarks on a frenzy of wild partying. Richardson tolerates his job in a London bookshop and spends every spare minute writing. Thanks to a flirtatious high-society customer, he meets an important publisher who encourages him.
Episode 12: On his return, Richardson finds Evensford in decline and bleaker than ever. He discovers that someone very dear to him is dying and that Lydia is desperately ill. He tries to comfort Lydia – and is moved by Blackie's devotion to her – but writing consumes his time and attention.
Episode 13: After Lydia suffers a setback, her doctor confronts Richardson. As winter returns to Evensford, Richardson reflects on all that has happened and finally faces his fears.
Starring Mel Martin, Jeremy Irons, Rachel Kempson, Christopher Blake, Sherrie Hewson, Peter Davison, Peter Davison, Christopher Hancock, Michael Aldridge, Beatrix Lehmann.
First aired on Masterpiece in 1979
---
---

The Duchess of Duke Street (1977) Season 2
In this BBC period drama, a feisty, determined, kind hearted young woman embarks on her career 'to be the best cook in England,' when she's employed in the London home of a well connected aristocrat.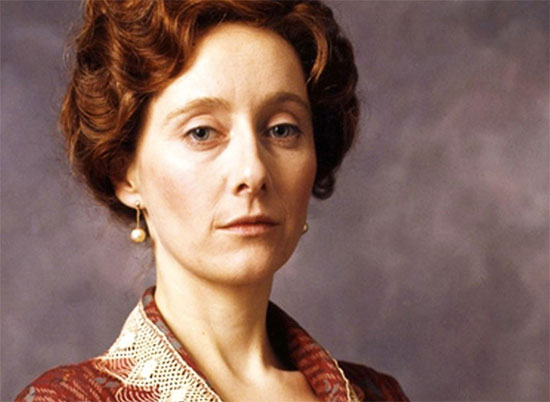 Louisa Leyton starts her life as a scullery maid and then, through her beauty as well as her skill as a cook, becomes the hostess, entertainer and intimate friend of peers, princes and kings. The Prince of Wales makes her his mistress, though the affair must end when he becomes King Edward VII. The house and money he gives her makes it possible for Louisa to become owner of Bentinck Hotel in Duke Street.
In spite of a drunken husband, ill health and financial difficulties, she transforms it into an international meeting place for the rich and famous. Series 2 traces the events of our heroine from 1911 through WWI and its aftermath.
The story is loosely based on the real-life career of Rosa Lewis (née Ovenden), the "Duchess of Jermyn Street", who ran the Cavendish Hotel in London, and inspired the novel The Duchess of Duke Street by Mollie Hardwick. 
Episode 1: Family Matters: Louisa's only brother, ne'er do well Arthur, returns to London after a decade. Her mother pressures Louisa into offering him a job at the Bentinck, running the risk of alienating the rest of her staff.
Episode 2: Poor Catullus: When two high spirited Oxford students play a prank on Louisa, she goes along with the fun and finds a Professor of Classics pitching the woo to her. Meanwhile, Lord and Lady Haslemere come down from Yorkshire to shop for their London home.
Episode 3: A Lesson in Manners: Louisa takes a callow chauffeur in tow and tries to turn him into a 'proper gentleman,' when his kind, elderly and wealthy employer dies suddenly and leaves him the bulk of her estate.
Episode 4: Winter Lament: Louisa visits Lord and Lady Haslemere in Yorkshire and finds a bleak and desperately unhappy household.
Episode 5: The Passing Show: Louisa urges Charlie to get on with his life and a smooth and very suave actor beds Violet, who promptly gets the sack.
Episode 6: Your Country Needs You: With the outbreak of the Great War, the staff are galvanized to help in the effort and keep the hotel running as usual. Louisa takes in a Belgian refugee, a master pastry chef. Charlie enlists and leaves a worried Louisa as he departs for France .
Episode 7: The Patriots: Louisa is concerned when a government official informs her that the Bentinck has become a spies nest and implicates a member of her staff.
Episode 8: The Reluctant Warrior: When the hotel sustains damage after it's grazed by a bomb, Ethel takes a shine to a conscientious objector, assigned to ferret out a potential UXB. Though nobody was injured, Starr, sadly, loses his beloved pooch in the rubble.
Episode 9: Tea and a Wad: Louisa brings a bit of England to France when the Major enlists her to fashion a tea and sandwich shop, military style and Charlie (Lord Haslemere) and an ecstatic Luisa agree to marry once the 'guns are silent.'
Episode 10: Shadows: Charlie returns to London and the Bentinck when he's been wounded and puts on a cheerful and brave face, but his situation is far more serious, as Louisa and the Major suspected.
Episode 11: Where There's a Will: With the war at an end, Louisa is at the precipice of an emotional collapse and financial ruin.
Episode 12: The Legion of the Living: Ghosts of Visits to Yorkshire Past interfere with key decisions Louisa must make in the present, chiefly, deciding what will be best for her daughter, Lottie and her future.
Episode 13: Lottie: While a few of the staff know of Lottie's origins, rumors are being spread about why this young girl seems to be staying at the Bentinck. Louisa won't put up with it and sets out to end the gossip. Mary meanwhile takes an interest in her and invites her to tea with her friend Brian, the violin player. He immediately takes an interest in Lottie and grates at the constant stream of orders from Mary.
Episode 14: Blossom Time: Lottie returns to the Bentinck from finishing school in Switzerland. Lottie has become quite the young lady, having learned the rules of high society and losing her Yorkshire accent. Lottie also finds a beau, hot
Episode 15: Poor Little Rich Girl: Louisa and Lottie are at loggerheads — Louisa wants her daughter to be a proper lady, as befits the daughter of a Viscount. Lottie is confident that she has the talent and the looks to become a major musical star of the London stage.
Episode 16: Ain't We Got Fun: Change is in the air at the hotel and in the lives of its many residents. An American writer, Sophie Applegate, would like to pen a book about Louisa's life. Mr. Starr and Mary have a surprise announcement that sends Louisa reeling and forces her to reconsider some of her rules about staff conduct. Major Smith-Barton returns for a short visit and he too has a revelation for Louisa.
Starring Gemma Jones, Christopher Cazanove, Victoria Plucknett, John Welsh, John Cater, Richard Vernon, Mary Healey.
Some with hoopla will be able to stream both seasons for free, here. 
First aired on Masterpiece in 1979
---

My Son, My Son (1979)
Howard Spring's best-selling novel is dramatized for BBC in eight episodes by Julian Bond (Love for Lydia, The Shooting Party).
Set in London and Cornwall and spanning the period from 1900 through World War I, this is the powerful story of two hard-driven men – one a celebrated English novelist, the other a successful Irish entrepreneur – and of their sons, in whom are invested all their fathers' hopes and ambitions. Oliver Essex and Rory O'Riorden grow up as friends, but in the years after the Great War their fathers' lofty plans have unexpected consequences.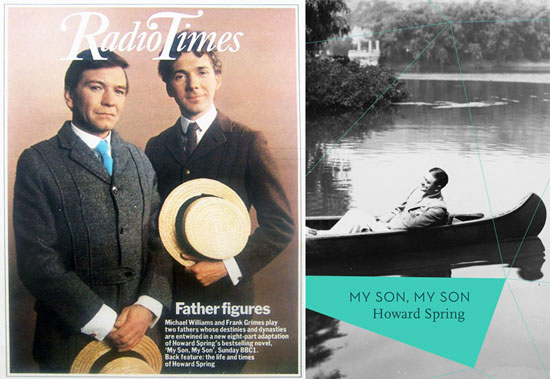 Episode 1:Taken into the O'Riorden household as a lodger, the young William Essex begins a lifelong friendship with the son Dermot. Both young men have determined hopes and ambitions.
Episode 2 : As Oliver and Rory grow up, the contrast in their characters becomes clear and reflects the determination of William and Dermot to live their lives again through their sons.
Episode 3: Recovering from the accident in which his wife Nellie was killed, William is visited by Maeve and introduced to her friend Livia Vaynol – a startlingly attractive girl, the opposite to Nellie in every way.
Episode 4: Livia wants William to tell Oliver of their engagement, but William does not realise until too late the significance of her request.
Episode 5: When William accompanies Dermot on a visit to Dublin he is made bitterly aware of the difference between Rory and Oliver, from whom he is now totally estranged.
Episode 6: Maeve becomes the ' toast' of wartime London with Livia's hit song, ' When it's With You it's Wonderful' – a sentiment ironically believed by every man in the audience except William.
Episode 7: Livia has deserted him for Oliver but William remains unaware of the depth of Maeve's love for him -a love she can only express in a selfless and desperate gesture.
Episode 8: The Great War has ended but Rory's battle is still to come. For William and Dermot the seeds sown in the past come to fruition.
Starring Kate Binchy, Frank Grimes, Michael Williams, Ciaran Madden, Peter Cregeen, Patsy Rowlands, Patrick Ryecart, Prue Clarke, Julian Fellowes.
Currently unavailable.
First aired on Masterpiece in 1980
---

Disraeli (1978)
Passion and politics — those were the predominant drives in the life of Benjamin Disraeli, 19th century's most scandalous British Prime Minister. Disraeli, the only person of Jewish lineage ever to hold prime-ministership of Britain, was also a well-known figure in Victorian literary and social circles, being a writer of some note. This series encompasses his personal life as well as his public life in a semi-fictional tale of passion, glory, greed and ambition.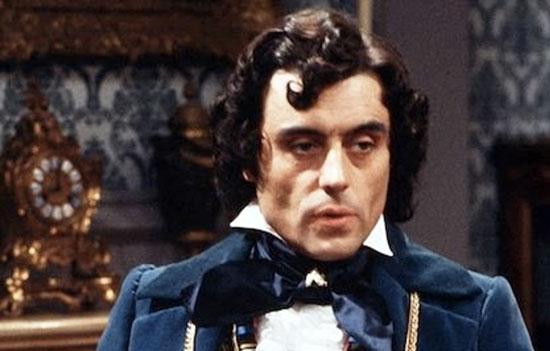 Ian McShane stars as Disraeli, the eternal romantic. The series follows his marriage to the wealthy Mary Anne Wyndham Lewis, who played a dramatic part in shaping his political career.
Beautifully shot on location, the series spans more than 40 years of Disraeli's life as an outrageous novelist, dandy and spendthrift — through his years as Britain's Prime Minister and his close association with Queen Victoria. "When Disraeli was dying, the Queen had the streets of London paved with straw so that the clacking of horse's hoofs on the cobblestones would not disturb him." Also known as "Disraeli: Portrait of a Romantic."
Episode 1: Dizzy: During the Regency Period young, ambitious novelist Benjamin Disreali has more success in the boudoir than in his attempts to be elected to Parliament.
Episode 2: Mary Anne: Disreali begins his early career as a Conservative and marries the widow of his friend and mentor, 13 years his senior.
Episode 3: The Great Game 1858-1872: Disreali rises to power in the Coservative Party and builds a close relationship with the Queen as Mary Anne's health begins to deteriorate.
Episode 4: The Chief 1872-1881: Disreali leads Britain as Prime minister and favorite of the Queen as he protects British interests in the Suez Canal and the Balkans.
Starring Ian McShane, Rosemary Leach, Mary Peach, Margaret Whiting, Brett Usher, John Carlisle, Brewster Mason, David Wood, Frances Bennett, Aubrey Morris.
First aired on Masterpiece in 1980
---

If you enjoyed this post, wander over to The Period Films List. You'll also want to check out our list of Masterpiece Classics Streaming on Prime Video.