Last Updated on March 21, 2021
"Brooklyn" is a charming love story based on the best-selling novel by Colm Toibin. In 1951, a young Irish immigrant, Eilis Lacey (Saoirse Ronan), travels to New York City from County Wexford, a small town in Ireland. Eilis is torn between the two countries, and eventually, between two men. Hers is a coming-of-age story, highlighted by the emotional and physical distance between those who leave for a better life, and those who stay in the same auld sod.
When you are done here, be sure to see our list of over 80 Irish-themed historical, costume, and period dramas.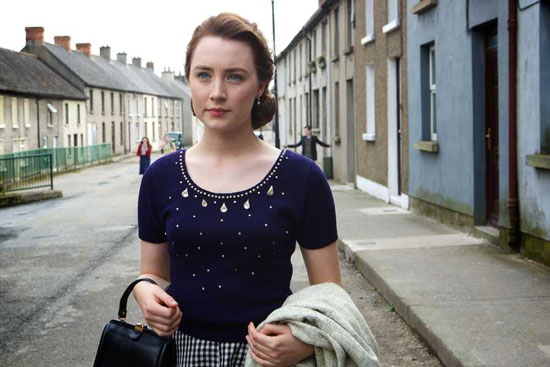 ---
To help keep this site running: Willow and Thatch may receive a commission when you click on any of the links on our site and make a purchase after doing so.
---
Screenwriter Nick Hornby translates Toibin's quiet, intense, writing style flawlessly. Keeping true to the novelist's prose, no dialogue is wasted, and every scene is rich with nuance and Irish colloquialisms.
The gossip in Eilis' hometown is as strong as its tea, and as predictable as its daily routines. County Wexford is beautiful, but Eilis is weary from working in a shop for a dour, and domineering, classist woman. To help, her sister Rose writes to a parish priest in New York City, asking for sponsorship for Eilis.
---
---
Eilis will leave her home, her widowed mother, and her soon to be married best friend, Nancy, but she will miss Rose the most. As they pack Eilis' few belongings, Rose tells her sister, "I would have spent every penny on you, but I can't buy you a future and the life you need." Friends and family wave their handkerchiefs at Eilis and the other travelers on the ship bound for America. It's a familiar, melancholic scene that resonates with the authenticity of our own ancestor's stories.
During the crossing, Eilis is befriended by a more experienced Irish girl, who has already been to America. She guides Eilis with humor and wisdom. "Don't cough. Don't be pushy, rude, or nervous, and think like an American."
But even after she steps off the ship, Eilis is surrounded by the Irish. The other immigrant girls in the boardinghouse, and its strict, but big-hearted landlady (who comically clucks over the girls, scolding them not talk about God and nylons at the same table) are constant, painful reminders of home. The priest helps Eilis emerge from her homesickness, and her roommates convince her to go to an Irish dance. When she meets Tony (Emory Cohen), an Italian, Eilis begins feeling like she's at home in America.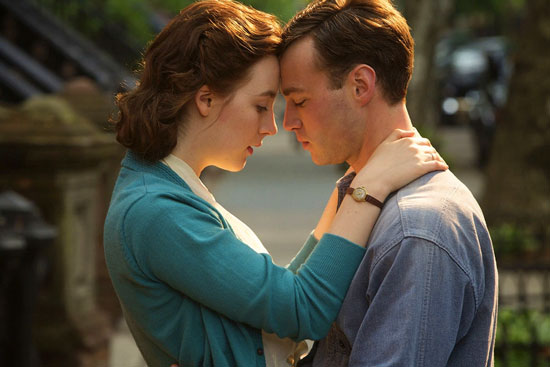 Their burgeoning romance is put on pause when she's called back to Ireland. Eilis is determined to return to Tony and New York, but once home, she's nourished by Ireland's exquisite beauty and familiar rhythms. Then, Nancy introduces her to a local boy who embodies everything that Eilis had been missing so gravely.
Eilis will have to decide between the two young men; between the comfort of the old, and the promise of the new. Her choice will be about people and place, but more so about the woman she wants to become.
---
Brooklyn (2015) is AVAILABLE to STREAM
Starring Saoirse Ronan, Domhnall Gleeson, Emory Cohen, Jim Broadbent, Julie Walters.
Rated PG-13
---
Cynthia G. Neale is the author of the new release by Fireship Press, The Irish Milliner (set during the Civil War in New York City), Norah: The Making of an Irish-American Woman in 19th-Century New York and the young adult novels, The Irish Dresser, A Story of Hope during The Great Hunger (An Gorta Mor, 1845-1850) and Hope in New York City, The Continuing Story of The Irish Dresser.
Ms. Neale has also written a dessert and essay book, Pavlova in a Hat Box, Sweet Memories & Desserts. In addition to these works, Ms. Neale writes plays, screenplays, short stories, and essays. She holds a B.A. in Writing and Literature from Vermont College. Ms. Neale enjoys Irish set dancing, reading, painting, hiking, kayaking, creating events for food, dance, and fund raising. A native of the Finger Lakes region of New York, Ms. Neale currently resides in New Hampshire.
You can find her on Facebook, on Twitter, and at her blog. Keep reading for detailed information about her works of historical romance and historic fiction.  
---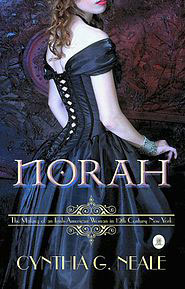 Norah – The Making of an Irish-American Woman in 19th-Century New York
You don't have to be Irish to appreciate Norah McCabe. Hers is an American story of self-creation through sheer grit and imagination. This historical novel paints an authentic and compelling picture of what it means to be young, poor, and female longing for a better life in 1850s New York City.
Scant historical attention has narrowly defined the Irish immigrant woman. And yet the rate of economic and social progress of Irish women far exceeded other immigrant women ethnicities. Norah McCabe heartbreakingly and quixotically stumbles and falls into her real self in this coming-of-age, adventurous, romantic, historical novel.
When she strives to strip herself of her impoverished past through such manifold schemes as buying her own used clothing store, 'A Bee in Your Bonnet' and promenading in Paris finery, she experiences corruption, exploitation, and enchantment in a city that is forever mythic and magical. Norah McCabe joins a rebel Irish organization to free Ireland from British rule, writes for an Irish newspaper, undergoes love's transformation, and suffers a ship wreck.
She seeks to understand the feminist movement, but ultimately is unable to cross the chasm between herself as an Irish immigrant woman and Protestant feminist ideology. The terrors and questions of life strike her down with mental incapacity and loss. Her solitary freedom is the colorful warp and weft in the fabric of who she has become — an Irish-American woman.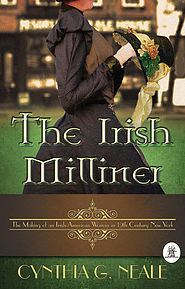 The Irish Milliner – The Making of an Irish-American Woman in 19th Century New York
The Continuing Story of Norah McCabe
It is New York City and the Civil War is brewing. Norah McCabe, an Irish immigrant who escaped the Famine as a child, is now a young widow with a daughter. A milliner, struggling to survive in tumultuous times, Norah meets Abraham Lincoln, befriends the extraordinary African-American woman Elizabeth Jennings, and assists the Underground Railroad creating hats for runaway slaves. She falls headlong in love with Edward M. Knox, son of the famous hat-maker Charles Knox, but he is lace curtain Irish and she is shanty Irish. Edward joins the 69th regiment and leaves for battle. Can their love endure through class differences and war? And then Norah is thrust into the chaos of the Draft Riots. Norah's childhood sweetheart, Sean O'Connolly, leaves New York to avoid conscription and Norah misses both men. She eventually travels to Gettysburg as a journalist for the Irish-American newspaper. And it is on the ghostly, but reverent, fields of Gettysburg Norah McCabe remembers the Famine fields of Ireland and is transformed. But now where will Norah find her home? This is a story of survival, intrigue, romance, as well as exploring the conflict of Irish immigrants thrust into a war that threatened to destroy a nation. Mostly, it is about an Irish-American woman who could be any immigrant today, any woman today, seeking to create beauty and make sense of her life.
If you enjoyed this post, be sure to see Period Dramas for St. Patrick's Day. Also see 5 Reasons to Watch The Hanging Gale, and be sure to wander over to The Period Films List, for historical and costumes dramas sorted by era.