Last Updated on March 26, 2019
In series three of "Victoria," critically acclaimed actress Jenna Coleman and Tom Hughes reprise their roles as the Queen and Prince Albert.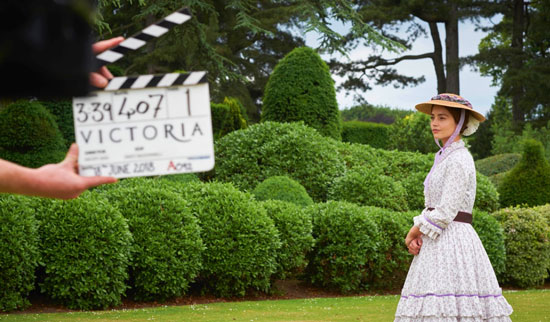 ---
To help keep this site running: Willow and Thatch may receive a commission when you click on any of the links on our site and make a purchase after doing so.
---
Joining the leads, Laurence Fox plays charismatic and wayward Foreign Secretary Lord Palmerston, Lily Travers plays the Duchess of Monmouth, and Kate Fleetwood takes the role of Victoria's sister Feodora, who makes an unexpected return into the Queen's life.
Starting in 1848, the third installment of the lavish drama depicts a turbulent and uncertain time for both Europe and the monarchy. With revolutions on the continent and the Chartist movement reaching its peak in London, Victoria is under pressure from the government to leave London for her own safety. Intense, right?
Viewers want to know: what is it like to play these characters? To be on set? To feel part of the Victorian era?
Below, the stars of the hit historical drama answer questions about the latest season, help us better understand their characters, and give us a glimpse of what it is like to star in "Victoria."
Where to WATCH: In the US, the first three seasons of "Victoria" are AVAILABLE to STREAM. Season 3 in now available on DVD. Series 3 premiered on ITV in the UK on March 24, 2019.
---
Jenna Coleman on Victoria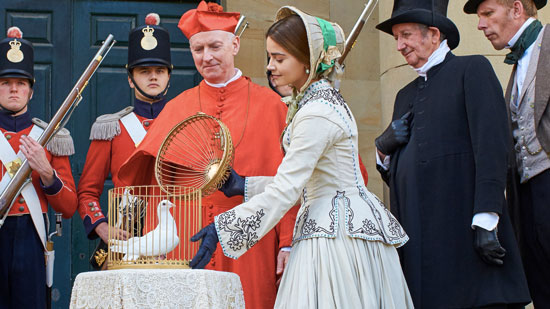 What is it like to work with so many children?
Jenna Coleman: "It is a form of utterly amazing and completely chaotic mayhem. You just have to call action and see what happens. Kids really do say the funniest things and it is the unpredictability on set which is hilarious, especially when you throw in a few dogs, horses and a couple of politicians. I can't imagine the palace now not inhabited by hoards of children."
What was one if the challenges of filming this season of the British period drama?
Jenna Coleman: "In a scene this series, Queen Victoria takes a dip in the water whilst wearing her bathing suit, which is a lot like pyjamas that are made from hemp. It was absolutely freezing and unfortunately we had to film this twice because the weather was so awful. The Queen is meant to be taking a leisurely dip but the waves were making it seem treacherous."
And can you share one of the high points?
Jenna Coleman: "Exploring Osborne House in between filming was a highlight for me. More than anywhere else, Osborne House was their familial home and no one has lived there since, so all the decorations you see were designed by Albert and their double desks are still sat together with the pictures on them. Victoria's bedroom where she kept Albert's picture and pocket watch next to her bed is there to see, along with their piano stools which are still sat next to each other today. More than anything, I felt like I got such a strong sense of their life."
In the third season, we meet Feodora (Kate Fleetwood), Queen Victoria's half-sister and a masterful schemer. Why is their relationship so tricky?
Jenna Coleman: "There is a lot of unspoken resentment and history between these two – Victoria resents Feodora for leaving her when she went off and got married, Feodora resents Victoria for having the attention and focus because she was the heir. It is a really difficult relationship. They also have a shared experience at Kensington which bonds them so there is a constant push and pull of love and resentment between them. They haven't seen each other for years and instinctively Victoria doesn't trust Feodora."
Why do you enjoying playing Queen Victoria?
Jenna Coleman: "I love her lack of filter, her frankness and honesty. I love the fact that if she likes someone she is incredibly loyal and if she doesn't, she will let that person know. In terms of playing her, when she is in a bad mood or is tired, she is very reactionary and temperate so she has always been known and written about as having tempers. They used to write about her having a 'combustible', which I love. Victoria didn't have to answer to anybody and so could really get angry within her own house. She would feel mortified after having one of these 'combustibles' and would cry and apologise to Albert but she ping pongs through emotions rapidly. As she gets older, she becomes even less controlled so it is fun to age with her."
---
---
Tom Hughes on Victoria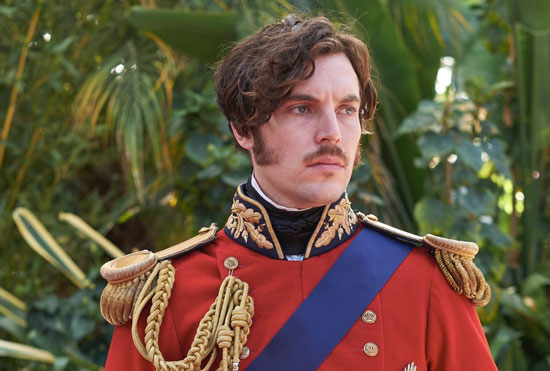 Why is Prince Albert so at odds with Lord Palmerston?
Tom Hughes: "Lord Palmerston is everything Albert does not respect. Albert believes Palmerston is going to undermine everything he is trying to build and goes against everything he is seeing. Albert has read the Marxist manifesto, he has spoken at Chartist rallies and he very much understands the shifting sands of the industrial revolution and the need for change. The status quo couldn't continue and he understood the unrest and where it was coming from, so when Palmerston says otherwise he finds it morally corrupt. Wrap that up in a recalcitrant vagabond, Albert isn't exactly going to be drawn to him. Laurence plays him effortlessly and not because he is that guy in real life – he is an intelligent and sensitive guy, and we get on really well."
Conversely, Prince Albert seems to genuinely like Feodara at the start of the new season.
Tom Hughes: "Whilst Palmerston seems to be everything Albert doesn't like, actually the Queen's half-sister, Feodora, is. She plays him brilliantly, preying on a weakness she may not even realise he has. She becomes everything Albert is lacking, Victoria and him are distant and when the invisible string between them is fraying, he needs that female figure in his life as there is a void and Feodora sweeps in and fills that. She seems to be rational and objective and everything is a tune he dances to but come the end of the series, there is a begrudging respect for Palmerston as Albert realises that he has sacrificed himself to a certain degree for what he believes in which is what Albert values above everything else and Feodora is the exact opposite, sacrificing everybody else for what she wants."
Can you share a memory of a really good day on set this season?
"We went to Palm House in Liverpool to film the exteriors for The Great Exhibition and filmed in the middle of Sefton park this giant green house which creates the façade. I went to youth theatre in Liverpool so going back there was pretty special for me. That was one moment where I could really get some reflection because we were staying in a hotel on the same road as my youth theatre so it was very much going back to old territory. Also I managed to get some of my family in as extras. My mum and dad and 12 of my friends are all in The Great Exhibition. They're people I have known since I was 10 or 11. It was a day I wasn't in so I could be there and watch and give notes."
---
---
Laurence Fox on Victoria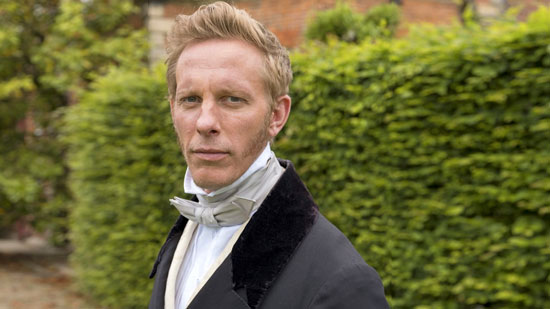 Was it the chance of a good swagger that drew Laurence Fox to the role of dashing Lord Palmerston in the forthcoming series of Victoria?
Laurence Fox: "I certainly inserted swagger in good doses! It is a role in which I could push the limits, and the total opposite of my character Detective Inspector Hathaway in Lewis. Lord Pam, as he was called by the people, is a gregarious, outgoing, wind-up merchant; bright, roguish and erudite. Everything you want in a role. Coincidentally, my dad (the actor James Fox) has played him as well. It was so much fun. Obviously no one knows exactly what he was like because he is long since dead and no one is alive who knew him, but it was a joy to play him. He is a deliberately provocative person and he is naughty so that was fun as it taps into my own nature."
What do you like about being immersed in the Victorian era?
Laurence Fox: "I love the beautifully tailored clothes and hairstyles, and I got a nice cane which made me look a little bit like Willy Wonka. It's so important to feel like you're in the right period and so the costumes are really helpful with achieving that. The costume designer for Victoria (Ros Ebbutt) is brilliant and very detailed and took it very seriously."
---
---
Kate Fleetwood on Victoria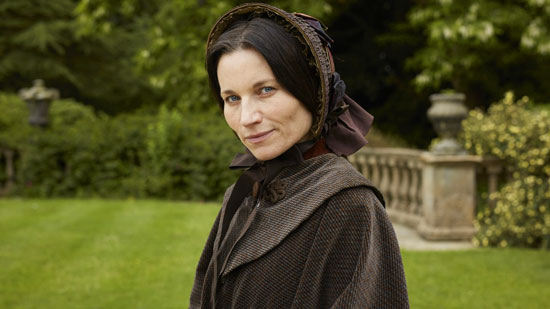 What is something you like about playing Feodora?
Kate Fleetwood: "I really enjoy working with the voice and accent and a different vernacular – I find that is one of the parts of my job I love the most. The accent, for me, is a way into the character, so hopefully it's plausible as I really enjoy using that layer and part of the skillset you have as an actor. With Feodora, her accent helps to represent her emotional dislocation from her family. I found that fascinating, using her language – English isn't her first language, she can use that to her benefit as in she can be tactless and raise an eyebrow, passing things off as just a misunderstanding or simply just the way she speaks."
How do you see Feodora's relationships with Prince Albert and Lord Palmerston?
Kate Fleetwood: "Feodora's relationship with Palmerston is very playful. She has met her match and enjoys sparring with him, but also realises that it is best to keep him as an ally. They work on the same parameters of manipulation and enjoy being a little reckless and pushing the boundaries. They both revel in being provocative, and enjoy each other's company because of that. With Albert, she is manipulating him and it seems self-serving but whilst she is getting between Albert and Victoria, the reason is because she wants to be needed by them both. She wants to be indispensable to both of them, at the same time but for different reasons. She is trying to make herself indispensable but the result of that is that she is completely two-faced."
---
---
Lily Travers on Victoria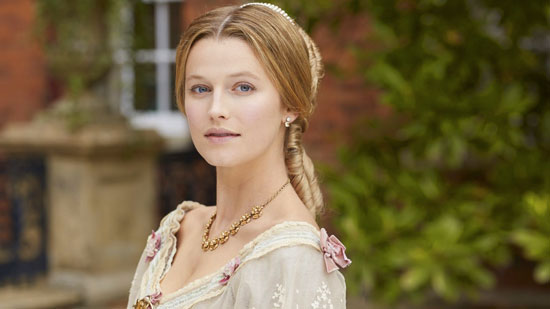 Tell us about your character, Sophie Monmouth, and where the idea for her initiated.
"Sophie is the new Mistress of the Robes, which was a position in the royal household – she was responsible for helping the Queen with fashion, clothing and jewellery. She had a job to perform which, in Victorian times for a woman – especially a woman of the higher classes – was exceptional. Her position is really important to her as it gives her a sense of autonomy and duty outside of the marital home and her husband, who is pretty awful."
Is Sophie based on a real person?
"My character and what happens with her is aligned to and inspired by Caroline Norton, who was an author, which was unusual for the time because she gave herself a job. She also worked on social reform because she had an affair with Lord Melbourne and got divorced, which made her realise how powerless women were at the time. They had absolutely no rights and everything they did have, even down to their children, was all handed over to the man. She petitioned Queen Victoria, writing her a letter trying to help married and divorced women gain more rights. In a Victorian sense, Sophie is pretty feisty and rebellious, defying expectation and going against the quid pro quo and on her own, brave journey, which is quite compelling."
What is it like to be on set?
"The set of Buckingham Palace is mind-blowingly amazing. You literally walk into this metal square box that was once an aircraft hanger in the middle of nowhere, and you are inside this beautiful palace with chandeliers and candles everywhere – the detail is seriously incredible. I also loved shooting on the beach. I think that was a combination of things – it was great to be on the beach but it was also a really lovely scene we were shooting. It was a moment where Sophie could break out of all these constrictions and escape a little bit so all of the feelings surrounding that scene were liberating and exciting and it was quite literally a breath of fresh air."
---
The first three seasons of "Victoria" are AVAILABLE to STREAM.
If you enjoyed this Q&A, you may want to go behind the scenes of Season 3 with Deborah Gilbert, who writes for THIRTEEN, read full interviews with the cast of "Victoria" on the MASTERPIECE website, and learn more about the Chartists. Thank you to "Victoria," MASTERPIECE, ITV and the cast for this interview.
---
Willow and Thatch exists because of you: You can shop our Jane Austen Period Drama Adaptations merchandise, click on our links (like these that take you to Etsy and Amazon) and make purchases on those sites, and buy period-inspired products from the Lovely Things Shop. You can also continue to share our articles, or make a financial contribution. All these things allow us to write feature articles, update The Period Films List, mail out our newsletter, maintain the website and much more. Thank you!
Be sure to see The Period Films List,with the best British, historical and costume dramas sorted by era. You'll especially like the Best Period Dramas: Victorian Era List.