Last Updated on November 26, 2017
It's challenging to describe Karolina Zebrowska succinctly. She's a beginning writer-director-filmmaker, hobby costumer, and sometimes actress. Suffering from the Confusions of a Wasted Youth, she is not – but that's what she's named her upcoming short period drama.
Willow and Thatch talked with Poland-born Karolina to learn more about her, and her latest projects.
To help you discover more period dramas you haven't seen, you'll also find an extensive list of acclaimed Polish period dramas at the end of the interview.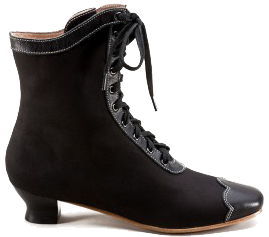 ---
---

WAT: Hi Karolina. When we spoke earlier, you mentioned that you've always interested in period dramas. Is that what led to you sewing historical costumes? You've documented your journey on your blog Domowa Kostiumologia (which roughly translates to Home Costumeology in English), but when did you start sewing, and how?
KZ: Seeing the beautiful gowns and corsets in historical dramas definitely was one of the reasons why I got into making costumes, but initially I never dared to dream that I might one day be making my own.
I started sewing when I began my undergraduate Film Studies, which was in Krakow, Poland at the end of 2012. My blog was initially about costumes in general, and then, as I was learning about sewing, it became focused more on the making of costumes.
It all started because searching through the internet looking for some information on fashion history I stumbled upon blogs of reenactors and historical costumers. I was completely in awe and believed it was impossible for me to ever achieve this level of craftsmanship. Reading some of the blogs made me realize that the authors kindly break down everything that they do and offer lots of advice and tutorials.

WAT: Before we talk about your short film Confusions of a Wasted Youth and Polish period dramas I'd like to share some of the (beautifully photographed) stunning costumes you've made with our readers; can you walk me through each of these?
KZ: Sure. This outfit below is a circa 1780s robe a l'anglaise. I made it last summer when I was relaxing in the countryside – it only took me two days to make it!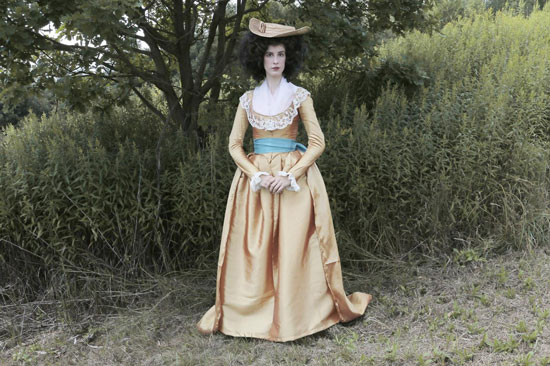 This next one was taken at one of my favorite places in the world – right in front of the Haworth parsonage where the Brontë sisters lived! I went there with my friends, and I'm wearing a circa 1840s attire that I made especially for the trip.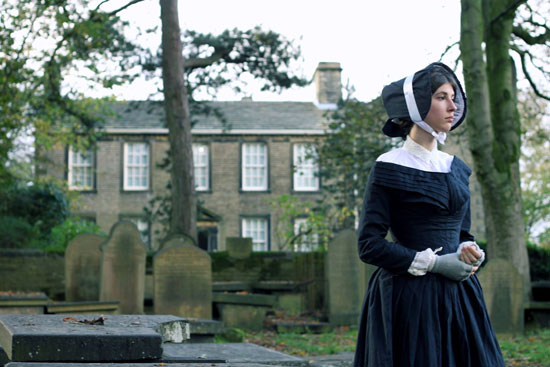 This outfit was inspired by the 1897 John Singer Sargent painting, "Mr and Mrs Phelps Stokes."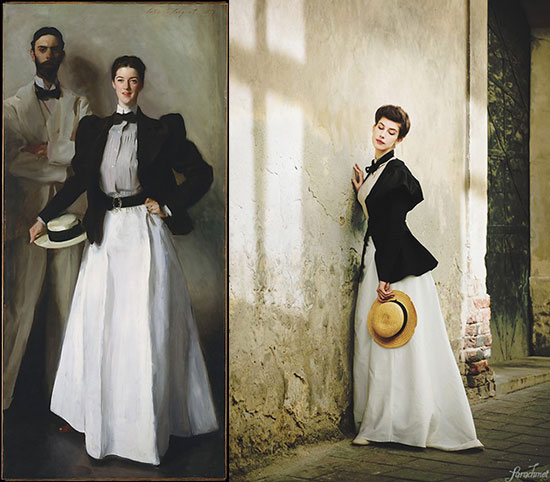 Made especially for the photo shoot, this outfit is a circa 1840s riding habit. I've always liked Victorian riding habits because they have a masculine feel, but are elegant at the same time.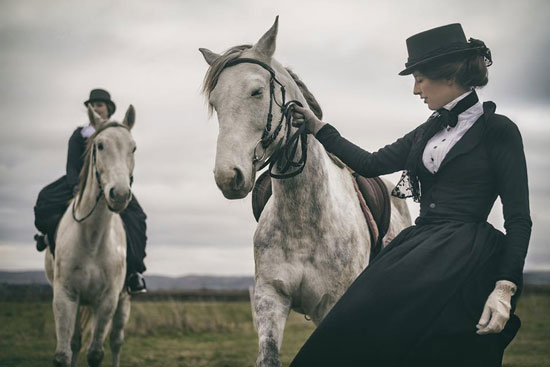 I recreated a Victorian circus costume, circa 1880s-1890s. Despite having my legs covered, it felt quite revealing! I set up the photographer's "studio" myself.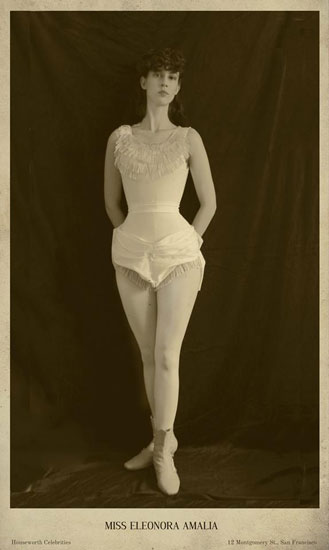 Here I'm wearing my 1860s summer dress, in Kraków.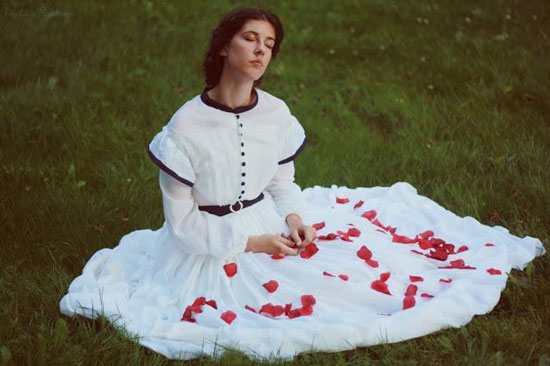 The image below shows how I was trying to recreate an Elizabethan pattern for a dress I'm still working on. It's an attire that Elizabeth I wears in one of her portraits. I copied the pattern from the portrait and then had it printed out on cotton fabric. Back in the day, it of course would have been hand embroidered!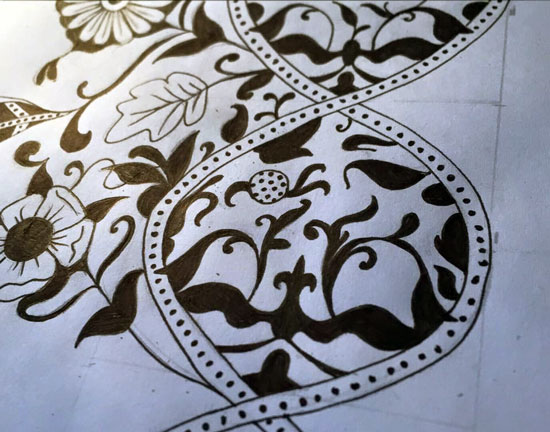 That's a 1740s riding habit I made. Did I mention I have a thing for riding habits? As I couldn't afford to buy wool, I made the whole thing from fleece! It took me three days, so one of my fastest projects so far.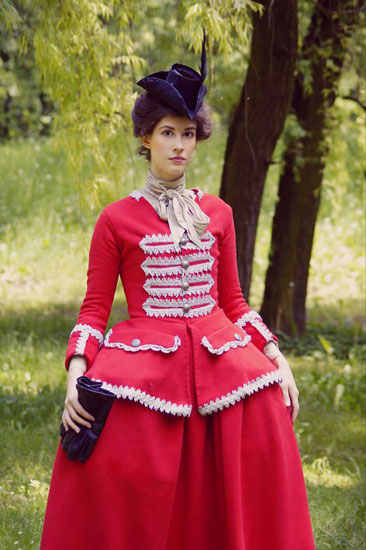 WAT: Much of what you sew has been inspired by fashions from the Victorian era, and it's one of the eras you frequently focus on in your videos and films. Can you recall how your love for the Victorian period began?
KZ: I've always been fascinated by the Victorian era – I think it started pretty early on. As a child I used to read a lot, and books/stories such as "Sherlock Holmes," "Black Beauty," "Oliver Twist," or books I thought were set in Victorian era – "Little Princess," "Secret Garden," "Five Children and It" – were always among my favorites. I think the world created in these books made me fall in love with the era.


WAT: You wrote and directed a web-series called 1815 vlog, and The Proposal, a (not yet released) 7-minute film set in the Victorian era. What was it that drew you to these projects?
KZ: 1815 vlog was inspired mostly by the American web-series Lizzie Bennet Diaries, a modern-day adaptation of "Pride and Prejudice". I was very skeptical about the series as I'm not a huge fan of modern-day adaptations of things originally set in the past, but when I finally forced myself to watch it, I absolutely loved it. What caught my attention was how simple – production wise – the project was. All you needed was a talented cast, one room and a camera. I always wanted to make period dramas, but they require a lot of money and effort to get historically looking locations without all of modern looking things. So I thought it's a great opportunity to combine those two ideas and, using only one set-up, make my very own period drama.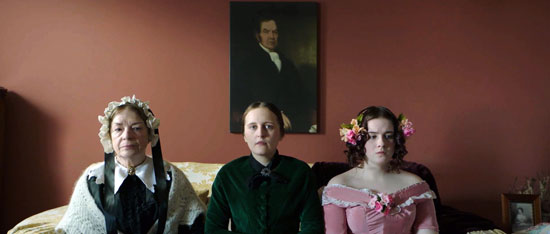 "The Proposal" is a short in which I was trying to show how trapped Victorian women my age must have felt, and how the strict Victorian etiquette might have been a source of incredibly awkward situations. I always strongly relate to characters that are seemingly stuck in their lives and dream of something that is out of reach.
Cathy, the main character, is being pressured by her widowed mother to marry. Her only way of rebelling against it is the harsh way she refuses her suitors. Films set in the early Victorian era are always very grim – and I love it! But this time I wanted to add some comedy to remind viewers that difficult times and harsh living conditions didn't make people soulless.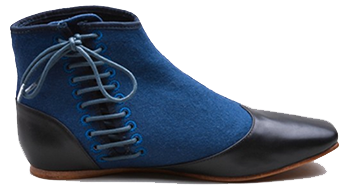 WAT: In 2015 you made the video Real Women – Beauty Through The Decades The Realistic Way (below) which garnered a lot of attention (like that from Elle, Daily Mail and Huffington Post). Why do you think it resonated with people as much as it did, and why did you make it? Are you interested in pursuing acting professionally?
KZ: I originally planned on making a video that would be different only in that it was more historically accurate than some others. What I find most frustrating is how all the "Beauty Through the Decades" videos are made by companies that don't understand how important research is and therefore create stereotypical looks that are far from the truth (think no corsets in the Edwardian era, 1920s always being flapper girls, etc.).
But while I was working on my video (which was by the way completely spontaneous and took my a couple of hours) I realized there was something else I didn't like about them, and that was how they always focused on the glamorous side of fashion history, and what we see in magazines and fashion plates from the era.
I'm not sure why the video caught so much attention, but I'm guessing I'm not the only person that felt something was missing from the others.
Regarding your question about acting: I used to do some acting back in high-school, but realized this is not necessary my cup of tea. I still like doing it from time to time, but I definitely don't see my future in acting. That being said, sometimes I write a character that I really enjoy and it's so tempting to play it!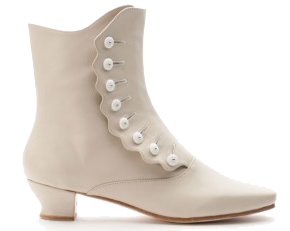 WAT: You studied film in your hometown of Krakow, Poland and currently you are finishing up your Master's degree in Filmmaking in Edinburgh at Screen Academy Scotland. Even though you are just starting out, you fall neatly at the end of a long line of Polish filmmakers.


There are a fair amount of acclaimed Polish directors who have made period dramas, including the female director Agnieszka Holland who brought us the period films Fever / Goraczka (1981), Angry Harvest (1985), Europa Europa (1990), The Secret Garden (1993) with Maggie Smith (it's available to stream here), Washington Square (1997) also with Maggie Smith and available to stream, In Darkness (2011) available to stream here, and Copying Beethoven (2006). She's currently working on a post-war era film called Sarlatán (2018).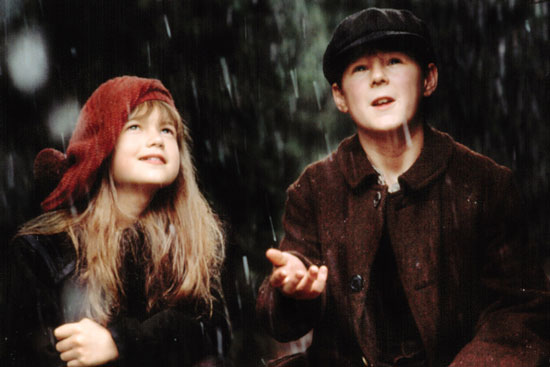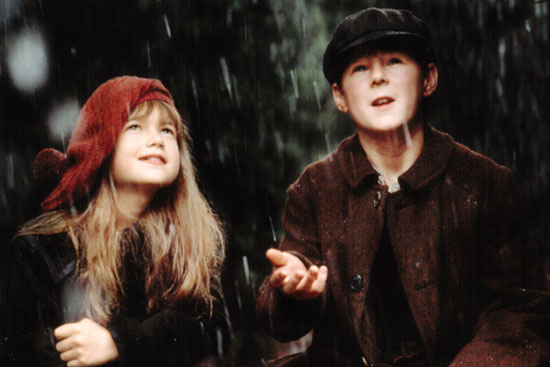 Some of the other Polish directors and their historical dramas may be less familiar to American and British audiences, so Willow and Thatch put together a primer at the end of the interview with some of the most important historical costume period dramas, for readers to explore.
Did any of the films on the list below influence the way you approach storytelling? Do you think Polish filmmakers as a whole are heavily interested in their history?
KZ: I would say Polish filmmakers are definitely heavily influenced by the history of our country, mainly because it was pretty rough and we are still very much immersed in it. Set in central Europe, we've always been involved in many smaller or bigger conflicts, and in the end of 18th century, our country ceased to exist for over 100 years. Our history has shaped who we are today, so it's no wonder we enjoy going back in time so often!
I'm not particularly influenced by any of the films mentioned, but I do appreciate and admire some of them, like Wajda's eclectic and creepy The Wedding / Wesele partially set in my hometown, The Promised Land which has a very creative approach on late 19th century costumes, as well as Pan Tadeusz which is what I imagine Jane Austen's work would look like if she was born in Poland; Smarzowski's grim and heavy Róża, and Holland's The Secret Garden which introduced me to the beauty of Yorkshire and the visuals surrounding big old Victorian houses.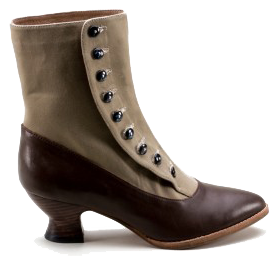 WAT: Are there other period dramas that you grew up on that were either set in Poland or by a Polish filmmaker? Would you recommend them to the readers here?
KZ: Perhaps children's films, such as The Yellow Slippers / Historia żółtej ciżemki which is set in the Medieval era, or the 1959 Argument about Basia set in the 1930s. I'd also recommend Reverse set in 1950s Warsaw, and My Nikifor and Little Moscow both set in 1960s.

WAT: The short film that you are making for your graduation, Confusions of a Wasted Youth, is set in 1860s Scotland. The film is a comedy about Poppy – a young Victorian housemaid and a hopeless romantic dreamer, obsessed with pre-Raphaelites. Why that time period, and place?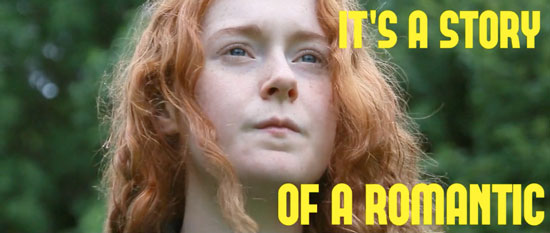 KZ: Our film is influenced by the work of pre-Raphaelites, but the Brotherhood only lasted for a couple of years; the pre-Raphaelite movement however was still popular up until the beginning of 20th century. I wanted to find a point at which the pre-Raphaelites were popular enough for the main character to encounter their art, and at the same time for the visuals to resemble what we see on the pre-Raphaelite paintings – the perfect timing turned out to be the 1860s.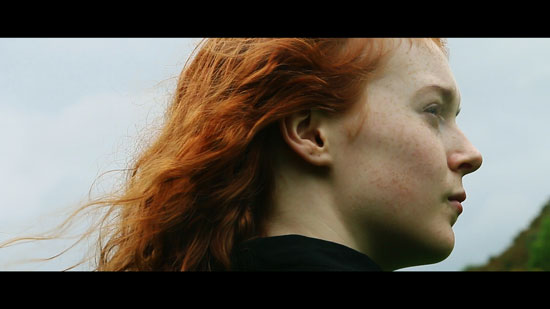 I thought it would be interesting to set the whole story in Scotland because the pre-Raphaelites saw it as a mystical and romantic place (if you've seen "Effie Gray" (watch the trailer) you probably also know about Millais living in Scotland for a while). Also, the main character's visual appearance will be based on "The Martyr of Solway" painting which features a Scottish martyr.

WAT: Have you watched Desperate Romantics, starring Aidan Turner?
KZ: No, I haven't actually!

WAT: You might enjoy it, given its subject matter is the pre-Raphaelite Brotherhood, and that there's loads of humor in it. Who else is involved in Confusions of a Wasted Youth?
KZ: The project stars Emma Findlay and Jamie Robson, and involves a group of – largely female – students as well as international artists that loved the idea. Irish Cinematographer Claire Murphy is Director of Photography. You can read more about everyone here.

WAT: You've secured an amazing Georgian manor, the Haining, for the filming of Confusions of a Wasted Youth. How did you settle on the location?
*The Haining at Selkirk as rebuilt by the Pringle family, circa 1830 is pictured below. See the end of the interview for details about its history.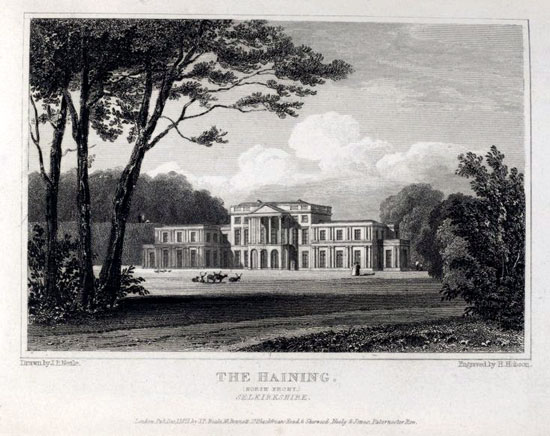 KZ: We found the location accidentally and decided to give it a try. On our first visit we were absolutely stunned by the picturesque grounds and the house itself. As the house is outside Edinburgh where our school is based it took us a while to estimate our budget and find out if we could actually afford it.

WAT: You are running a crowd-funding campaign until July 11, 2017 to help with the expense. Why is that necessary, and how can people help?
KZ: Films are costly, and period dramas are even more expensive, even when the lower class is portrayed. We want to raise funds for set design – which, especially for the scenes where we want to recreate a painting-like visual style, can be a financially demanding thing – costumes, props, decoration, processing the film (the scenes where the main character imagines things are going to be shot on 16mm film), transport, accommodation, catering… The list could go on and on. We're quite good at keeping the budget low, but there are still some necessary things that we need to cover.
To make that easier, we started the crowdfunding campaign. Even the smallest donations help a lot. So far, most of the money we have raised is thanks to people contributing around £2-£5 ($2,5-$6). So even if it seems like it's pointless, contributions like this actually do make a difference!
But since we know everyone has their own lives and sometimes you just can't afford to spend money, we ask all those that are tight on money to spread the word and share the campaign. We really appreciate any help.

WAT: Like most crowd funding campaigns, you are offering a tier of reward levels. Three people who give 200 pounds (about $250 US) plus shipping can pick a costume from the film. It could be a Victorian maid's outfit, or a pre-Raphaelite gown. Will you personally be sewing the costumes?
KZ: I will be making some of them, yes. I'm not sure yet whether I'll be able to make all of them as it is a lot of work! But I'm definitely designing and making the main character's clothes. I'm actually really excited about this option, which is available through the crowd-funding campaign. After the film is done, costumes tend to just lie in boxes and get dusty, so being able to give them a new life, especially with someone so generous to us, is a wonderful opportunity.

WAT: Is your goal to make feature-length costume dramas? Humor seems to be an important part of your narrative – it's even here in a "Shoes Before Corset" video you made in 2015. Why is humor important for you as part of a period drama?

KZ: It would be fantastic to make a feature period drama one day, but I suspect some years are going to pass before I feel ready to do it and before the opportunity arises. I think the reason I like to add humor to stories set in the past is because I see myself as a clumsy and awkward person that finds it really hard to keep a straight face sometimes. Making a very serious and dramatic period drama sounds great, but I just don't think I'd do it without adding a bit of comedy.

WAT: Are there any period films that use humor in a way that inspires you? What did you think of the latest Jane Austen adaptation, Love & Friendship?
KZ: "Love and Friendship" actually disappointed me a bit! I didn't find it funny at all! The plot wasn't really there for me and I found the main character a bit boring. I was expecting her to be a clever, vicious lady, a sort of a villain that you can love, but she wasn't even annoying enough for me to hate her. That being said, I've used the scenes with sir James Martin a couple of times as I thought he was a hilarious character, and used them as inspiration for "The Proposal".
I love the feel of "Pride and Prejudice" adaptations, both 1995 and 2005. I also love the way Guy Ritchie's "Sherlock Holmes" mixes Victorian era with an adventurous blockbuster feel and some dark humor. But surprisingly, there aren't that many period dramas that allow some humor and comedy!

WAT: What was the last period drama you watched?
KZ: It was Dark Angel that you recommended on your website! I like how realistically it showed the misery of lower class Victorians, with children constantly dying, people getting ill so easily, and the lack of perspectives. I wish it was longer though.



WAT: Do you have plans for after graduation? What would your dream job be? Are there any specific people in the film industry you'd like to work with?
KZ: That's a hard question! I know I want to go back to Poland, have a short vacation and stay there for while, and we'll see what happens next! I think my dream job would be having the freedom to work on the things that I love, whether it's making films, writing or designing costumes. I'd love to continue directing, and telling stories from the past is something I absolutely love, so I guess directing period dramas could be my dream job. But if Netflix approached me about working on a scifi or superhero series I definitely wouldn't say no!
There are lots of people in the industry I wish I could work with. Plenty of composers, my absolute favorite being Dario Marianelli who composed music to "Jane Eyre" and Joe Wright's "Pride and Prejudice", a lot of wonderful actresses like Jessica Chastain, Maggie Smith, Gwendoline Christie (actually I probably couldn't work with them cause I would be fangirling too much), fantastic cinematographers that I admire. I think if you're interested in film, pretty much everyone whose work you like lands on your "To Work With When I'm Famous" list.

It was great talking with you, and I wish you all the best in the coming years. It will be exciting to see what you end up doing. For now, readers can watch the pitch video for Confusions of a Wasted Youth, learn more about the project, and contribute to the crowd-funding campaign by July 11, 2017 here. Keep reading for a list of Polish period dramas, and some more information on The Haining.
---
---
Martin Scorsese Presents: Masterpieces of Polish Cinema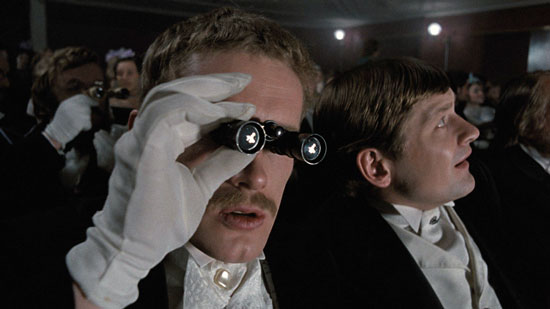 In 2011, Martin Scorsese chose 21 restored classic films from Polish directors for the Masterpieces of Polish Cinema Collection. The series features movies from some of Poland's most accomplished and lauded filmmakers, spanning 1957–1987, and over half of the films in the set are period. Some of the films are available on DVD or to stream, others you'll have to catch at a festival or on television. In 2014, the Film Society of Lincoln Center launched a 18-month long North American tour of the series, which included the following 12 period films:
Ashes and Diamonds (1958): Ashes and Diamonds is set on the last day of World War II and the first day of peace. And between them, a night that changes everything. Seen through the eyes of Maciek, a young Polish resistance soldier, the old is rapidly mixing with the new. In a few hours dawn will end the Nazi slavery of the country, but also will bring a new communist regime to Poland. This is not the independence the idealistic young man and his brothers in arms have been fighting and dying for. Should Maciek continue his combat when he wants so badly to live a normal, peaceful life? An iconic portrait of the dilemma of a whole generation in Poland, rooted in the literary tradition of great, tragic dramas of romanticism. STREAM it now.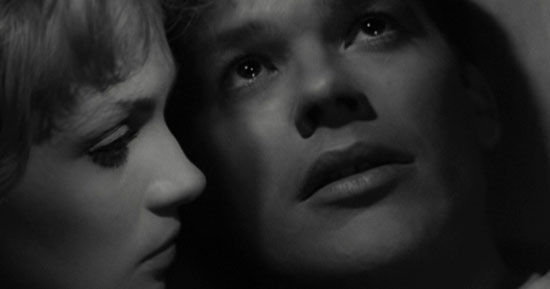 Austeria (1982): Director Jerzy Kawalerowicz fantasized about creating a film about an extinct world, a com- munity long dead. Austeria mourns a culture now extinct. Set against the turbulent history of the first half of the 20th century, the film examines the lives of Polish Jews on the eve of World War I. Refugees ranging from a Hungarian hussar to an Austrian Baroness seek sanctuary from the Russian army in a country inn, the eponymous "Austeria," which belongs to a Jewish innkeeper called Tag. Tag watches as the war and the looming Russian army draw ever closer. The final scene of the film brings with it the mass destruction of unsuspecting Jewish civilians, foreshadowing the events of the Holocaust. Though almost instantly received as a masterpiece, the Commission for Film Approval forced Kawalerowicz, a Communist Party member, to alter his original ending, thereby dispelling any negative image of the Russian regime. The director acquiesced, and a new scene was conceived, removing the Russian soldiers as murderers.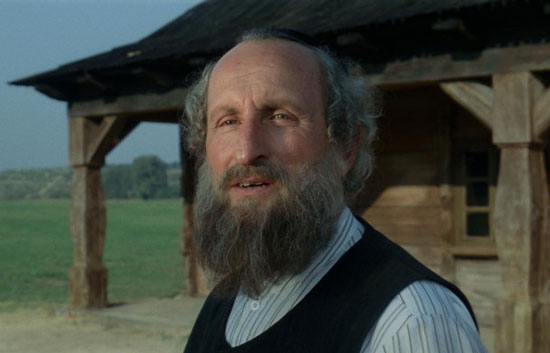 Knights of the Black Cross / Krzyzacy (1960): The first Polish historical blockbuster and the most viewed Polish movie of all times, Black Cross features battles galore, political maneuvering, and tragic love set in medieval times. Based on the novel written in the thick of the Germanization program, Black Cross depicts the heroic Polish campaign against the invading Order of the Teutonic Knights. Devoid of anachronisms, Aleksander Ford's creation was masterfully produced as a grand historical epic. Available on DVD.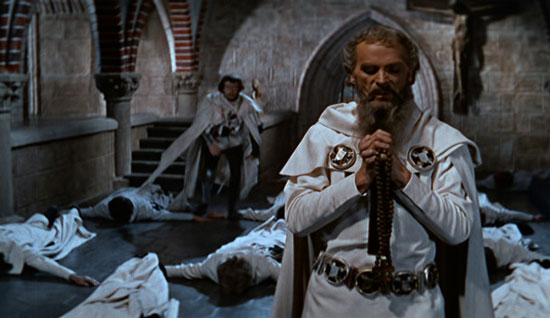 Eroica (1957): Andrzej Munk's Eroica, a Heroic Symphony in two parts and a masterpiece of the Polish Film School, puts a realist lens to the romantic idea of heroism. Based on a script by Jerzy Stefan Stawiński, Eroica draws on its author's first-hand experience as a soldier in the September campaign against the invading German army in 1939. Imprisoned in a POW camp, Stawiński escaped, participated in the Warsaw Uprising, and upon its failure was returned to another POW camp. Eroica displays the futility of the armed struggle against both Germany and Russia, while exposing the idea of heroic suffering as preposterous. In the film, World War II-era Poland is under Nazi occupation. Two stories offer ambiguous images of war: the absurd life of an average bon-vivant who, against his better judgment, participates in the combat; and righteous Polish officers incarcerated in a German camp. Is there any place for glory in the perilous time of war?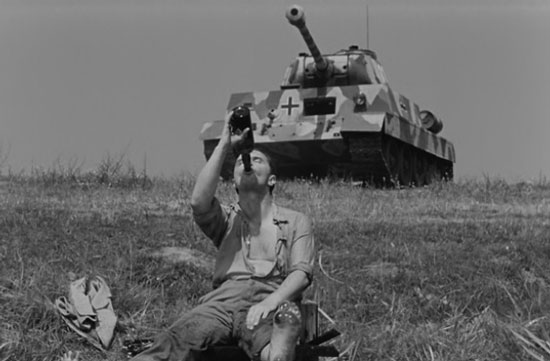 The Hourglass Sanatorium (1973): Magic, dreams, a manor in decay. The Hourglass Sanatorium is one of the most original and beautiful films in Polish cinema — a visionary, artistic, poetic reflection on the nature of time and the irreversibility of death. The screenplay is an adaptation of the fantasy fiction of Jewish author Bruno Schulz, one of the most renowned Polish prose stylists of the 20th century. Reflections on the Holocaust were added to the movie, reading Schulz's work through the prism of his death during World War II. Available on DVD.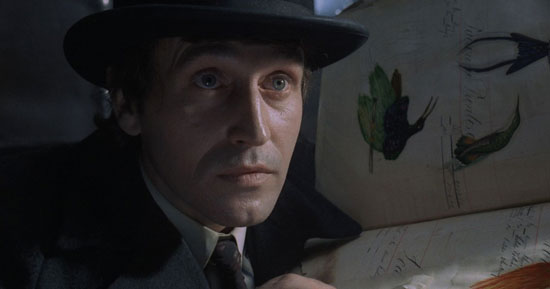 Innocent Sorcerers (1960): While a student in the Łódź school, Jerzy Skolimowski (the author of Knife in the Water), co- wrote Innocent Sorcerers with Andrzej Wajda. A love story and a portrait of young Poles in the 1950s the film tells the tale of two people meeting in a bar. They don't care about the future; their lives seem to consist of going out, playing jazz and having love affairs with no strings attached. The night begins for them with a seemingly simple scenario — from small talk to bed. But as dawn approaches, what starts as an insignificant episode grows in meaning. Available on DVD.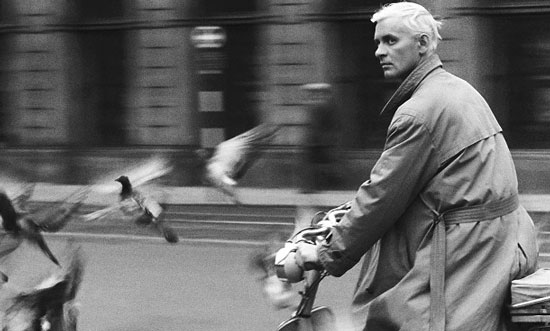 Jump (1965): Period inspired. A western set in Poland of the 1960s. A man on the run jumps off a train. He seeks refuge in a scarcely populated settlement, nearly a ghost town. It is hard to tell what the place is, set halfway between dream and reality, inhabited by people in distress. Who is the mysterious Mr. Nobody? To some he seems to be a prophet; to others, a martyr or a common liar. This enigmatic role was played by Zbyszek Cybyluski, one of the most recognizable stars in the history of Polish cinema.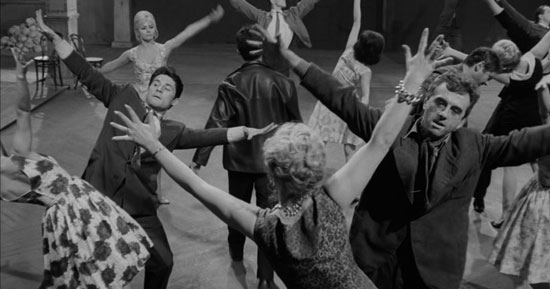 Mother Joan of the Angels (1960): Young, virtuous exorcist Father Suryn is assigned a difficult task: he must investigate a case of demonic possession after a local priest is burnt for tempting the nuns of a convent. Arriving at the nunnery, he meets its abbess, Mother Joan, thus embarking a struggle against the forces of darkness to save her soul. Inevitably the priest must choose between sacrificing his own purity and saving the convent from evil. A visually sophisticated film, Mother Joan of the Angels is a study of faith, sin and redemption. Set in the 17th century. Available on DVD.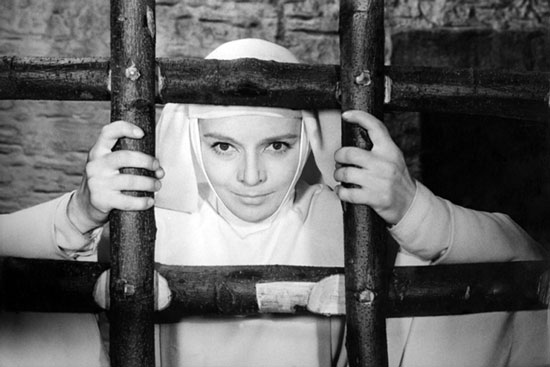 Pharaoh (1965): An epic production, including battle scenes featuring thousands and refined choreography, Pharaoh focuses on the young Egyptian ruler, Ramses XIII. With his young passions, love and idealism, he has to face the cold pragmatism of dealing with the country's external enemies and internal struggles. His position reduced to but a figurehead, Ramses fights to regain power, ultimately falling to absolute control of knowledge by his priests. Riddled with psychological, moral, and philosophical questions on the nature of power, Pharaoh forgoes large battle scenes and romantic kisses in favor of a deeply meaningful artistic creation. Unfortunately, the German releasing firm that acquired the distribution rights to Pharaoh shortened the film for international release and then went bankrupt when there was little interest in the truncated version. Now restored to its original form, Pharaoh brandishes its heroism as a weapon — teaching all that noble defeat is better than silence in the face of morally corrupt politics.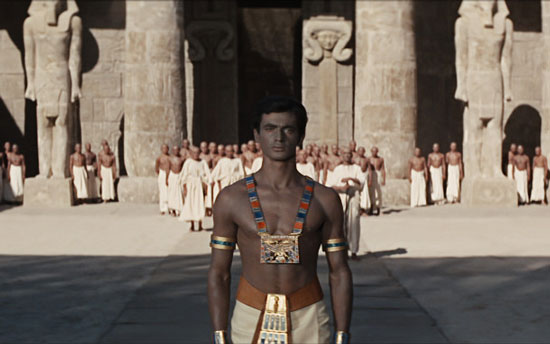 The Promised Land (1975): Director Andrzej Wajda's powerful drama is a tale about the strength of male friendship. "I have nothing, you have nothing, he has nothing. Taken together we have just enough to build a major factory." Three friends — a Polish nobleman, Karol Borowiecki; a German, Max Baum; and a Jew, Moritz Welt — shrink from nothing, including treachery and fraud to build their empire. But ruth- less business tactics and an ill-fated affair leave Borowiecki with a choice: either change his ways or sacrifice all compassion in order to protect his financial capital. In the footsteps of Dickens, Mr. Wajda paints a bleak picture of 19th-century Łódź , a chaotic city littered with dangerous factories and devoid of true culture. One of the most outstanding Polish films, The Promised Land, was the winner of numerous prizes, including the Golden Lion and an Academy Award® nomination. Available to STREAM.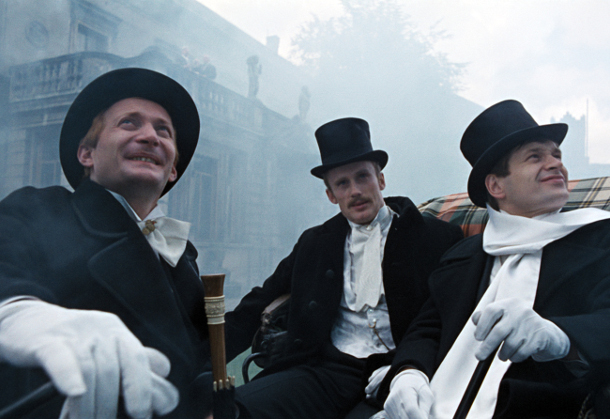 The Saragossa Manuscript (1964): A favourite film of Jerry Garcia and Luis Buñuel, The Saragossa Manuscript is a brilliant adaptation of one of the greatest works of world literature. It is a Chinese box tale — a travel story about the supernatural and mystical opposed to the humanist materialism. It is 1739 as Alphonse van Worden crosses the wild range of the Sierra Morena, a land said to be inhabited only by demons — evil spirits and invisible hands that push travellers into chasms. Although he refuses to listen to those tales, his journey will be a sequence of supernatural and frightful events. But maybe they're only illusions? Available on DVD.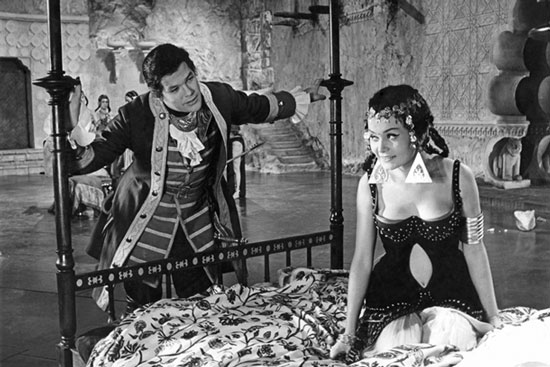 The Wedding (1973): Academy Award®-winning director Andrzej Wajda takes us to a wedding party. People talk, drink and dance and flirt. It is an unusual 19th-century wedding; the marriage of an intellectual from a big town with a simple country girl. Families and friends from both sides regard the alliance with skepticism and curiosity. The director uses this event as a pretext to expose a gallery of characters from various walks of life, including a priest, a poet, a farmhand, and wife of a counselor. The young and the old, the rich and the poor — all gather at the party. Unexpectedly, something uncanny begins to permeate the joyful celebrations. Some of the guests see mysterious ghosts and hidden grudges, complexes, and yearnings step out of the hidden corners of their souls… A brilliant film adaptation of one of the most important Polish plays, set to lively country music. Available on DVD.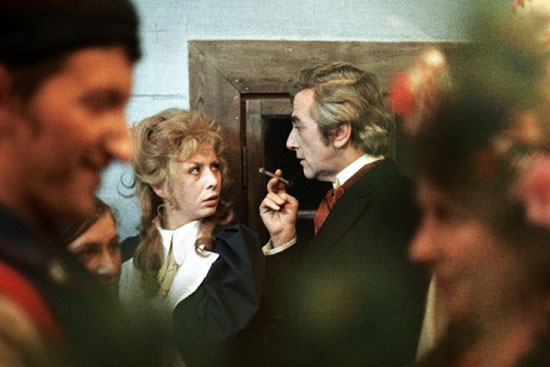 Polish Period Dramas by Director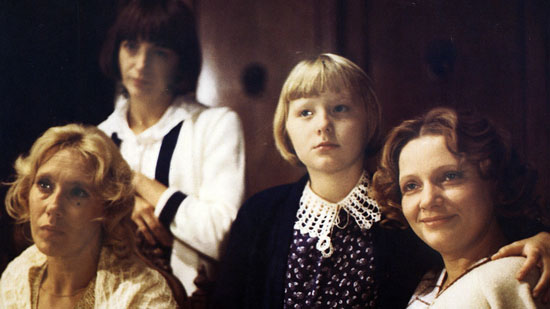 Polish period drama filmmakers include Wojciech Has, who directed The Tribulations of Balthazar Kober (1988), Memoirs of a Sinner (1986), Pismak (1985), Lalka (1968), Szyfry (1966), How to be Loved (1963), One Room Tenants (1960) and The Saragossa Manuscript (1965), which has a bit of a cult following here in the US, partly because it was a favorite film of Grateful Dead guitarist Jerry Garcia, who financed a complete print of the film. It is included by Martin Scorsese in his Masterpieces of Polish Cinema.
---

The First World War era films The Death of a President (1977) and Austeria (1982) are directed by Jerzy Kawalerowicz, as are Pharaoh (1966), Mother Joan of the Angels (1961) and The Hostage of Europe (1989), his historic biopic about Napoleon. Austeria and Hourglass Sanatorium were included by Martin Scorsese in his Masterpieces of Polish Cinema, see above. In 2001, he directed Quo Vadis, the tale of Christianity against the backdrop of Nero and a burning Rome.
---

Wojciech Marczewski directed the Stalin era Shivers (1981), the First World War era Zmory (1979) which is available to STREAM, and a TV movie Klucznik (1980) that takes place in 1945, when reform meant peasants took the land away from aristocracy.
---

Bad Luck (1960) takes place between 1930 and 1950 in a changing Poland. Eroica (1958) tells two stories set during the Second World War (included by Martin Scorsese in his Masterpieces of Polish Cinema, see above). Both films are dark comedies directed by one of the giants of Polish cinema, Andrzej Munk.
---

30 Door Key (1991) is the story of a young writer in 1939 Warsaw, directed by Jerzy Skolimowski. His Torrents of Spring (1989) tells the story of a young Russian aristocrat, Dimitri Sanin, in 1840. He based The Adventures of Gerard (1970) on the satirical short stories by Sir Arthur Conan Doyle and is available to STREAM here, and The Shadow Line (1976) on Joseph Conrad's novel.
---

A recent period film Hatred / Wolyn (2016) was directed by Wojciech Smarzowski, centers on the life of a Polish girl named Zosia, trying to survive amidst the atrocities of the Second World War. His acclaimed period drama Rose / Róza (2011) also examined what it meant to be a woman fighting for survival during WWII.
---

Walerian Borowczyk directed some pretty off-beat sexually charged art films set in various eras, including Blanche (1971), Immoral Tales (1979) (available to STREAM), Lulu (1980) and the Victorian erotica filled The Strange Case of Dr. Jekyll and Miss Osbourne (1981).
---

Academy Award winning director Andrzej Wajda told the story "youths during the German occupation of Poland in the World War II who come to adulthood through love and adversity" in A Generation (1955). Also WWII set were Kanal (1957) during the Warsaw uprising against the Nazis, Samson (1961), the story of a released Jewish prisoner trying to return to the ghetto, and Landscape After Battle (1970) which opens as the concentration camps are liberated. Ashes and Diamonds (1958) takes place on the last day of World War Two: During the German occupation noble, bourgeois and worker's partisan groups lived in peace with another. On the first day of freedom they start to fight each other. In these fights is weaved a most tender love story. Included by Martin Scorsese in his Masterpieces of Polish Cinema, see above.
Also directed by Andrzej Wajda: The Birch Wood / Brzezina (1970), which takes place on a farm in pre-war Poland (available to STREAM), Ashes (1965), set in the time of Napoleon wars, the turn-of-the-century poet-marries-peasant-girl The Wedding / Wesele (1973), (both included by Martin Scorsese in his Masterpieces of Polish Cinema, see above) and Gates to Paradise (1968), set in 1212. Speed / Lotna (1959) is about a beloved Arabian horse during the World War. The Revenge (2002) is based on a 19th century allegory (available to STREAM), and Siberian Lady Macbeth (1962) is Russo-Shakespearean noir, set in 19th Century Mtsensk (as is the new release Lady MacBeth). Available to STREAM.
The Maids of Wilko / Panny z Wilka (1979) was Best Foreign Film nomination for 1980, and is set in the late 1920s: When a man takes a vacation in the place where he spent many happy holidays, he finds that the past has disappeared. The Film Society of Lincoln Center called it a "wistful, elegiac, almost Chekhovian recreation of a long-vanished Poland, based on a story by Jarosław Iwaszkiewicz." (It's on my to-watch list!)
Korczak (1990) is an account of the last days of life of the legendary Polish pedagogue Janusz Korczak and his heroic dedication to protecting Jewish orphans during the war. (available to STREAM), Nastazja (1994) is an interpretation of Dostoevsky's The Idiot, with a Japanese cast. In A Love in Germany (1983), a forbidden romance is unearthed through flashbacks to the 1940s.
Danton (1983) starring Gerard Depardieu, is a powerful (if somewhat historically inaccurate) PG-rated re-telling of Paris' 1793 history. Quick synopsis for Roger Ebert: "The movie is basically about the conflict between two of the most striking personalities of the period, the two revolutionary leaders Danton and Robespierre, who were on the same side at the beginning but came to have fundamental philosophical differences that only the guillotine could settle." Well worth a watch.
A Chronicle of Amorous Accidents (1986) is a love story of two Polish adolescents, set in the summer months preceding the September 1939 outbreak of World War II in Polish part of Lithuania.
Les Possédés (1988) is about a group of young revolutionists eager for Russian reform in 1870.
Pan Tadeusz: The Last Foray in Lithuania (1999) takes place in 1810 is an epic family saga that provides the backdrop for issues of Polish national unity and the struggle for independence. Available to STREAM.
More recently Wajda directed another WWII era drama Katyn (2007), the award-winning 1950s era Tatarak (2009).
Perhaps Andrzej Wajda's most important period drama is The Promised Land / Ziemia obiecana (1975): Three friends hope to build a factory, but their plans are quickly jeopardized by local politics and one of the partner's dangerous love affair. Andrzej Wajda's viscerally vivid adaptation of Nobel Prize-winner Wladyslaw Reymont's late-19th-century novel is a ruthlessly clear-eyed anatomising of the industrial revolution from the perspective of three young entrepreneurs vying to be the most ruthless. One of the most outstanding and astonishing works by arguably the greatest of all Polish directors, The Promised Land was voted the best film in the history of Polish cinema in 1996. You can STREAM it here.
---
---

Readers who may not be familiar with the Haining, let me fill you in as it's a place you may want to visit if you get to Scotland: Located 30 miles south of Edinburgh, The Haining has a 900 year history. The present house dates from the mid-1790s, when a Georgian mansion was built on the property by the Pringle family, using the local whinstone.
A quarter of a century later, the architect Archibald Elliot gave Haining's facade an Italianate facelift, and added new stables and a Grecian statue-filled courtyard which overlooked the loch. In a few years time a walled garden and a menagerie graced the Haining. Though the Haining had been in the Pringle family since the 1701, by the end of the Victorian era there were no children in the lineage left to inherit the house and it was gifted to a cousin. On the cousin's death in 1939, his eldest son sold the Haining… during the Second World War, the Army requisitioned the house and the estate, and then the house saw three private owners. In 1959, Haining and its estate was bought by the grandson of the cousin who had been gifted the estate. He, Andrew Nimmo-Smith, lived there until his death, at which time he left The Haining, including 60 acres, "for the benefit of the community of Selkirkshire and the wider public."
If you enjoyed this post, be sure to see The Period Films List, with the best historical costume dramas sorted by era. You may also like The Chaperone: a PBS Theatrical Release, and Period Films at BFI London Festival.
SaveSave
SaveSave
SaveSave
SaveSave
SaveSave
SaveSave
SaveSave
SaveSave
SaveSave
SaveSave
SaveSave
SaveSave
SaveSave
SaveSave
SaveSave
SaveSave
SaveSave
SaveSave
SaveSave
SaveSave
SaveSave
SaveSave
SaveSave
SaveSave
SaveSave
SaveSave
SaveSave
SaveSave
SaveSave
SaveSave
SaveSave
SaveSave
SaveSave
SaveSave
SaveSave
SaveSave
SaveSave
SaveSave
SaveSave
SaveSave
SaveSave
SaveSave
SaveSave
SaveSave
SaveSave
SaveSave
SaveSaveSaveSave
SaveSave
SaveSave
SaveSave
SaveSave
SaveSave
SaveSave
SaveSave
SaveSave
SaveSave
SaveSave
SaveSave
SaveSave
SaveSave
SaveSave
SaveSave
SaveSave
SaveSave
SaveSave
SaveSave
SaveSave
SaveSave
SaveSave
SaveSave
SaveSave
SaveSave
SaveSave
SaveSaveSaveSave
SaveSave
SaveSave
SaveSave