Last Updated on May 18, 2020
Every month there's so much happening in the world of historical, costume, and period dramas, and we can't write full articles about all of it. In our new feature Period Drama Buzz: Bits and Bobs, we'll keep you up to date about movies and TV series in the genre that are in development and coming soon.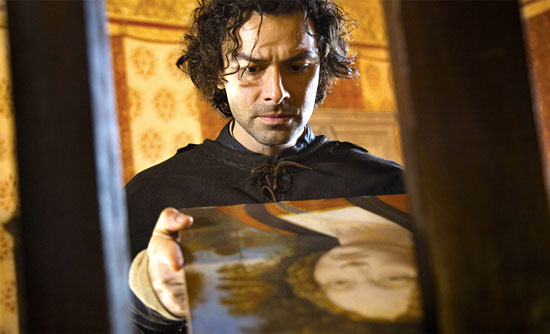 ---
To help keep this site running: Willow and Thatch may receive a commission when you click on any of the links on our site and make a purchase after doing so.
---
If there are recent releases we haven't already covered, we'll share them here too, alongside any other news we think you'll want to know. When we learn of something new, we'll update this page by adding the information to the top of each section. Dates subject to change.
And in case you don't know, bits and bobs is British slang for 'this and that,' or 'bits and pieces.' We thought it appropriate, seeing as we write about so many British costume dramas. 
---
---
Period Drama Buzz: Bits and Bobs Spring 2020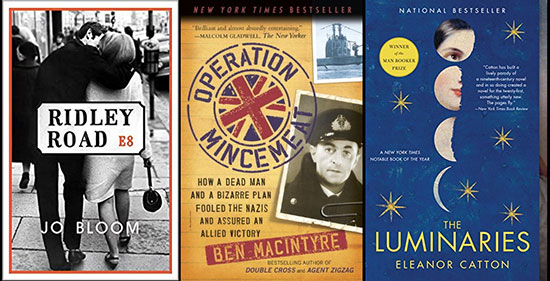 In the Works and Coming Soon
Lin-Manuel Miranda's "Hamilton" debuts July 3 on Disney Plus. The channel will air a filmed version of the Broadway hit, featuring the original Broadway cast.
---
Aidan Turner (Poldark) stars as Leonardo da Vinci in the upcoming series "Leonardo," expected in 2021.
The 8-episode period drama from creators created by Frank Spotnitz (Medici, The Man in the High Castle) and Steve Thompson (Vienna Blood, Sherlock) recounts Leonardo da Vinci's extraordinary life through the works that made him famous, through the stories hidden within those works, revealing little by little the inner torment of a man obsessed with attaining perfection.
Also starring Italian actress Matilda De Angelis as his friend and muse Caterina da Cremona, James D'Arcy as the Renaissance era prince Ludovico Sforza, and Freddie Highmore (Close to the Enemy) as young detective Stefano Giraldi. There's sneak peek footage, below. If you can't wait to see Turner cast an artist, be sure to watch him inthe period drama Desperate Romantics. 
---
Filmmaker Kasi Lemmons (Harriet) will write and direct "The Shadow King," a Second World War drama set during Mussolini's 1935 invasion of Ethiopia. Based on Maaza Mengiste's historical fiction novel, the period drama tells the story of Ethiopian women soldiers in an exploration of female power. The novel is filled with "complicated characters on both sides of the battle line," and shapes a "heartrending, indelible exploration of what it means to be a woman at war."
---
"Farnsworth House" is an upcoming movie set in late 1940s Chicago. The period drama will star Ralph Fiennes as Bauhaus architect Mies Van Der Rohe, and Elizabeth Debicki as Dr. Edith Farnsworth. Together, they build the first glass house, and enter into a tempestuous romantic affair.
---
"Sylvie's Love" is a period romance starring Tessa Thompson (Westworld) that's headed to Amazon. The story follows a woman in New York in the summer of 1957 who takes control of her life in unexpected ways. Sylvie helps around her father's record store as she waits for her fiancé to return from war—until sweet saxophonist Robert walks in looking for a day job to subsidize his residency at the Blue Morocco lounge.
---
Tessa Thompson also stars, alongside Ruth Negga (Loving), in "Passing," the story of the unexpected reunion of two high school friends, whose renewed acquaintance ignites a mutual obsession that threatens both of their carefully constructed realities. As time passes, the sexual revolution begins, and Motown becomes king, the two fall in and out of each other's arms, but never out of love. With exquisite costumes and a timeless soundtrack, "Sylvie's Love" is an ode to the unstoppable force of love in our lives. Based on the 1929 novel by Nella Larsen.
---
"Blithe Sprit," the classic comedy about love that just won't die, is in post-production, and is expected in the UK in September 4, 2020. Starring Judi Dench, Dan Stevens and Isla Fisher, the period comedy is based on the 1941 play by Noël Coward. A spiritualist medium (Dench) holds a seance for a best-selling crime novelist (Stevens) suffering from writers block but accidentally summons the spirit of his deceased first wife which leads to an increasingly complex love triangle with his current wife of five years.
---
"Charlatan" (2020) from Polish director Agnieszka Holland tells the breathtaking story of a man gifted with exceptional abilities set against the background of the events of the totalitarian fifties. It's out in Germany, but not yet in the US. It's worth keeping an eye out for, Holland has brought us many historical and costume dramas, like "Angry Harvest," "Washington Square " and "The Secret Garden" and most recently "Mr. Jones."
---
King Charles VI declared that Knight Jean de Carrouges settle his dispute with his squire by challenging him to a duel. This true story of the last sanctioned duel in France is the topic of the new movie "The Last Duel." Now in production, the 14th century set movie is adapted from Eric Jager's book The Last Duel: A True Story of Trial by Combat in Medieval France. It stars Adam Driver, Ben Affleck and Matt Damon. Expected January 8, 2021
---
Director Olivia Wilde (Booksmart) is producing the 1950s-set psychological thriller "Don't Worry Darling," starring "Outlaw King's" Florence Pugh, Shia LaBeouf and Chris Pine. The story takes place in an isolated, utopian community in the Californian desert, and centers on a housewife (Pugh) who uncovers a disturbing truth about her seemingly perfect life. 
---
"Flying Blind" is a 4-part historical drama about the first nonstop Transatlantic flight in June 1919, when British aviators John Alcock and Arthur Brown flew a modified WWI plane from Newfoundland to Ireland. In development.
---
"Emma and Nelson" is a look at the love affair between 19th century British admiral Lord Nelson and his mistress Emma Hamilton. As of April 2020, the period drama is in development, and we don't have additional details.
---
Set in 1942 during the Second World War, "Operation Mincemeat" stars Colin Firth and Matthew Macfadyen. Based on the Ben Macintyre book of the same name, the historical drama about two intelligence officers who use a dead body and false papers to outwit German troops, is directed by John Madden (Shakespeare in Love). Johnny Flynn, Tom Wilkinson, Hattie Morahan and Penelope Wilton also star. Expected to begin filming in 2020.
---
Jodie Foster is slated to direct a movie about the 1911 theft of the Mona Lisa, based on the Seymour Reit book The Day They Stole the Mona Lisa. Like "The Thomas Crown Affair," or "The Sting," it promises to be a "fun story" that "mixes truth and fiction, and the focus is on the characters behind orchestrating the theft." In development.
---
"Ridley Road" is a "unique story of doomed love and undercover espionage against a backdrop of a fascist uprising in 1960s London" in the works for BBC. When Vivien Epstein follows her lover into danger and he is caught between life and death, Vivien finds herself going undercover with the fascists, not only for him but for the sake of her country. Adapted from the critically acclaimed novel by Jo Bloom, the 4-episode series was announced in late 2019, but is not currently cast. In development.
---
North American rights for "Persian Lessons" (2020) were acquired by Cohen Media Group after the film's premiere at the Berlin Film Festival. The Holocaust drama centers around a Belgian Jew who claims to be Persian when he faces the firing squad. He ends up having to teach Farsi to the Nazis, even though he does't know the language. Instead, he makes it up. Keep your eye out for it streaming in the US in 2020.
---
"The North Water" is an upcoming BBC four-part limited television series set in the Arctic in the late 1850s, based on Ian McGuire's novel of the same name. Starring Colin Farrell, Jack O'Connell, and Gary Lamont, "The North Water" tells the story of Patrick Sumner (O'Connell), a disgraced ex-army surgeon who signs up as ship's doctor on a whaling expedition to the Arctic. On board he meets the harpooner Henry Drax (Farrell), a brutish killer whose amorality has been shaped to fit the harshness of his world. Hoping to escape the horrors of his past, Sumner finds himself in a male-dominated world, on an ill-fated journey with a murderous psychopath. In search of redemption, his story becomes a harsh struggle for survival in the Arctic wasteland. Stephen Graham (The Irishman), Tom Courtenay (The Aeronauts) and Peter Mullan (Top Of The Lake) also star.
---
Jane Seymour and Denise Richards are cast in "Glow and Darkness," an English-language series about the life of St. Francis of Asissi, that will also feature historical figures like King Richard II and Pope Urban II. Seymour is cast as Leonor of Aquitaine and Richards as María de Champagne. Three seasons are planned for the show which is filming in Italy, France, Morocco, Egypt and Spain. 9 episodes are expected.
---
"Small Axe," Steve McQueen's (Twelve Years A Slave) TV series for BBC One has announced an all-star British cast including John Boyega (Watership Down) and Letitia Wright (Death on the Nile). The six, hour-long episodes tell five stories, with the first told across two episodes. Set within London's West Indian community from the late 1960s to the early 80s, the series also stars Alex Jennings (A Very English Scandal, Victoria) and Jack Lowden (Mary Queen Of Scots). Filming began in June of 2019.
---
Disney is making a live-action adaptation of J.M. Barrie's story of Peter Pan. There's no confirmation that the movie "Peter Pan & Wendy,"or possibly simply "Peter Pan" will be a period drama, but the original work is set in the early 1900s in the Edwardian era. Starring Ever Anderson as Wendy and Alexander Molony as Peter Pan, and directed by David Lowery (A Ghost Story).
---
Disney Plus is making a 6-episode musical prequel to "Beauty and the Beast," with Luke Evans and Josh Gad reprising their roles from the 2017 musical adaptation with Emma Waton and Dan Stevens, though these two aren't currently attached to the series.
---
"The Last Days of Marilyn Monroe" is an upcoming BBC series based on parts of Keith Badman's book The Final Years of Marilyn Monroe: The Shocking True Story. Dan Sefton (Mr Selfridge, The Good Karma Hospital) will script Monroe's story from various perspectives, like the book, and will address "big themes such as power, love, loyalty and politics." (BBC Studios executive producer Anne Pivcevic)
---
"The Tail of The Curious Mouse" is a heartwarming Christmas comedy drama set in the early 1920s, inspired by the true story of when a young Roald Dahl met Beatrix Potter. With Beatrix (Dawn French) coming to the end of her career and Roald aged only six and having recently lost his father and sister, this meeting of two literary legends was to have an enormous impact on the lives of both writers. The Christmas film, which will air in the UK in December 2020 on Sky One, comes from the makers of "Sherlock" and "Dracula."
---
Millie Bobby Brown stars Sherlock Holmes' younger sister in the upcoming movie "Enola Holmes," based on Nancy Springer's book series The Enola Holmes Mysteries. Like her brothers Sherlock and Mycroft, Enola is also a sleuth, often outwitting her siblings. When their mother disappears, Enola heads to London to find her herself and finds herself involved in the kidnapping of a young marquess, fleeing murderous villains, and trying to elude her shrewd older brothers. Amid all the mayhem, will Enola be able to decode the necessary clues and find her mother? Coming to Netflix.
---
In August 2018, BBC announced "The Elephant Man," a two-part drama starring Charlie Heaton (Stranger Things) as Joseph Merrick. The story follows the compelling and extraordinary life of Merrick – known as The Elephant Man – from his working-class beginnings in Leicestershire, through the work-houses, music halls and freak shows that punctuated 19th Century culture and society; to his time at the London Hospital and his vital friendship with Dr Frederick Treves.
Starting with his birth and ending with his death, McKay's adaptation covers the true events of Merrick's personal odyssey, his extreme courage, determination and human dignity despite challenges arising from his disability. It explores the mysteries that surround Merrick and the man behind the myth. Penned by Neil McKay (The Suspicions of Mr Whicher, Wuthering Heights), the mini-series is presumably still in development.
---
"Malmkrog" (2020) is a cerebral, visually stunning film set in a grand country house in Transylvania at the close of the 19th century. The Cristi Puiu (The Death of Mr Lazarescu) movie was inspired by Russian philosopher Vladimir Solovyov's 1915 text War and Christianity: Three Conversations, and deals with heady issues ranging from God to human destiny. The period drama releases this summer in Europe, look for it after that in the US.
---
BBC's "The English" is a western that will star Emily Blunt (Mary Poppins Returns). Amazon will have the North American rights to the limited series. For now, plot details are being kept under wraps.
---
The 2020 family TV series "Malory Towers" based on the novels by English children's author Enid Blyton became available in the UK in late March. In post-World War II Britain, 12-year-old Darrell Rivers (Ella Bright) leaves home to attend an all-girls' boarding school and "explores a nostalgic world of midnight feasts, lacrosse, pranks, a mystery ghost and lasting friendships." No word yet when it will be available across the pond, but keep an eye out for it.
---
We are still waiting for news if Tom Jones, the 18th century novel by English author Henry Fielding, is being adapted by ITV. In 2018, Gwyneth Hughes (Vanity Fair, Dark Angel) was slated to pen the script for the story that she says is filled with "great romance, and a rollicking adventure story, full of twists and turns and surprises," but there haven't been any announcements about the period drama moving forward.
---
"The Luminaries" is a 6-part BBC adaptation of Eleanor Catton's 2013 Man Booker Prize-winning novel about love, murder and revenge. Set during the 1860s gold rush, it's the story of the men and women who travelled across the world to make their fortunes in the Wild West Coast of New Zealand's South Island. The adaptation of the Victorian mystery is also written by Catton.
The youngest ever recipient of the Man Booker Prize, New Zealand author Eleanor Catton was aged 28 when The Luminaries won in 2013. The 832-page book was the longest work to win in the prize's history.
The cast includes "Penny Dreadful's" Eva Green, "The Knick's" Eve Hewson, Himesh Patel form "The Aeronauts," Marton Csokas, Erik Thomson, and Benedict Hardie. Currently in post-production,"The Luminaries" is expected to air in the UK in 2020; hopefully the US release date will be shortly after theirs.
---
---
Recent and Upcoming Releases
A satirical, comedic drama about the rise of Catherine the Great from outsider to the longest reigning female ruler in Russia's history is the subject of "The Great," the television series landing on Hulu May 15, 2020.
Season 1 is a fictionalized, fun and anachronistic story of an idealistic, romantic young girl, who arrives in Russia for an arranged marriage to the mercurial Emperor Peter. Hoping for love and sunshine, she finds instead a dangerous, depraved, backward world that she resolves to change. All she has to do is kill her husband, beat the church, baffle the military and get the court onside.
A very modern story about the past which encompasses the many roles she played over her lifetime as lover, teacher, ruler, friend, and fighter. Incorporating historical facts occasionally, the series stars Elle Fanning as Catherine, Nicholas Hoult, Phoebe Fox, Adam Godley, Gwilym Lee, Charity Wakefield, Douglas Hodge, Sacha Dhawan, Sebastian de Souza, Bayo Gbadamosi and Belinda Bromilow. 
---
"Resistance" is a World War II era drama about a 15 year old boy who helps lead Jewish orphans to safety. That boy would grow up to be the world's most famous mime Marcel Marceau (played by Jesse Eisenberg). Watch it NOW (Not to be confused with the PBS series.)
---
"Mr. Jones," which stars James Norton, "The Crown's" Vanessa Kirby, and Peter Sarsgaard, tells the story of a Welsh journalist who breaks the news in the western media of the famine in the Soviet Union in the early 1930s. Expected June 19, 2020
---
---
Other Period Drama News
"When Calls The Heart" is returning for an eighth season on Hallmark Channel, expected in 2021.
---
There's been a cast change in "The Gilded Age," which is expected to be in production in fall 2020. That's here. We previously shared that the cast has also had some additions, including familiar face from "Poldark."
---
Season 2 of the PBS Masterpiece WWII historical drama "World on Fire" has been confirmed. The story will pick up in 1940, one year after the setting of the first season.
---
It was announced that "The Crown" will end after five seasons, in which Imelda Staunton will star as Queen Elizabeth II. Originally, plans were for the Netflix historical series to run for six seasons, but Peter Morgan, the creator of the period drama announced that he realized that the end of season 5 was "the perfect time and place to stop." However, in Spring 2020, London producer Andy Harries reiterated that his company Left Bank retains the rights to "The Crown," as part of its original deal with Netflix. When asked if there was a possibility that the series could continue elsewhere, he said "The plan is ongoing. It's still exclusively on Netflix and it stays there for the moment."
---
If you wanted more "Downton Abbey" even after the movie, you are in luck. Julian Fellowes has confirmed that a sequel is likely, but he won't start writing it until he's finished the scripts for "The Gilded Age," which is expected to shoot later this year. Fair enough, as he delayed working on "The Gilded Age" because of "Downton."
In April 2020, producer Graham Neame said "During the course of this year, we will have a script and we will try to assemble all the actors again, you know, as soon as we can," but "as it's often the case with sequels, it may take a little while to get it ready for the screen." And beyond logistics, the producers want to wait some time so viewers are excited about seeing more "Downton Abbey." "We don't want to come straight back, 12 months later."
---
And speaking of Julian Fellowes, he's writing a screenplay for a feature film adaptation of "The Wind in the Willows," Kenneth Grahame's 1908 classic tale. It's too early to talk about the cast, though they are "finalizing some of the finest actors to lend their creative and vocal talents." Production is set to begin this year, and it sure sounds like a lot of fun that he will bring Mole, Rat, Toad and Badger to life.
---
Guess who's joining the cast of the the upcoming movie starring Hugh Bonneville and Keeley Hawes? "Outlander's" Sam Heughan as Paul Newman! Read about that here.
---
---
If you enjoyed this post, be sure to see The Period Films List, with British, historical and costume dramas sorted by era.