Last Updated on May 21, 2022
We've gathered up the period dramas that are newly included with your US Amazon Prime Video membership in September, October, and November 2020. 
Then, we share the historical / costume / period dramas that are coming to Prime Video Channels, are available to rent, and movies and TV series in the genre that are being released to DVD this fall.
Finally, we list some newly added non-period movies and series like British shows and romances that you may also like, that are included with your Prime Video membership.
Check this list throughout the fall; we'll update all the sections (alphabetically) as more titles become available. If some of these titles look familiar, it's because they were previously available with Prime, were pulled off, and now they are back.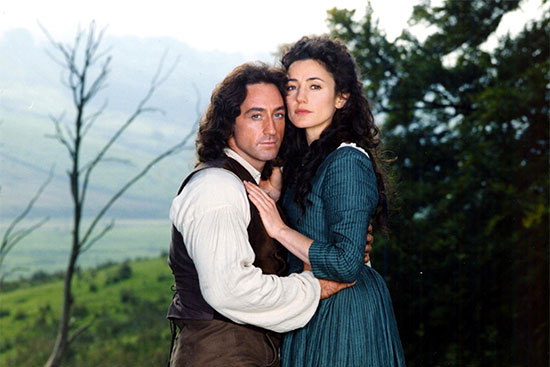 ---
To help keep this site running: Willow and Thatch may receive a commission when you click on any of the links on our site and make a purchase after doing so.
---
It's easy to watch the trailers for the films on this list, or add the movies and TV series to your watchlist: just click. This is a US-based list, but if you live in Canada or the UK, you can use our "Add to your WATCHLIST" links to check availability in your country. 
From British costume dramas to sweeping romantic epics, there's a lot here by the end of the season, so to help you keep track: the blue TVs next to the title mean the film is included with your membership, the orange TVs mean it is available to rent or is available with a Prime Video Channel subscription. 

Period Dramas Added in September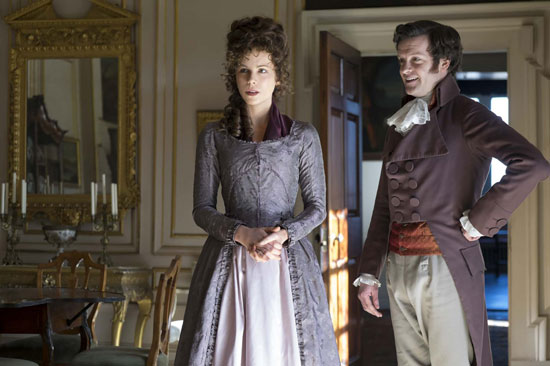 This section contains newly available historical, costume and period dramas (movies and TV series) that are included with your Prime Video membership.
---
---

Carrington (1995)
Based on the platonic relationship between artist Dora Carrington and writer Lytton Strachey in the early twentieth century.
Between the First World War and the early 1930s, they experimented with a way of life beyond the conventional standards of their time, a life which broke all the taboos of society of their desire to live as freely and honestly as they could. They acknowledged openly what most of us are aware of but still reluctant to discuss: that a great many differences can exist between spiritual love and physical desire.
Starring Emma Thompson, Jonathan Pryce, Steven Waddington, Samuel West, Rufus Sewell, Penelope Wilton, Janet McTeer.
Rated R for strong sexuality and language
Available September 1
---

De-Lovely (2004)
Inspecting a magical biographical stage musical, composer Cole Porter reviews his life and career with his wife, Linda.
At the staging of a musical production based on his life story, songwriter Cole Porter begins to reflect on his life and career. As he trades notes with the play's director, Gabe, Porter recollects his meteoric rise on Broadway during the mid-1920s and his first meeting with wife and muse Linda Thomas, his many dalliances, and the seclusion of his final years.
Starring Kevin Kline, Ashley Judd, Jonathan Pryce, Kevin McNally, Sandra Nelson, Allan Corduner.
Rated PG-13
Available September 1
---

Dzhulbars – The Soviet War Dog (2020)
In 1941, on the front lines of World War II, comes the heroic story of the Soviet border patrol dogs. Based on a true story, Commander Shevtsov must evacuate the cadets of his training academy along with his love, Kira, a military surgeon traveling with her young daughter. As the Germans close in, Shevtsov, his men and their loyal dog companions must find a way to survive the looming conflict. 8 episodes. 
Starring Nikolai Machulsky, Maria Andreeva, Alexey I. Barabash, Vitaliya Kornienko.
Rated 16+
Available September 12
---

Emily Bronte's Wuthering Heights (1992)
Emily Brontë's timeless tale of love and passion comes alive in this stirring film version starring Juliette Binoche and Ralph Fiennes.
Young orphan Heathcliff is adopted by the wealthy Earnshaw family and moves into their estate, Wuthering Heights. Soon, the new resident falls for his compassionate foster sister, Cathy. The two share a remarkable bond that seems unbreakable until Cathy, feeling the pressure of social convention, suppresses her feelings and marries Edgar Linton, a man of means who befits her stature. Heathcliff vows to win her back.
Starring Juliette Binoche, Ralph Fiennes, Janet McTeer, Sophie Ward, Simon Shephard, Simon Ward, Jeremy Northam.
Rated PG
Available September 1
---

The House On Carroll Street (1987)
In 1950s America, an FBI agent and a blacklist victim uncover a plot to smuggle Nazi war criminals into the country.
During a time of anti-Communist paranoia, editor Emily Crane balks at turning over the identities of colleagues being sought by the House Un-American Activities Committee and is blacklisted as a result. After taking a job as an elderly woman's companion, her life falls into a normal rhythm — until she checks out an argument in the house next door. Soon Emily is on the run and trying to unravel a Nazi plot. Meanwhile, Cochran, an FBI man, tries to protect her.
Starring Kelly McGillis, Jeff Daniels, Mandy Patinkin, Jessica Tandy.
Rated PG
Available September 1
---

Hunderby (Seasons 1 & 2)
Julia Davis brings her brand of dark humor to the 1830s in this acclaimed period comedy. Helene is the lone survivor of a ship washed ashore near the small English village of Hunderby. There, she is swept off her feet by widowed pastor Edmund, who believes her to be pure. But, Helene has a hidden past that she cannot escape.
Starring Alexandra Roach, Alex MacQueen, Julia Davis, Rufus Jones, Rosie Cavaliero.
Rated TV-MA
Available September 1
---

Judy (2019)
In the winter of 1968, thirty years after starring in "The Wizard of Oz," beloved actress and singer Judy Garland arrives in London to perform sold-out shows at the Talk of the Town nightclub. While there, she reminisces with friends and fans and begins a whirlwind romance with musician Mickey Deans, her soon-to-be fifth husband.
Starring Renée Zellweger, Jessie Buckley, Finn Wittrock, Rufus Sewell, Michael Gambon, Richard Cordery.
Rated PG-13
Available September 25
---

Kangaroo (1986)
Tim Burstall directed this adaptation of D.H. Lawrence's semi-autobiographical novel recalling his experiences in Australia in the early 1920s. The film, set at the height of World War I, begins at the English Cornwall coastal home of writer Richard Somers and his German-born wife Harriet. Since Somers is a conscientious objector and his wife is the nationality of the enemy, they decide to leave England for the relative calm of Australia. But Somers finds himself torn between opposing political camps.
Starring Colin Friels, Judy Davis, John Walton, Julie Nihill, Peter Cummins, Peter Hehir.
Rated 13+
Available September 27
---

Love & Friendship (2016)
Set in 1790s London, "Love and Friendship" centers on the recently widowed Lady Susan Vernon (Kate Beckinsale), who seeks refuge with her in-laws to escape the scandalous rumors surrounding her private life. While at their estate the scheming Lady Susan decides it's time to secure a husband for herself and for her somewhat reluctant and awkward daughter.
Starring Kate Beckinsale, Chloe Sevigny, Xavier Samuel, Emma Greenwell, Justin Edwards, Tom Bennett, Morfydd Clark, Jemma Redgrave.
Rated PG
Available September 17
---

Marie Antoinette (2006)
An electrifying yet intimate re-telling of the turbulent life of history's favorite villainess, Marie Antoinette. Great costumes!
An Austrian teenager marries the young and indifferent Dauphin of France and becomes that country's queen following the death of King Louis XV in 1774. Years later, after a life of luxury and privilege, Marie Antoinette loses her head during the French Revolution.
Starring Kirsten Dunst, Jason Schwartzman, Judy Davis, Rip Torn, Rose Byrne, Asia Argento, Molly Shannon, Shirley Henderson.
Rated PG-13
Available September 2
---

Mr. North (1988)
In the 1920s, a young Yale graduate arrives in elite Newport, Rhode Island, as a tutor and ends up touching the citizens in seemingly magical ways.
In an opulent New England community, an Ivy Leaguer causes a stir with what seem to be mysterious curative abilities. Theophilus North takes a teaching job in Newport, R.I., where he befriends wealthy local Mr. Bosworth. Theophilus has a biological quirk that enables him to emanate electrical charges, which appear to heal various ills. Though Persis, Mr. Bosworth's granddaughter, has his back, his unique talent isn't without complications.
Starring Anthony Edwards, Robert Mitchum, Lauren Bacall, Harry Dean Stanton, Anjelica Huston, Mary Stuart Masterson.
Rated PG
Available September 2
---

Orlando (1993)
Young nobleman Orlando is commanded by Queen Elizabeth I to stay forever young. Miraculously, he does just that. The film follows him as he moves through several centuries of British history, experiencing a variety of lives and relationships along the way, and even changing sex. Based on Virginia Woolf's highly acclaimed novel.
Starring Tilda Swinton, Quentin Crisp, Jimmy Somerville, John Bott, Billy Zane, Toby Jones, Toby Stephens.
Rated PG-13
Available September 23
---

Pit Pony (Season 1)
Set in the small Nova Scotia mining town of Glace Bay in the early 1900s, the series revolves around the lives and work of the town's male population, virtually all of whom were employed by the local coal mine, and the trials and tribulations of the women of the town, who waited anxiously to see if their loved ones would return home safely. A wonderful period drama for the family!
Starring Alex Wrathell, Jennie Raymond, Shaun Smyth, Rhonda McLean, Ellen Page, Jeremy Akerman.
Watch the TRAILER
Rated TV-14 (but likely fine for most younger children).
Available September 1
---

Twice-Told Tales (1963)
A terrifying trilogy of passion, poison and possession! It's spine-tingling terror in triplicate virtuoso of horror. Vincent Price hosts three chilling horror tales based on stories by American Victorian era novelist, and dark romantic Nathaniel Hawthorne. Price dials up the depravity in this spellbinding trilogy of Nathaniel Hawthorne's chilling classics.
Dripping with demented genius, poisonous plants, oozing blood and a corpse in a wedding gown, "Twice Told Tales" spins three gripping, diabolical nightmares of madness, mayhem and murder most foul. Price stars in all three stories, including "Dr. Heidegger's Experiment", about a scientist who finds the fountain of youth… and lives to regret it; "Rappaccini's Daughter", the twisted tale of a demented father whose love for his daughter turns poisonous; and "The House of the Seven Gables", the ghostly legend of an ancient cursed family who lived for power… and died for greed.
Starring Vincent Price, Sebastian Cabot, Brett Halsey, Beverly Garland, Richard Denning.
Not rated but intended for mature audiences
Available September 1
---

The following period dramas (docudramas and period-inspired titles) are also newly available and included with your Prime membership this September. Click on the titles for more information, to watch trailers where available, and to start streaming full movies or episodes:
Cotton Club Encore (1984), The Little Traitor (2009), Harlem Nights (1989), Wuthering Heights (1950), The Life and Legend of Wyatt Earp (1955), Seven Women: The Irish Suffragettes (2016), Man of La Mancha (1972), The Island of Dr. Moreau (1977), The Legend of Zorro (2005), Mary Shelley's Frankenstein (1994), Radio (2003), The Basket (1999), Miracle in the Valley (2019), Rosencrantz and Guildenstern are Undead (2010), To Keep The Light (2018), 10 Days In A Madhouse (2016), Jane and Emma (2018).
Additionally, you can now watch Lincoln (2012) for fee with ads, and stream the excellent Fannie's Last Supper (2010), where culinary expert Christopher Kimball and his team attempt to recreate an authentic turn-of-the-century 12-course dinner. Read more about it.
---
Also see the list of Period Dramas Added to Prime this past summer.
---
---

Period Dramas Added in October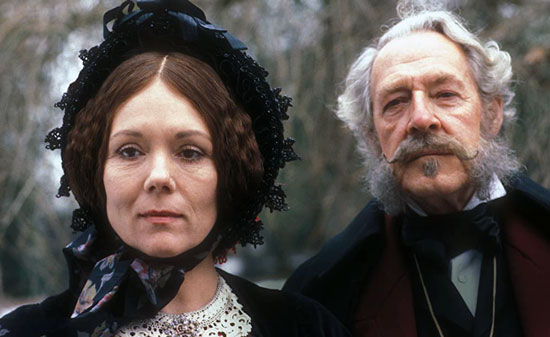 This section contains newly available historical, costume and period dramas (movies and TV series) that are included with your Prime Video membership.
---
---

A Knight's Tale (2001)
The rousing story of lowborn William Thatcher's quest to change his stars, win the heart of an exceedingly fair maiden and rock his medieval world. Follow this fearless squire and his band of medieval misfits as they careen their way toward impossible glory that's part romance, part road trip and part exuberant swashbuckler.
Starring Heath Ledger, Shannyn Sossamon, Mark Addy, Rufus Sewell.
Rated PG-13
Available October 1
---

A Very English Scandal (Season 1)
In England in the early 1960s, politician Jeremy Thorpe begins a whirlwind affair with a young stable hand, Norman Scott. But when the relationship turns sour, Norman becomes a secret Jeremy is desperate to hide.
Starring Hugh Grant, Ben Whishaw, Alex Jennings, Patricia Hodge, Monica Dolan.
Rated 16+
Available October 11
---

BBC Television Shakespeare: Much Ado About Nothing (1978)
Shakespeare's comedic play about love, misunderstandings and deception, set in Messina. Friends plot to bring the bickering Benedick and Beatrice together, while the wicked Don John plots to ruin the marriage between Hero and Claudio.
Starring Cherie Lunghi, Robert Linsday, Jon Finch.
Not rated
Available October 11
---

Bleak House (1985) BBC
This production of Charles Dickens' 1852 classic starring Dian Rigg brings to life a host of famous characters. It is at the Court of Chancery, London, where the Jarndyce versus Jarndyce case has dragged on for many years. As new evidence is brought to light in court, a long line of innocent victims are ground down by the legal process. Adapted by Arthur Hopcraft, and shown on PBS Masterpiece Theatre. 8 episodes.
Starring Diana Rigg, Denholm Elliot, Robin Bailey, Suzanne Burden, Eileen Davies.
Rated TV-PG
Available October 11
---

Bramwell (Seasons 1-4)
Set in 1895, "Bramwell" follows the fortunes of feisty, compassionate Dr. Eleanor Bramwell in her pursuit of public health and private affairs in Victorian-era London. Her father Robert would like Eleanor to join him in his respectable private practice but his daughter has plans of her own which take her from the decadent drawing rooms of elite Victorian society to the shocking deprivation of the slums in the East End of London.
Eleanor's forward thinking makes her enemies amongst the medical establishment. But her energy and commitment also win her friends. As Eleanor consolidates her professional standing in the hostile medical world, in her private life, she becomes romantically involved with a charismatic Irish physician, a man considered a scheming opportunist by her father. Bramwell is based on fact, and produced with the greatest attention to detail. Eleanor Bramwell is modeled on real doctors, and the stories are drawn from documented cases in the 1890s. The result is a series in the finest tradition of period drama.
Starring Jemma Redgrave, Ruth Sheen, David Calder, Kevin McMonagle, Jenny Agutter, Robert Hardy.
Rated 13+
Available October 11
---

Breathe (2017)
"Breathe" brings to life the inspiring true love story between Robin and Diana Cavendish, an adventurous couple who refuse to give up in the face of devastating odds. When Robin is given only a few months to live, Diana plots a daring escape from the hospital and they seek a full and passionate life together — raising their young son, traveling and devoting their lives to helping others. Breathe is a heartwarming celebration of love and human possibility.
Starring Andrew Garfield, Claire Foy, Ed Speleers,Tom Hollander, David Butler, Ben Lloyd-Hughes, Miranda Raison, Teddy Hall.
Rated PG-13
Available October 12
---

Britannia (Seasons 1-2)
When the Romans invade Britain in 43AD Kerra daughter of the King of the Cantii is forced to put her differences aside with arch-rival Queen Antedia to face their invaders. The Romans led by General Aulus Plautius are determined to succeed where Julius Caesar failed and conquer this mythical land at the far edge of the Roman Empire. Aulus is a strong and resilient leader, but harbours a deep secret that threatens his mission. As tribes and Druids unite to fight the Romans, Kerra is thrust into the most important role of her life as she spearheads the resistance against the might of the Roman army.
Starring Kelly Reilly, Zoë Wanamaker, David Morrissey, Liana Cornell, Nikolaj Lie Kaas.
Rated 18+
Available October 11
---

Byron (2003) BBC
Jonny Lee Miller is Byron, the aristocratic the "mad, bad and dangerous to know" poet who lived fast and died young.
Byron revolutionized English poetry and died a hero. He became famous overnight when the poetic record of his adventures abroad was received with rapture. This rich historical drama explores the true identity of the wild poetic genius who broke every taboo in the book. Byron's affairs and his unconventionality, however, were always destined to bring him down.
Starring Jonny Lee Miller, Vanessa Redgrave, Natasha Little, Stephen Campbell Moore, Camilla Power, Julie Cox.
Rated TV-MA
Available October 14
---

Cadfael (Seasons 1-4)
Once a Crusader, now a man of the cloth, the worldly but humble Brother Cadfael uses his keen intuition to protect the innocent and bring the guilty to account in war-torn medieval England. Based on "The Cadfael Chronicles" book series.
The period drama series about the 12th-century monk who solves medieval mysteries was shown on PBS Mystery!
Starring Derek Jacobi, Julian Firth, Michael Culver, Terrence Hardiman, Mark Charnock.
Rated 16+
Available October 11
---

Cruel Train (1995) BBC
A sordid story of sexual passion, sexual crimes, and murder, set among the staff of an English railway line in 1940-41.
Starring David Suchet, Saskia Reeves, Adrian Dunbar, Richard Ridings, Minnie Driver, Bryan Pringle.
Rated TV-MA
Available October 11
---

Cyrano, My Love (2019)
A delightfully comedic French film that imagines the creation of the beloved play Cyrano de Bergerac after Edmond Rostand promises to write a heroic comedy for a great actor-in three weeks.
December 1897, Paris. Edmond Rostand is not yet thirty but already two children and a lot of anxieties. He has not written anything for two years. In desperation, he offers the great Constant Coquelin a new play, a heroic comedy, in verse, for the holidays. The only problem: it is not written yet. Ignoring the whims of actresses, the demands of his Corsican producers, the jealousy of his wife, the stories of his best friend's heart and the lack of enthusiasm of all those around him, Edmond starts writing this piece which nobody believes. For now, he has only the title: "Cyrano de Bergerac."
Starring Thomas Solivérès, Olivier Gourmet, Mathilde Seigner, Alice de Lencquesaing, Dominique Pinon.
Rated R for brief sexual content
Available October 21
---

Dark Angel (2017) PBS
This is the story of a troubled woman drawn ever deeper into a career of casual murder, while her loved ones and friends, who were also her victims, never suspected a thing. Golden Globe-winner Joanne Froggatt (Downton Abbey) portrays the notorious Victorian poisoner Mary Ann Cotton, a child of the northeast England coal fields who dreamed of escaping the hard life of a miner's family.
Starring Joanne Froggatt, Jonas Armstrong, Laura Morgan, Emma Fielding, Sam Hoare, Alun Armstrong.
Rated TV-14
Available October 12
---

David Copperfield (1999) BBC
The tale of David Copperfield from his birth and idyllic upbringing through hardship and adventure leading to his eventual discovery of his vocation as a novelist. On his journey David encounters a gallery of Dickens' most memorable characters, including Mr. Micawber, Uriah Heep, Steerforth and others.
Starring Bob Hoskins, Daniel Radcliffe, Pauline Quirke,Trevor Eve, Nicholas Lyndhurst, Amanda Ryan, Ciaran McMenamin.
Rated TV-PG
Available October 10
---

Drovers' Gold (1997) BBC
A tale of adventure, courage and romance set in 1843. When an English drover refuses to pay widow farmer Ruth Jones a decent price for her cattle, her son Aaron recruits his own ragtag band of drovers to take the herd to market himself. Filmed on location, the Celtic cowboys pass through some spectacular scenery on the hazardous trail from their Welsh valley to London.
Starring Geraldine James, Andrew Howard, David Calder, Emma Fielding, Ruth Jones, Robert Pugh.
Rated TV-PG
Available October 10
---

The Durrells in Corfu (Seasons 1-4) PBS
In this PBS Masterpiece series, based on naturalist Gerald Durrell's much-loved trilogy of novels, "The Durrells in Corfu" sees impoverished but sparky widow Louisa Durrell make the radical decision to leave 1930s England to seek out a new destiny for her family.
Starring Keeley Hawes, Josh O'Connor, Milo Parker, Daisy Waterstone, Callum Woodhouse, Alexis Georgoulis.
Rated 13+
Available October 12
---

Ekaterina: The Rise of Catherine the Great (2015)
This major international production traces the rise of Catherine the Great, Empress of 18th Century Russia and part of the Romanoff line. Ekaterina, a German princess, is selected to marry Peter the Third, heir to the Russian throne and grandson of Peter the Great. Her story, filled with emotion, struggle and passion shows that even in an age of imperial dynasties, power is not given. It is taken.
Starring Marina Alexandrova, Yulia Aug, Alexander Yatsenko, Alexander Lazarev Jr.
Rated 13+
Available October 11
---

Fitzcarraldo (1982)
Opera-loving European Brian Fitzgerald lives in a small Peruvian city. Better known as Fitzcarraldo, this foreigner is obsessed with building an opera house in his town and decides that to make his dream a reality he needs to make a killing in the rubber business. In order to become a successful rubber baron, Fitzcarraldo hatches an elaborate plan that calls for a particularly impressive feat — bringing a massive boat over a mountain with the help of a band of natives.
"Werner Herzog's "Fitzcarraldo" is one of the great visions of the cinema… one of those brave and epic films." – Roger Ebert
Starring Klaus Kinski, Claudia Cardinale, José Lewgoy, Miguel Ángel Fuentes, Paul Hittscher.
Rated 13+
Available October 16
---

Funny Girl (1968)
Barbra Streisand's debut film and won her the Academy Award for her performance as singer-comediane, Fanny Brice. Nominated for seven other awards, this classic musical film contrasts Fanny's onstage antics with her offstage romance with dashing gambler, Nicky Arnstein.
In this bittersweet, classic musical drama set in and around New York City just prior to and following World War I, the vibrant and beautiful young Fanny Brice starts out as a bit player on the vaudeville stage, but works her way up to stardom on Broadway. Valued for her vocal and comedic talents by the renowned theater impresario Florenz Ziegfeld, Fanny thrives, but her relationship with her suave, imprisoned businessman husband, Nick Arnstein, is another story.
Starring Barbra Streisand, Omar Sharif, Kay Medford, Anne Francis, Walter Pidgeon.
Rated G
Available October 1
---

The Getting of Wisdom (1977)
Academy Award nominee Bruce Beresford (Tender Mercies) directs this beautifully rendered period piece and charming coming-of-age tale of a gifted young girl sent from the Australian bush to a proper Victorian Ladies school.
Told with a delicate blend of satire and nostalgia, this award-winning tale introduces one of Australian literature's most beloved characters to the screen, Laura Tweedle Rambothan. Based on the immortal best seller by Henry Handel Richardson.
Starring Julia Blake, Dorothy Bradley, Kerry Armstrong, Sigrid Thornton, John Waters, Barry Humphries.
Rated 16+
Available October 16
---

Great Expectations (1981) BBC
A mini-series adaptation of the Dickens classic. Violence and Victorian gentility meet in one of Dickens' greatest creations. Pip's epic journey from boy to man has at its center his relationships with the terrifying convict Magwitch, manipulative Miss Havisham and the beautiful but heartless Estella. 6 episodes.
Starring Colin Jeavons, Derek Francis, Gerry Sundquist, Joan Hickson, John Stratton, Marjorie Yates.
Rated TV-14
Available October 10
---

Great Expectations (1999) BBC
Violence and Victorian gentility meet in one of Dickens' greatest creations. Pip's epic journey from boy to man has at its center his relationships with the terrifying convict Magwitch, manipulative Miss Havisham and the beautiful but heartless Estella. Tony Marchant's adaptation is dark, sometimes savagely comic and wholly unsentimental. 4 episodes.
Starring Bernard Hill, Charlotte Rampling, Clive Russell, Gabriel Thomson, Gemma Gregory, Ioan Gruffudd, Justine Waddell.
Rated TV-14
Available October 11
---

The Hiding Place (1975)
In wartime Holland, the Ten Boom family joins the underground resistance to help save persecuted Jewish families and quietly shelters Jews in their small house – until Nazis discover the "hiding place." When they are arrested and imprisoned in concentration camps, they're left with nothing to cling to but their faith. This is the remarkable true story of Corrie and her sister Betsie's endurance.
Starring Julie Harris, Jeannette Clift, Eileen Heckart, Arthur O'Connell.
Rated 13+
Available October 12
---

In Dubious Battle (2017)
Set in California apple country in the 1930s, nine hundred migratory workers rise up and join forces to protest unfair wages and working conditions. As the labor strike wears on and conflict grows between the apple pickers and the local growers' association, what begins as a fight for their rights turns into an all-out battle for survival in this star-studded re-telling of John Steinbeck's beloved novel.
Starring Nat Wolff, James Franco, Vincent D'Onofrio, Selena Gomez, Ahna O'Reilly, Analeigh Tipton, Ed Harris.
Rated R for drug use, language, violence
Available October 29
---

Little Men (Seasons 1-2)
Set in rural Massachusetts, the series chronicles the heroic struggles of Jo Bhaer as she attempts to manage Plumfield, a boarding school for boys, after the tragic death of her husband Fritz. Based upon Louisa May Alcott's classic sequel to Little Women.
Starring Michelle Rene Thomas, Spencer Rochfort, Rachel Skarsten, Corey Sevier.
Rated 7+
Available October 17
---

Mark Twain's Roughing It (2002)
A "somewhat truish" story of how a young man from the East lost himself in the rough-and-tumble landscape of America's Western frontier and became the legendary Mark Twain. 2 episodes.
Starring James Garner, Robin Dunne, Eric Roberts, Ned Beatty, Adam Arkin.
Rated 13+
Available October 10
---

Martin Chuzzlewit (1994) BBC
In this Charles Dickens adaptation, old Martin Chuzzlewit is nearing his death. Chuzzlewit is a very rich man, but paranoid that everyone is trying to steal his money. Who will inherit his riches? With such a prize to play for, the Chuzzlewit family bring forth all of their cunning, greed and selfishness. 6 episodes.
Starring Ben Walden, Elizabeth Spriggs, Pete Postlethwaite, Emma Chambers, Paul Scofield, Tom Wilkinson, Graham Stark.
Rated TV-PG
Available October 12
---

The Mercy (2018)
Following his Academy Award nominated film "The Theory of Everything," James Marsh directs the incredible true story of Donald Crowhurst, an amateur sailor who competed in the 1968 Sunday Times Golden Globe Race in the hope of becoming the first person in history to single-handedly circumnavigate the globe without stopping. With an unfinished boat and his business and house on the line, Donald leaves his wife, Clare and their children behind, hesitantly embarking on an adventure on his boat the Teignmouth Electron.
Starring Colin Firth, Rachel Weisz, David Thewlis, Ken Stott.
Rated PG-13
Available October 12
---

The Mill (Seasons 1-2)
Based on a powerful true story, "The Mill" begins in the turbulent year of 1833, a time when industry is sweeping children as young as nine into the factories and mills to work 12-hour days. But things are about to change as one feisty young girl, Esther Price decides to take a stand against the mill-owners and the lackeys who rule their tired and hungry lives. 
Starring Kerrie Hayes, Ciaran Griffiths, Barbara Marten, Matthew McNulty, Katherine Rose Morley.
Rated PG-13
Available October 11
---

Officer's Wives (2015)
This family saga, spanning several generations of women in the Antonov-Terekhov family, tells the story of the everyday lives of military wives set against the backdrop of historical events. Russian series with English subtitles. 12 episodes.
Starring Konstantin Milovanov, Maria Poroshina, Ol'ga Arntgolts, Victor Khorinyak, Yuriy Borisov, Anastasiya Lukyanova, Pavel Delong.
Rated 16+
Available October 10
---

The Passing Bells (2014) BBC
This moving, powerful drama spans the years of the war from 1914 to 1918. As the conflict unfolds, so do the boys' incredible stories. Thomas and Michael are two young men for whom the war has little mercy, no matter which side they may be fighting for. Over five years, we follow their lives as they grow up, lose friends and find love amid the horrors of the war. 5 episodes.
Starring Patrick Gibson, Jack Lowden, Sabrina Bartlett, Eryka Karkuszewska, Jennifer Hennessy, Simon Kunz, Matthew Aubrey.
Rated 13+
Available October 12
---

The Pianist (2002)
Oscar winner Adrien Brody stars in this epic true-life story of brilliant pianist and composer Wladyslaw Szpilman, an acclaimed musician who survived WWII with the help of a German officer.
When the Jews of the city find themselves forced into a ghetto, Szpilman finds work playing in a caf; and when his family is deported in 1942, he stays behind, works for a while as a laborer, and eventually goes into hiding in the ruins of the war-torn city. The film won the Palme d'Or at the Cannes Film Festival and Oscars for Best Actor (Adrien Brody), Best Adapted Screenplay (Ronald Harwood) and Best Director (Roman Polanski).
Starring Adrien Brody, Thomas Kretschmann, Frank Finlay, Maureen Lipman, Emilia Fox, Ed Stoppard, Julia Rayner, Jessica Kate Meyer.
Rated R for violence and brief strong language
Available October 1
---

Triumph of the Spirit (1989)
This story is based on the real life experiences of Salamo Arouch, a middle weight boxing champion of the Balkan countries. Captured by the Nazis in 1943, Arouch was sent to one of their death camps where he was forced to fight over 200 opponents for the entertainment of the SS Officiers. His survival and the survival of his family and others in his barracks depended upon his remaining champion.
Starring Willem Dafoe, Edward James Olmos, Robert Loggia, Wendy Gazelle, Kelly Wolf.
Rated R for violence and sexuality
Available October 1
---

The Turn of the Screw (2009) BBC
A inexperienced governess is hired to look after two small children abandoned by their uncle, following the death of their parents, at his grand country house. Unsettled by glimpses of ghostly figures that only she can see, she believes that something malevolent is stalking the children in her care. Based on the Henry James classic.
Starring Michelle Dockery, Dan Stevens, Nicola Walker, Eva Sayer, Josef Lindsay.
Not rated but probably best for 15 and over
Available October 12
---

The Turn of the Screw (2002)
Dan Curtis' "The Turn of the Screw," starring Lynn Redgrave. The fabulous production is based on Henry James' intense tale of a young governess who attempts to save two children from the menacing spirits of their former governess and her evil lover that possess them from beyond the grave.
Starring Lynn Redgrave, Eva Griffith, Megs Jenkins, John Baron, James Laurenson, Kathryn Leigh Scott.
Rated 13+
Available October 12
---

Victoria (Seasons 1-3) PBS
Created by Daisy Goodwin, this ambitious PBS Masterpiece drama presents the early years of one of history's greatest monarchs.
The monarch's life is chronicled as the story begins with the death of King William IV in 1837, her accession to the throne at the tender age of 18 and her relationships with the influential forces around her. With the advice of the prime minister Lord Melbourne and the support of her husband Prince Albert the young queen flourishes and establishes herself in her newfound role. As the series continues, true historical events are portrayed, such as the Chartist movement demanding voting rights for working men, and the revolution in France in 1848, showing the complexities involved in how Victoria deals with them, and with the foreign secretary Lord Palmerston.
Starring Jenna Coleman, Tom Hughes, Rufus Sewell, Adrian Schiller, Jordan Waller, Peter Bowles.
Rated TV-PG
Available October 11
---

War and Peace (1956)
The personal stories of many characters, love affairs and philosophies are woven throughout this massive and intricate tapestry of Russia during Napoleon's invasion at the turn of the 19th century. With great attention to detail and historical accuracy, this epic film becomes an unforgettable document as well as a highly involving drama.
In the years leading to Napoleon's invasion, members of the Russian aristocracy face a myriad of personal tragedies. After his father dies, Count Pierre Bezukhov, a friend of Prince Andrei Bolkonsky, receives a substantial inheritance. When he decides to marry, Bezukhov unwisely chooses a conniving princess. As for Bolkonsky, his wife dies during childbirth, after which he falls in love with Natasha Rostova but is soon called to war.
Starring Audrey Hepburn, Henry Fonda, Mel Ferrer, Anita Ekberg.
Rated PG
Available October 12
---

Wuthering Heights (1998) PBS
Based on Emily Bronte's tragic romance, Heathcliffe falls for his adopted sister Cathy, but when she marries another man, he becomes obsessed with vengeance against those who wronged him.
This PBS Masterpiece adaptation of Emily Brontë's timeless tale breaks new ground by covering the complete story of a love so powerful that it reaches beyond the grave. Orla Brady stars as literature's most controversial heroine, the spirited, but tragic Cathy. Robert Cavanah plays Heathcliff, the dark stranger whose love for Cathy leads him to take terrible revenge on anyone who comes between them.
Nothing is known of Heathcliff's mysterious past when kindly Mr. Earnshaw adopts him into his family, but his daughter Cathy sees in him a soul very much like her own. They are divided by birth, class, and Cathy's jealous brother, but nothing can break the bond between them- not even when Cathy marries the wealthy gentleman Edgar Linton. Yet there are forces in nature that seem to be even more powerful than their love.
Starring Robert Cavanah, Peter Davison, Orla Brady, Tom Georgeson, Matthew Macfadyen.
Rated 13+
Available October 10
---

The following period dramas (and period-inspired titles) are also newly available and included with your Prime membership this October. Click on the titles for more information, to watch trailers where available, and to start streaming full movies or episodes:
A Christmas Carol (1954), Nicholas Nickleby (2002), A Farewell To Arms (1932), Agora (2010), Aguirre, The Wrath of God (1972), An Angel for May (2002), Angelica (2017), Another Country (1984), Black Field (2010), Boxcar Bertha (1972), Careful He Might Hear You (1983), Christmas Mountain – The Story Of A Cowboy Angel (1981), City of Vice (2008), Freedom (2015), The Handmaiden (2016), Henry IV (1984), Indescribable (2013), The Lady Vanishes (1979), Max and Helene (2015), Mesmerized (1985), Miracle Maker (2015), Nosferatu The Vampyre (1979), The Indian Doctor (2010), Kazantzakis (2018), The Miracle Worker (1979), The Perfect Game (2011), Proud Rebel (1958), Scrooge (1935), Sherlock Holmes (2010), 1929 (2019), 1945 (2017), The Lost World (Seasons 1-3), Against A Crooked Sky (1975), Belle Du Seigneur (2012), The Dunera Boys (1985), Petticoat Junction – Cannonball Christmas.
For kids, there's the animated The Legend of the Candy Cane (2001).
Additionally, the documentary Edith Wharton: The Sense Of Harmony is now available, which takes a sweeping look at the life and legacy of the literary master, and includes the only known film footage of Wharton in existence.
Also newly available is Jane Austen – Life, which explores Austen's personality through visiting both her correspondence and the places where she lived, while making a journey through the same glorious English countryside which Austen experience for herself nearly 200 years ago.
The documentary The Bronte Sisters (2006) tells the story of the 3 literary sisters, charting their progress from their childhood collaborations with Bramwell, to their independent achievements acclaimed the world over.
Other newly added documentaries of interest to period drama fans include: Agatha Christie, Ballyfin: Portrait of an Irish Country House, Beatrix Potter: Artist, Storyteller, And Countrywoman, Henry VII: The Winter King and The Diary Of Anne Frank – A Tale Of Two Sisters.
Dancetime: 19th Group Dances takes you to a 19th Century Ball: The Charm of Group Dances reveals the interplay of the flirtatious group dances in the ballroom. The Grand March, Lancers Quadrille & Cotillon are demonstrated by professional dancers with slow motion, close up & overhead views.
You might also like the short film Her Calling (2018): Based on true events surrounding Mansfield Female College, the first female college west of the Mississippi, "Her Calling" tells the story of a young female student forced to give up her studies and become a nurse during the Civil War, always holding true to her passion.
---
---

Period Dramas Added in November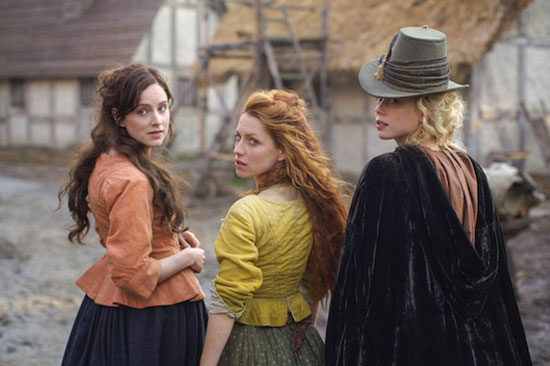 This section contains newly available historical, costume and period dramas (movies and TV series) that are included with your Prime Video membership.
---
---

A Little Princess (1987)
A faithful family period drama adaptation of the classic 1905 novel by Frances Hodgson Burnett produced by London Weekend Television and shown on PBS. In the Victorian era, Sara Crewe's pampered life as the daughter of a well-to-do British Army Captain suddenly vanishes after her father dies and Sara becomes enrolled at a boarding school in London. Without any family to turn to, Sara must endure cruelty and hardship as an overworked maidservant as she strives to find a stronger part of herself. 
Starring Maureen Lipman, Amelia Shankley, Nigel Havers, Miriam Margolyes, Annette Badland.
Rated ALL
Available November 21
---

Crouching Tiger, Hidden Dragon (2000)
An epic set against the breathtaking landscapes of ancient China, "Crouching Tiger, Hidden Dragon" combines the exhilarating martial arts choreography by Yuen Wo-Ping with the sensitivity and classical storytelling of an Ang Lee film. The result is something truly unexpected: romantic, emotionally powerful entertainment.
Starring Chow Yun Fat, Michelle Yeoh, Zhang Ziyi, Chang Chen, Pei-pei Cheng.
Rated PG-13
Available November 1
---

Dead Poets Society (1989)
Robin Williams stars as a teacher who inspires his students to live their lives to the fullest and "Carpe Diem." But when tragedy strikes, his lessons are put to the test.
A new English teacher, John Keating, is introduced to an all-boys preparatory school that is known for its ancient traditions and high standards. He uses unorthodox methods to reach out to his students, who face enormous pressures from their parents and the school. With Keating's help, students Neil Perry, Todd Anderson and others learn to break out of their shells, pursue their dreams and seize the day.
Starring Robin Williams, Robert Sean Leonard, Ethan Hawke, Josh Charles.
Rated PG
Available November 1
---

The Duchess of Duke Street (Season 1) BBC
A beloved British period drama based on the life of Rosa Lewis of the Cavendish Hotel at the turn of the 20th century. Louisa Trotter begins as an assistant cook, becomes Edward VII's mistress and then owner of a fashionable London hotel. 15 episodes.
Starring Gemma Jones, Christopher Cazenove, Donald Burton, Byran Coleman.
Rated 16+
Available November 15
---

Girl With a Pearl Earring (2003)
When her father goes blind, Griet must go to work as a maid for painter Johannes Vermeer. While cleaning the house, Griet strikes up an unlikely friendship with Vermeer, which both agree to keep secret for fear of provoking the painter's jealous wife, Catharina. When wealthy patron Van Ruijven begins to lust after Griet, and commissions a painting of her, Vermeer and Griet are obliged to spend long hours alone together.
Starring Colin Firth, Scarlett Johansson, Tom Wilkinson, Essie Davis.
Rated PG-13
Available November 12
---

The Hound of the Baskervilles (2002) BBC
A captivating 21st-century version of Sir Arthur Conan Doyle's chilling masterpiece. The legendary Sherlock Holmes and dynamic Dr Watson grapple with an adversary that threatens to overwhelm them on the forbidding moors of England. As Holmes investigates the mystery of Sir Charles Baskerville's recent death, events spiral out of control. Is his adversary human or occult?
Starring Richard Roxburgh, Ian Hart, Richard E Grant, Matt Day, Geraldine James.
Not rated
Available November 15
---
---

Impromtu (1991)
"Impromptu" is the comic and tender tale of how novelist George Sand and composer Frederic Chopin met; of how Sand recklessly pursued Chopin; how Chopin resisted Sand's advances; of how, despite the best and most mischievous efforts of many of those around them, they eventually fell in love.
Starring Judy Davis, Hugh Grant, Mandy Patinkin, Bernadette Peters, Julian Sands, Ralph Brown.
Rated PG-13
Available November 1
---

Jamestown (Season 1)
*Included with Prime 11/1 – 11/30* In the 17th century, on the edge of the untamed Virginian wilderness, sits the English colony. The settlement barely survived its first decade but is on the brink of change with the arrival of a new governor and 90 so-called "maids to make brides."
1619. On what feels like the edge of the world sits Jamestown, Virginia. For 12 years, it has been populated only by men, but the settlement is shaken up when the first women land in this wilderness. The disruptive new arrivals are immediately thrust into a new world of desire, power, and survival. From the makers of "Downton Abbey." 12 episodes.
Starring Dean Lennox Kelly, Max Beesley, Burn Gorman, Naomi Battrick, Jason Flemyng.
Rated TV-14
Available November 1
---

The Restaurant (Season 1)
*Included with Prime 11/1 – 11/30* Stockholm, the day of peace in Europe 1945. A spontaneous kiss between two strangers, during the celebration at Kungsgatan, will have major consequences.
This sprawling ensemble Swedish period drama begins at the end of WWII and runs across two decades, following the ever-changing lives of the Löwander family and the popular restaurant they run. 10 episodes. 
Starring Suzanne Reuter, Mattias Nordkvist, Adam Lundgren, Hedda Stiernstedt.
Not rated, but contains mature themes and sexuality
Available November 1
---

Room at the Top (2012) BBC
Set in post-war Britain and based on John Brain's classic novel, this drama follows a young man's struggle to rise above the world of his childhood and in the end, Joe must choose between the true love he feels for one woman and the success and stability offered by a union with another. 2 episodes.
Starring Matthew McNulty, Maxine Peake, Jenna Louise Coleman, Kevin McNally.
Rated 18+
Available November 15
---

The Sapphires (2013)
Four smart, gutsy young women become unlikely stars in the most unlikely of places, with the most unlikely of allies. Set in 1968, the film follows Gail, Cynthia, Julie and Kay as they seize a risky, but irresistible, chance to launch a professional career singing for U.S. troops in Vietnam.
Under the guidance of an R&B-loving Irish musician, Dave Lovelace, the girls transform themselves into a sizzling soul act and set out to make a name for themselves hundreds of miles from home. Inspired by a true story, "The Sapphires" is a celebration of music, family and self-discovery.
Starring Chris O'Dowd, Deborah Mailman, Jessica Mauboy, Shari Sebbens, Miranda Tapsell, Tory Kittles, Eka Darville.
Rated PG-13
Available November 1
---

Water For Elephants (2011)
In the 1930s, a former veterinary student takes a job in a traveling circus and falls in love with the ringmaster's wife.
Now an old man, he recalls his unforgettable experience working in a Depression-era circus in this stirring adaptation based on Sara Gruen's 2006 bestselling novel of the same name.
Starring ​Reese Witherspoon, Robert Pattinson, Christoph Waltz, Hal Holbrook, Jim Norton.
Rated PG-13
Available November 1
---

The following period dramas (and period-inspired titles) are also newly available and included with your Prime membership this November. Click on the titles for more information, to watch trailers where available, and to start streaming full movies or episodes:
November 1: *Season 1 in Prime until 11/30* Hawkeye and the Last of the Mohicans (1957), Wish You Well (2015), Voice From the Stone (2017), The Road to Wellville (1994), Tom Sawyer & Huckleberry Finn (2015), Kings Go Forth (1958), The Last Witness (2018), Much Ado About Nothing (1993), The Quiet Man (1952). November 4: Kingdom Of Heaven (2005), The Lighthouse (2019). November 9: Serena (2015). November 10: Basil (1998). November 12: Treasure Island (1999). November 15: Pascali's Island (1988), Play for Today: Rainy Day Women (1984) BBC. November 21: Jacob Have I Loved (1987), Little Women: Meg's Story (1950). Also see the documentaries Across the Pacific (PBS), and three seasons of Grand Tours of Scotland (BBC), in which historian Paul Murton tours Scotland using a tourist guidebook from the 1800s called Black's Picturesque Guide to Scotland. November 27: 1918 (1985), The Trip To Bountiful (1986), We Three Kings (2019). November 28: Hawkeye (Season 1). 
---
---

Period Dramas New to Prime Video Channels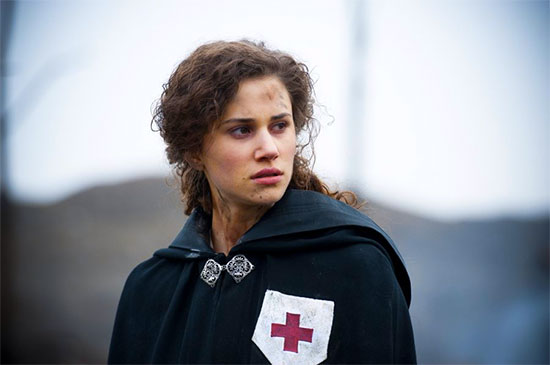 This section contains period dramas added in September, October, and November (movies and TV series) that are included with add-on Prime Video Channels. If you don't already subscribe to the channel, follow the link below the film description that says "Available …" to sign up for a free trial.
---
---

Berlin Dance School (Season 2)
The new season of the "Berlin Dance School" continues to follow the proprietor of the Galant dance school, Caterina Schollack and her three daughters, Monika, Eva and Helga. Three years have passed and Monika is now a single mother fighting for custody of her daughter Dorli who is living with her aunt Helga and her husband Wolfgang as a way to hide his homosexuality. Meanwhile, the careers of Monika and her dance partner Freddy pick up speed under the stewardship of Caterina's management. Their sister Eva is also unhappy in her marriage to Professor Fassbender.
Still focusing on the image of women, the program follows the three sisters as they search for their own new identity, while dealing with issues such as emancipation, family structures, and the desire for female self-determination. The story of the Schollack family is exemplary for many women at a time when a woman's life was often determined by her place next to her husband and defined by clear social expectations. In German with English subtitles.
Available November 27 with PBS Masterpiece Prime Video Channel
---

Catherine the Great (Season 1)
"Catherine the Great" is a colorful, true story about a young girl who transforms herself from an obscure German Princess into Russia's most powerful regent. As Tsarina, she is influenced by Western Democratic ideas and does much to strengthen Russia's standing in Europe. She has an astute intellect and is able to survive court intrigue to retain her crown.
Available October 30 with PBS Masterpiece Prime Video Channel
---

Frankie Drake Mysteries (Season 3)
Season Three of "Frankie Drake Mysteries" delivers a slate of new adventures as the ladies of Drake Private Detectives take on more challenging cases and face off against some impressive foes. Frankie and Trudy continue to rely on Mary and Flo, who are always ready to lend a hand snooping through police files or sneaking a peek at an autopsy report. Mary's newfound confidence at the police station, and in life, leaves her frustrated with her status as a morality officer and pushes her towards exciting new professional goals.
Meanwhile, Flo finishes her in-class portion of medical school and looks forward to her clinical training in-hospital, all while juggling a long-distance beau and the varied demands of Drake Detective cases. As Trudy's love life with Bill Peters heats up, she also excels at her investigative work, taking on some truly hair-raising risks as she works to solve cases. And finally, Frankie continues to lead the team with aplomb and ingenuity, while exploring a romantic connection with boxer Moses Page.
Available September 8 with PBS Masterpiece Prime Video Channel
---

In Flanders Field (2020)
Focusing on the individual stories of the five-family members, "In Flanders Field" follows the Boesman family's attempt to survive in the city of Ghent during World War I when the Germans occupy their home and the war and its casualties become more personal. The program centers on fifteen-year-old Marie, a naive teenager who dreams of becoming a doctor but instead becomes a nurse at the front of the war where she eventually finds the strength to look at the world and her family in a new way.
Her father, Philippe, is a gynecologist who sees his chance to become a professor in the Flemish university supported by the German occupier and her mother Virginie tries as best she can to keep her family together, but the war is driving them apart. Marie's eldest brother Vincent fights at the front out of idealism and will pay a heavy price for it, and Guillaume, her other brother, tries to desert but becomes a soldier unwillingly. Through Marie's experiences during the war she becomes a refined, mature woman who believes in the future.
Available September 5 with PBS Masterpiece Prime Video Channel
---

Jekyll and Hyde (Season 1)
It's 1930s London and Robert Jekyll is a naive, sensitive young man finding his place in the world and moving away from the protection of his loving foster parents. As he begins to feel himself coming under the power of a darkness he cannot control, he realizes that all this time his parents were protecting him from his true self. Jekyll has inherited the curse of his grandfather, and when angered or in danger he undertakes a graphic and twisted transformation to become Hyde, a shadowy, brooding figure of incredible strength and agility; confident and fearless. As he tries to discover his past and search for a cure, Robert Jekyll is drawn deep into Hyde's world of monstrous creatures and freaks of nature.
Available November 30 with PBS Masterpiece Prime Video Channel
---

Lucy Worsley's 12 Days of Tudor Christmas (2019)
Lucy Worsley recreates how Christmas was celebrated during the age of Henry VIII–eating, drinking, singing, dancing and partying like people did 500 years ago. Filmed at some of England's most historic and beautiful locations, she discovers the roots of some of the Christmas customs we still enjoy today, and explores why other festive traditions were lost.
With the help of food historian Annie Gray, she prepares two royal feasts in the kitchens of Hampton Court Palace. Dressed as Henry himself, Lucy samples a stuffed boar's head; later, she tastes a giant forerunner of the Christmas cake. Lucy joins Tudor carol-singers to hear a festive hit written by Henry; experiences the rabble-rousing fun and chaos created by the Lord of Misrule; and enjoys the kind of spectacular entertainment staged at court. She also discovers how ordinary Tudors liked to enjoy themselves–and why the holidays were such a welcome break.
On each of the traditional twelve days of Christmas, Lucy reveals a different aspect of the festivities–uncovering fresh insights into the Tudor mind and casting a captivating new light on Christmas itself.
Available September 22 with PBS Masterpiece Prime Video Channel
---

Prince Philip: The Plot to Make a King (2016)
For the first time this film tells the inside story of the tensions that were unleashed when the Queen fell in love with Prince Philip – tensions that would place huge strain on the royal marriage, and would shape the future of Elizabeth's reign. Young Philip, it was felt, was "rough, ill-mannered, uneducated and would probably not be faithful," according to one courtier. The royal and political elite disliked his German roots – and they disliked his larger than life, ferociously ambitious uncle Lord Louis Mountbatten.
This film draws on unpublished memoirs to show how Philip and Mountbatten were maneuvering for a royal marriage as early as the winter of 1939-40, when the Queen was just 13. Philips's German links were a source of anxiety for Elizabeth's parents with the Queen's mother reported to have privately referred to Philip as 'The Hun.' The film reveals, for the first time, the complexities and frustrations of the Royal marriage as the Queen struggled to reconcile the love of her husband with the suspicions of her family and her government.
Available November 27 with PBS Masterpiece Prime Video Channel
---

Seaside Hotel (Season 6)
Six years have passed and it is now the summer of 1939. Dark clouds hover over Europe as World War II looms in the near distance, but the regular guests of the Seaside Hotel have again gone on holiday. Amanda struggles to keep her small commercial film company alive, but does not find much help from her sister, Vera, a young lady with strong opinions. Mrs. Frigh has become the manager of the tobacco factory and has big plans for her son, Leslie, but she has forgotten the new maid, Nana, who he is having a summer fling with.
The actor, Weyse is trying to cure an embarrassing case of stage fright that took place this spring. Wholesaler Madsen hopes to be allowed to build in Nazi Germany, while Mrs. Fjelds tries to help her daughter-in-law's brother, the Austrian Jew Robert, who is on the run from the Nazis after escaping from a concentration camp. The excitement never ends at the Seaside Hotel. In Danish with English subtitles.
Add to your WATCHLIST
Available November 20 with PBS Masterpiece Prime Video Channel
---
---
Secrets of Royal Travel (2020)
The British Royal Family is the most well-traveled monarchy in history. "Secrets of Royal Travel" tells the inside story of the monarchy on the move, taking viewers inside some of the most famous, yet exclusive transportation systems around the globe with select interviews of royal staff. Viewers get a rare look inside Queen Victoria's carriage, a former royal flight plane and the Royal Wessex helicopter.
Available November 16 with PBS Living Prime Video Channel
---
---

New Period Drama to Rent Fall 2020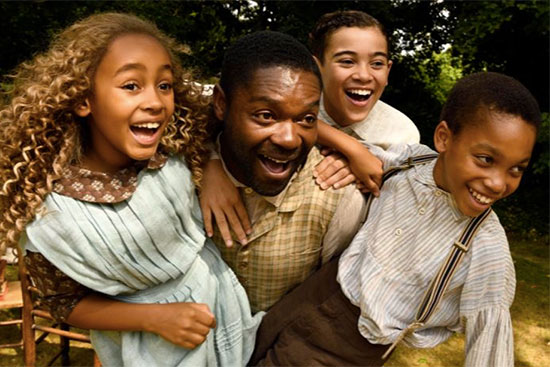 This section contains historical, costume and period dramas (movies and TV series) that are newly available to rent on Amazon this season.
---
---

Come Away (2020)
Inspired by Peter Pan. When their eldest brother dies, Peter and Alice seek to save their parents from despair until they are forced to choose between home and imagination, setting the stage for their iconic journeys into Wonderland and Neverland.
Eight-year-old Alice, her mischievous brother Peter and their brilliant older sibling David let their imaginations run wild one blissful summer in the English countryside. Encouraged by their parents Jack and Rose, the kids' make-believe tea parties, sword fights and pirate ship adventures come to an abrupt end when tragedy strikes.
Peter, eager to prove himself a hero to his grief-stricken and financially-struggling parents, journeys with Alice to London, where they try to sell a treasured heirloom to the sinister pawnshop owner known as C.J. Returning home, Alice seeks temporary refuge in a wondrous rabbit hole while Peter permanently escapes reality by entering a magical realm as leader of the "Lost Boys."
Starring Angelina Jolie, Gugu Mbatha-Raw, Michael Caine, David Oyelowo, Reece Yates, Keira Chansa, Jordan A. Nash.
Rated PG
Available November 13
---
---

New Period Drama DVD Releases in Fall 2020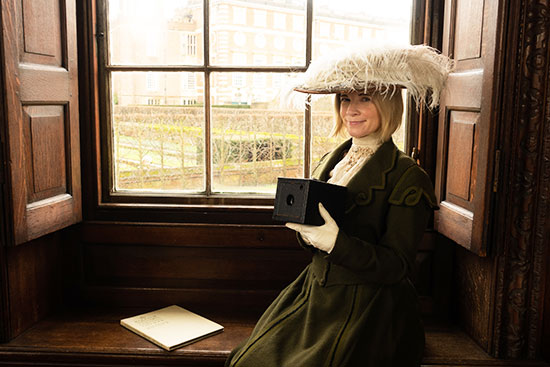 This section contains a selection of historical, costume, and period dramas that are being released this season to DVD and Blu-ray.
---
---
Frankie Drake Mysteries (Season 3) PBS
Set in 1920s Toronto, the series follows the adventures of Frankie Drake Lauren Lee Smith and her partner Trudy Clarke Chantel Riley at Drake Private Detectives, the city s only all female detective agency, as they find themselves fighting crime in the age of flyboys, gangsters, rum-runners, and speakeasies. Season 3 of "Frankie Drake Mysteries" delivers a slate of new adventures as the ladies take on more challenging cases and face off against some impressive foes.
Available HERE September 8, 2020
---
Lucy Worsley's Royal Palace Secrets (2020) PBS
In this new installment from historian and Chief Curator of England's Historic Royal Palaces, Lucy Worsley invites viewers into three iconic London palaces: the Tower of London, Hampton Court and Kensington Palace. Viewers learn about the Tower of London's terrifying past, Hampton Court's magnificent display of Tudor power and Kensington Palace's role in the making of a modern royal family. Wide-angle shots of beautiful ballrooms, secret passages and Baroque gardens provide context for Worsley's captivating tales of royals and their private lives.
Available HERE November 17, 2020
---
Lucy Worsley's 12 Days of Tudor Christmas (2019) PBS
Lucy Worsley recreates how Christmas was celebrated during the age of Henry VIII–eating, drinking, singing, dancing and partying like people did 500 years ago. Filmed at some of England's most historic and beautiful locations, she discovers the roots of some of the Christmas customs we still enjoy today, and explores why other festive traditions were lost.
Available HERE September 22, 2020
---
MASTERPIECE: Victoria: The Complete Seasons 1, 2 & 3
Discover all three seasons of the unmissable and critically acclaimed global hit drama "Victoria" starring Jenna Coleman as Queen Victoria, a nineteenth-century heroine for our times. This landmark account of the life of one of history's greatest monarchs begins as Victoria takes her first faltering steps from capricious, hormonal teenager to respected monarch, navigating palace intrigue and constitutional crises alongside an epic romance with her husband Prince Albert (Thomas Hughes). As Victoria's reign continues, she must face the very modern challenge of balancing life as a mother and wife with her work as ruler of the most powerful nation on Earth. As the lavish saga unfolds against the backdrop of pivotal moments in history, the Queen and Prince Albert must meet each public challenge while confronting profound personal change.
Available HERE November 3, 2020
---
---

Other Shows You May Also Like 
This section contains a curated list of movies and TV series new and are included on Prime, that are NOT period dramas. We think fans of historical and costume dramas will enjoy them just the same. Follow the links to watch the trailers. You may also like:
Added in September: A Brilliant Young Mind (2015), Bakery in Brooklyn (2017), Barney Thomson (2016), Bewitched (2005), Big Dreams, Small Spaces (2014), Catch And Release (2007), Guarding Tess (1994), Kramer Vs. Kramer (1979), The Graduate (1967), Sabrina (1995), Under the Tuscan Sun (2003), St. Elmo's Fire (1985), Reggie Perrin (2009), Rick Stein's Long Weekends (2016), Six Weeks (1982), Microbe & Gasoline (2016).
Added in October: King Lear (2018), The Wedding Planner (2001), Girl, Interrupted (1999), My Man Godfrey (1936), The Da Vinci Code (2006), Mud (2013), The Mask Of Zorro (1998), I'll See You In My Dreams (2015), Take Joy: The Magical World of Tasha Tudor (1996), Walks Around Britain (2016).
Added in November: Available November 1: As Good As It Gets (1997), Country Strong (2011), The Iron Lady (2011), The Jewel Of The Nile (1985), Romancing The Stone (1984), Wall Street (1987), A Christmas Movie Christmas (2019), A Christmas in Royal Fashion (2018), A Christmas Princess (2019), A Princess for Christmas (2012), A Wedding for Christmas (2018). Included with Prime 11/1 – 12/13: Marrying Father Christmas (2018). Available November 6: The Secret: Dare to Dream (2020). Available November 12: Beatrix Farrand's American Landscapes (2019). Available November 15: The House of Cards Trilogy (1990) BBC, 12 Pups Of Christmas (2019), Christmas Crush (2019). Available November 20: Small Axe (2020). Available November 25: Uncle Frank (2020). Available November 26: Bombshell (2019).
---
---
If you enjoyed this post, be sure to see The Period Films List, with the best British, historical and costume dramas sorted by era.