Last Updated on August 8, 2023
"Funny Girl" (1968), starring Barbra Streisand in her film debut, tells the sometimes funny, sometimes serious, and very relatable story of Fanny Brice; a girl from nowhere who became one of America's biggest stars.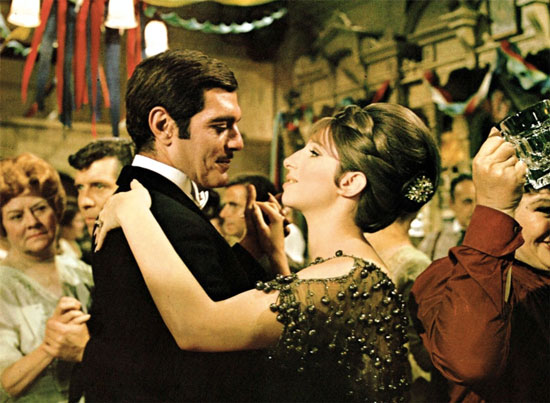 ---
To help keep this site running: Willow and Thatch may receive a commission when you click on any of the links on our site and make a purchase after doing so. 
---
Set in and around New York City just prior to and following World War I, this musical drama centers around the love affair between Fanny and her first husband, Nicky Arnstein, played by the dashing Omar Sharif (Lawrence of Arabia, Dr Zhivago).
---
"Funny Girl" (1968) is AVAILABLE to STREAM


Watch the TRAILER




Rated G
---
Below, historical fiction author Kari Bovée reviews the period drama for us; she's the perfect person to do so. Bovée's latest book Grace in the Wings is a period mystery set in 1920 around the Ziegfeld Follies, the most stunning and famous American theatrical revue of the early 1900s.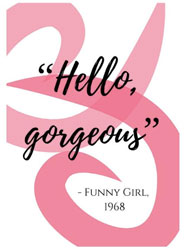 In the musical and in real life, Fanny Brice (née Fania Borach, 1891), knew she was destined to be a star. She also knew that despite how things turned out for them, Nicky Arnstein would always be the love of her life.
Funny Girl begins with Brice, entering a dimly lit, empty theater dressed in a plush leopard fur with matching hat. She looks divine in her ensemble and rich with success, but It is clear she is melancholy. Her musings take us back to her humble beginnings at her mother's saloon. Although Fanny does not have "showgirl good looks," her comedic and singing talents – along with a good dose of determination – will do her in good stead.
---
---
With her charming singing voice and her antics on stage, the crowds at the neighborhood Keeny theater love her. Streisand easily slips into character with her silliness and oft-times Yiddish accent, which Brice also became known for. Her goofiness and self-deprecating humor delight the audiences, and Fanny is off on her journey to stardom.
After one of her performances, she comes into contact with two men who will change her life forever: Nicky Arnstein and Florenz Ziegfeld. Arnstein wants to woo her, and Ziegfeld – the biggest name on Broadway – wants to hire her.
Although Fanny sees Arnstein as way out of her league with his dashing good looks, custom-made white tie and tails, and high-class friends, she falls hard for the charming polo player, gambler, and ladies' man. The chemistry between Streisand and Sharif is palpable, and we fall in love with their characters as the characters fall in love with each other.
Arnstein lives an extravagant lifestyle of traveling, horse racing and gambling, and has a deep need for freedom. Fanny's values are more down to earth with her love of the theater, family, and her desire to connect with others. She tries to impart on him that everyone needs someone special in their life with the song "People," which becomes Streisand's goosepimple-inspiring signature song. After the heart-felt ballad, Arnstein, although enchanted with her, bids her adieu – he's off to Kentucky to purchase a race horse.
Ziegfeld nearly regrets his decision to hire Fanny as she has her own ideas of how she should perform her numbers. She knows what works for her and challenges the great impresario. All though he doesn't like giving up control, he quickly finds out that Fanny has an uncanny instinct for what an audience likes, and he learns to trust her.
Fanny's work with the Follies and Arnstein's search for more gambling riches keep them apart, but when they reconnect at a chance encounter on one of Fanny's tours, the romance really heats up. Sharif has striking good looks and oozes charisma, despite him being a ne'er-do-well with average singing talent.
As with all love stories, this one has its share of triumphs and tragedies. While the screenplay takes license with some of the historical facts (particularly concerning a sanitized portrayal of Arnstein), Streisand's emotional range leads you to believe that she knows all too well the highs of hope and the heartbreak of despair that existed in the relationship between Brice and Arnstein. Her performance is infused with passion, and we can see and feel Fanny's all consuming love for Arnstein, her hopes and dreams for a beautiful life, as well as her desperation and heartbreak when things go awry.
In 1969 the film won an Oscar for best picture, best cinematography, and best sound, and Streisand won a well-deserved Oscar for best actress in a leading role. She lights up the screen with her luminescent skin, her exquisitely raw performance, and of course, THAT VOICE.
The beautiful costuming and big-screen cinematography, with filtered lenses and velvety lighting, take us back to the early 1900s. But most compelling of all is the story of an average looking girl with sparkling talent, who rises to the peak of fame, and sets the stage for women comics to make their mark on show business.
---
"Funny Girl" (1968) is AVAILABLE to STREAM
Watch the TRAILER
Rated G
---
Kari Bovée is an award-winning writer. Empowered women in history, horses, unconventional characters, and real-life historical events fill the pages of Kari Bovée's articles and historical mystery musings and manuscripts. Her historical fiction mystery novel Grace in the Wings is available September 19th, 2019.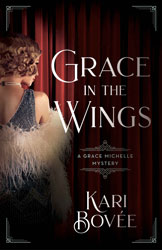 About Grace in the Wings: Grace Michelle has everything she wants; a home, a family, and a future career as a costume designer for the Ziegfeld Follies. Pretty good for a girl who was orphaned at a young age and living on the streets of New York City. But when her sister Sophia, the star of the show is murdered, Grace's once protected life is shattered.
Beholden to Florenz Ziegfeld, Jr., the man who saved her from the streets, shy and introverted Grace must fill her sister's Broadway shoes to save the fledging show and ultimately find Sophia's killer. But on a transcontinental publicity train tour to California, it becomes clear that Grace's life too, is in danger. Who could want her and Sophia dead? Flo Ziegfeld who is gaining publicity from the murder? His jealous wife? The man she and Sophia almost killed while on the streets? Grace has nowhere to go and no one to trust, even the Private Investigator, Chet Riker, who's been hired to protect her…
Grace In The Wings is AVAILABLE HERE.
---
If you enjoyed this post, be sure to see Period Films List. You'll especially like the Best Period Dramas: Edwardian Era and best Period Dramas: Interwar Era lists.