Last Updated on March 3, 2019
It's time for the period drama line-up for what's new to streaming on Netflix Instant in the US in January – and also what's leaving.
As far as historical, costume and period dramas are concerned, Netflix isn't starting the new year with a bang. Most of new additions this month in the genre are pseudo-period dramas – there's a period fantasy and something in an alternate old world universe, a comedy and an action movie set in the past – but you'll also find some titles that fall into the category more neatly. (Better now: more period dramas have been added, so this list has been updated!)
---
To help keep this site running: Willow and Thatch may receive a commission when you click on any of the links on our site and make a purchase after doing so.
---
And "Medici" is back for another season with a follow-up to "Medici: Masters of Florence." Set twenty years after season 1 during the height of the Renaissance,  "Medici: The Magnificent"  focuses on the historical figure Lorenzo the Magnificent.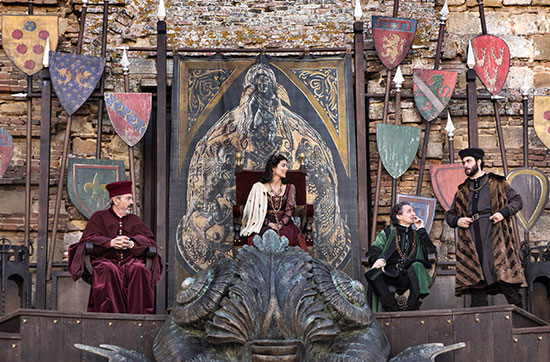 Be sure to click through to watch the trailers, and read our notes that appear under some titles – they may save you from watching something you'll wish you hadn't (or help you find something you nearly skipped over).
We've also curated some other non-period feel-good movies and TV series including comedies and romances, that are coming to Netflix this month that you might like. See the "You May Also Like" section for these additional suggestions of what to watch.
When you are done here, see our list of Period Dramas Coming to Netflix Spring 2019.
FYI: if you are wondering why we didn't publish a new in December list, it's because some months there aren't enough period releases to warrant it. Generally when this happens, we send out the list in our newsletter. You can sign up for the newsletter here.

---
---
Period Dramas Coming in January
---
---

Agatha and the Truth of Murder (2018)
In 1926, with her writing in crisis and her personal life in tatters, a young Agatha Christie decides to solve a real-life murder. When the god-daughter and namesake of Florence Nightingale is found murdered on a train with horrific head injuries, the victim's partner of 26 years appeals to Agatha to help solve the case.
Starring  Dean Andrews, Ruth Bradley, Bebe Cave.
Rated TV-14
Available January 31
---

The Other Boleyn Girl (2008)
A sumptuous and sensual tale of intrigue, romance and betrayal set against the backdrop of a defining moment in European history: two beautiful sisters, Anne and Mary Boleyn, driven by their family's blind ambition, compete for the love of the handsome and passionate King Henry VIII.
Starring Natalie Portman, Scarlett Johansson, Eric Bana.
Rated PG-13
Available January 1
---

Becoming Jane (2007)
Though Jane Austen's financially strapped parents expect her to marry the nephew of wealthy Lady Gresham, the young woman knows that such a union will destroy her creativity and sense of self-worth. Instead, she becomes involved with Tom Lefroy, a charming but penniless apprentice lawyer who gives her the knowledge of the heart she needs for her future career as a novelist.
Starring Anne Hathaway, James Cromwell, Julie Walters, Maggie Smith, James McAvoy.
Rated PG
Available January 12
---

Doctor Zhivago (1965)
Based on the Nobel Prize-winning novel by Boris Pasternak, "Doctor Zhivago" covers the years prior to, during, and after the Russian Revolution, as seen through the eyes of poet/physician Yuri Zhivago. During the Russian Revolution, Yuri Zhivago, is a young doctor who has been raised by his aunt and uncle following his father's suicide. Yuri falls in love with beautiful Lara Guishar, who has been having an affair with her mother's lover, Victor Komarovsky, an unscrupulous businessman. Yuri, however, ends up marrying his cousin, Tonya. But when he and Lara meet again years later, the spark of love reignites.
Starring Omar Sharif, Julie Christie, Rod Steiger, Geraldine Chaplin. 
Rated PG-13
Available January 1 
---

Jersey Boys (2014)
From director Clint Eastwood comes the big-screen version of the Tony Award-winning musical Jersey Boys. The film tells the story of four young men from the wrong side of the tracks in New Jersey who came together to form the iconic 1960s rock group The Four Seasons. The story of their trials and triumphs are accompanied by the songs that influenced a generation, including "Sherry," "Big Girls Don't Cry," "Walk Like a Man," "Rag Doll," and many more.
Starring John Lloyd Young, Erich Bergen, Michael Lomenda, Vincent Piazza, Christopher Walken.

Rated R
Available January 1
---

When Calls The Heart (Season 5)
In season five, Abigail is faced with a new crisis when financial troubles for the town loom. Elizabeth gets an unexpected visit. Ever the dedicated wife to Lee, Rosemary keeps busy at Dottie's dress shop as she works to make Hope Valley more fashionable. As Elizabeth awaits news of Jack, who has returned to the Northern Territories, she focuses on teaching her students and dreams of the day when Jack comes safely home and they can plan their wedding. Sheriff Bill Avery keeps Hope Valley safe, as well as maintaining a close eye on Gowen, who continues to adjust to his new life as a laborer at Lee's mill. Doctor Carson Shephard's skills are put to the test when an unknown sickness sweeps through town, he opens his heart to love again, and takes a risk that could save or take a life of someone he cares for.
Includes the 2017 special "The Christmas Wishing Tree."
Starring Erin Krakow, Mark Cummins, Daniel Lissing, Lori Loughlin.
Rated TV-G
Now Available. 
---

A Series of Unfortunate Events (Season 3)
In the series' third and final act, the Baudelaires will stop at nothing to solve the mysteries of the VFD and end Count Olaf's relentless pursuit.
Despite imploring with you that you look away, you are still here two seasons later, viewing A Series of Unfortunate Events. So with the third and final season drawing near, we have nothing left to say, dear viewer, but that we have saved the worst for last.
Based on books ten through thirteen (The Slippery Slope, The Grim Grotto, The Penultimate Peril, and The End) of the internationally best-selling series by Lemony Snicket (a.k.a. Daniel Handler).
Starring Patrick Warburton, Neil Patrick Harris, Lucy Punch, Malina Weissman, Louis Hynes, Presley Smith.
Note: The series takes place in what would seem to be an alternate world with stylistic similarities to both the 19th century and the 1930s, though with contemporary, and seemingly anachronistic scientific knowledge.
Rated TV-PG
Available January 1
---
---

Indiana Jones and the Temple of Doom (1984)
In 1935, Indiana Jones arrives in India, still part of the British Empire, and is asked to find a mystical stone. He then stumbles upon a secret cult committing enslavement and human sacrifices in the catacombs of an ancient palace.
Starring Harrison Ford, Kate Capshaw, Jonathan Ke Quan, Dan Aykroyd.
Rated PG
Available January 1
Note: Also available January 1st are "Indiana Jones and the Raiders of the Lost Ark" (1981) set in 1936, "Indiana Jones and the Last Crusade" (1989) set in 1938, and "Indiana Jones and the Kingdom of the Crystal Skull" (2008) set in 1957.
---

Mona Lisa Smile (2003)
Katherine Watson is a recent UCLA graduate hired to teach art history at the prestigious all-female Wellesley College, in 1953. Determined to confront the outdated mores of society and the institution that embraces them, Katherine inspires her traditional students including Betty and Joan to challenge the lives they are expected to lead.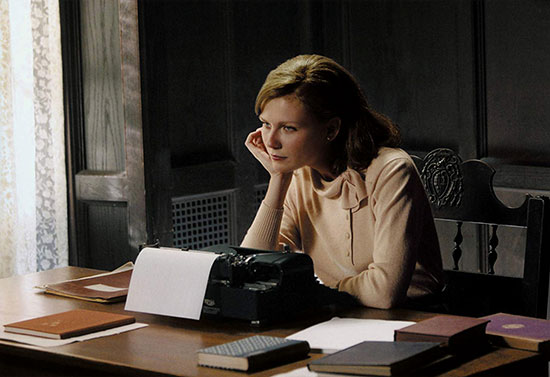 Starring Kirsten Dunst, Marcia Gay Harden, Julia Roberts, Dominic West, Maggie Gyllenhaal, Julia Stiles, Ginnifer Goodwin, Juliet Stevenson.
Rated PG-13
Available January 1
---

Pan's Labyrinth (2006)
It's 1944 and the Allies have invaded Nazi-held Europe. Eleven-year-old Ofelia comes face to face with the horrors of fascism when she and her pregnant mother are uprooted to the countryside, where her new stepfather, a sadistic captain in General Francisco Franco's army, hunts down Republican guerrillas refusing to give up the fight. The violent reality in which Ofelia lives merges seamlessly with her fantastical interior world when she meets a faun in a decaying labyrinth and is set on a strange, mythic journey that is at once terrifying and beautiful.
An Academy Award–winning dark fable set five years after the end of the Spanish Civil War, Pan's Labyrinth encapsulates the rich visual style and genre-defying craft of Guillermo del Toro. In his revisiting of this bloody period in Spanish history, del Toro creates a vivid depiction of the monstrosities of war infiltrating a child's imagination and threatening the innocence of youth.
Starring Ivana Baquero, Sergi López, Maribel Verdú, Doug Jones, Álex Angulo, Ariadna Gil, Manolo Solo, César Vea, Roger Casamajor.
Rated R
Available January 1
---

The Boy in the Striped Pajamas (2008)
During World War II, 8-year-old Bruno and his family leave Berlin to take up residence near the concentration camp where his father has just become commandant. Unhappy and lonely, he wanders out behind his house one day and finds Shmuel, a Jewish boy of his age. Though the barbed-wire fence of the camp separates them, the boys begin a forbidden friendship, oblivious to the real nature of their surroundings.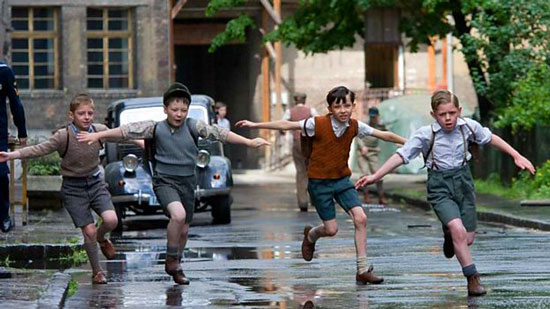 Based on the the book by John Boyne.
Starring Asa Butterfield, David Thewlis, Jack Scanlon, Rupert Friend, Vera Farmiga.
Rated PG-13
Available January 1
---

The Mummy (1999)
An expedition of treasure-seeking explorers in the Sahara Desert in 1925 stumble upon an ancient tomb, the hunters unwittingly set loose a 3,000-year-old legacy of terror, which is embodied in the vengeful reincarnation of an Egyptian priest who had been sentenced to an eternity as one of the living dead.
Starring Brendan Fraser, Rachel Weisz, John Hannah, Arnold Vosloo, Kevin J. O'Connor.
Rated PG-13
Available January 1

Note: Also available is "The Mummy Returns" (2001).
---

Monty Python and the Holy Grail (1975)
A comedic send-up of the grim circumstances of the Middle Ages as told through the story of King Arthur and framed by a modern-day murder investigation. When the mythical king of the Britons leads his knights on a quest for the Holy Grail, they face a wide array of horrors, including a persistent Black Knight, a three-headed giant, a cadre of shrubbery-challenged knights, the perilous Castle Anthrax, a killer rabbit, a house of virgins, and a handful of rude Frenchmen.
Starring Graham Chapman, John Cleese, Eric Idle, Terry Gilliam, Terry Jones, Michael Palin.
Rated PG
Available January 2
---

Kingdom (2019)

In a kingdom defeated by corruption and famine, a mysterious rumour of the king's death spreads as does a strange plague that renders the infected immune to death and hungry for flesh. The crown prince, fallen victim to a conspiracy, sets out on a journey to unveil the evil behind it all and save his people.
Set during Korea's medieval Joseon dynasty.
6 episodes.
Starring Ju Ji-Hoon, Bae Doo-Na, Ryoo Seung-Ryong, Kim Sang-Ho, Heo Jun-Ho, Jun Suk-Ho, Kim Tae-Yul.
In Korean with English subtitles.
Note: The K-drama is one of Netflix's first original series in South Korea. A second season set to go into production in February, 2019. Based on the webcomic "Burning Hell Shinui Nara" by Kim Eun-Hee (writer) & Yang Kyung-Il (illustrator).
Rated TV-MA
Available January 25
---

Medici: The Magnificent (2018)
This is the second season of the ongoing anthology series that follows Italy's legendary Medici family, taking place 20 years after "Medici: Masters of Florence." Season 2 takes us to the heart of the Renaissance through one of the most important historical figures of all time, Lorenzo the Magnificent – where an attempt on Piero de Medici's life forces his son Lorenzo (Daniel Sharman) to assume leadership of the family-run bank. Once in power, young Lorenzo resolves to do things differently, which swiftly brings him into conflict with the head of Florence's other powerful banking family, Jacopo Pazzi (Sean Bean).
As new head of Medici's family he has to take care of his brother Giuliano and his sister Bianca. He marries Clarice Orsini, a noble woman from Rome, and his friendship with Botticelli gives life to Renaissance. His contrast with Pope Sixtus brings Florence to the most bloody moment of its History, the Pazzi conspiracy.
He already sacrificed his dreams of being an artist and marrying his true love. Will building and protecting the Medici legacy cost him his soul too?
Set in 15th century Florence, circa 1470.
Starring Sean Bean, Daniel Sharman, Sarah Parish, Synnove Karlsen, Bradley James , Alessandra Mastronardi, Raoul Bova, Julian Sands.
Rated TV-14
Available January 25
---
---
Other Movies You May Also Like
Mr. Bean's Holiday (2007)
Mr. Bean wins a trip to Cannes where he unwittingly separates a young boy from his father and must help the two come back together. On the way he discovers France, bicycling, and true love, among other things.
Starring Rowan Atkinson, Willem Dafoe, Steve Pemberton.
Rated G
Available January 1
---
City of God (2002)
In the poverty-stricken favelas of Rio de Janeiro in the 1970s, two young men choose different paths. Rocket is a budding photographer who documents the increasing drug-related violence of his neighborhood. José "Zé" Pequeno is an ambitious drug dealer who uses Rocket and his photos as a way to increase his fame as a turf war erupts with his rival, "Knockout Ned." The film was shot on location in Rio's poorest neighborhoods.
Starring Alexandre Rodrigues, Leandro Firmino, Matheus Nachtergaele.
Rated R
Available January 1
---
---
Period Dramas Leaving Netflix
---
"Bram Stoker's Dracula,""Finding Neverland," "Interview with the Vampire," "Like Water for Chocolate," "Marie Antoinette," "The Godfather (parts 1 -3)," and "The Green Mile" are leaving Netflix January 1.
Not period, but also of interest: "Love Actually" and "The Princess Diaries" are leaving January 1.

Willow and Thatch exists because of you: You can shop our Jane Austen Period Drama Adaptations merchandise, click on our links (like these that take you to Etsy and Amazon) and make purchases on those sites, and buy period-inspired products from the Lovely Things Shop. You can also continue to share our articles, or make a financial contribution. All these things allow us to write feature articles, update The Period Films List, mail out our newsletter, maintain the website and much more. Thank you!
If you enjoyed this post, be sure to see The Period Films List,with the best British, historical and costume dramas sorted by era. Also see the list of BBC Period Dramas added to Prime in 2018.