Last Updated on October 29, 2018
It's time for a family-friendly period drama giveaway! 
One winner will receive all sixteen period dramas on DVD. Included are movies and television mini-series; some are classics, others are lesser known, hard-to-find and British / BBC titles you may not have seen before.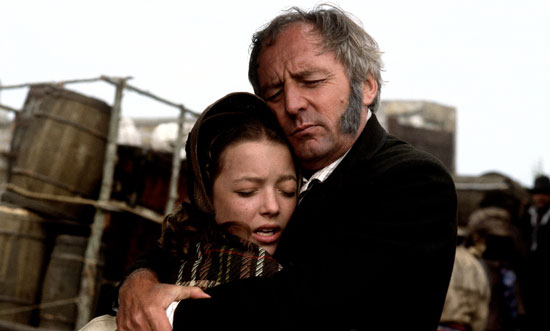 You'll get two chances to win when you share any post from the Willow and Thatch website on any of your social networks. Just leave a comment here saying which post you shared where, and why. 
If you want just one chance to win, leave a comment below without sharing a post. (But why not share? Not only will you have another chance at winning these period dramas, but you will help spread the word about Willow and Thatch. Thank you <3)
A couple of these DVDs are new-in-wrap, the others are from Willow and Thatch's library and have been gently watched.
The giveaway has ended and Chassidy M is our winner. Thanks to all who entered, and look for another period drama giveaway soon. 
The winner will be chosen randomly. Open to residents of the United States only, aged 18 and older. See the Official Rules. Contest closes April 30, 2017 11:59 EST and the winner will be announced here May 1st. Good luck!
Below are the titles you could win; if you want to be sure to have a copy of one of the movies or to watch it now, click on the Watch it now / Own it now links. 

The Autobiography of Miss Jane Pittman (1974): A story about the American experience told by a former Louisiana slave, The Autobiography of Miss Jane Pittman spans over 100 years of southern history. From the Civil War to the civil rights movement, this fictional narrative provides a moving and impactful look at the struggle African-Americans faced in the midst of a divided nation. Filmed on location in Baton Rouge, The Autobiography of Miss Jane Pittman won nine Emmy Awards, including Best Actress (Tyson), Director (John Korty), and Screenplay (Tracy Keenan Wynn).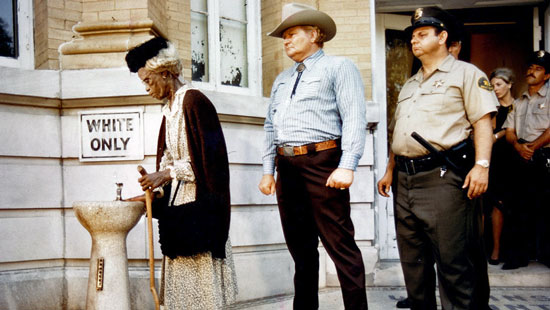 This superb historical drama tells the fictional story of 110-year-old former slave Jane Pittman. Or more accurately, the movie allows the fictional Miss Jane to tell her own story as both eyewitness and participant in 110 years of painfully real American history.  Cicely Tyson gives a powerhouse performance as the plainspoken and spirited Jane, tracing her turbulent life journey from the skittish young slave girl freed at the end of the Civil War to the withered but indomitable old woman who finds herself at the center of a local civil rights struggle.Tracy Keenan Wynn's brilliant screenplay, adopted from Ernest J. Gaines's novel, manages to convey the complexity of the black experience in this country with a subtlety and intelligence rarely achieved in film or television. The movie is also full of excellent supporting performances, including iconic folk singer Odetta as fellow slave Big Laura, Katherine Helmond as a Confederate widow, and Thalmus Rasulala as Jane's adopted son, Ned. But the movie belongs to Tyson, whose tour-de-force performance earned her one of the production's nine Emmy awards and universal acclaim as one of the greatest actresses of her generation. It's a testament to both Tyson's and the movie's transcendent power that, in the years since its 1973 TV debut, Jane Pittman has stuck in the country's collective conscious as a real, live, flesh-and-blood person, not a fictional creation. The Autobiography of Miss Jane Pittman is, simply put, a masterpiece. – Paul Leo
Starring Cicely Tyson, Eric Brown, Richard Dysart, Joel Fluellen, Will Hare, Katherine Helmond, David Hooks, Elinora B. Johnson, Warren Kenner, Dudley Knight,.
Rated TV-PG
---

By Way of the Stars (1992): Young Lukas Bienman, an indentured servant in 19th century Prussia, witnesses a murder by the ruthless Count who frames Lukas's father for the crime. After helping his father escape, Lukas flees with the Count's sister and her beautiful daughter, Ursula to Canada – the home of his estranged grandfather. Disaster follows when Ursula's mother dies of smallpox and Ursula herself is kidnapped by con artists. Braving river rapids, Lukas rescues Ursula and the pair set out through the treacherous wilderness and across the savage American frontier, encountering many adventures before being reunited with their families.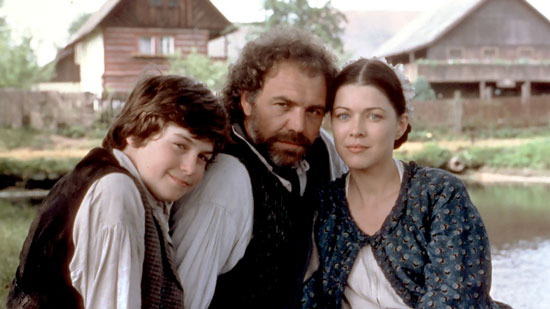 This is a 6-hour long mini-series set in 1865 in the Victorian era. 
From Sullivan Entertainment, the folks who brought us the original Anne of Green Gables. The Shop at Sullivan carries all the official period movies, series, collectibles, books and gifts from Sullivan Entertainment, the producers of the award-winning series Anne of Green Gables, Road to Avonlea and Wind at My Back.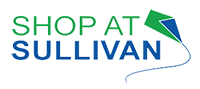 Starring Zachary Bennett, Gema Zamprogna, Christian Kohlund, Anja Kruse, Dietmar Schönherr, Hannes Jaenicke, Jan Rubes, Dominique Sanda.
Rated PG

The Canterville Ghost (1997): An American millionaire moves into a historic and imposing mansion, which comes complete with its very own eccentric ghost.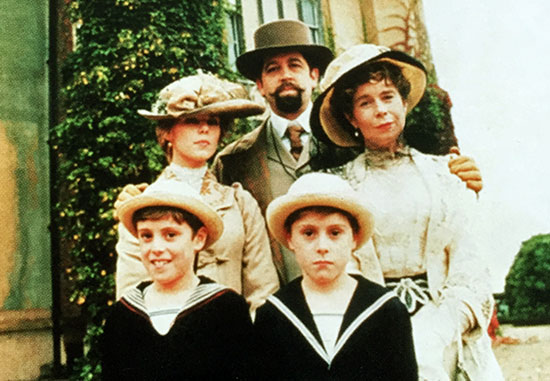 This ghost, formerly Sir Simon de Canterville, has one real problem–the only people in England who aren't afraid of him are the ones he wants to scare. If only every ghost-plagued, imposing mansion could have residents like the Otis family! The practical father sells elixirs (stain remover for blood spots, oil for squeaky armor…). His politely southern wife, Mrs. Lucretia Otis, merely wants to impress the local peerage with a fancy party (something Sir Simon puts an amusing end to). Finally, after a hilarious string of "experts" fail to get rid of the ghost, it's the Otis's teenage daughter Virginia who saves the day. 
Part of The British TV Family Collection: Three Historical Period Classics box set.
Based on Oscar Wilde's classic tale…this production is thoroughly enjoyable. Sarah-Jane Potts, as Virginia, makes an inspirational heroine that viewers will respect. A refreshing blend of wholesome wit with a smidgen of Victorian sentimentality, The Canterville Ghost will make great viewing for children (ages 7 and up), families, and grownups. – Tara Chace
Starring Ian Richardson, Celia Imrie, Sarah-Jane Potts, Rolf Saxon, James D'Arcy.
Not rated.

Children of the New Forest (1998) BBC: In the 17th Century, King Charles is close to defeat at the hands of Oliver Cromwell and the Roundhead Army. When one of the King's loyal subjects, Squire Beverly, is killed in battle during the English Civil War, his four orphaned children are driven from the family manor and forced to seek refuge with Jacob Armitage, a skilled woodsman who teaches them to live off the land. The eldest son, Edward, soon comes up with a risky plan to save King Charles from the clutches of his enemies and find the men responsible for his father's death.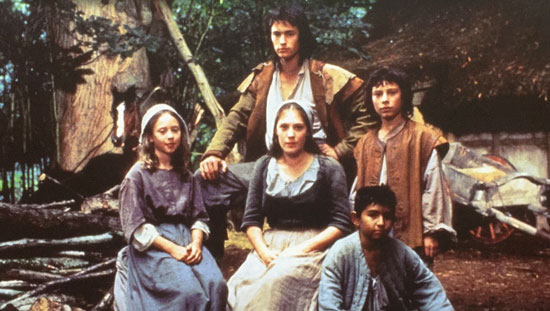 Set in the the 1640s, and adapted from the classic adventure book for children. 
Part of The British TV Family Collection: Three Historical Period Classics box set.
Starring Richard Heffer, Malcolm Storry, Joanna Kirkland, Tom Wisdom, Michael Maloney, Kelly Reilly, Craig Kelly.
Not rated.

Chitty Chitty Bang Bang (1968): A down-on-his-luck inventor turns a broken-down Grand Prix car into a fancy vehicle for his children, and then they go off on a magical fantasy adventure to save their grandfather in a far-off land.
Not terribly long ago in Edwardian England lived an enthusiastic young inventor, one Caractacus Potts, his tow-headed children Jeremy and Jemima, and their irrepressibly British grandfather, Grandpa Potts. Caractacus loved his son and daughter dearly, and when he wasn't tinkering or puttering about in his laboratory, the clever Potts could invariably be found with his two children–playing with them, helping them with their lessons, telling them stories. And one such story brought to life the adventures of the most fantasmagorica! car that ever was, Chitty Chitty Bang Bang.
Caractacus bought Chitty and the very next morning drove a grateful Chitty up to the house. True, she had to be towed by an old gray horse; yes, she had more dents in her surface than a potato chip has wrinkles. No matter, Caractacus could whip her into shape. And he did. He painted and when it was all over the Potts family found themselves the beaming owners of a resurrected motorcar masterpiece named Chitty Chitty Bang Bang… and then, all the adventure and fun began for the Potts Family.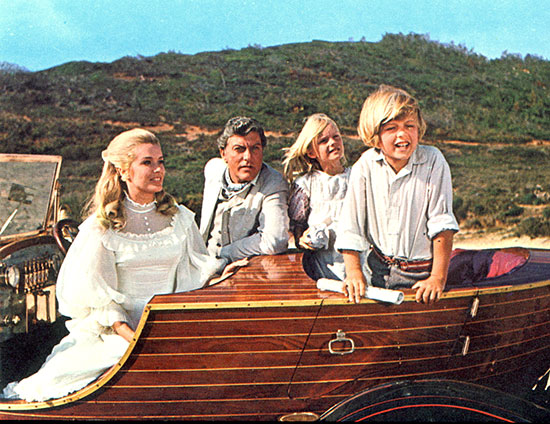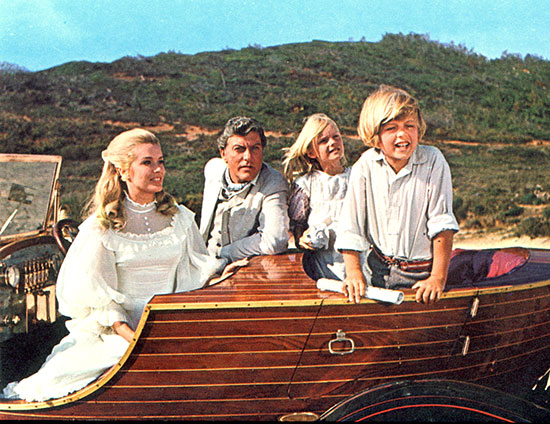 Eleven songs are presented by Robert and Richard Sherman, who provided the memorable music for another Van Dyke film, Mary Poppins. Based on the only children's novel by master spy author Ian Fleming. 
Starring Dick Van Dyke, Sally Ann Howes, Lionel Jeffries, Gert Fröbe, Anna Quayle, Benny Hill, James Robertson Justice, Robert Helpmann.
Rated G

The Coral Island (2000): In 1850, three boys end up shipwrecked on an island where they face pirates. A tale of survival and bonding on the high seas. 
A ship is destroyed by a massive storm while sailing for the South Seas. When the three young men – adventurer Ralph Rover and deckhands Jack and Peterkin – are stranded on a deserted coral island, they grow closer together as they struggle to survive against the odds. Based on the novel by R.M. Ballantyne.


Part of The British TV Family Collection: Three Historical Period Classics box set.
Starring Nicholas Ball, Trevor Byfield, Adam Deacon, William Mannering (Jeffrey Clymer in Poldark!), Ashley Walters.
Not rated.  

I Was a Rat (2001) BBC: A little boy found wandering the streets is taken in by Bob and Joan, a kindly couple. The boy is cold, wet and desperate for shelter, but Bob and Joan are perplexed by his claims that he was once a rat. Meanwhile, rumours are rife at the newspaper about the prince's new love: a girl who captivated everyone at the palace ball. 
Everyone knows the story of Cinderella – how the Fairy Godmother turned a scullery maid into a princess, the kitchen rats into footmen and pages and sent them off to the palace ball. But few know that during the Ball one of those pageboys ran off to play and when the clock struck twelve and Cinderella fled for home, the pageboy was left behind and stayed as he was – a little boy with only a dim memory of his former life … as a rat!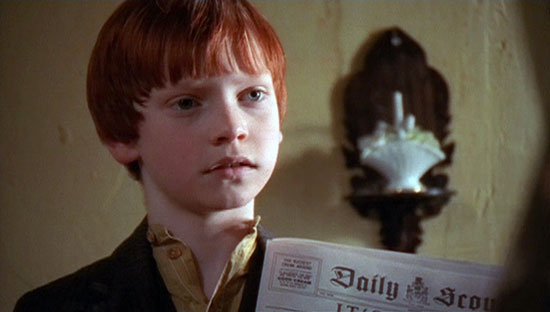 This 3-part mini-series from BBC Children's Drama is set in the early 1920s and is based on the novel by Philip Pullman. Nominated for a BAFTA and a Gemini and winner of two awards at the Banff Television Festival.
Starring Tom Conti, Brenda Fricker, Katie Blake, Don McKellar, Calum Worthy.
Not rated.

Journey to the Center of the Earth (1959): A Scottish professor uncovers a map of how to reach the center of the Earth through an Icelandic crater and then, after sharing the news, competes with his rival to reach it.
A geologist (James Mason) and his assistant (Pat Boone) set off on an expedition to the center of the earth. Following directions found in an inscription hidden in volcanic rock, the explorers travel to a volcano in Iceland to begin their journey. Along the way, a widow of a famous scientist (Arlene Dahl) and an Icelander (Peter Ronson) join their party. However, the treacherous terrain and prehistoric monsters are not their only concern when a rival scientist (Thayer David) is on their trail.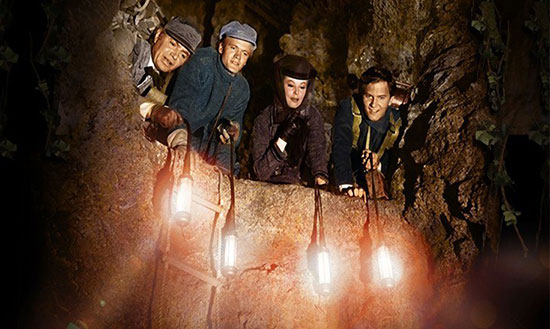 This spectacular adaptation of a Jules Verne adventure yarn is great fun, and was nominated for four Academy Awards, including special effects, art direction and set decoration.
Starring James Mason, Pat Boone, Arlene Dahl, Diane Baker, Thayer David.
Rated G

Jules Verne's Mysterious Island (2005): During the Civil War, five prisoners of war escape captivity in a Confederate prison camp only to land in an uncharted Pacific island where time stands still and dastardly pirates don't take kindly to strangers. They thought they were on their way to freedom when they leapt into a balloon and took to the skies, but upon landing on an island where nothing is as it seems, these escapees are about to embark on the adventure of a lifetime. From bloodthirsty beasts to murderous pirates and a mad genius named Captain Nemo, treachery lurks behind every corner on this island, and if these five survivors have any hope of staying alive, they'll have to fight to their dying breaths to escape the island and get back to the modern world.
Director Russell Mulcahy's screen adaptation of fantasy author Jules Verne's literary classic is a made for television movie from Hallmark. 


Starring Kyle MacLachlan, Danielle Calvert, Gabrielle Anwar, Patrick Stewart, Jason Durr.
Not rated but would probably receive a PG rating.

The Little Kidnappers (1990): A pair of brothers helps to resolve generations of bad blood between their grandfather and his neighbors when they discover a baby on the beach.
Based on this children's favorite, "The Little Kidnappers" tells the story of two orphans who come to Nova Scotia at the turn of the century to live with their grandfather (Charlton Heston), a stern and bitter man who is tormented by the loss of his only son. Soon, a misunderstanding is resolved and the family – and the divided community – is brought back together.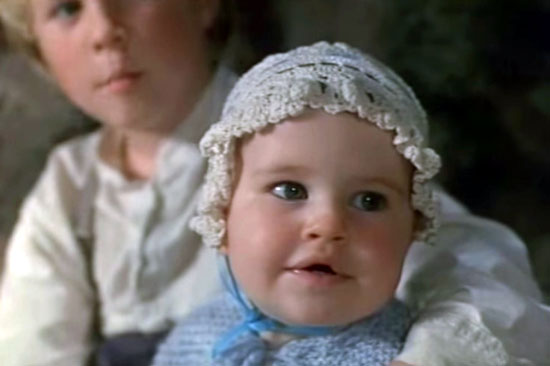 Set in 1903.
Part of the Big Box of Family Movies.
Starring Charlton Heston, Bruce Greenwood, Patricia Gage, Dan MacDonald, Leah Pinsent, Charles Miller, Leo Wheatley, Richard Donat, Amos Crawley.
Rated G
---

The Magic of Ordinary Days (2005): Pregnant out of wedlock, an educated young woman is pressured by her father into an arranged marriage with a lonely farmer in this drama set during WWII.
1944. World War II. Denver. Livy Dunne has essentially been thrown out of her home by her stern father, Rev. Dunne, because she's pregnant and unmarried. She's banished to rural Colorado, to go through an arranged marriage to a lonely farmer, so her child will have a "father." When she arrives in tiny Wilson, Colorado, Livy and her "betrothed," gentle but strong Ray Singleton, are wary around each other. Worldly Livy is bored by Ray and the hardscrabble life he leads –despite his inherent goodness and wisdom. As the months pass Lily learns more about this calm, practical, self-effacing farmer and his sister Martha – "a queen among women" – and her family. Slowly almost imperceptibly, Livy realizes she may have found "home," quite accidentally.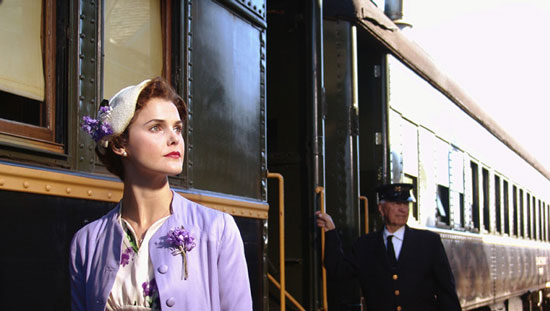 A Hallmark Hall of Fame production based on a novel of the same name by Ann Howard Creel.
Set in the 1940s.
Starring Keri Russell, Skeet Ulrich, Mare Winningham.
Note: Not rated, and contains adult themes, but this is a "clean" period romance that is Dove Family Approved for all ages.

Newsies (1992): A musical based on the New York City newsboy strike of 1899. When young newspaper sellers are exploited beyond reason by their bosses they set out to enact change and are met by the ruthlessness of big business.
In this Walt Disney musical, homeless New York City newsboy Jack "Cowboy" Kelly (Christian Bale) befriends two newcomers to his trade, brothers David (David Moscow) and Les Jacobs (Luke Edwards). When publisher Joseph Pulitzer (Robert Duvall) sets new rules that make it harder for the young newspaper salesmen to make a buck, the boys go on strike. Bryan Denton (Bill Pullman), a journalist who's sympathetic to their plight, gives them some tips in public relations, as the newsboys' battle grips the city.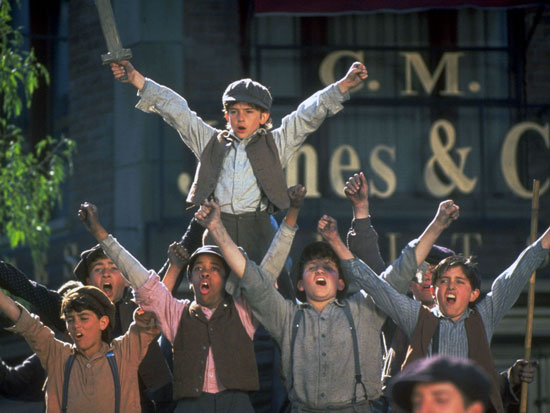 Starring Christian Bale, Bill Pullman, Robert Duvall, David Moscow, Luke Edwards. 
Rated PG
---

The Ranger, The Cook and a Hole in the Sky (1995): Based on a book by Norman Maclean (A River Runs Through It), and closely based on his own youthful experiences, this made-for-TV drama concerns Mac, a teenage boy who gets a job working for the National Forest Service in Montana shortly after the end of World War II.
A young ranger in the Montana wilderness discovers the great forces of nature while learning the importance of honor, trust and integrity. When Mac goes to the northwestern Montana wilderness to join the National Forest Service as a ranger in 1919, he is little more than a cocksure 17-year-old, but his tough-as-nails boss, Bill Bell, sees to it that he becomes a man. Since Bell has a reputation for being the best ranger, Mac wants nothing more than to follow in his idol's footsteps — though it often leads to some missteps. As time passes, the two develop a friendship, but Mac has much to learn.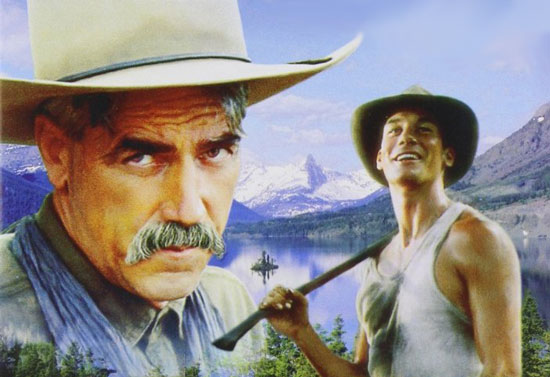 Director Harrison brings off the tale by never overstating it and by measuring Mac's growth without trumpeting it. Henry Lebo's lensing and Michael Ornstein's editing are superior, while Lawrence Shragge's uncomplicated score echoes an entire era. "The Ranger" is a delight. – Variety
Part of the Big Box of Family Movies. Dove Family Approved for children 12+
Starring Jerry O'Connell, Sam Elliott, Ricky Jay.
Rated PG
---

Rugged Gold (1994): Timid widow Martha Martin didn't know quite what to expect when she moved with her new husband Don and her son Lloyd to the remote Alaskan wilderness in 1954. But nothing could prepare her for this unforgiving, unpredictable land, filled with dangerous Grizzlies, earthquakes, and brutal winters. Don's brusque prospecting partner (Graham Greene) claims it's a place for hunting gold – not for raising a family; and Martha doubts that she can rebuild her life in such a harsh, unrefined land. But when Don and Lloyd disappear in an accident, a pregnant and injured Martha is forced to find new strength to face seemingly insurmountable challenges – including delivering her own baby alone in the wilderness – if she is to survive and be reunited with her family. Based on a true story, this compelling film is the inspiring drama of one woman's incredible courage and of a family's undying love and unity.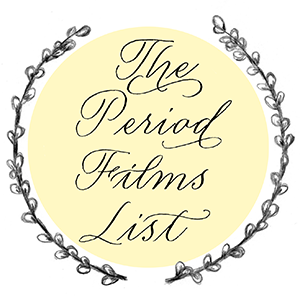 Based on the adventure novel inspired by the true story, Rugged Gold follows Martha Martin's courageous journey in the Alaskan wilderness. A widowed socialite raising Lloyd, her son, Martha finds love again with Don, a rugged outdoorsman who convinces her to move north. When Lloyd and Don go missing during a dangerous earthquake, Martha is forced to endure an Alaskan winter on her own. Carried by her unwavering will to live, Martha's tale of survival is an uplifting experience for the entire family.
Part of the Big Box of Family Movies.
Starring Art Hindle, Graham Greene, Jill Eikenberry.
Not rated.
---

Pioneer Woman (1973): In this 19th-century drama, an American homesteading family from the Northeast heads to Wyoming in search of a better life, only to face tragedy and hardship. When the husband is killed, the wife must decide whether to remain or take her son and daughter back East.
Though set in Wyoming, Pioneer Women was lensed in the unspoiled wilderness of Alberta, Canada. Joanna Pettet plays the title role, one of many Wyoming homesteaders of the post-Civil War era.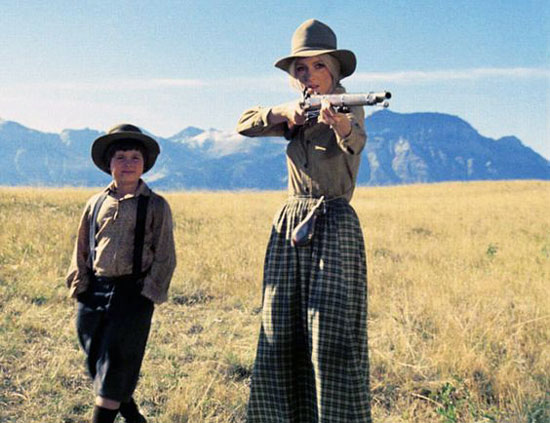 Set in 1867.
Part of the Big Box of Family Movies. 
Starring Joanna Pettet, William Shatner, David Janssen, Lance LeGault, Helen Hunt, Russell Baer, Linda Kupecek, Lloyd Berry.
Rated TV-PG
---

Swiss Family Robinson (1960): This heroic tale chronicles the courageous exploits of the Robinson family after they are shipwrecked on a deserted island. Using teamwork and ingenuity, they skillfully overcome the obstacles of nature and transform their new home into a "civilized" community. But the ultimate challenge lies ahead when a band of cutthroat pirates threaten to destroy the Robinson's Makeshift paradise.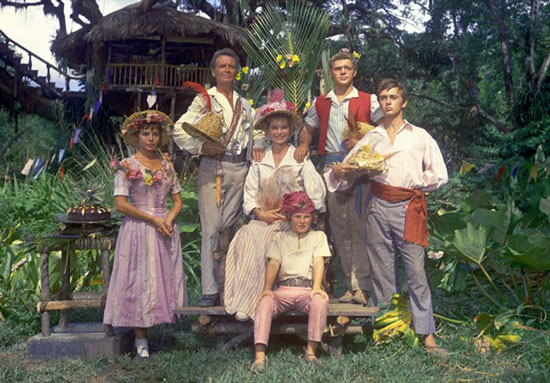 In this family film from Walt Disney, the Robinson clan — mother (Dorothy McGuire), father (John Mills) and their three sons, Fritz, Ernst and Francis — flee the reign of Napoleon to start afresh in New Guinea. When their ship gets damaged en route, the family takes refuge on a deserted island. The Robinsons learn to live in the wild, have various adventures and build an impressive house in a tree. However, while island life is full excitement, the question of whether to return to civilization looms.
Starring John Mills, Dorothy McGuire, James MacArthur, Janet Munro, Sessue Hayakawa, Tommy Kirk, Kevin Corcoran, Cecil Parker.
Rated G
---
Note: There is one more period movie on the Big Box of Family Movies set, called Prairie Fever, but it is not what I consider family friendly. The set also contains some non-period movies, which you will also receive.
If you enjoyed this post, you'll want to wander over to The Period Films List, after you enter the giveaway. You'll especially like the Best Period Dramas: Family Friendly List.  Also see the post True Confessions of a Heartie and learn about the new adaptation of Anne of Green Gables, streaming on Netflix. For Christmas, you'll want to know about the Family Friendly Victorian Era Christmas Movies List.