Last Updated on October 29, 2018
Biltmore in Asheville, North Carolina has been a location for weddings and romantic getaways since George and Edith Vanderbilt married in 1898. To celebrate this history, the estate will host "Fashionable Romance: Wedding Gowns in Film," a costume exhibition of wedding dresses and attire from major motion pictures.
The exhibit runs February 12 through July 4, 2016

There's good news for all us who are stateside: Asheville, North Carolina's Biltmore will present a new exhibition, Fashionable Romance: Wedding Gowns in Film. Showcasing 40 award-winning wedding gowns and costumes throughout Biltmore House, the exhibition spans 300 years of wedding fashion from 19 films set in the years 1645 to 1935.
Biltmore, built by George Washington Vanderbilt II, is the largest privately owned house in the United States and it stands today as one of the most prominent remaining examples of the Gilded Age. Architecturally inspired by working estates of Europe, the Vanderbilt home opened to the public in 1930 and is a designated National Historic Landmark.
Willow and Thatch thought that this exhibit and the special dining and "stay experiences" happening in conjunction with the exhibit would be just the thing to share with you all. Fashionable Romance: Wedding Gowns in Film looks like a terrific grouping of wedding dresses and suits worn in our favorite period dramas; costumes from the iconic Jane Austen romances of Sense and Sensibility (1995), Emma (1996), and Pride and Prejudice (1995) are included.
That means that the costumes worn by Emma Thompson as Elinor Dashwood, and Hugh Grant as Edward Ferrars in Sense and Sensibility will be featured.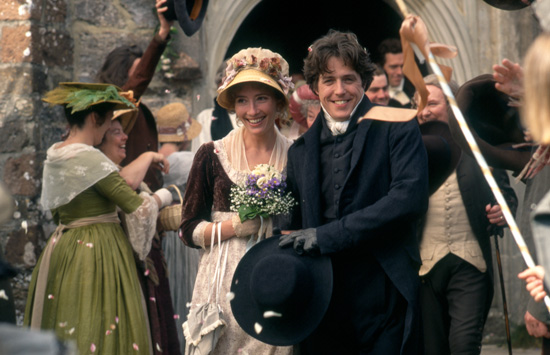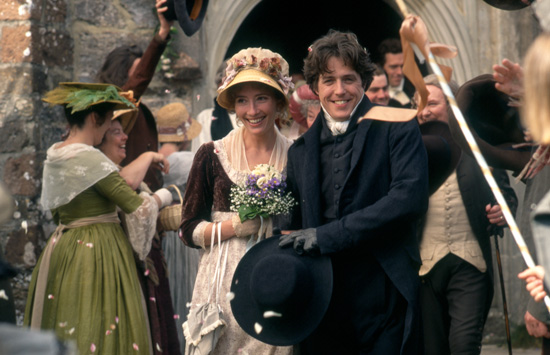 Visitors to the 2016 exhibit at Biltmore will also see the wedding costume worn by Gwyneth Paltrow in Emma, when her character married Mr Knightley. Emma was published 200 years ago this past December, and Paltrow was considered "resplendent" as Emma Woodhouse in the lighthearted adaptation of the timeless story.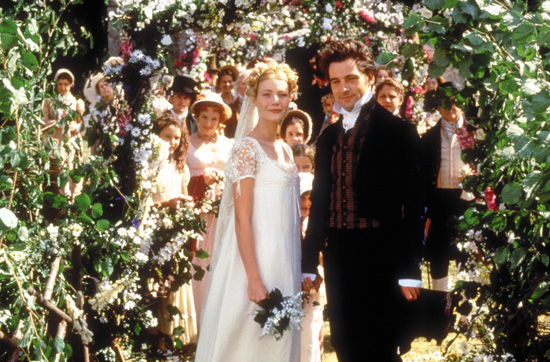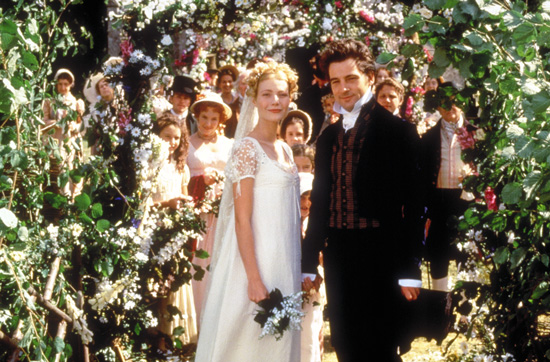 Fashionable Romance: Wedding Gowns in Film will give you a close-up look at Mr. Darcy (Colin Firth) and Elizabeth Bennet's (Jennifer Ehle) wedding costumes from BBC's definitive version of Pride and Prejudice. Jennifer Ehle's wedding costume in Pride and Prejudice is a one-piece deep cream silk dress in an acanthus leaf design. The centre front bodice panel and attached underskirt is of pale and deep cream-striped silk – it is trimmed with white lace and small white, gold and black buttons. In all, five costumes from Pride and Prejudice will be showcased. No word on whether or not "the shirt" will be on display…you know, the one that Darcy wore when he jumped into the lake on his Pemberley estate before emerging with his wet clothes clinging to his body.
Also on display is the wedding costume worn by Trevyn McDowell as the beautiful and privileged Rosamond Vincy in the mini-series Middlemarch (1994). In the period drama, McDowell wore a one-piece dress of deep cream, net-embroidered with flowers over cream silk and trimmed with blonde lace. Set in 19th century Great Britain, the BBC and Masterpiece Theatre production is a study of provincial life and was adapted from the George Eliot classic of the same name.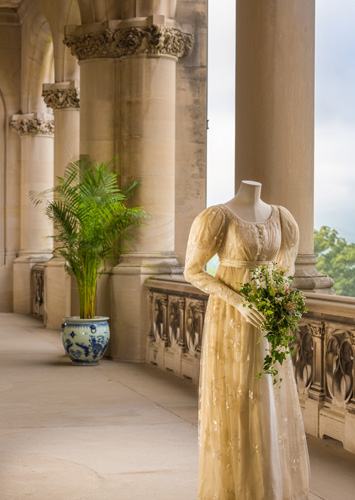 Five costumes from The Duchess (2008), featuring the wedding gown worn by actress Keira Knightly and the wedding suit worn by actor Ralph Fiennes, will reside in the Banquet Hall. The costume drama chronicled the life of 18th century aristocrat Georgiana, Duchess of Devonshire, who was reviled for her extravagant political and personal life.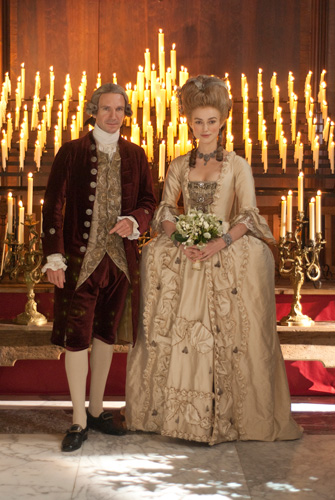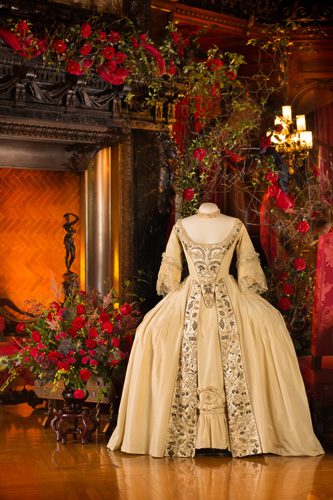 Also on display from Sense and Sensibility will be Marianne (Kate Winslet) and Colonel Brandon's (Alan Rickman) wedding costumes that they wore when they were wed in a scene that was filmed on location at St. Mary's Church in the village of Berry Pomeroy.
Flowers and ribbons in hues of peach, cream, light blue and orange will cascade from the room's chandeliers, reflecting the film's English Rococo era. In the Library, dramatic red roses accented with hot pink will set off the wedding dress worn by actress Helena Bonham Carter in Mary Shelley's Frankenstein.
Alan Rickman, the much loved English actor and director also shined in other period dramas; you may remember him as King Louis XIV in A Little Chaos (2014), Karl Hoffmeister in A Promise (2013), Tybalt in Romeo and Juliet (1978), Vidal in Thérèse Raquin (1980), Richis in Perfume (2006), Judge Turpin in Sweeney Todd (2007) and Obadiah Slope in The Barchester Chronicles (1982). He is the voice of the Blue Caterpillar in the upcoming Alice Through the Looking Glass, and was also celebrated for his role as Professor Snape in the Harry Potter films. On January 14, 2016 Rickman passed away after a struggle with cancer. He will be deeply missed.

The Biltmore House and its gardens have been the location for numerous films and television shows including: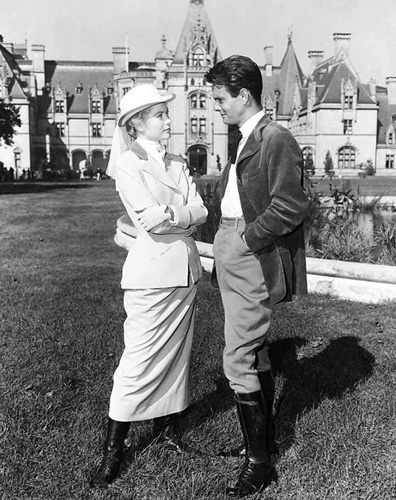 The Swan (1956): Set in 1910, Grace Kelly is gloriously, glamorously regal in this retelling of Ferenc Molnar's romantic fable about a shy princess whose head tells her to wed a worldly Crown Prince (Alec Guinness), but whose heart is drawn to a dashing commoner (Louis Jourdan). Garbed in dreamy Helen Rose gowns, surrounded by Mittel-European opulence, the leading lady dances, duels, flirts, falls in love and makes even the most jaded moviegoer want to believe in fairy tales.
And just to prove that fairy tales can come true, Kelly became a real-life princess as The Swan went into release, marrying Prince Rainier of Monaco in a magnificent royal wedding that captured the world's imagination.
The Prince of Homburg (1977): The film was prepared for PBS's Great Performances series and shot entirely on location at the Biltmore House and Gardens in period 17th-century costume. "Written in 1811, Heinrich von Kleist's The Prince of Homburg is a strangely haunting drama based on a 17th-century story about a Prussian nobleman who, in disobeying military orders, is sentenced to death, but nevertheless defeats the invading Swedish forces. Von Kleist transforms this incident into an exploration of reality and dream, passion and dissemblance, cowardice and bravado. Written as if by the very spirit of poetry, von Kleist's Prince stars Frank Langella and represents an exuberance in the triumphs of life. This hitherto unknown German classic was given its American premiere by New York City's renowned experimental Chelsea Theater Center."
Being There (1979); Simple-minded Chance (Peter Sellers), a gardener who has resided in the Washington, D.C., townhouse of his wealthy employer for his entire life and been educated only by television, is forced to vacate his home when his boss dies. While wandering the streets, he encounters business mogul Ben Rand (Melvyn Douglas), who assumes Chance to be a fellow upper-class gentleman. Soon Chance is ushered into high society, and his unaffected gardening wisdom makes him the talk of the town. Both a modern fable and a political satire, Being There was based on the novel by Jerzy Kosinski and costars Melvyn Douglas, who won a Best Supporting Actor Oscar as Eve's aging power-broker husband.
Return to the Secret Garden (2000): For young Katherine, a girl who appears to have everything going for her, friendship may be the one thing she will never find. So her father tells her, "If you really want a friend, be a friend." But even though she's smart, has a sense of humor and is the star of her soccer team, her search for a friend has been a long journey indeed. One that's taken her all the way to Misselthwaite Manor in England, where she is enduring her first stay with her sickly cousin, Margaret. After Katherine decides she needs to try harder at being a friend, she finds an old diary that leads to an unexpected adventure riddled with hidden passageways, a puzzling portrait and clues to a secret garden. Together, Katherine, Margaret and a boy named Timothy explore the mysteries of Misselthwaite and discover what it really means to be a friend.

The Fashionable Romance: Wedding Gowns in Film exhibition continues in Antler Hill Village in the Biltmore Legacy building with a focus on 60 years of Vanderbilt Family wedding fashion.
Stories will be shared about George and Edith Vanderbilt's courtship, plans for their wedding, guests and gifts, and their Biltmore homecoming after a four-month honeymoon. The exhibition will include a closer look at Cornelia Vanderbilt's wedding to John Cecil in 1924.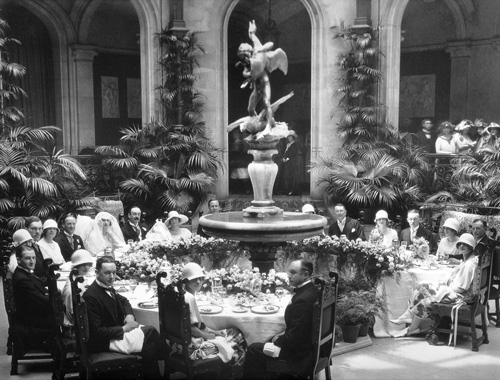 Newspaper accounts recorded that close to 1,000 guests attended the wedding reception held in Biltmore House immediately after the noon ceremony. Two orchestras provided music for dancing, and then the bridal party gathered around a horseshoe-shaped table in the Winter Garden where they dined. Meanwhile, a buffet breakfast was served to other guests in the Banquet Hall.
Biltmore's Director of Museum Services Ellen Rickman said "The day-to-day running of Biltmore House was surprisingly similar to what's depicted on Downton Abbey…Just like Downton has Mr. Carson and Mrs. Hughes, Biltmore had its own cast of fascinating characters." Looking at the kitchen at Biltmore House, it's easy to imagine the servants hard at work, serving up the wedding breakfast.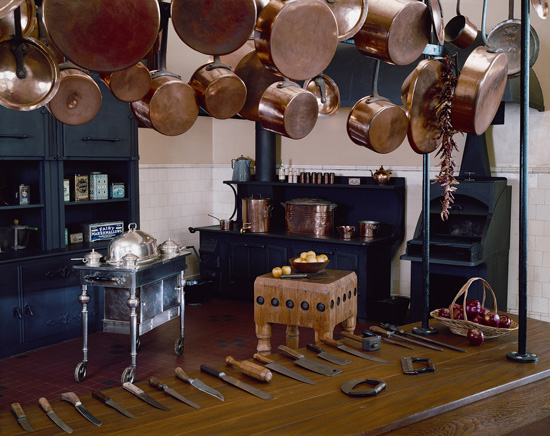 Another highlight of the exhibition is the wedding veil worn by Mary Lee Ryan in her marriage to William A.V. Cecil, grandson of George Vanderbilt. This family heirloom was later worn by Mrs. Cecil's cousin Jacqueline Lee Bouvier Kennedy when she married future President John F. Kennedy. Also on display will be Mrs. Cecil's wedding gown—a classic example of 1950s fashion with a tiny waist, bell-shaped skirt, and satin bows.
Admission to Fashionable Romance: Wedding Gowns in Film will be included in the general admission ticket price.

Reservations required. Book online at Biltmore.
Valentine's Day Dinner in The Dining Room – Feb. 12, 13 and 14: Inn on Biltmore Estate will host a five-course Valentine's Day Dinner in the Dining Room with wine pairing on Feb. 12, 13 and 14. Dinner is included as part of the Inn's Valentine's Day Package, or is $110 per non-package guest.
Wine & Roses Dinner Dance – Feb. 13: Deerpark will host a Wine & Roses Dinner Dance from 6:30 to 11 p.m. on Feb. 13. The event includes a reception, followed by a four-course dinner, a bottle of wine for each couple and dessert. A live band will play favorite love songs until 11 p.m. Cost is $125 per person plus tax.
"Fashionable Romance" stay package at Inn on Biltmore Estate – Feb. 15 through July : The Inn on Biltmore Estate will offer a special "Fashionable Romance" stay package Feb. 15 through July 1 that includes accommodations, chef's breakfast buffet daily, nightly dinner in The Dining Room, Bistro or Cedric's Tavern, Sec sparkling wine and confections upon arrival, and a wine seminar exploring Biltmore's sparkling wines portfolio. Inn guests may also enjoy a "Flowers to Wear: A Boutonniere & Corsage Bar" seminar led by a Biltmore floral design expert if booking the package on the weekends of Feb. 13, March 26, May 7, and June 18.
"Bed & Breakfast" stay package at Village Hotel on Biltmore Estate – Ongoing: Enjoy the charm of Biltmore's newest hotel while taking in all Biltmore has to offer. Village Hotel's Bed & Breakfast package includes accommodations; breakfast daily at Village Social; souvenir guide book; admission to Biltmore House and the "Fashionable Romance" exhibition for the length of stay; audio guide during Biltmore House tour; and complimentary estate shuttle service.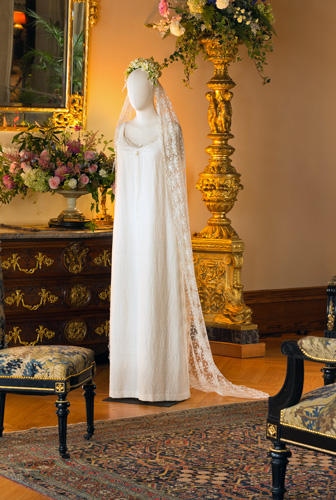 Pictured above is the wedding costume worn by Gwyneth Paltrow in Emma, on display in Biltmore House during Fashionable Romance: Wedding Gowns in Film February 12, 2016 through July 4, 2016.
Located in Asheville, North Carolina, Biltmore was the vision of George W. Vanderbilt. Designed by Richard Morris Hunt, America's largest home is a 250-room French Renaissance chateau, exhibiting the Vanderbilt family's original collection of furnishings, art and antiques.  Biltmore estate encompasses more than 8,000 acres including renowned gardens designed by Frederick Law Olmsted, the father of American landscape architecture.
The amazing costumes in this exhibition are custom made or come from a stock of more than 100,000 costumes and accessories made by the renowned British costumer, Cosprop Ltd.  Founded in 1965 by John Bright, an award-winning costume designer in his own right, Cosprop specializes in creating costumes for film, television and theater pieces set from the 15th century to the swinging 60s. Cosprop has a staff of forty experts in designing, tailoring, cutting, fitting, millinery, jewelry making and repair, and dyeing and printing.  Reference for their work comes from an extensive library and a collection of original garments — thus ensuring that any production undertaken by Cosprop is "correctly dressed".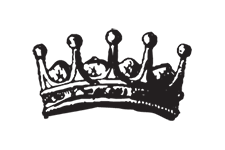 If you enjoyed this post, you'll want to wander over to The Period Films List for the best costume dramas, heritage films, documentaries, period dramas, romances, historical reality series and period inspired movies, all sorted by era and theme.