I think Dickensian is the television event of the decade. This is the biggest show that I have ever been involved in – it's huge! You can watch it whether you have read every Dickens book and have a degree in Dickens, or you'll enjoy it if you've never read a Dickens book in your entire life and your movie was the Muppets Christmas carol. It's the best of BBC drama, amazing characters involved in gripping stories and it's one of those shows that will bring everyone in the family to the TV together. – 
Tony Jordan, Dickensian Series Creator and Writer
Dickensian, a new costume period drama set within the fictional realms of Charles Dickens' critically acclaimed novels, will air on BBC One in the UK beginning on Boxing Day, December 26th. (On Christmas Day UK costume drama fans will be immersed in the Call the Midwife Christmas Special followed by the Downton Abbey finale. There is no word yet on when Dickensian will air in the US, as far as Willow and Thatch knows, but leave a note if you've heard!)
Dickensian brings together some of literature's most iconic characters, including Scrooge, Fagin and Miss Havisham, as their lives intertwine in 19th century London. The Old Curiosity Shop sits next door to The Three Cripples Pub, while Fagin's Den is hidden down a murky alley off a bustling Victorian street. With a wealth of back stories sourced from the novels, Dickensian promises to deliver fast-paced storylines with surprising twists and turns.
Belinda Campbell, Executive Producer of Dickensian and Head of Drama, Red Planet Pictures, said:
The scale and ambition of this series is incredibly impressive with storylines and characters that have real international appeal. We have constructed an entire 19th Century street for these famous characters to inhabit, transporting viewers back in time to Victorian London. The cast and storylines are out of this world and I can't wait to see it all come to life.
Each of the 20 episodes in the series runs 30 minutes, with two episodes kicking off the first night:
It's Christmas Eve, and when Amelia and Arthur Havisham gather to hear the reading of their father's will, their lives are left in turmoil by its unexpected contents. Elsewhere, Jacob Marley collects debts from the sick and needy, showing his cruel and vicious nature. Has he given someone a motive for murder? The news of Jacob Marley's murder filters through the Christmas day celebrations, and Inspector Bucket begins his investigation. At Satis House, Amelia Havisham's mysterious rescuer appears again.
The Dickensian set features a 90 meter high cobbled street with a fully functioning pub at one end and a 16 column colonnade, church and law courts at the other. Overall there are 27 two-storey buildings on the street and seven back alleys that lead to a parallel 30 meter street. Here's a look at the layout: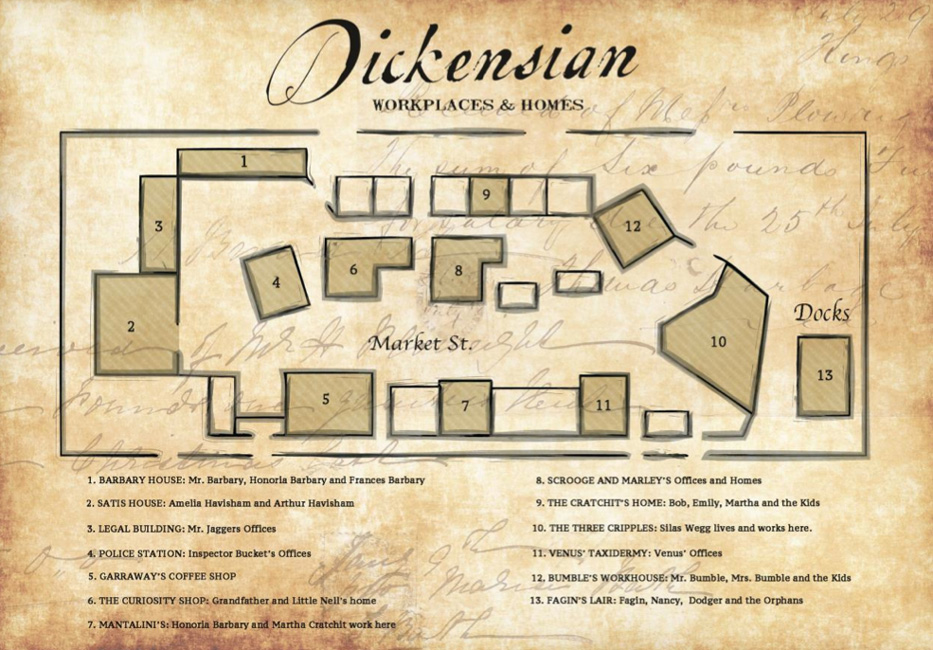 In an interview about the new period drama for BBC, Stephen Rea, who plays the inquisitive Inspector Bucket from Bleak House, said that "Dickensian is the most beautiful re-working of the world of Dickens that you could ever imagine. The characters take on a fresh life, and any actor would be mad not to accept the challenge these great scripts offer."
Pauline Collins OBE, who plays the delightful, ruddy-faced bundle of chaos Mrs. Gamp from Martin Chuzzlewit added: "We are taking characters that everyone knows and loves into a whole new world where anything is possible. You don't need to know Dickens' novels to fall in love with the stories we're telling. It's going to be a real treat to watch."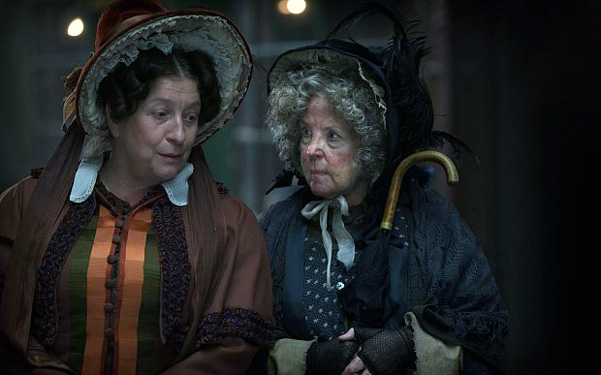 Tony Jordan – Series Creator and Writer, said:
The scale of this show is immense, so I started from a point of identifying the things about Dickens characters that interested me most. I have always been fascinated by the character of Miss Havisham – this mad woman in a wedding dress and veil, sitting at the table, jilted on the day of her wedding, an event she found so traumatic that she never took off her wedding dress. We've all seen that image and we all know it, so I was interested in how she got to be that woman. What was she like as a young woman and in love? Did she laugh? Who was she? What did she care about? So I decided that was one of the first stories I wanted to tell, it was exciting because nobody had ever seen the young Miss Havisham before, it was then that I knew I had something. From that point on, my writing room became covered in hundreds of different coloured post -it notes as the series took shape.

Other characters leapt out at me, crying out to be included, two favourites of mine had always been Ebenezer Scrooge and Fagin, so I thought, can I get those two together and create a new story? More post it notes followed, then pages of research and before long I had a wall 20ft by 16 ft, covered in old photographs, bits of Victorian London and 200 post-it notes. The challenge then was to take all these characters, all these stories and to turn it into a series.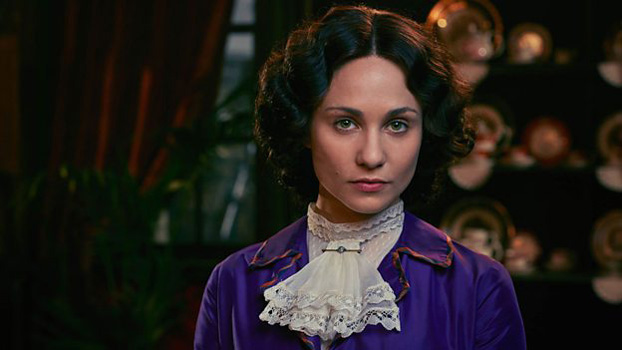 I play Miss Havisham from Great Expectations, but as a young woman. In the story we meet her when she has just inherited her father's fortune. This is a vast amount more than her brother Arthur Havisham receives and he becomes vengeful, jealous and sets about to ruin her. She is a young woman growing up and trying to navigate her way through a male-dominated society.
– Tuppence Middleton
Viewers will be invited into a world populated by many of literature's most iconic characters and see their lives intertwine in a unique and surprising story told on an epic scale. Dickensian stars an array of new and established British talent including Tuppence Middleton (Spooks: The Greater Good, The Imitation Game), Ellie Haddington (Foyle's War, Ordinary Lies), Sophie Rundle (Peaky Blinders, Happy Valley), Omid Djalili (The Omid Djalili Show, Sex And The City 2) Anton Lesser (Wolf Hall, Game of Thrones) Ned Dennehy (Banished, Peaky Blinders), Adrian Rawlins (Glue, Harry Potter and the Deathly Hallows: Part 1 & 2), Tom Weston-Jones (Copper, World Without End), Richard Ridlings (Rise Of The Planet Of The Apes), Alexandra Moen (Fortitude), Robert Wilfort (Wolf Hall, Gavin And Stacey), Jennifer Hennessy (Utopia), Phoebe Dynevor (The Musketeers), Brenock O'Connor (Game Of Thrones), Mark Stanley (Game Of Thrones), Christopher Fairbank (Wolf Hall) and rising star Joseph Quinn.
Dickensian will be available online shortly after broadcast on iPlayer, but for now BBC has released a trailer for the new costume drama that you can watch here:
"This is an ambitious and epic series for BBC One taking Charles Dickens' characters and world into a whole new territory, in ways that I hope will delight and surprise viewers. We have an outstanding cast that will bring Dickens' world to life in a way you have never seen before."
– Tony Jordan
Here's a sneak peek at Episode 1 of Dickensian:
Willow and Thatch can't wait until it is available to watch in the US. How about you?
UPDATE 4/21/16: BBC has confirmed there won't be a second series of the period drama. "We are incredibly proud of Dickensian and would like to thank all those involved in such an ambitious series. We sometimes have to make difficult decisions to make room for new shows and it won't be returning for a second series." – BBC
BBC has also just released the trailer for the Call the Midwife Christmas Special 2015:
If you enjoyed this post, you'll want to wander over to the full (growing!) list of recommended best period films and romantic and historical costume dramas to watch, all sorted by era and theme, in The Period Films List – you may be especially interested in the Best Period Dramas: Victorian Era List and the Best Period Dramas: Classic Christmas List. Enjoy!