Last Updated on October 29, 2018
It's time for the period drama line-up for what's new to streaming on Netflix Instant in the US in September – and also what's leaving.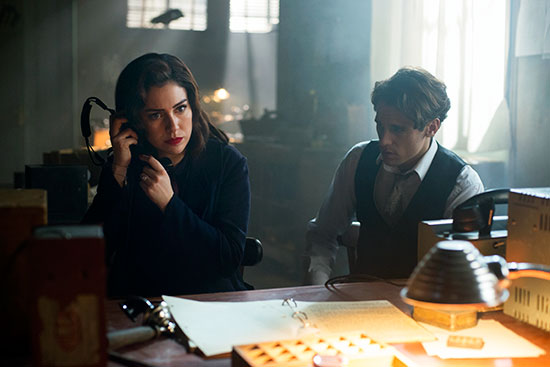 ---
To help keep this site running: Willow and Thatch may receive a commission when you click on any of the links on our site and make a purchase after doing so.
---
There are a couple of good returning television series, and if you like International films you'll have some new period dramas to add to your list. And, we've just learned about the addition of a new historical romance series – see The Rise of Phoenixes, below.
We've also curated some other non-period feel-good movies and TV series including fantasies, comedies and romances, that are coming to Netflix this month that you might like. You'll want to use the available "Watch the TRAILER" links to help you decide what to watch. 

---
---
Period Dramas Coming in September

The Cider House Rules (1999)
A young man is taught medicine by the doctor at the orphanage where he was brought up. However, when he clashes with his mentor over the issue of abortion, he leaves the home and finds work on a cider farm. There he falls in love with another man's girlfriend but starts to re-evaluate his principles when one of the farm workers becomes pregnant by her own father. Set during World War II in Maine and based on the book by John Irving.
Starring Tobey Maguire, Charlize Theron, Paul Rudd, Michael Caine.
"… a fable that turns into a 1940s New England variation on Charles Dickens. It is also one dickens of an American movie."
Rated PG-13
Available September 1 
---

King Kong (2005)
Peter Jackson's expansive remake of the 1933 classic follows director Carl Denham and his crew on a journey from New York City to the ominous Skull Island to film a new movie. Accompanying him are playwright Jack Driscoll and actress Ann Darrow, who is whisked away by the monstrous ape, Kong, after they reach the island. The crew encounters dinosaurs and other creatures as they race to rescue Ann, while the actress forms a bond with her simian captor.
Starring Naomi Watts, Jack Black, Adrien Brody.
"Kong is a showy, state-of-the-art popcorn movie, faithful to the spirit of the 1933 original but generously adrenalized with the best effects money can buy." – Newsweek
Rated PG-13
Available September 1
---
---

Pearl Harbor (2001)
Set in 1941 during the time of the Japanese bombing of Pearl Harbor, two childhood friends are caught up in the events that draw the United States into World War II. Together, they enlist in the US Air Force and soon enough they both become involved with the same woman.
Starring Ben Affleck, Kate Beckinsale, Josh Hartnett.
"The best way to see the movie is as I did: expecting nothing and being pleasantly surprised, and strangely moved." – New York Observer
Rated PG-13
Available September 1
Note: Most critics panned this movie, but general audience viewers were less harsh in their criticism.
---

Unforgiven (1992)
Retired, down-on-their-luck outlaws pick up their guns one last time to collect a bounty offered by the vengeful prostitutes of the remoteWyoming town of Big Whiskey.
Starring Clint Eastwood, Gene Hackman, Morgan Freeman, Richard Harris.
"That implacable moral balance, in which good eventually silences evil, is at the heart of the Western, and Eastwood is not shy about saying so." – Roger Ebert, Great Movie
Rated R
Available September 1
Note: If this sounds even remotely up your alley, watch the trailer linked above. Most consider this to be an excellent film.
---

Cathedral of the Sea / La Catedral del Mar (Season 1)
In 14th-century Barcelona, a serf's determined climb to wealth and freedom incurs the disdain of the noble class and the suspicion of the Inquisition. Based on the historical novel by Spanish author Ildefonso Falcones and set against the backdrop of the construction of Santa Maria del Mar Cathedral.
In Spanish with English subtitles. 8 episodes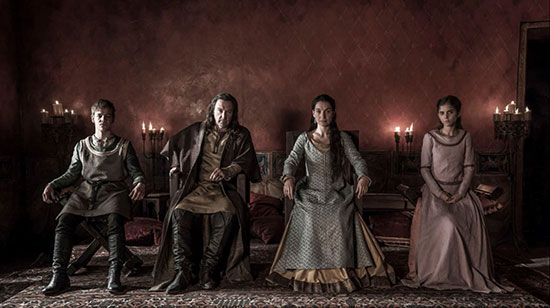 Starring Jordi Aguilar, Aitor Luna, Pablo Derqui.
Rated TV-MA
Available September 1
---

10,000 B.C. (2008)
Mammoth hunter D'Leh has long been in love with a beautiful, blue-eyed tribeswoman named Evolet. After horseback-riding raiders kidnap most of his D'Leh's fellow tribesmen as well as Evolet, he sets out on a dangerous trek to rescue her from her captors.
Starring Steven Strait, Camilla Belle, Cliff Curtis.
Rated PG-13
Available September 1
Note: This is by all accounts a terrible film, but maybe you want to watch a bad film!
---

Cable Girls / Las chicas del cable (Season 3)
Four young women living in Madrid work for the only telephone company that exists in the Iberian peninsula in 1920 and learn to navigate through such a progressive workplace, as well as their love lives.
Season 3: After a tragedy, Lidia fights passionately for her family, Carlota finds her voice, Ángeles goes undercover and Marga reveals a talent for accounting.
In Spanish with English subtitles. 8 episodes
Starring Blanca Suárez, Nadia de Santiago, Ana Fernández.
Rated TV-MA
Available September 7
Note: Bingeable, soapy, quick moving, engrossing dramatic fun for adults.
---

The Most Assassinated Woman in the World / La femme la plus assassinée du monde (2018)
In 1930s Paris, an actress famous for her gory death scenes at the Grand Guignol Theater contends with a mysterious stalker and ghosts from her past.
Starring Anna Mouglalis, André Wilms, Niels Schneider.
In French with English subtitles.
Not rated but contains significant violence and dark scenes.
Available September 7
---

Call the Midwife (Series 7)
A moving and intimate insight into the colourful world of midwifery in 1960s east London.
Season 7: Poplar welcomes Lucille Anderson, the first West Indian midwife to be featured as a series regular. Tested as never before, the nuns and nurses face challenging issues, from leprosy, tokophobia and stroke to Huntington's chorea and unmarried mothers. Set in 1963.
Starring Leonie Elliott, Helen George, Jennifer Kirby, Jenny Agutter, Charlotte Ritchie.
8 episodes and a Christmas special.
Rated TV-14
Available September 10
---

The Resistance Banker / Bankier van het Verzet (2018)
Risking his family and future, a banker in occupied Amsterdam slows the Nazi war machine by creating an underground bank to fund the resistance. Winner of Golden and Platin Film, Netherlands award. Based on the life of banker Walraven van Hall, who financed the Dutch resistance during the Second World War.
Starring Barry Atsma, Jacob Derwig, Pierre Bokma.
In Dutch with English subtitles.
Not rated.
Available September 11
---

The Rise of Phoenixes (2018)
This is a story of power, desire, lust and love amongst people from different kingdoms in ancient China, all with the desire of rising to become The Great Phoenix. Ning Yi, is the sixth prince of kingdom who hides a dark past. Feng Zhiwei hides her true identity and has to cross-dress to survive in the male-dominated world. However, when a secret from the past rears its head, respected warrior Feng Zhiwei is forced to choose between revenge and her loyalty to ruling prince Ning Yi.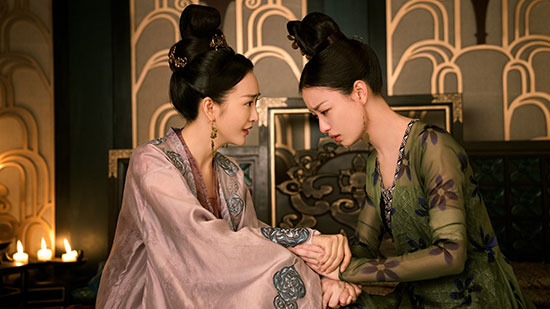 The 70-episode series is loosely based on Huang Quan, a novel by Tianxia Guiyuan, and will be streamed in English (but the trailer below is with subtitles).
Starring Chen Kun, Ni Ni.
Available September 14 with the first 15 episodes available, and new updates every Friday.
---

The Witch (2015)
In 1630 New England, panic and despair envelops a farmer, his wife and their children when youngest son Samuel suddenly vanishes. The family blames Thomasin, the oldest daughter who was watching the boy at the time of his disappearance. With suspicion and paranoia mounting, twin siblings Mercy and Jonas suspect Thomasin of witchcraft, testing the clan's faith, loyalty and love to one another.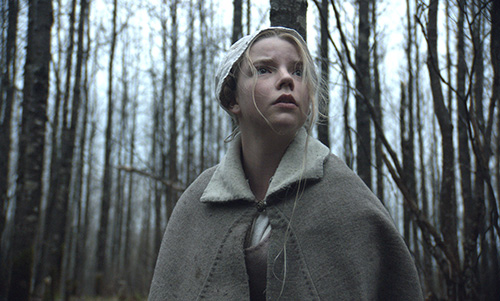 Starring Anya Taylor-Joy, Ralph Ineson, Kate Dickie.
Rated R
Available September 17
---

Disney's Pirates of the Caribbean: The Curse of the Black Pearl (2003)
Blacksmith Will Turner teams up with eccentric pirate "Captain" Jack Sparrow to save his love, the governor's daughter, from Jack's former pirate allies, who are now undead.
Starring Johnny Depp, Geoffrey Rush, Orlando Bloom.
Rated PG-13
Available September 25
---

Norsemen (Season 2)
The sea road to the west has been found, but Norheim's villagers must still cope with power struggles and the ever-present threat of Jarl Varg.
Starring Kåre Conradi, Nils Jørgen Kaalstad, Silje Torp.
Rated TV-MA
Available September 26
---
---
You May Also Like
August Rush (2007): A drama with fairy tale elements, where an orphaned musical prodigy uses his gift as a clue to finding his birth parents. Available September 1. Watch the TRAILER
The Breakfast Club (1985): Five high school students meet in Saturday detention and discover how they have a lot more in common than they thought.Available September 1. Watch the TRAILER
Groundhog Day (1993): A weatherman finds himself inexplicably living the same day over and over again.Available September 1. Watch the TRAILER
The Keeping Hours (2017): 10 years after the death of their son, a divorced couple is suddenly reunited by supernatural events that offer them a chance at forgiveness.Available September 1. Watch the TRAILER
Martian Child (2007): A science-fiction writer, recently widowed, considers whether to adopt a hyper-imaginative 6-year-old abandoned and socially rejected boy who says he's really from Mars.Available September 1. Watch the TRAILER
Two Weeks Notice (2002): A lawyer decides that she's used too much like a nanny by her boss, so she walks out on him.Available September 1. Watch the TRAILER
Once Upon a Time (Season 7): A young woman with a troubled past is drawn to a small town in Maine where fairy tales are to be believed. Available September 6. 
Atypical (Season 2): While Elsa and Doug face the aftermath of their marriage crisis and Casey tries to adjust to her new school, Sam prepares for life after graduation. Available September 7. Watch the TRAILER
Sierra Burgess Is A Loser (2018): Smart high school girl Sierra teams up with a more popular girl hoping to win over her crush. Starring Shannon Purser.Available September 7. Watch the TRAILER
Disney's A Wrinkle in Time (2018): After the disappearance of her scientist father, three peculiar beings send Meg, her brother, and her friend to space in order to find him. Available September 25. Watch the TRAILER
Big Miracle (2012): In small-town Alaska, a news reporter recruits his ex-girlfriend – a Greenpeace volunteer – on a campaign to save a family of gray whales trapped by rapidly forming ice in the Arctic Circle.Available September 30. Watch the TRAILER
---
---
Period Dramas Leaving Netflix
Leaving September 1
---
A Royal Night Out (2015): On V.E. Day in 1945, as peace extends across Europe, Princesses Elizabeth and Margaret are allowed out to join the celebrations. It is a night full of excitement, danger and the first flutters of romance. Watch the TRAILER
Dead Poets Society (1989): English teacher John Keating inspires his students to look at poetry with a different perspective of authentic knowledge and feelings. Watch the TRAILER
Pirates of the Caribbean: Dead Man's Chest (2006): Jack Sparrow races to recover the heart of Davy Jones to avoid enslaving his soul to Jones' service, as other friends and foes seek the heart for their own agenda as well. Watch the TRAILER
Leaving September 16
---
Moonrise Kingdom (2012): A pair of young lovers flee their New England town, which causes a local search party to fan out to find them. Watch the TRAILER
Leaving September 28
---
The Imitation Game (2014): During World War II, the English mathematical genius Alan Turing tries to crack the German Enigma code with help from fellow mathematicians. Watch the TRAILER 
---
---
Willow and Thatch exists because of you: You can shop our Jane Austen Period Drama Adaptations merchandise, click on our links (like these that take you to Etsy and Amazon) and make purchases on those sites, and buy period-inspired products from the Lovely Things Shop. You can also continue to share our articles, or make a financial contribution here. All these things allow us to write feature articles, update The Period Films List, mail out our newsletter, maintain the website and much more. Thank you!
If you enjoyed this post, be sure to see The Period Films List, with the best British, historical and costume dramas sorted by era. You'll want to check out Willow and Thatch's playlist on Kanopy, the free streaming service. Also check out the list of BBC and PBS Masterpiece period dramas recently added to Amazon Prime.