Last Updated on June 7, 2023
English actress Anna Madeley (Mr Selfridge, The Crown) plays housekeeper Mrs. Hall in "All Creatures Great and Small," based on James Herriot's beloved stories of his adventures as a veterinarian in 1930s Yorkshire.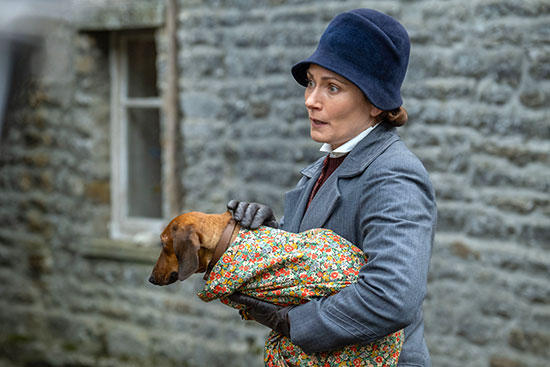 ---
To help keep this site running: Willow and Thatch may receive a commission when you click on any of the links on our site and make a purchase after doing so. 
---
Ben Vanstone's script for the 2020 television mini-series has significantly fleshed out her character from the book. Here, Mrs. Hall is more than housekeeper of Skeldale House; she's younger, has a vibrant backstory, and is the heart of the home she runs.
A crack shot who served in the Women's Royal Navy Service, a woman of courage, a nurturing presence, and a stand-out woman for 1937, Audrey Hall gets on with it, no matter what it is.
While the whole British period drama is like a cozy hug on a cold winter day, the maternal Mrs. Hall– with her enthusiasm for life and generosity towards those around her– is especially heartwarming.
And we love how she peppers wisdom into conversation as regularly as she spices up the food she serves to the Farnons and Herriot.
While we can't all live among undulating green hills and mossy stone walls, or drive posh Rovers through quaint villages with the top down, we can find comfort in a cup of tea and the guidance Mrs. Hall dishes out.
Her words of encouragement and kindness toward others are worth repeating, especially in these challenging times.
Watch the British period drama from the start, here. 
---
---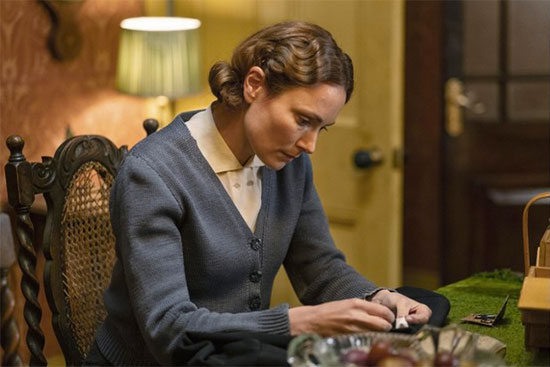 Here are some of our favorite Mrs. Hall quotes as delivered by Madeley:
---
---
"Don't let what's on his mind play on yours."
"There's nothing worrying will do for it."
"It takes courage to own up to your mistakes, no matter how stupid they might be."
"Don't dwell on what's done when there's things need doing."
"Skip breakfast? I'll put the kettle on."
"I won't have a man under my roof mess a girl around."
"You're lucky to have him so close."
"It's hard, isn't it love? I'm sorry."
"Either you climb out of that hole of yours, or they'll chase you out."
"You're a grown man, I shall say this only once more. You need to take your medicine and rest."
"You can't always change how you feel."
There's much more of Mrs' Hall's wisdom to come: "All Creatures Great and Small" has been renewed for a fourth season. Read about why the British period drama is the latest chapter in a fascinating study of ways to adapt a classic. That's here.
---
If you enjoyed this post, wander over to The Period Films List. You'll also like the list of period dramas shown on Masterpiece, season by season.