Last Updated on July 22, 2022
In 2019, Refinery29 released "Mr. Malcolm's List," a short film set in early 19th century England. It's a prequel to the feature-length Regency era romantic comedy, in theaters July 1st, 2022, and available to stream here. 
If you'd like to know about the original 2019 short film (available to stream for free at the end of this page), and how it inspired the 2022 film, read on before you head over to our review of the new film: 5 Reasons to Watch Mr. Malcolm's List (2022). You'll also find a featurette on that page, after the review of the new British period drama.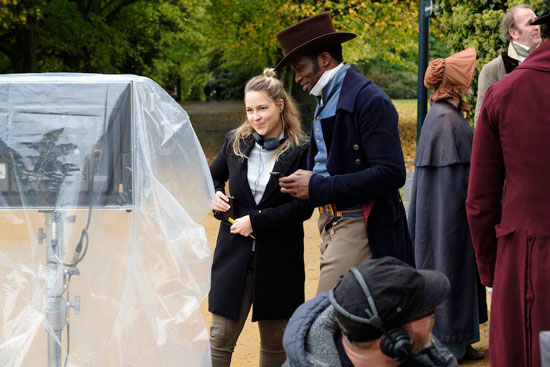 ---
To help keep this site running: Willow and Thatch may receive a commission when you click on any of the links on our site and make a purchase after doing so.
---
Watch the trailer for the "Mr. Malcolm's List" (2022) on our YouTube Channel here. 
---
---
In the short film, or more precisely the Overture, (the film conceives the first ten minutes of the feature), the year is 1818. A wealthy, young lady named Julia engages in courtship with a mysterious wealthy suitor, Mr. Malcolm, unaware that he has a list of qualities required of a future wife.
He's "the biggest catch of the season," but when Julia learns that she doesn't meet one of the qualifications on Mr. Malcolm's list, she begins to plot her revenge.
The story comes from Suzanne Allain, author of historical romantic comedy novels. Years after writing her second novel Mr. Malcolm's List, a "blend of Jane Austen, Oscar Wilde, and P.G. Wodehouse," Allain adapted it into a screenplay.
In 2015, after reading the script, Warner Brothers offered Allain a blind script deal – an opportunity to collaborate in the future on an unspecified project – but they didn't actually purchase the rights to "Mr. Malcolm's List."
Then, the script was made into a podcast for The Black List Table Reads, who takes "the best and most exciting screenplays Hollywood hasn't yet made, and turns them into movies, for your ears."
When the chance arose for Allain to adapt her story into the short film for Refinery29, she based the script on both the book and the screenplay, but wrote new material, so as not to take away from the feature script.
The short film (which is available to stream for free below), stars Sope Dirisu (The Halcyon) as Mr. Malcolm, and Gemma Chan (Mary Queen of Scots) as the slighted Julia. Oliver Jackson-Cohen (Mr Selfridge), and Freida Pinto (Slumdog Millionaire) also star in the short film.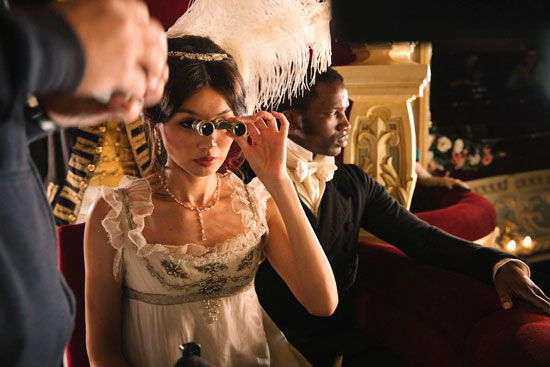 At last, "Mr. Malcolm's List" has been made into a feature-length film.
Emma Holly Jones, who has always wanted to direct a period drama, ("I just love them: from the Sense & Sensibility to Outlander, I'm obsessed"), found her chance in the "Mr. Malcolm's List" short which garnered over one million views on YouTube. Jones will also direct the full-length period drama. 
She says the screenplay for the feature falls somewhere between Austen's "Emma," and Wilde's "An Ideal Husband." But unlike existing adaptations of "Emma" and "An Ideal Husband," "Mr. Malcolm's List" has a culturally diverse cast.  
Jackson-Cohen and Pinto are onboard for the full-length movie, and Sope Dirisu reprises his role as Mr. Malcolm, London's most eligible bachelor in the Jane Austen-inspired comedy of errors. But, there's a new Julia: Zawe Ashton has been cast in the role of jilted society lady Julia, who seeks revenge on Mr. Malcolm with the help of her friend Selina (Freida Pinto). Captain Henry Ossory, played by Theo James, might undermine her efforts by courting Selina.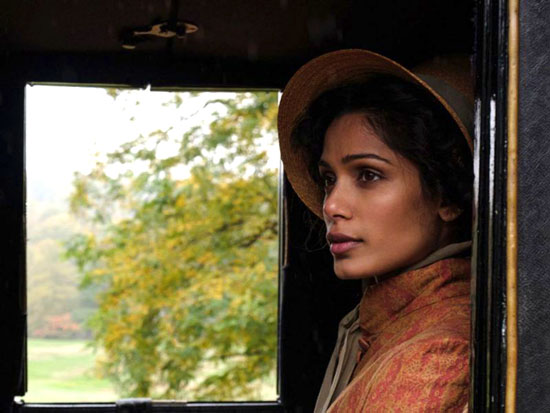 Lord Cassidy (Jackson-Cohen) enters into the foursome's affairs, and the plan becomes less straightforward. Has Mr. Malcolm found the perfect woman… or the perfect hoax?
---
---
Speaking about the diversity of the cast, director Jones remarked "It's nice to think that maybe we might make the day of many young people who studied the literature of the time or these great writers, who imagine themselves to be the Mr. Darcy or the Lizzie Bennet of our time, even though that diversity hasn't been shown in art. I think it's really wonderful that we're getting the opportunity to give leading roles to people of color in this sort of material."
While the casting for the films was done against type, in a kind of "Hamilton" approach, "Mr. Malcolm's List's" leading man Sope Dirisu reminds us that "There was Asian aristocracy, there was African aristocracy in England, they just seem to be painted out from the history we are given. So it's just wonderful that in this production we have a historical drama, where we see people from those diverse backgrounds."
Oliver Jackson-Cohen adds "I think that what Emma is doing by colorblind casting is just so important. For years I've often thought 'Why isn't this being done? Why are there rules there? Why does it have to be this way?' It doesn't have to be this way. You see it a lot in theater and you just have to suspend disbelief, and I don't know why film or TV should be any different."
About the "color-conscious" period drama, Amy Emmerich, Chief Content Officer, Refinery29 feels that the project is "the perfect example of quality content created through an inclusive, intersectional lens." 
That lens extends to the hair, make-up, and costumes. Emma Holly Jones said that, for the short, the team researched "how 19th century Chinese women dressed and looked. We looked at West African clothing for Mr. Malcolm, and embedded touches of them into our casts' costumes and looks. I didn't want to just put this cast in the costumes of white people. I wanted to create what Julia would have looked like if she were Chinese in 1818." 
Costume dramas have received significant pushback lately for whitewashing history, but "Mr. Malcolm's List" isn't alone in working to change the narrative; the latest adaptation of "Les Miserables," "Harlots," "The Spanish Princess," and "Frankie Drake Mysteries" also intentionally include characters of color, in roles beyond the narrow confines of stereotypical.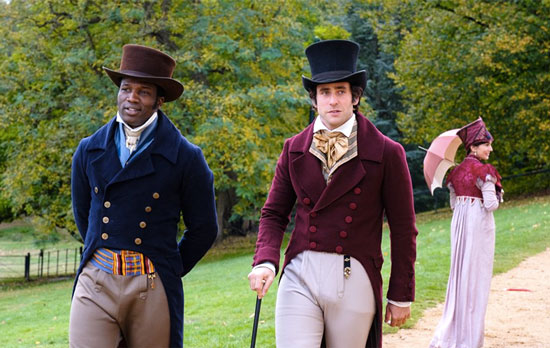 For production and lighting inspiration for the short film, Jones and her Director of Photography Matthew Chavez, who shot "Mr. Malcolm's List" on film, "looked at and used as influences several 35mm British period pieces, such as Barry Lyndon, A Room with a View and Pride & Prejudice (2005)."
From the start, the British filmmaker Emma Holly Jones fell in love with the script. "I grew up in love with Jane Austen. I'm named after Emma, I've always had that book on my bedside table, and I've watched (nearly) every period drama that's ever been made." But she says, she hasn't seen one like this. "When I read Suzanne's script, which is totally funny, and charming, it felt like we had unearthed Jane Austen's screenplay, and I just knew I had to make it, almost instantly, but I had to make it this way: England now, telling a story of England then."
The feature-length period drama is in theaters July 1, 2022. Read our review of "Mr. Malcolm's List" (2022) here. Stream the 2022 film here.
You can watch the short film "Mr. Malcolm's List" (2019) below.

If you enjoyed this post, be sure to see The Period Films List. You'll especially like the Best Period Dramas: Georgian and Regency Eras List, and want to see Costuming Pride and Prejudice.