Last Updated on August 17, 2020
In 2020 PBS celebrates its 50th anniversary; in 2021 Masterpiece joins the party. We thought it a perfect time to look back on the period dramas that have aired on Masterpiece, season by season, one post at a time.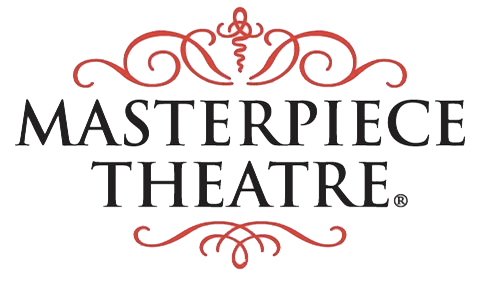 Masterpiece Theatre logo 1971 – 2007 TM and © PBS, Inc., all rights reserved
---
To help keep this site running: Willow and Thatch may receive a commission when you click on any of the links on our site and make a purchase after doing so. 
---
Below, we list the period drama line-up for season fourteen of Masterpiece Theatre, which aired in 1984 – 1985. 
Some of the earliest PBS Masterpiece programming is still available to stream or own, and in the following descriptions, we will let you know when it is (and we'll also link to the books that inspired the adaptations).
Let's take a stroll down memory lane, and see how the choice of British costume dramas and historical series on Masterpiece has evolved over the years. Titles are listed in order of their air date.
For some history of PBS Masterpiece, and the programming in other seasons, see this page.
---
---
Period Dramas on PBS Masterpiece Season 14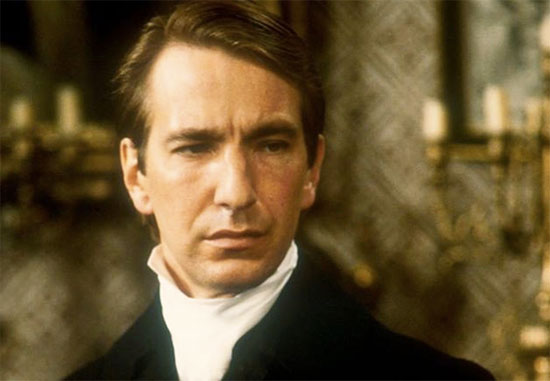 The Barchester Chronicles (1982)
This BBC mini-series adapted from two two mid-19th century novels by Anthony Trollope; The Warden and Barchester Towers.
The cozy community of Barchester is rocked from its complacency when a crusade against the Church of England's practice of self-enrichment misfires. Overnight, Septimus Hardingbecomes the pawn in a political battle begun by his younger daughter's beau, John Bold, and kept kindled by his older daughter's husband, Archdeacon Grantly.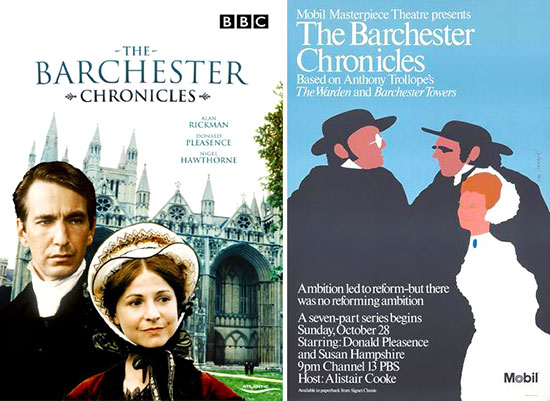 Episode 1: Rev. Septimus Harding is much-loved in Barchester, perhaps the most beloved citizen in the county. In addition to the work at his church, which includes a superb choir, he is also Warden of a local hospital where a group of elderly gentlemen reside and receive a small stipend from the will of a benefactor who died some 400 years ago. Dr. John Bold has been tasked to look into this will to determine if its wishes are being correctly applied, resulting in a newspaper article denouncing the practices of the Church of England. Rev. Harding takes all of the criticism in his stride, even beginning to wonder if his remuneration might in fact be excessive. His daughter Eleanor however does not and John Bold's hopes of marrying the girl seemingly come to an end.
Episode 2: Eleanor Harding pleads with John Bold to stop his attacks on her father. He doesn't see his attack as personal but one against the perceived corruption of the Church of England whose members live in luxury while the poor starve. In the end he agrees to stop the court action and so informs Archdeacon Grantly, Septimus Harding's son-in-law. Eleanor and John also agree to be married. It's not all that simple for Septimus Harding however. He is greatly disturbed by the accusations made against him and travels to London to speak to the Church's solicitor, Sir Abraham Haphazard. Although the suit has been dropped, he asks his legal counsel if it is also a moral victory. When Haphazard says he is unable to speak to morality, Septimus decides to resign as Warden.
Episode 3: Reverend Harding has begun to settle in with his new flock and finds parish life relaxing. When Bishop Grantley passes, Grantley's son expects to be named successor. This ambition is spoiled by the arrival of the new Bishop, his wife, and their assistant, Reverend Slope. Slope begins to display his interest in Harding's widowed daughter, while Archdeacon Grantley figures out who truly calls the shots in the diocese.
Episode 4 :Reverend Harding hopes to become the new warden of the hospital. However, the sly Slope has plans of his own, and goes behind Reverend Harding's back to offer the position to the overwhelmed Mr. Quiverful. Slope also plays fast and loose with the hopes of wealthy Mrs. Bold. 
Episode 5: Obadiah Slope continues to manipulate those around him. Having overstepped the mark and offered the position of hospital Warden to Rev. Quiverful, he gets Bishop Proudie to agree that should Quiverful opt to withdraw his acceptance, they would be in a position to offer it once again to Septimus Harding. Slope manipulates the kindly Quiverful into withdrawing his acceptance but doesn't quite count on Mrs. Quiverful who goes straight to Mrs. Proudie to complain. When the Bishop's wife learns that Slope used her name in his dealings with Quiverful, he makes an enemy that no man would dare want. Slope has also continued his visits to Signora Madeline Neroni, with whom he is clearly smitten. Meanwhile, Septimus Harding and his daughter Eleanor visit his son-in-law Archdeacon Grantly and elder daughter Susan. Mr. Grantly is still preparing to go to war with Slope and objects when Eleanor receives a letter from him.
Episode 6: The episode opens with a festive mood as the Thornes throw their annual fete. However, the jovial Garden Party transforms into a sparring ground as the brewing issues in Barchester take the spot light. Ecclesiastical ambitions and romantic aspirations come to a head. During the Thorne's event, rumors of an available position for Barchester's dean spread, a marriage proposal meets a sharp and painful response and a lady receives an unexpected offer.
Episode 7: The post for the Dean of Barchester is still up for grabs although one reverend is more than eager to take the position. True love's course finally takes a great turn with some help from a fairy godmother who undertakes a genuinely selfish gesture. Barchester Chronicle's ending has a jovial mood as love conquers various labyrinths and ambitious pursuits meet a conclusion.
Starring Donald Pleasence, Alan Rickman, Janet Maw, Nigel Hawthorne, Angela Pleasence, Barbara Flynn, Susan Hampshire, Geraldine McEwan.
First aired on Masterpiece in 1984
---

The Jewel in the Crown (1984)

A stunning, award winning series set in northern India at the time of the 1939-45 war and the Independence riots. This adaptation of Paul Scott's Raj Quartet is the story of the men and women of both ruling and ruled classes of WWII India, trying amidst the turmoil to come to terms with the drastic changes taking place around them, knowing that their lives will never be the same again.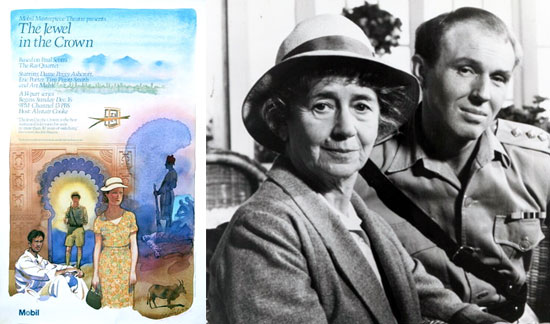 Winner of 23 major awards, including a Primetime Emmy and five BAFTAs, with a powerful cast including Peggy Ashcroft, Charles Dance, Art Malik and Geraldine James.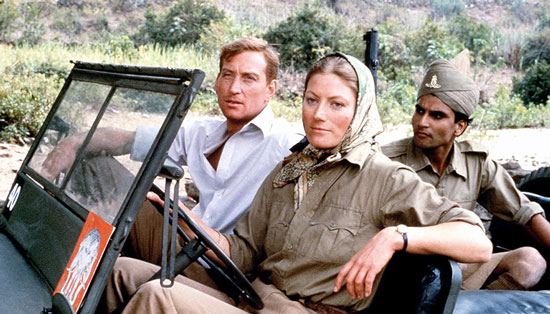 Episode 1 – Crossing the River: In 1942, the Japanese, having conquered Burma, are threatening India. At Mayapore Hari Kumar comes under suspicion of subversion by Merrick, the District Superintendent of Police.
Episode 2 – The Bibighar Gardens: Daphne and Hari have been drawn closer together. After an assignation with him in the Bibighar Gardens, on a night of rioting and protest, she returns home claiming to have been raped. On flimsy evidence, Merrick arrests Hari.
Episode 3 – Questions of Loyalty: Daphne dies giving birth to Hari's daughter, and her aunt Lady Manners decides to raise the child herself. About to be posted to the war front, Teddie Bingham and his fiancee Susan Layton decide to bring forward their marriage.
Episode 4 – Incidents at a Wedding: The arrangements for Susan and Teddie's wedding are threatened, but Merrick provides a solution. The Layton family gathers at Mirat, but what should be a happy occasion is overshadowed by unexplained incidents.
Episode 5 – Regimental Silver: Merrick apologizes to Sarah Manners about his presence at the wedding and explains the connections between Mirat and Mayapore where Daphne was attacked. The events of that night also trouble Lady Manners as she works to have Hari freed from jail.
Episode 6 – Ordeal by Fire: Sarah tells Susan of her husband, and they learn of great bravery from an unexpected quarter. Sarah embarks on a journey to bring comfort to a wounded man and in Calcutta comes face to face with the war and its pain.
Episode 7 – Daughters of the Regiment: While visiting Merrick in Calcutta, Sarah meets Jimmy Clark who challenges many of the values by which she lives. In Pankot, another daughter of the regiment confesses her own act of rebellion long ago.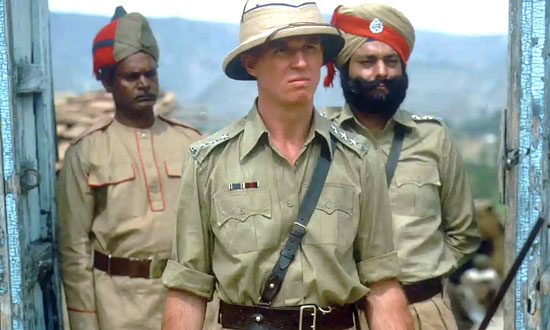 Episode 8 – The Day of the Scorpion: Sarah returns to Pankot to find her sister Susan becoming increasingly agitated by her new baby. Merrick too is close to madness, but who will snap first?
Episode 9 – The Towers of Silence: Susan's baby has been rescued from the ring of fire that nearly engulfed him. Barbie embarks on a generous mission but is turned back by an appalling discovery.
Episode 10 – An Evening at the Maharanee's: Bombay, 1945. Guy Perron, working in Intelligence with Merrick, meets Sarah, who has come to Bombay to welcome her father home.
Episode 11 – Travelling Companions: Sarah learns to her great distress that Merrick is about to announce his engagement to Susan. She turns for help to an old friend who knows more about Merrick's past than anyone.
Episode 12 – The Moghul Room: Merrick, having blackmailed an orderly to gain access to Susan's records, is recalled to Delhi at the end of the war.
Episode 13 – Pandora's Box: In 1947 Guy returns to India on the eve of independence to observe the last days of the British rule. He discovers that Merrick had married Susan but was subsequently been killed. Suspicious, he investigates.
Episode 14 – The Division of the Spoils: Guy Peron discovers the horrific details of Captain Merrick's death. Whille he and the rest of the party travel to Ranpur for the independence celebrations, the train is besieged and the Ahmed Kasim and other Muslims are killed.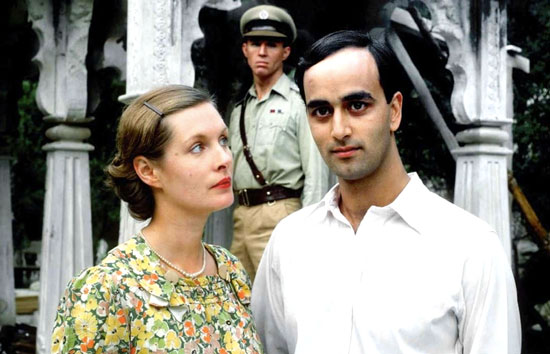 Starring Tim Pigott-Smith, Geraldine James, Wendy Morgan, Judy Parfitt, Art Malik, Rosemary Leach, Peggy Ashcroft, Charles Dance.
First aired on Masterpiece in 1984 
---

All For Love (Series 1)
A series of adaptations of short stories, collected under the umbrella title "All for Love." Produced for Britain's Granada Television.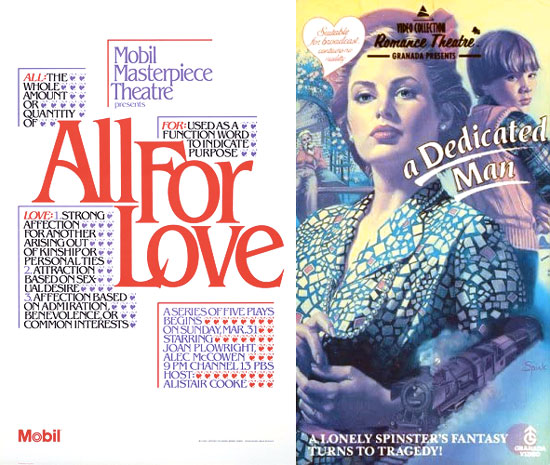 A Dedicated Man: Adapted by Hugh Whitemore from novelist Elizabeth Taylor's short story of the same name, a workaholic man Mr. Silcox (Alec McCowen) persuades Edith (Joan Plowright), a lonely unmarried lady to pose as his wife. Soon she starts wondering about his past, and things start to go downhill. Directed by Robert Knights. Available on VHS
Mona: A teenager (Deborah Stokes) takes care of a former soldier (Frank Finlay) suffering from the effects of being gassed in World War I. Adapted from a short story by Francis King by Thomas Ellice, the episode also features Rupert Graves in a small role, and Fanny Rowe as Mrs. Sweet-Hannaby. Available on VHS
L'Elegance: Lee Langley adapts Rumer Godden's tale of a lonely shop girl from Manchester who saves all year for a luxury vacation at an elegant French chateau in the Champagne countryside, looking for peace, beauty and romance. Miss Mountford, the fastidious and reserved Englishwoman, uses her favorite fashion/lifestyle magazine as a guide to sewing her wardrobe and the manners she thinks are necessary to pass for a wealthy woman. One summer, things take a sudden unexpected turn. Starring Geraldine McEwan as Miss Mountford, Jean-Francois Stevenin as the chef, Brigitte Kahn as Madame Voday, Rosalind Wilson as Mandy, and Ashley Barker as Stan. 
A Bit of Singing and Dancing: When her ill-humored mother dies, librarian Esme Fanshow (June Ritchie) takes in the seemingly proper Mr. Curry (Benjamin Whitrow) as a boarder when he mistakenly shows up in her garden looking for "a room to rent with breakfast." She enjoys playing landlady to the rather mysterious gentleman who her mother's ghost warns her to distrust. One day Esme decides to follow Mr. Curry to find out what kind of work he actually does. She discovers he's only a common street entertainer. But what is life without "A Bit of Singing and Dancing"? Based on a short story by Susan Hill and adapted by Hugh Whitemore. With Sebastian Shaw as Uncle Cecil and Evelyn Laye as the mother Mrs. Fanshow.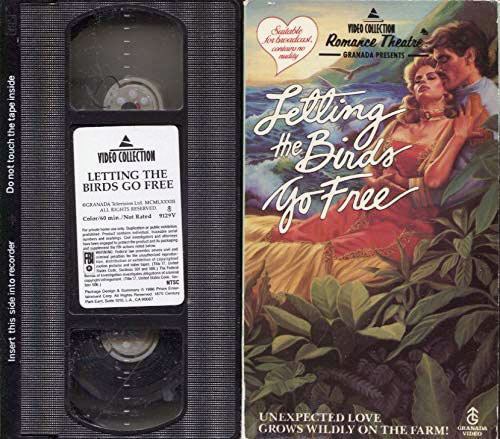 Letting the Birds Go Free: Unexpected love grows wildly on the farm. A farmer (Lionel Jeffries) hires a stranger he catches pilfering eggs in this episode based on the story by Philip Oakes and adapted by Stephen Wakelam. Starring Carolyn Pickles as Grace, Lionel Jeffries as Arthur, Tom Wilkinson as Eddie, and Brian Southwood as George. Directed by Moira Armstrong. Available on VHS
First aired on Masterpiece in 1985
---

Strangers and Brothers (1984)
C.P. Snow's novels inspired "Strangers and Brothers," a seven-part BBC series that follows the life of a lawyer named Lewis. As World War II looms in Europe, an ambitious young English lawyer embarks on his tempestuous career, and even stormier romantic life.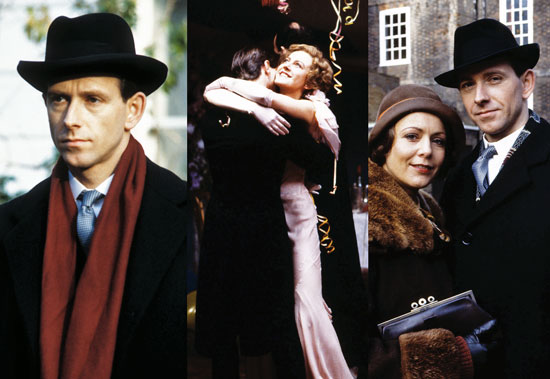 Episode 1: We meet young Lewis Eliot (Shaughan Seymour) and the selfish woman he loves (Sheila Ruskin). 
Episode 2: Lewis returns to London after a convalescence in France to learn that Sheila is in love with another. 
Episode 3: Lewis becomes a lawyer at Cambridge and befriends a brilliant but impetuous scholar 
Episode 4:  Lewis tries to help out with a scandal linked to the March family. 
Episode 5: The politics of academe dominate Part 5 of "Strangers and Brothers" as Lewis becomes embroiled in the selection of a master. 
Episode 6: Lewis must cope with his wife and the black moods of his best friend.
Episode 7: World War II rages on in the conclusion of "Strangers and Brothers," which finds Lewis involved in a project to develop an atomic bomb and Roy training for the RAF.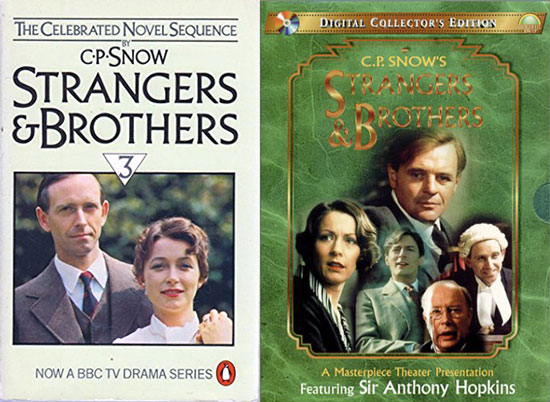 Starring Shaughan Seymour, Sheila Ruskin, Tom Wilkinson, Martyn Jacobs, Carmen du Sautoy, Nigel Havers, Shirley Cassedy, Kathryn Pogson, Peter Sallis, Emma Jacobs, Anthony Hopkins.
First aired on Masterpiece in 1985
---

If you enjoyed this post, wander over to The Period Films List. You'll also want to check out our list of Masterpiece Classics Streaming on Prime Video.