Last Updated on July 22, 2022
If you consume all things Jane Austen, and can't wait for the new season of "Bridgerton," next on your watchlist should be "Mr. Malcolm's List," a new romantic comedy set in Regency-era England.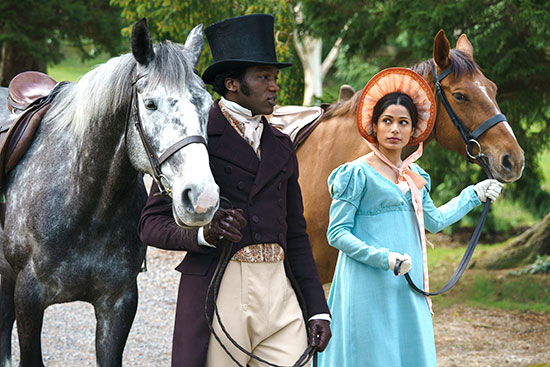 ---
To help keep this site running: Willow and Thatch may receive a commission when you click on any of the links on our site and make a purchase after doing so. 
---
Dashing and intelligent, The Honorable Mr. Jeremy Malcolm is handsome, well-connected and the epitome of the famous opening line of Jane Austen's Pride and Prejudice: "A single man in possession of a good fortune must be in want of a wife." His rigid standards of love compel him to create list of required attributes in a bride, and barrel through dates when his prospects don't meet his unattainable standards. In doing so, he's getting a reputation for destroying dreams all over London.
Brokenhearted by Mr. Malcolm's rejection, one well-to-do and deeply spurned young lady hatches a scheme to get revenge. Her life-long friend Selina Dalton is enlisted in the complex ruse, but may end up being the discerning Mr. Malcolm's ideal match – if only the deception that brought them together doesn't drive them apart forever.
"Mr. Malcolm's List" is a high society, character-driven ensemble romp of a romantic comedy. The British period drama is entertaining, glittering and lavish, and offers enough fun surprises to keep you guessing until the end, so of course we've made a list of our own.
Here then, are five reasons to watch "Mr. Malcolm's List" (2022). Then, keep reading to find out what was on Jeremy Malcolm's list, and to watch a special featurette.
"Mr Malcolm's List" (2022) is AVAILABLE to STREAM
---
---
The Jane Austen Vibes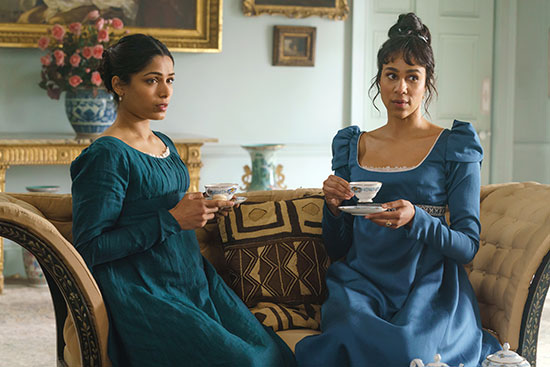 When writer Suzanne Allain originally conceived a tale about an eligible bachelor with a stringent list of requirements for his bride, she wrote it as a comical short story set in modern times. But after completing the piece, she realized it was perfectly suited to be "a farce of historic proportions," as she subtitled the period novel it eventually grew into. "It occurred to me that this was a much better fit for 19th-century England, specifically Jane Austen's era," Allain says. "It was a time when the pursuit of a suitable match was all-consuming."
For affluent ladies of the time, there was no real alternative to marriage. It was essential to make an advantageous match, since divorce was costly and difficult for a man — and quite impossible for a woman. A tradition that dates back to at least the 1700s, the annual "season" was designed to facilitate the courtship process. At the beginning of each New Year until the onset of summer, aristocrats and landed gentry departed their country seats and descended upon London with their marriageable daughters in tow to be presented to society and, hopefully, quickly married off.
For Allain, the idea of a desirable gentlemen with rigid requisites brought to mind Fitzwilliam Darcy, the arrogant antihero of Pride and Prejudice. "It's one of my favorite novels," she says. "I think that a man of that era might've reasonably been concerned he was being pursued for his fortune rather than his personal characteristics. A list would provide him with some protection, which would be quite handy for an eligible bachelor like Jeremy Malcolm."
In order to accurately depict the world of "Mr. Malcolm's List," Allain extensively researched first-hand accounts of the mores and manners of the time. "That included Jane Austen's novels, as well as her letters, which are all online, plus a wealth of great historical detail."
To prepare for her leading role as jilted Julia, Zawe Ashton turned to the thousands of letters Jane Austen wrote throughout her lifetime, specifically those to her sister Cassandra. "That is Austen's real, authentic voice and in it I could feel the rhythm of Julia," says the actress. "So many of the letters describe the balls and meetings and feelings. All of them seem to really encapsulate the time we're trying to represent."
But "Mr. Malcolm's List" isn't a Jane Austen knockoff. "What appealed to us was that this was not another Austen remake," says the film's producer Laura Rister. "It works on so many levels. It not only has two romances, but a real female friendship story at its heart — something rare in the classic Austen pieces."
The Twists and Turns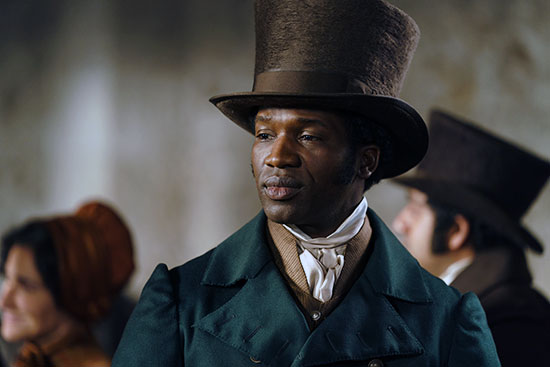 Selina Dalton and her lifelong friend, wealthy and privileged heiress Julia Thistlewaite, are older than many of the other girls participating in London's 1818 courting scene. Julia has been "out" in society for four years, considered an eternity for a young lady to remain unmarried.
Selina, who has an education but no fortune, is resigned to her status as companion, governess or guest of wealthy friends.
Meanwhile, Honorable Jeremy Malcolm is the second son of an earl, which means he stands to inherit neither title nor wealth from his father. But his maternal aunt has left him an enviable fortune and an impressive country home, making him a major catch. He's caught between choosing a woman who doesn't want him for his fortune or status, intense scrutiny from all the mothers and matchmakers of English high society, and women like Julia Thistlewaite who will stretch the truth – or worse, lie – to impress Mr. Malcolm.
But contradiction comes with courtship, and love's arrow lands on unexpected targets. The fun is watching how the plot's twists fold and unfold, to comedic and dramatic effect against a backdrop of 19th-century London's notorious "marriage mart" season in all its glorious excess, a masquerade ball, and high-society chicanery.
---
---
It's Female-driven with Dazzling Diversity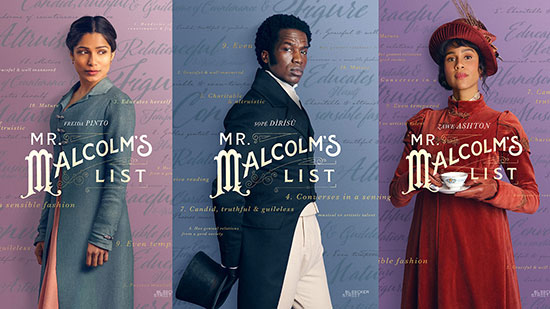 "Mr. Malcolm's List" may have a man at its center, but this is a female-driven production behind the camera. Lead actress and executive producer Freida Pinto said "I can't wait until that doesn't seem like a big deal," but for now, it is. "It should just be organic and normal for women to feel seen and represented in movies, as much behind the camera as in front. We need complexity. We need humor. We need sadness, romance, beauty and ugliness, all of it. We want to be seen in all our colors."
Working from Suzanne Allain's short story based screenplay, the film is directed by Emma Holly Jones. Named for the titular heroine of another Austen book, Emma Holly Jones says she has loved period dramas and romances since childhood. In conceptualizing how "Mr. Malcolm's List" would be shot with award-winning director of photography Tony Miller, Jones says she found inspiration in her favorite period films, "particularly Roman Osin's cinematography in Joe Wright's Pride and Prejudice." She also drew from "The Sound of Music," "Barry Lyndon," and Ang Lee's "Sense and Sensibility."
Over half of the film's producers are women, with editing by Kate Hickey and music from British actress-turned-film composer Amelia Warner, who you may remember from "Aristocrats" (1999), "Mansfield Park" (1999), and "Lorna Doone" (2000). Her score is what Jones calls "sweepingly romantic, bouncy and fun" with traditional instrument choices to complement the period. Tracey O'Hanlon (Harry Wild) and Irina Kuksova (Vikings: Valhalla) art direct.
Add to this a wealth of female talents including Costume designer Pam Downe (Lark Rise to Candleford, The English Game), Hair designer Eileen Buggy (Miss Scarlet and the Duke, Love & Friendship), and Casting director Tamara-Lee Notcutt (Robin Hood, Beau Brummell: This Charming Man).
Like "Bridgerton," inclusion is front and center. The multiracial cast features actors from both sides of the pond who are African-American, Asian, and Indian, including Indian actress Freida Pinto (Slumdog Millionaire), British-Nigerian actor Ṣọpẹ́ Dìrísù (Mothering Sunday), British actress Zawe Ashton (Wanderlust), Korean-American actress Ashley Park (Emily in Paris), Jamaican-born British actress Doña Croll (Holby City), Japanese-born Naoko Mori (Torchwood), Divian Ladwa (Detectorists), and Irish-Sri Lankan Paul Tylak (Jessy and Nessy).
Director Emma Holly Jones wanted the diverse cast to "emphasize the universality of the film's love story," she says. "Yes, we were early on the notion of a diverse cast for this sort of film. But we weren't the first and we won't be last. I know that the genre is not going anywhere and as a lifelong fan of it, I don't want it to. When I decided I wanted to make something in this genre, I knew that my job was to hire the best available actors and work from there."
Zawe Ashton adds "On the one hand, it's a 21st-century romantic comedy set in the 1800s. I can't think of any better mixture now, when we're all needing some lighter fare. But on the other hand, this film's casting and reevaluation of the past adds to our understanding of the roots and history of being British. Emma Holly Jones has created something unique, a kind of legacy piece for a new generation of audiences and filmmakers, which is a brave and exciting thing to do in your first feature film."
Mr. Malcolm's List is a Beautiful Escape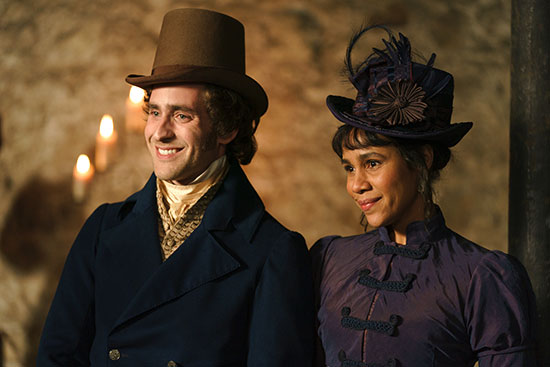 The costume drama is a feast for the eyes, sumptuous in every detail. There are the bright, welcoming colors of the Irish countryside, an ideal stand-in for Britain's landscapes, gardens, and grounds. The designers researched the styles and colors of Regency 1800s, the vivid hues of the period costumes, found appropriate fabrics, and sourced picture-perfect locations that will please any fan of bigger budget British period dramas.
Informed by Georgian era paintings, three color palettes in the film match the film's central settings of the English countryside, society London and Hadley Hall. In the country at the cottage, you'll see rustic colors like maroons, browns, and dark blues. In London, there are cooler tones, with teals and greens. Costume designer Pam Downe notes, "Julia's frocks were often purples and mauves, whereas Selina's remain greens with a bit of brown. She wears a greenish teal dress when she first arrives and later leaves in the same dress, which for me denotes she hasn't changed in her heart. She remains the country girl, even though she's been decked out in finery while in London."
Says director Emma Holly Jones, "I wanted each frame to look like a painting itself. Thomas Gainsborough's use of color and texture was a huge inspiration, the rich pops of color and luxurious clothing against the pastoral English backgrounds. Even the color of Malcolm's horse had to be considered."
Warmer colors like yellows, pinks, and dusty blues showcase the impeccably styled interior scenes, glimmering with luminous candelabras and chandeliers. Jones wanted the cinematography to be rooted in the use of natural light. "The lighting in the orangery, Julia's hunting costume, Henry's moustache and all of Malcolm's coats were real highlights in the design scheme. The exterior of the opera house and the Thistlewaite drawing room" are some of Jones' personal favorite sets. We couldn't choose.
---
---
You'll Laugh Out Loud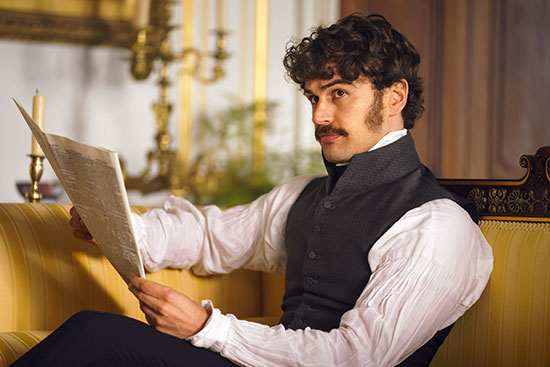 Suzanne Allain wrote Mr Malcolm's List nearly 20 years ago, and she hopes that the team has created a fun romantic comedy that viewers can get lost in, while being reminded that true love can defy all sense of class and status.
Divian Ladwa, who plays John the Footman, steals the show with his pouty face, framed by a shocking white wig sitting atop his head like a helmet. He's comical without saying a word, his facial expressions enough to get you chuckling. "If a scene wasn't romantic, I tried to make it funny, and vice-versa," the director explains. "My favorite scenes are the ones that feature the ensemble and you can feel all this wonderful flirty tension and chemistry building between the various parties."
Oliver Jackson-Cohen (The Haunting of Bly Manor) is Julia's compliant cousin Lord Cassidy, whose inability to speak up for himself – and when he does he puts his foot in it – hits all the right funny notes. "I am a fan of writers like P.G. Wodehouse and Oscar Wilde," says Allain. "They inspired me to make it a little more comedic. Just as Mr. Darcy helped my development of Mr. Malcolm, one of Wodehouse's most famous creations, Bertie Wooster, inspired the character of Lord Cassidy, who's the loveable sidekick of Jeremy Malcolm."
Keep an eye out for Ashley Park as the goofy Gertie Covington, Selina's brash and loquacious cousin. Her giggle is contagious. A mini tour de force, you may have to rewind a few times just to take in how masterfully funny her short scene is.
And there's even more chance for romance, and humor. After they meet through Selina, Zawe Ashton (jilted Julia) and "Sanditon's" Theo James (as the dapper and eligible Captain Henry Ossory) bring some levity to courtship. They feign initial disinterest in one another, ratcheting up the playful tension amidst their incessant quibbling as the film progresses, possibly bantering their way to love.
What Was on Mr. Malcolm's List?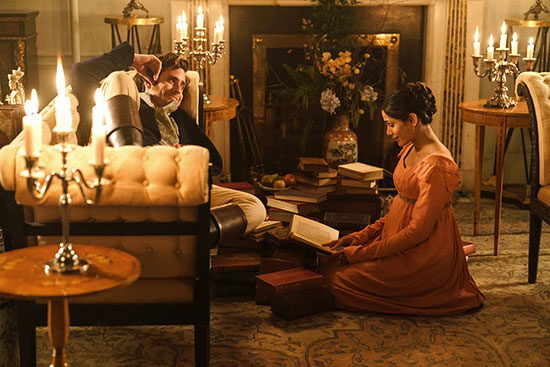 For those of you are wondering what was on Mr. Malcolm's list, his requirements for his bride were that she be amiable and even-tempered, handsome of countenance and figure, that she be candid, truthful and guileless. She must be able to converse in a sensible fashion, and educate herself by extensive reading. Of course she must possess a forgiving nature, be charitable and altruistic, and be graceful and well-mannered. And what would she be without possession of musical or (and?) artistic talent? The kicker: Jeremy Malcolm has one more box for his bride-to-be to tick before they walk down the aisle: she must have genteel relations from good society. No wonder Julia wanted her revenge!
---
"Mr. Malcom's List" (2022) is in theaters July 1, 2022, and is AVAILABLE to STREAM
Rated PG
"Mr Malcolm's List" (2022) is available to rent / buy on Google Play, Vudu, Prime Video, and Apple TV on July 21. Watch the featurette below, and stream the short film that started it all for free here.
---
Ann Pryor is a media professional living in New York City, handling publicity and marketing campaigns for books and experts. Formally obsessed with actor Mark Rylance, she is an aficionado of soundtracks, foreign films, Off-Off-Broadway, and illustrated books.
If you enjoyed this post, be sure to see The Period Films List, with the best British, historical and costume dramas sorted by era. You'll especially like the Best Period Dramas: Georgian and Regency Eras List. Also see Behind the Scenes of Persuasion (2022).