Last Updated on June 25, 2022
After a long winter, many of us have flowers on the brain. Budding daffodils foretell warmer weather, and tulips chase away the faded brown landscape. In spring and summer we feel new hope, new possibility, but the plants outdoors may burst forth more slowly than our hearts require. Naturally, there's no better time to indulge in the visual feast of period dramas that feature gloriously verdant gardens.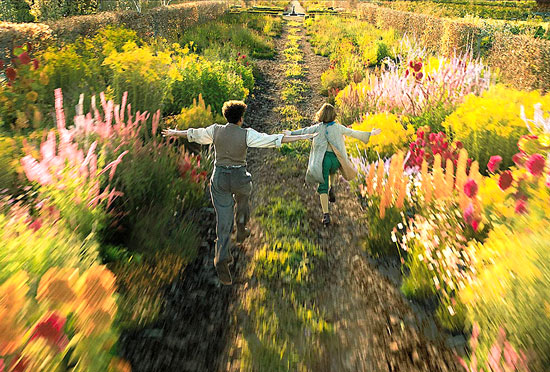 ---
To help keep this site running: Willow and Thatch may receive a commission when you click on any of the links on our site and make a purchase after doing so.
---
In film, gardens often provide the setting to heighten emotion through dramatic scenes, deepening aspects of characters and their experiences. For the keen observer, they also offer ways to elevate the landscape of one's own yard.
Whether you're looking for inspiration for your own garden or just want to bask in carefully crafted plots and dreamy grounds from centuries past, below is a list of eight of the best movies to watch – or rewatch – this season.
---
---
1) Howards End (1992)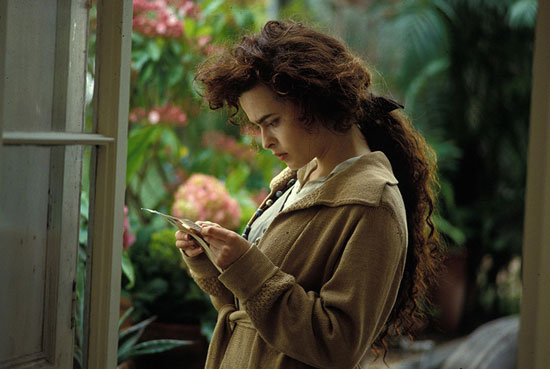 Plot: Based on the 1910 novel of the same name by E. M. Forster, this award-winning Merchant Ivory production follows the lives of the Schlegel sisters in turn-of-the-century Britain, while exploring Edwardian era class relations. A chance encounter at a lecture introduces well-to-do intellectual sisters Margaret and Helen Schlegel to working-class Leonard Bast and his wife. Based on information from their wealthy neighbors the Wilcoxes, Margaret and Helen advise Leonard to leave his clerk's job and work elsewhere. This decision and Margaret and Helen's entanglements with Henry Wilcox and Leonard Bast, respectively, lead to a calamitous confrontation at the Wilcox family home, Howards End.
Why is this film on the list? Evoking an idyllic life, the English cottage garden has long been an object of adoration in the popular imagination. Its edenic quality in this film helps to explain why Howards End, the house, subtly shapes major plot points. In the first scene the fruit trees provide cover for a romantic encounter. Family matriarch Ruth Wilcox has a special connection to the house, loving to ramble through the gardens picking fruit and flowers, and her attachment to it and to her friend Margaret lead to a radical decision which family cannot comprehend. Later, when Helen returns to England after living abroad, she seeks refuge at Howards End. The final confrontation between Leonard Bast, Charles Wilcox, Margaret and Helen takes place at the cottage, as does the next chapter in the story.
Ideas for your own garden: If you are fortunate enough to have a spacious yard, plant some small fruit trees on your land. Miniature fruit trees also exist and can thrive in pots in a sunny window. You'll feel the same joy for your plot –or container garden– that Ruth feels for Howards End when you tend to your growing trees, and they will be an endless source of romantic reverie.
Starring Emma Thompson, Helena Bonham Carter, Vanessa Redgrave, Anthony Hopkins, Joseph Bennett.
Rated PG
---
2) Miss Marple: Nemesis (1987)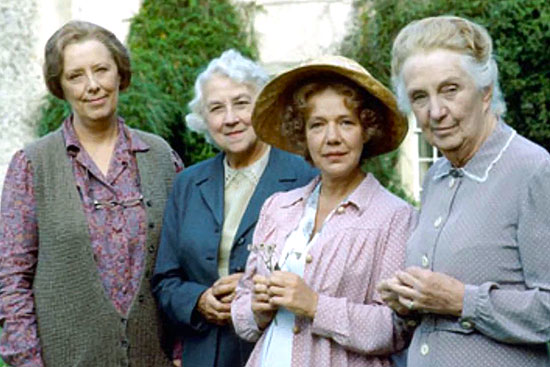 Plot: In this adaptation of Agatha Christie's 1971 novel, Miss Jane Marple learns she will receive a legacy from her old friend Mr. Rafiel, but only if she can untangle a decades-old mystery within the year. The will gives no other information but includes tickets to an all-expenses-paid coach tour of England's great houses and gardens. On the trip she meets a number of Mr. Rafiel's old acquaintances who together can help her solve the mystery surrounding Mr. Rafiel's estranged son, Michael.
Why is this film on the list? Miss Marple is a well-known gardening enthusiast, and Christie often uses her garden and knowledge of plants to advance plots and solve murders. Nemesis is arguably the most garden-centric of the Miss Marple novels. Many of England's great houses and gardens make appearances in this adaptation, including Hidcote Manor, Berkeley Castle, and Blenheim Palace. We see Miss Marple appreciating the impressive gardens on the tour, inspecting the flowers and shrubs at several sites. One of the most moving scenes takes place as she shelters under the portico of Stourhead's Pantheon. There she finally learns the reason behind the tour as she listens to fellow traveler Miss Temple talk about the virtuous life and brutal, unsolved murder of her former pupil, Verity Hunt. As with "Pride and Prejudice," also on this list, the rain-swept lake and the folly provide an atmospheric backdrop for the story unfolding on screen.
Ideas for your own garden: Miss Marple speaks often of her herbaceous borders, which are flower beds planted with perennials. Consider planting some of Miss Marple's preferred perennials, like delphinium or foxglove, in small groups so that as the plants spread, they create the feeling of abundance that characterizes classic English cottage gardens.
Starring Joan Hickson, Frank Gatliff, Bruce Payne, Helen Cherry, Margaret Tyzack.
Rated TV-PG
Available to STREAM (Season 2, episodes 6 & 7)
---
3) Pride and Prejudice (2005)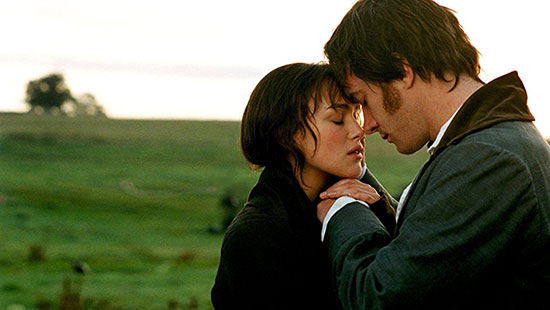 Plot: Spirited, independent Elizabeth Bennet and proud, eligible Mr. Darcy are both attracted to, and repelled by, one another. Still, Mr. Darcy soon finds himself falling in love with Elizabeth even as she finds his behavior and attitude more and more objectionable. She is not short of proposals and male attention, but everyone – including her despairing parents – wonders, will she ever marry?
Why is this film on the list? Though this movie may not be new to you, consider watching it again through a gardener's lens. Several notable houses and grounds feature in this adaptation of the Jane Austen classic, but the gardens at Stourhead in Wiltshire act nearly as a third character. It is while sheltering from the rain in the Temple of Apollo that Elizabeth receives an unwelcome proposal from Mr. Darcy. The temple, a quintessential folly, offers a commanding view of the lake. As Elizabeth unequivocally rejects Mr. Darcy, the rain-swept vista beyond the pair underlines her contempt and emphasizes the seeming hopelessness of a future marriage.
Ideas for your own garden: Bring some of the beauty of Stourhead and its follies to your own plot with whimsical garden statues, whether that's a tiny ceramic animal in a pot on your windowsill or a larger stone statue you can place in your garden. A hunt in shops specializing in vintage and antique wares might produce an authentic, period statement piece.
Starring Keira Knightly, Matthew Macfadyen, Brenda Blethyn, Donald Sutherland, Judi Dench, Rosamund Pike.
Rated PG
---
4) Sense and Sensibility (1995)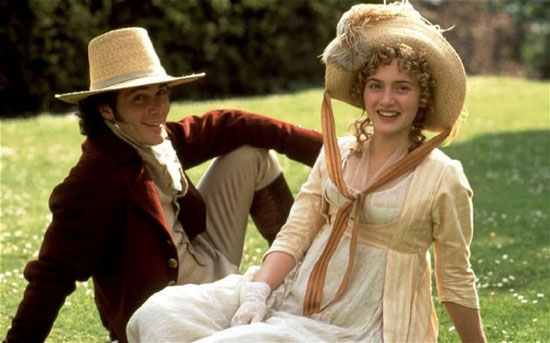 Plot: The Dashwood sisters are left almost penniless by their father's death and move to a modest cottage on their relation's estate. Their reduced state further complicates their marriage prospects as older sister Elinor's relationship with Edward Farrars is discouraged by his family, and younger sister Marianne falls for the dashing rogue Mr. Willoughby rather than the dependable Mr. Brandon. Who, if anyone, will find lasting love and security?
Why is this film on the list? Ang Lee's 1995 adaptation of the Jane Austen novel has much to recommend it on every level, from the acting to the score to the filming locations. Shot on location in Devon, Norfolk, Greenwich, and Wiltshire, the Regency era British costume drama is full of moments where the camera lingers on the scenery, like the reedy estuary in front of Barton Cottage (Efford House). The enclosed gardens at rain-swept Cleveland (Montacute House) mark Marianne's heartbroken wanderings as she passes from formal gardens near the house through gate after gate until she can look, sobbing and exhausted, on Willoughby's house several miles away.
Ideas for your own garden: Try incorporating some reedy plants to recall the scene where Marianne struggles to slice reeds near the estuary until Colonel Brandon hands her his penknife.
Starring Emma Thompson, Kate Winslet, Alan Rickman, Hugh Grant, Greg Wise.
Rated PG
---
5) Much Ado About Nothing (1993)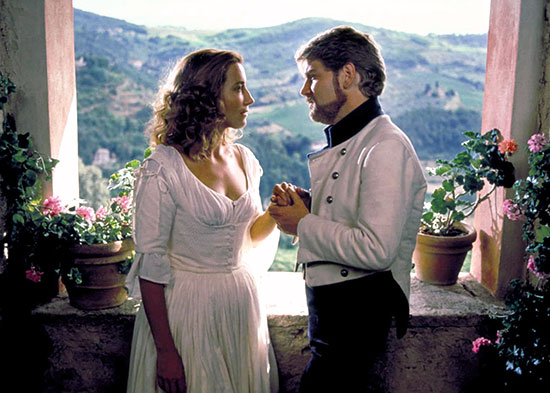 Plot: In Shakespeare's comedy, young lovers Hero and Claudio will be wed in a week. To pass the time, they conspire to get sparring partners Benedick and Beatrice to fall in love and marry as well. Meanwhile, Don Jon sets out to ruin Hero and Claudio's wedding by accusing her of infidelity. In the end, though, it's all "much ado about nothing."
Why is this film on the list? Kenneth Branagh's adaptation was filmed entirely on location in Greve in Chianti, located in Tuscany. The sun-soaked walls of Villa Vignamaggio stand in for Leonato's estate, and the formal gardens witness the characters' merry-making, particularly in the closing scene. Setting Shakespeare's comedy on the grounds of the stunning villa enhances the sense of light-heartedness and joy that permeates the film and assures the viewer that despite misunderstandings, everything will go right in the end. It's worth watching if for no other reason than imagining yourself lazing about in the sun and feasting.
Ideas for your own garden: Group large terracotta pots (or well-done facsimiles that will better handle the weather) planted with olive and lemon trees in a sunny spot to evoke Villa Vignamaggio. 
Starring Kenneth Branagh, Emma Thompson, Denzel Washington, Keanu Reeves, Kate Beckinsale.
Rated PG-13
---
6) Little Women (2019)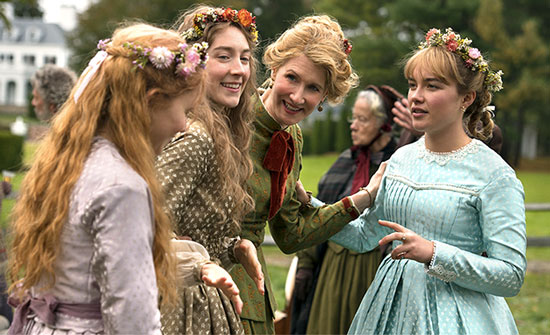 Plot: After the Civil War, Jo March, a writer, reflects on her idyllic New England upbringing with her three sisters. Up until now she has made money writing sensationalist fiction, but family circumstances and a love interest inspire her to write about her extraordinary family.
Why is this film on the list? Though the 1994 adaptation of Louisa May Alcott's story remains an all-around favorite of the many screen options, this version is worth a rewatch for how director Greta Gerwig uses landscape to reflect aspects of the characters. Jo rejects Laurie's proposal while stalking across a hillside, emphasizing her earthy, unpretentious approach to life and love. Meanwhile, the gardens we see during her sister Amy's sojourn in Paris mirror the privilege she enjoys in the French capital, painting and exploring a relationship with the wealthy Fred Vaughan, while her sisters scrape by back home. The gardens' elegance also reflects the life Amy hopes to lead by marrying a rich man who can provide her with a life of beauty. Castle Hill in Ipswich, Massachusetts, actually played the part of the Paris gardens, since "Little Women" was filmed entirely in New England. Nevertheless, the gardens play their role to perfection.
Ideas for your own garden: Bring aspects of Castle Hill's Italian gardens to your own by cultivating lush sun-seeking herbs like lavender and rosemary in neat, orderly plots and adding in some classical sculpture.
Starring Saoirse Ronan, Emma Watson, Florence Pugh, Timothee Chalamet, Laura Dern, Meryl Streep.
Rated PG
---
7) A Little Chaos (2014)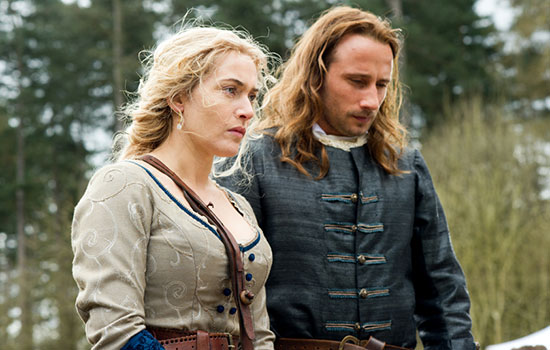 Plot: When renowned landscape architect André le Nôtre is tasked with designing the gardens of King Louis XIV's Versailles, he hires Sabine de Barra to design and construct an outdoor ballroom. Over the course of their work together, they begin to respect one another's approach to design, and develop romantic feelings for each other.
Why is this film on the list? Gardens undergird the entire film, with characters even occasionally speaking in gardening metaphors to explain their perspectives on loss and relationships. The film explores major themes through Sabine and André's collaboration. Their individual design aesthetics are reflected in their homes: Sabine's atelier has the feel of Titania's bower, with abundant flowers springing from the ground and leafy vines hanging from above. Meanwhile, the grounds of André's home are elegant and orderly, the gravel entrance punctuated by potted and shaped boxwood. As they work together and gain appreciation for one another's philosophies, their joint venture, an outdoor ballroom, becomes an exuberant combination of his order and her chaos, which we see in all its glory in the final scene of the film.
Ideas for your own garden: Experiment with a combination of trailing vines like wisteria or bougainvillea hanging from above, and orderly boxwood planted in stone urns to mix both Sabine and André's styles in your garden.
Starring Kate Winslet, Alan Rickman, Stanley Tucci, Matthias Schoenaerts.
Rated R for some sexuality and brief nudity
---
8) The Secret Garden (2020)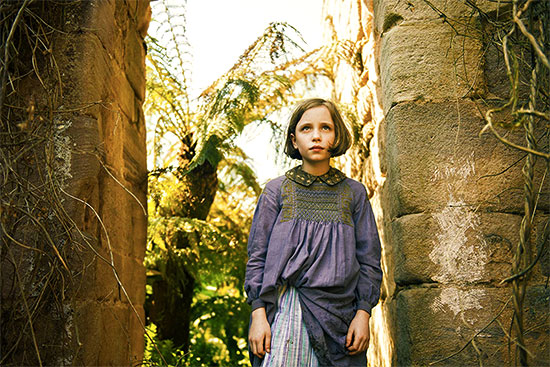 Plot: In this feature-length adaptation of Frances Hodgson Burnett's classic children's book, young Mary is an orphan brought to her uncle's estate in England after living in India. There she finds a mysterious and neglected garden. Together with her new friend, Dickon, and her ailing cousin Colin, they set out to bring the garden back to life and with it, Mary's mysterious, melancholic uncle.
Why is this film on the list? The titular garden in this adaptation does not disappoint. It is actually a composite from filming real-life spots all over England, including the subtropical Trebah Gardens in Cornwall, Iford Manor in Wiltshire, Woodhall Estate in Hertfordshire, Puzzlewood in Gloucestershire, and Fountains Abbey in North Yorkshire. Though there is no one garden to visit, the production choice to use multiple locations lets you enjoy a fanciful interpretation without being constrained by what is realistically possible.
Ideas for your own garden: Mixing English garden staples–climbing roses, lavender, ivy–and tropical plants cultivated for your area (check your hardiness zone on any plant tags)– will evoke the fanciful garden created in the film.
Starring Dixie Egerickx, Julie Walters, Colin Firth, Amir Wilson, Rupert Young.
Rated PG
---
Alyssa Murphy is a freelance writer living in Alexandria, Virginia. She has worked in communications for education, economic independence, and environmental nonprofits and was the editorial manager for a child psychiatry journal. In her free time, she enjoys listening to dramatized Agatha Christie mysteries and studying grand English country houses.
If you enjoyed this post, wander over to The Period Films List. Also see Travel to Green Gables, our Jane Austen Travel Guide, 10 PBS Masterpiece Locations to Visit, and Cottagecore and the Period Drama.