Last Updated on June 7, 2023
Remember watching the opening sequence of "Downton Abbey," shown on Masterpiece almost ten years ago now?
First we saw a telegraph machine clicking out news of the Titanic disaster, followed by shots of a train, a glimpse at a picturesque village, and a long view of a resplendent house.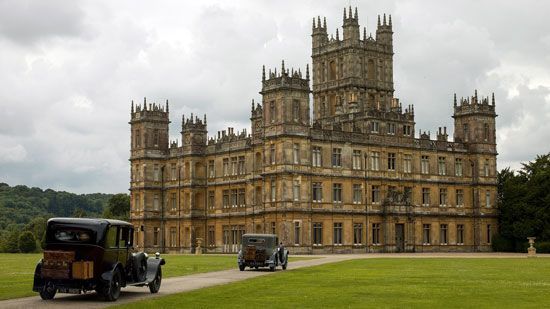 ---
To help keep this site running: Willow and Thatch may receive a commission when you click on any of the links on our site and make a purchase after doing so. 
---
Seconds later we were following Daisy, the kitchen maid, and Thomas, the footman, as they made their way through its magnificent rooms.
We passed housemaids Anna and Gwen, plumping pillows in the morning room. We saw Mrs. Hughes, the housekeeper, patrolling the grand hallways and Carson, the butler, cleaning silverware in his snug pantry.
Then we traveled upstairs to an opulent bedroom where Lady Mary, looking like some disappointed princess, sat atop her bed, ringing the bell for service.
"And they're off," quipped Thomas.
So was "Downton Abbey." That spectacular, five-minute opening introduced us to a world we would come to cherish over the next six years. We loved it not only for its characters and their assorted dramas but also for the world itself: its rooms, estates, and landscapes.
Houses like Highclere Castle and their environs play a starring role in Masterpiece's period drama. Its creators know viewers want to see Britain's bonny landscapes and handsome buildings as much as we want to immerse ourselves in the stories. We wish to be transported. And we are.
Watching a Masterpiece production feels like armchair travel every time. Often, it inspires actual trips to the places where the series were filmed.
Below are ten of Masterpiece's most popular sites, all waiting to be visited, or re-visited, by period drama lovers. That is, when we can.
---
---
Castle Howard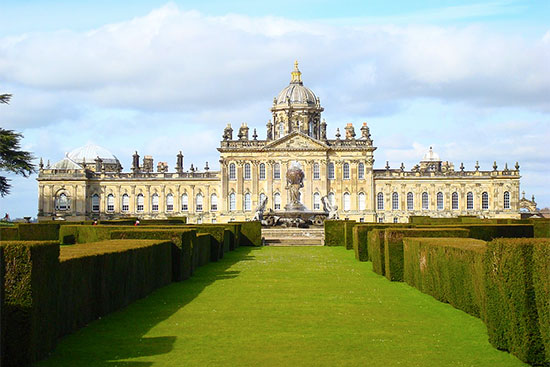 Castle Howard made its television debut in the series that really should have been a Masterpiece production but wasn't: "Brideshead Revisited." That was 1981, and since then, the estate has starred in a string of period dramas including Masterpiece's "The Buccaneers" (1995), "Death Comes to Pemberley" (2013), and "Victoria" (2017–2019).
Located in North Yorkshire, fifteen miles north of York, Castle Howard is one of England's most treasured houses. It's a baroque extravaganza, with coronets, cherubs, urns, and cyphers galore—not to mention a spectacular crowning dome. When it was completed in the early 1800s after nearly a hundred years of labor, some groused about its flamboyance, calling it "vulgar." But Horace Walpole, the man credited with writing Britain's first Gothic novel, deemed it "sublime."
In "Victoria," several of Castle Howard's rooms doubled for Kensington Palace in Season 1, including the Museum Room, Castle Howard Bedroom, and the Long Gallery. (In 1850, Victoria herself stopped at Castle Howard to rather disastrous effect. She got lost in the castle several times and her hubby, Prince Albert, kept pestering their host, the Earl of Carlisle, with questions about the sculpture collection.)
In "Death Comes to Pemberley," the castle served as the titular estate of Mr. Darcy (Matthew Rhys) and his feisty bride, Lizzie (Anna Maxwell Martin), still very much in love and starting a family. The production team said, not ironically, that they chose the castle because they were drawn to its "family feel" and "intimacy."
Grantchester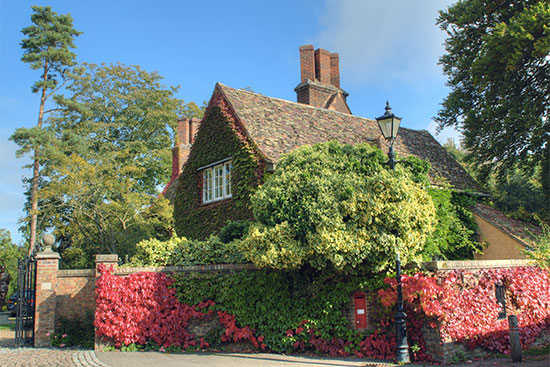 Located beside the River Cam in South Cambridgeshire, roughly one hour from London, Grantchester is a quaint village known for its thatched cottages, medieval church, and pubs, including the Rupert Brooke Pub (named after the World War I poet).
Grantchester also boasts the Orchard Tea Garden, a favorite haunt of the Bloomsbury Group back in the 1910s and 1920s, and, according to the Daily Mail, the world's highest concentration of Nobel Prize winners.
Nowadays, Grantchester is known for Masterpiece's detective show of the same name, featuring not one but two hunky he-men of the cloth, Sidney Chambers and Will Davenport. Most of the scenes are shot in Grantchester, where author James Runcie also set the novels on which the series is based.
The village is as storybookish as can be—too charming to be real and the very last place you'd expect to find so many violent murders. But then that's the point.
Lacock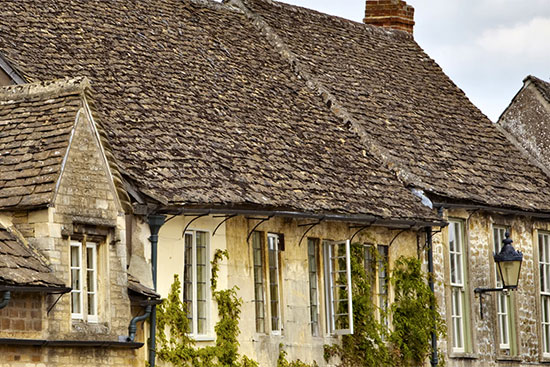 Lacock is a village in the county of Wiltshire, owned almost entirely by the National Trust. Its unpaved streets and centuries-old cottages give Lacock a wholly unspoiled appearance, making it the ideal place to film period drama.
Many TV series and movies have used it, including both 1996 film versions of Emma; the BBC "Pride and Prejudice" (1995); Masterpiece's "Moll Flanders" (1996) and "The Mayor of Casterbridge" (2003); Harry Potter (Lacock Abbey serves as Hogwarts); and The Other Boleyn Girl (2008). But Masterpiece's "Cranford" (2008) is the drama that gave Lacock star billing.
"Cranford" is based on Elizabeth Gaskell's 1853 novel of the same name, an affectionate portrait of people and customs that were already becoming anachronisms by that time.
Although Gaskell based her Cranford on Knutsford, the village where she grew up, the production crew chose Lacock because, in one producer's words, "It's like something you'd see in a painting." "Cranford" uses the iconic villages for almost all its settings, in fact. Its miniature feel (the central grid of Lacock is only four streets) perfectly suits the insular world of the story as do its stone walls and pristine surroundings.
---
---
Lambton Estate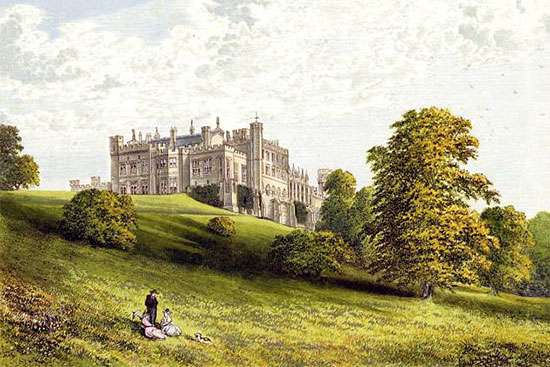 In 2013, Masterpiece launched "The Paradise," a sumptuous adaptation of Emile Zola's novel about a department store. That store was created counter by counter on the Lambton Estate in County Durham, located in the northeastern part of England.
When producers first conceived of the show, they knew they needed a space with a fab interior. They visited the Lambton Estate one cold and rainy afternoon. The house had plaster falling off the walls and leaks in every room. "Still," recalls one producer, laughing, "we thought it had lots of potential!" It took a crew of nearly two hundred people six months to transform the estate into the lavish store we see in the series, including a team of architects who had to design drawings and obtain planning permissions before anyone could lift a paintbrush.
Renovation was an operose challenge. "When working on a historic building you can't use modern materials," said one producer. "You've got to use the same materials the house was built in, so we had to make a lime-based plaster for the walls. A modern-day plaster will dry in two or three days but a lime-based plaster isn't dry after three weeks. The walls were still wet when we were filming!"
The same producer also recounts how the art department "went to lots of local auctions and bought items in multiples because we needed a well-stocked shop. If anyone was selling a collection of pipes, mugs, shaving brushes, anything—we bought them!" They then sprayed everything gold so that all the rooms would gleam onscreen. "I wanted the whole series to sparkle with 19th century bling," said art director Keith Dunne.
Lyme Park, Cheshire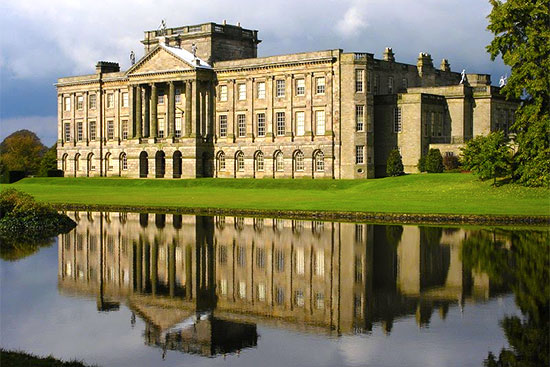 When Jane Bennett in Austen's Pride and Prejudice asks her sister Lizzie how she finally came to fall in love with Mr. Darcy, Lizzie replies, "It has been coming on so gradually, that I hardly know when it began. But I believe I must date it from my first seeing his beautiful grounds at Pemberley."
As any Austen lover knows, Lizzie is only half kidding. In truth, she was blown away by Darcy's estate. So whatever locale serves as Pemberley in a film or TV series has to have the same slaying effect on viewers. Lyme Park does. Located in Cheshire, about twenty minutes from Manchester and right on the edge of the Peak District, Lyme Park is one of England's most breathtaking estates.
Owned by the National Trust, it has an imposing house, a deer park, formal gardens, and a thirteen-hundred-acre estate. The house is a mixture of baroque and palladian styles, balancing classical principles with lots of flash. Lyme Park is where Mr. Darcy, dripping wet and babelicious, emerged from that pond and made period-drama history. A statue of him, still in that lake, commemorates the moment.
In addition to using Lyme Park for the exterior of the Pemberley house and grounds, the production crew employed twenty-three other locations and eight studio sets, including Sudbury Hall, located in Derbyshire, for internal scenes at Pemberley.
Nether Wallop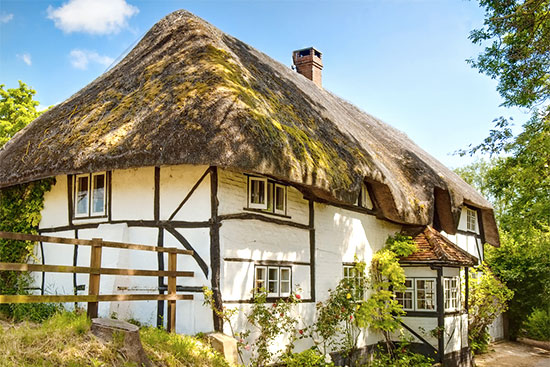 "We're all very ordinary in St. Mary Mead but ordinary people can some- times do the most astonishing things," says Miss Marple in "The Murder at the Vicarage."
The fictional village of St. Mary Mead, located in southern England, was where the elderly spinster learned her sleuthing trade. In the ordered tranquility of that village, populated with cottages, village shops, and the Blue Boar pub, Marple saw all sides of human nature and solved more murders on average than a Scotland Yard detective.
Christie didn't base St. Mary Mead on any particular locale; "It could be any of hundreds of English villages," she once explained. When the BBC and, later, ITV decided to produce their own versions of the Marple stories, they used the idyllic location of Nether Wallop, Hampshire.
Nether Wallop is the innermost village of the three villages known as "The Wallops," the other two being Over Wallop and Middle Wallop (only the English could invent such names). They are located in the Test Valley district of Hampshire, England. Brimming with thatched cottages and twee gardens, Nether Wallop repeatedly ranks as one of the prettiest villages in England.
The BBC and ITV series both feature local sites such as St. Andrew's Church (dating from the eleventh century), Five Bells Lane, and the Village Square. "Dane Cottage" in Five Bells Lane serves as Miss Marple's home in the BBC series starring Joan Hickson. Recently remastered, the series portrays the village in breathtakingly twee ways. The scenery couldn't be more verdant, the streets tidier, the sky more blue. Punctuate this with dozens of vintage cars and actors outfitted in old-timey tweed, and the experience feels like entering a postcard.
Oxford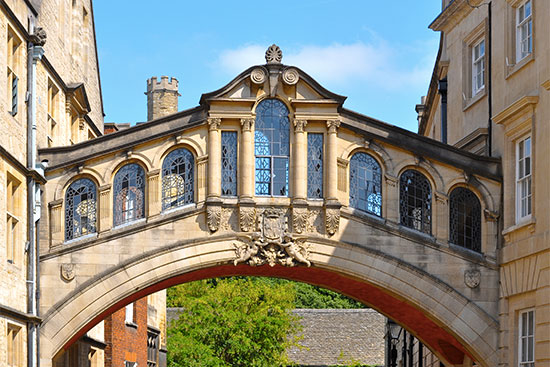 To most Americans, Oxford is synonymous with its famous university. But for fans of Masterpiece's "Inspector Morse," "Inspector Lewis," and "Endeavour," it is the murder capital of Britain.
Dubbed the "city of dreaming spires," Oxford is the oldest university town in the English-speaking world, stemming back to 1096. Roughly sixty miles from London, it has long been featured in film and television series, including "Brideshead Revisited" and the "Harry Potter" series. But no other drama has given it the consistent, loving attention of "Morse," "Lewis," and "Endeavour."
Episodes of all three series feature gorgeous shots of the city: its milky brown rivers, Gothic-inspired buildings, town center, and college lawns. Specific locales include the Sheldonian Theatre, the five-star Randolph Hotel, the Bodleian Library, Radcliffe Square, the Ashmolean museum, Christ Church College, Oxford's iconic Bridge of Sighs, Magdalen College, Keble College, and St Edmund's Hall, and loads of pub gardens like The Crickateers.
Each series captures the city's air of learnedness, its stunning variety of architecture, and its palpable sense of order and tranquility. But whereas "Morse" often spotlights its more ordinary, shabby locales, underlining the detective's estrangement from the posh world of the university, "Lewis" and "Endeavour" spend more time within its grand halls and offices.
Ever since "Morse"'s debut in 1987, Oxford has enjoyed a vibrant, television-based tourism. Those who wish to go on a "Morse Tour" or "Endeavour Tour" can visit the same locales featured in the series, stopping at The Crickateers or the Lamb and Flag for a pint. Most tourists tend to be devoted fans of all three series, especially of "Morse." To appeal to these tourists in particular, guides make it a point of referring to the famous detective in the present tense, as if he were not only alive, but real.
Lest we think this touch a bit excessive, we might consider some of the stories recounted by guides, including one about "a lady from America, who returns every few years, and will not allow me to mention the detective's death. She always leaves the tour early, before reaching Exeter College, where old Morse succumbed to his heart attack on screen."
Penshurst Place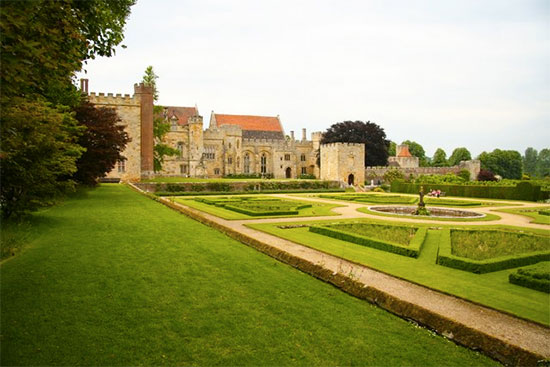 One of the many pleasures of watching Masterpiece's "Wolf Hall" is seeing the buildings that date back to the fourteenth and fifteenth centuries, Penshurst Place among them. Located in Kent, roughly ninety miles from London, Penshurst Place has stood in the historic village of Penshurst since the fourteenth century, when the awe-inspiring Baron's Hall was completed in 1341 as a country retreat for the Lord Mayor of London.
The stately home and gardens were once used as a hunting lodge for King Henry VIII (and a base for courting Anne Boleyn). Now they feature opulent staterooms—the Queen Elizabeth Room, the Tapestry Room, the Solar, the Long Gallery, and the Crypt—that have starred in many period dramas, including "Wolf Hall," where they were Tudorized to lavish effect.
Scenes in "Wolf Hall" were also filmed at National Trust sites, Lacock Ab- bey in Wiltshire, Chastleton House in Oxfordshire, and Montacute House in Somerset. Filming on location, says producer Mark Pybus, leant centuries-old authenticity to the series. "The advantages of filming in a historic location are massive," he said. "It also helps the actors, if they're stepping into the buildings that Henry VIII and Thomas Cromwell walked around in, it helps bring a realness to the project."
American fans, incidentally, may be delighted to learn that Penshurst also served as "Clampett Castle" in the 1960s TV show "The Beverly Hillbillies."
Syon House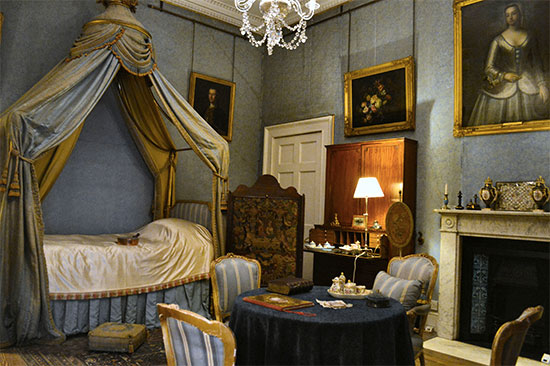 Dating back to the early 1500s, Syon House is one of the last great houses of London. It holds a treasury of art and priceless antiques within its grand classical interiors, making it a sumptuous backdrop for period dramas.
It also boasts "The Great Conservatory," the first conservatory to be built from metal and glass on a large scale. While the park and gardens feel like deep countryside, Syon is barely nine miles from Charing Cross station in London. Masterpiece's "Poirot," "Miss Austen Regrets" (2007), and "Downton Abbey" all used the house for exterior and interior shots.
But it was Masterpiece's "Daniel Deronda" that really made a star of Syon House. As the estate of the villainous Henleigh Grandcourt, who marries poor and vain Gwendolyn Harleth, Syon pulses as a symbol of its owner's wealth and the heroine's entrapment in a gilded cage of her own making.
West Wycombe House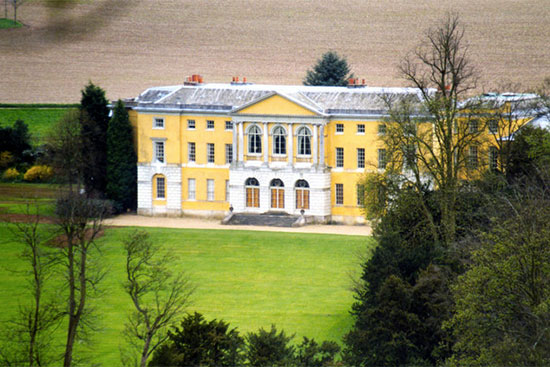 This may be the most unique of all country houses featured in Masterpiece. "One of the most theatrical and Italianate houses in all England" is how the National Trust describes it. Built between 1740 and 1800, it was conceived as a pleasure palace for Sir Francis Dashwood, a notorious bon vivant. And according to Dashwood's biographers, it served its purpose.
West Wycombe House is quite small compared to England's other country villas. Yet it is culturally important—for it reflects a period of eighteenth- century English history when young male aristocrats, returning from their Grand Tours with newly purchased art of all kinds, built a country house to accommodate their collections. In room after room, they displayed the education and culture they had acquired on their travels. West Wycombe's gardens are also among the finest and most idiosyncratic in England, each wildly different from the other.
Virtually half of the Masterpiece canon, it seems, has been shot at West Wycombe. These series include "Daniel Deronda," "Cranford," "Downton Abbey," "Sense and Sensibility," "Little Dorrit," a few episodes of "Endeavour," "Agatha Christie's Marple" (A Pocket Full of Rye), and "Howards End." You can see the house's gorgeous rooms in most of these series, but it is West Wycombe's weathered yellow exterior, shown in long shot, that will really take your breath away.
---
For a list of the period dramas that have aired on Masterpiece, season by season, see this page.
---
Nancy West is author of Masterpiece: America's 50-Year-Old Love Affair with British Television Drama (Rowman & Littlefield, 2020), in which she provides a fascinating history of the acclaimed program.
West combines excerpts from original interviews, thoughtful commentary, and lush photography to deliver a deep exploration of the television drama. Vibrant stories and anecdotes about Masterpiece's most colorful shows are peppered throughout, such as why Benedict Cumberbatch hates "Downton Abbey" and how screenwriter Daisy Goodwin created a teenage portrait of Queen Victoria after fighting with her daughter about homework.
Featuring an array of color photos from Masterpiece's best-loved dramas, this book offers a penetrating look into the program's influence on television, publishing, fashion, and its millions of fans.
West is professor of English at the University of Missouri and the author of Kodak and the Lens of Nostalgia (2000) and Tabloid, Inc.: Crimes, News, Narratives (2010). Her books have led to appearances on PBS's American Experience and the BBC's Genius of Photography as well as keynote speeches at the National Gallery of Art in Washington, DC, the London School of De- sign, and the Amon Carter Museum. She is a regular contributor to Written by Magazine, the Atlantic, the Chronicle of Higher Education, and the Los Angeles Review of Books. She is currently writing a memoir, set in the 1970s, about movies and childhood trauma. 
---
If you enjoyed this post, wander over to The Period Films List. You'll also like Travel Guide: Jane Austen's England.