Last Updated on June 17, 2022
Released in 1987, two years after the critically-acclaimed "A Room With a View," "Maurice" remains one of the lesser-known films from the period drama giant Merchant-Ivory Productions.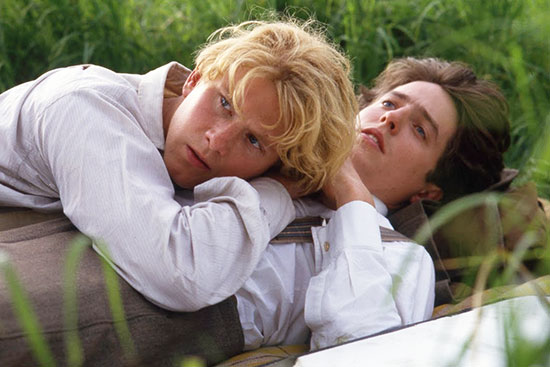 ---
To help keep this site running: Willow and Thatch may receive a commission when you click on any of the links on our site and make a purchase after doing so.
---
Adapted from the E. M. Forster novel of the same name, "Maurice" tells the story of Maurice Hall, a Cambridge student who falls in love with classmate Clive Durham. Written in 1914 but only published in 1971 after Forster's death, "Maurice" is a story of forbidden love in 1910s England, where homosexuality between men remained illegal until 1967.
Featuring a cast of frequent Merchant-Ivory collaborators in front of the camera and behind the scenes, and sumptuous production values for which the production company is known, "Maurice" is a moving key film that bridges Merchant-Ivory 1980s filmography to their 1990s successes like "Howards End" and "Remains of the Day."
Andreina Romero and Gabriela Mörken-Romero, hosts of the podcast Wigs and Candles, review classic and more recent period films, focusing in particular on the way period dramas provide a lens to explore the past and the lives of women through different historical times. In the seventh of a series for Willow and Thatch, they review "Maurice" (1987).
---
---
Maurice (James Wilby, Gosford Park) is an idealistic young student at King's College in Cambridge. There, he meets fellow student Clive Durham (Hugh Grant, Sense and Sensibility). Bonding over classes and college life camaraderie, Maurice and Clive quickly form a deep connection. Soon, they realize their feelings may go beyond friendship.
Between playful games, boyish jabs, and philosophical conversations, Maurice and Clive exchange furtive looks and tender grazes. Later, in an impeccably directed scene, Maurice and Clive quietly embrace as a confirmation of their love. Seconds later, a group of friends burst into the room, breaking the spell of the moment. 
The scene is an apt representation of one of the key questions asked by the film: what does it take to live a good, happy life? Do you embrace who you are, or conform to the outside pressures dictating how you should live? With its careful pace, the film suggests some answers by showing us the paths chosen by the two men after they realize that they are in love. 
---
---
While Maurice is ready to own his identity and give in to his feelings for Clive, Clive is more tentative. In a lush, wind-swept meadow, Clive tells Maurice he prefers that they never consummate their love. Maurice respectfully accepts. 
Maurice and Clive's diverging views of their identities come to a head when a mutual friend, viscount Risley, is set up, and is caught kissing another man. His case goes to trial and becomes national news. Clive, who witnesses the sentencing, is consumed with fear and becomes seriously ill. He travels to Greece and upon his return, breaks up with Maurice.
It is a devastating scene, thanks in great part to James Wilby's moving performance as Maurice. Clive decides to leave his past inclinations behind, adopt a conventional life, marry, and focus on building a career as a politician.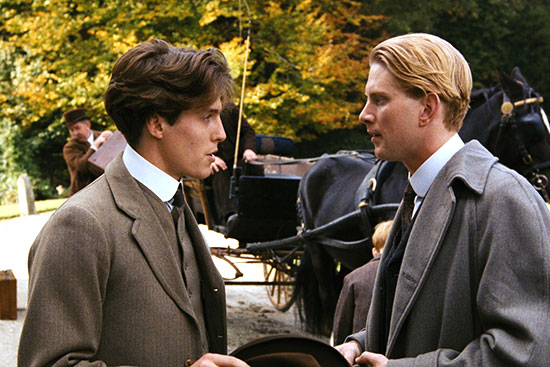 Maurice is unable to move on. Adrift and confused, he tries to find a cure for his "condition," first seeing a family doctor and then a hypnotherapist, but nothing helps.
 
Harboring their secret, Maurice and Clive remain friends. During one of his visits to Clive's estate, Maurice attracts the attention of a young gamekeeper, Alec Scudder (Rupert Graves, Emma). Their story is presented as the main love story—one where Maurice finally finds happiness.
Though heartbreak and the specter of living life in the closet leave an indelible image on the viewer, Alec's character offers a counterpoint to the sadness. Working class Alec is self-assured and free of any inner conflict regarding his sexual identity. In contrast to Clive and Maurice, he is unashamed by his desires. This, the story tells us, is an honest life, unlike Clive's, who's living a lie as an heterosexual man.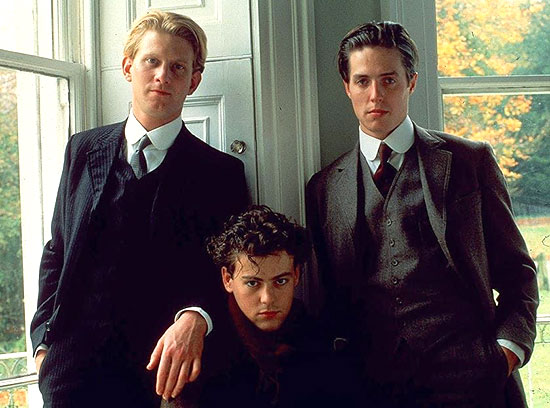 Costumes by Jenny Beavan and John Bright, the award-winning team from "A Room With a View," bring to life the world of privilege and influence that Maurice and Clive move in: the Cambridge college halls, men's smoking rooms, and lavish dinner parties of the upper class in 1910s England. Much is at stake in this world, and we feel the weight on Maurice's shoulders as he navigates that male-dominated world while carrying his secret. 
Hugh Grant as Clive Durham is a revelation. This was only Grant's second film, and his now trademark comedic, self-deprecating style, while hinted at, is mostly absent. This is a darker, more melancholic character than the ones he would later portray in many romantic comedies. Playing opposite James Wilby's more outwardly emotional Maurice, Grant lends an appropriate awkwardness to his performance of a man hiding his past. 
Wilby's performance is sweeping; Maurice moves from the highs of reciprocated love to the lows of abject pain and fear after Clive's rejection. His turn as the tortured, heartbroken, yet still loving and brave Maurice, is absolutely unforgettable. 
In his role as Alec Scudder, Maurice's lover, Ruper Graves is also memorable, displaying a sensual physicality that reveals the complex layers of class, power, and sexual dynamics at play between Maurice and Alec.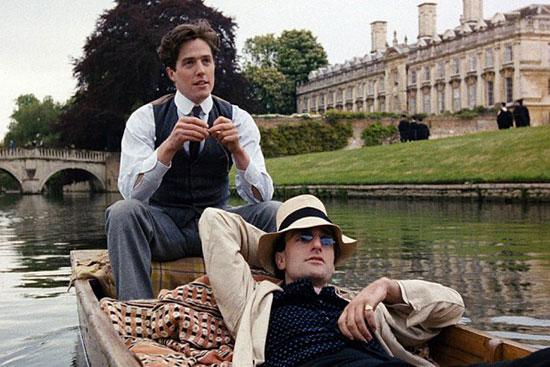 The script, by Kit Hesketh-Harvey and James Ivory, is patient and detailed, unfolding over multiple years. We feel the passage of time as Maurice and Clive mature and live with the consequences of their choices. "Maurice" is full of moments that highlight the weight of Edwardian society on all men, spotlighting its oppression of the upper and aristocratic classes. 
While it was well-received by critics in 1987, "Maurice" is now considered groundbreaking. During the height of the AIDS epidemic, an infinitely nuanced Merchant-Ivory British period drama did something unexpected: it offered viewers a timeless and relevant gay love story.
Listen to the full Wigs and Candles podcast episode on "Maurice" here.
"Maurice" (1987) is AVAILABLE to STREAM
Rated R for profanity and nudity.
---
Wigs and Candles, launched in 2021, is a podcast about two sisters and their obsession with period film. Andreina Romero is a freelance writer and researcher whose work focuses on the importance of the arts in life. She also reviews books, music, and films in local publications and her personal blog. Gabriela Mörken-Romero leads people in a multinational company with a passion for art history, historical fiction, and world museums. Originally from Venezuela, Andreina and Gabriela host their podcast from Canada and Germany respectively.
---
If you enjoyed this post, wander over to The Period Films List. You'll especially like the Best Period Dramas: Edwardian Era list. You'll also want to see our review of Portrait of Lady on Fire, and The World to Come.