Last Updated on May 22, 2022
In 2019's widely acclaimed "Portrait of a Lady on Fire," director Céline Sciamma places a female painter and the creation of art at the center of a sensual love story.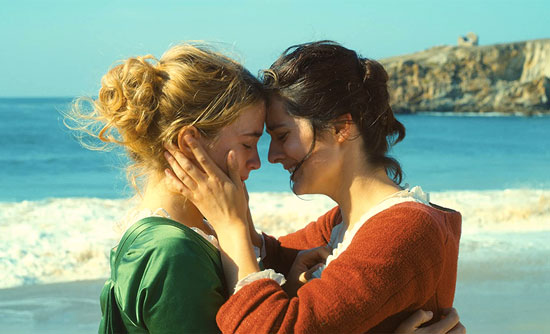 ---
To help keep this site running: Willow and Thatch may receive a commission when you click on any of the links on our site and make a purchase after doing so.
---
Set in 1770 on a remote island in France, the film follows Marianne, an accomplished artist who is commissioned to paint a portrait of a young woman, Héloïse. The portrait will serve as Héloïse's presentation card to her future husband, an aristocrat living in Milan.
Marianne is given one simple instruction: she must work without her subject's knowledge, as Héloïse refused to sit for the last person who attempted to paint her portrait.
Neither a historical film based on true events, nor a classic book adaptation, "Portrait of a Lady on Fire" is a wholly original period drama that explores the power of the female gaze, the concept of female agency, same-sex love, and the universal bond that women have shared throughout the centuries.
Andreina Romero and Gabriela Mörken-Romero, hosts of the podcast Wigs and Candles, review classic and more recent period films, focusing in particular on the way period dramas provide a lens to explore the past and the lives of women through different historical times. In the seventh of a series for Willow and Thatch, they review "Portrait of a Lady on Fire" (2019).
---
---
When Marianne (Noémie Merlant) is commissioned to make a portrait of Héloïse (Adèle Haenel) by Héloïse's imposing mother, (Valeria Golino), she is completely unaware of the challenges she will face.
Héloïse's sister has died under mysterious circumstances—probably by suicide—and Marianne must pretend to be a companion to the bereft younger sister so that she may observe her, and later depict Héloïse in a painting.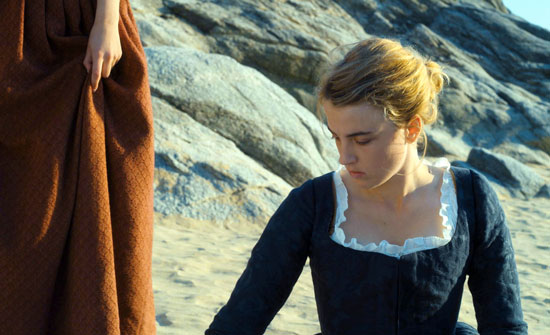 Marianne starts by sketching Héloïse during furtive, stolen moments as the two walk at the beach. She is intrigued by the situation: Héloïse's refusal to be painted, the shadow of the deceased sister, and the technical difficulty of rendering an image of somebody who doesn't want her likeness to be captured, not for the purpose of becoming married.
Given these complications, the story then becomes one where the gaze and act of perceiving play a central role. It is this exploration that gives the film, which was both written and directed by Céline Sciamma (Petite Maman) a multilayered intellectual complexity.
Marianne must observe Héloïse but pretend she's only looking, while Héloïse regards Marianne and sees a woman free of the restraints that aristocratic women must submit to. As the daughter of a painter and as a painter herself, Marianne is freer than many of the women around her. She will inherit her father's studio, and as she can make a living as an artist, she is also able to remain unmarried. The women look at each other trying to understand the intentions of the other.
After Héloïse's mother–the countess–leaves for a short trip, Marianne, Héloïse and a young servant, Sophie (Luàna Bajrami), stay behind in the cavernous house, a mostly bare mansion on the wild coast of French Brittany.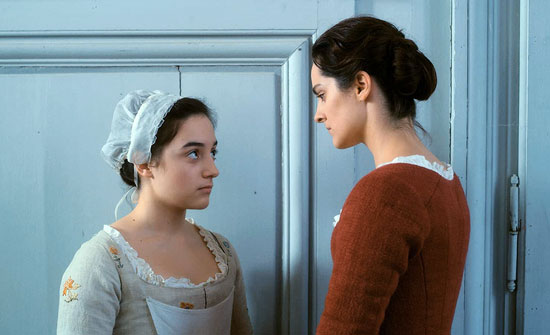 What follows is an exquisite, intimate dance between the three women as they navigate their respective roles in the house. It is a profound exploration of the relationship between women, the sisterhoods that form when all traces of the patriarchy are removed, even if just temporarily, and the power that comes when women regain control of "the gaze," of the observer and the observed.
The daily activities of the household are simple: Héloïse goes on brisk walks outside, always accompanied by Marianne; Sophie cooks and cleans for the three of them; the three women eat together at a long table in the warm kitchen; and then Marianne goes to her room to paint in secret. At times they read together in the kitchen, or play cards.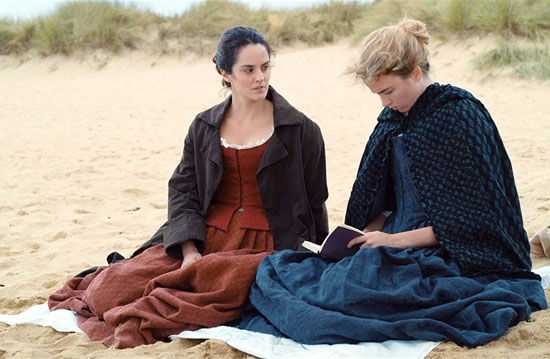 What is most remarkable about these scenes is the erasure of hierarchy or status between the three women. While this may be less notable between Marianne and Héloïse, it is extraordinary in relation to Sophie, a seemingly much younger girl who is also HéloÏse's employee.
Later, when Sophie needs the support of the other two women, Marianne and Héloïse join forces to help her, resulting in an astonishing, moving scene that reveals a film deeply invested in the female experience, making the viewer acutely aware of a historical lack of similar representation in film, or in painting.
While the relationship between the three women is tremendously compelling, the film's central plot is the tender, intriguing, and ultimately passionate love story that develops between Marianne and Héloïse.
In an interview for the Toronto International Film Festival in 2020, Sciamma explained her vision for the movie was complete parity in every respect: "I was obsessed with this idea of building a love story with equality… there would be no gender domination, no intellectual domination and no social hierarchy. The whole movie is about equality, and about how when you look at somebody, they're also always looking at you."
Sciamma's choice to make one of her protagonists an artist in the 18th century was a way to explore the concept of the painter's gaze and the concept of the muse, roles that have been gendered throughout history, and in which the artist is always male and the muse always female: "This whole process of reinventing the muse figure and saying that there is no muse, there are only collaborators and women inspiring in mutual ways, that was also the perspective."
Setting the film in the the late 1700s was also a way for Sciamma to pay homage to the female painters who were making a living with their art at that time: artists such as Élizabeth Vigée Le Brun in France, who painted some of Marie-Antoinette's most famous portraits, and Angelica Kauffman, who had a long and successful career in London, England.
Conceptually, the film delivers Sciamma's vision through a sparse script, which allows space for rich scenes where the gaze does the heavy lifting. Visually, the scenes, both indoors and out, are reminiscent of classical paintings of the late 18th and early 19th century. Claire Mathon, the film's cinematographer, deservedly took the César for best cinematography in 2020. Mathon's artistry exudes as the love story between Marianne and Héloïse develops, as she directs our gaze to their faces, their eyes, and the cues to their blossoming love.
Aesthetically magnificent, and intellectually and emotionally profound, "Portrait of a Lady on Fire" leaves the viewer longing for more. Thanks to its exquisitely honest portrayal of often hidden or forgotten late 18th century women, this costume drama is not only beautiful, but tells a fiercely feminist love story.
Listen to the full Wigs and Candles podcast episode on "Portrait of a Lady on Fire" here.
"Portrait of a Lady on Fire" is AVAILABLE to STREAM
Rate R for some nudity and sexuality 
---
Wigs and Candles, launched in 2021, is a podcast about two sisters and their obsession with period film. Andreina Romero is a freelance writer and researcher whose work focuses on the importance of the arts in life. She also reviews books, music, and films in local publications and her personal blog. Gabriela Mörken-Romero leads people in a multinational company with a passion for art history, historical fiction, and world museums. Originally from Venezuela, Andreina and Gabriela host their podcast from Canada and Germany respectively.
---
If you enjoyed this post, wander over to The Period Films List. You'll especially like the Best Period Dramas: Georgian and Regency Era list. You'll also want to see our review of Farewell, My Queen, and The World to Come.