Last Updated on June 11, 2023
Based on a short story by Ron Hansen, "The World to Come" (2020) explores how two women find solace in a forbidden relationship on the 19th century American frontier.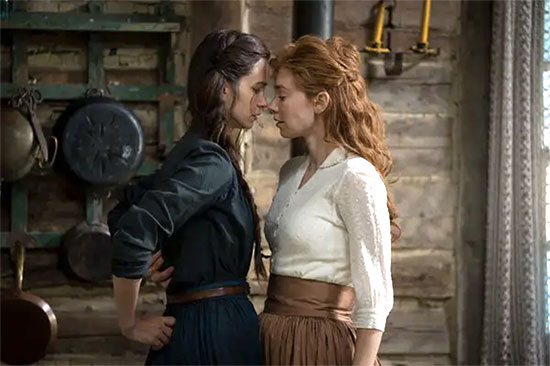 ---
To help keep this site running: Willow and Thatch may receive a commission when you click on any of the links on our site and make a purchase after doing so. 
---
Like many LGBTQ period romances, the film offers no happy ending for its heroines, who face limited options in their isolated, rural community. But don't shy away from watching for that reason; this bleak but affecting drama will stay with you long after the credits roll.
"The World to Come" (2020) is AVAILABLE to STREAM
---
---
On January 1, 1856, farm wife Abigail (Katherine Waterston) anticipates another relentless year of work as she records the day's events in her personal ledger. She and her husband Dyer (Casey Affleck) barely speak to one another except to discuss chores; they're both still drowning in grief after losing their four-year-old daughter Nellie to diphtheria.
As Abigail mutely moves about her day, her voiceover diary entries reveal the depths of the emotions she's pent up since her daughter's death. She finds no solace in church services, either, as many 19th century farmers might; taking no comfort in the promise of a "better world to come," she's stopped attending altogether. Blue-tinged shots of naked trees in the snow-covered woods echo her despair, as do the dim, lamplit interiors of her empty house.
The arrival of new neighbors sparks her interest. Finney (Christopher Abbott) and Tallie (Vanessa Kirby) are renting a nearby farm, and when Tallie invites herself over, Abigail feels an immediate attraction she doesn't quite understand. 
The two women quickly grow close, spending hours talking over motherhood, marriage, and their shelved dreams as they complete their daily tasks. Finney and Tallie host their neighbors for supper, and though Finney seems strangely preoccupied, the men, too, seem to get along with each other.
Winter is gradually giving way to spring when Tallie and Abigail hesitantly reveal their feelings: their love for one another eclipses their feelings towards their husbands. The women embark on a secret affair, and the film's luminous shots of wooded groves in full bloom and sundrenched interiors mirror their happiness. But trouble won't stay away for long, as first Dyer and then the volatile Finney begin to question their wives' relationship.
While The World to Come is, first and foremost, a tragic love story, it's also a thoughtful meditation on the social and economic limitations women faced in 19th century America.
As much as Tallie and Abigail may dream of a life together—a better world to come on Earth—they're still beholden to their husbands, who expect them to birth children, cook meals, launder clothes, and preserve food for the winter. Their husbands hold the financial power, as evidenced by the business ledgers both men complete to keep track of their expenses. Neither woman ever shows up in their husbands' daily logs of farm life.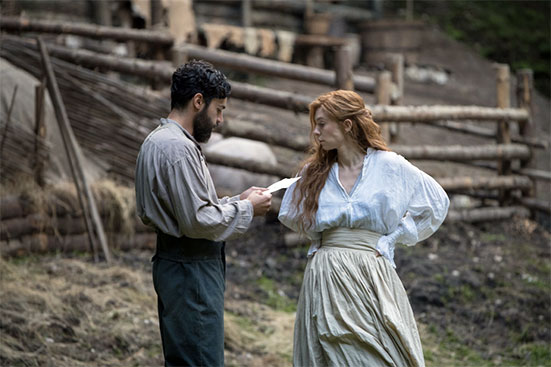 And even if they did manage to leave their husbands, where could they go? How could they earn money to support themselves? How would they hide their relationship? To its credit, the film doesn't overtly ask these questions; Tallie and Abigail are too busy living in the moment to think concretely about the future.
And it's a pleasure to watch them together. The film introduces only a few characters external to the two couples—a choice that mirrors the isolation of rural farms—and leaves the bulk of the work up to Kirby and Waterston.
Both actresses are phenomenal. Kirby is luminous and magnetic, from the loose-limbed way she lounges at Abigail's house to her impulsive questions that skirt the edge of propriety. Waterston, while more reserved as the shy Abigail, reveals a depth of feeling beneath her calm exterior when she's with Tallie. The chemistry between the two leads could be stronger, but both actresses are so strong on their own that it's an easy flaw to overlook.
Those who love period dramas for the aesthetic will also appreciate director Mona Fastvold's meticulous attention to the details of farm women's lives.
Abigail and Tallie first bond as they help each other with chores, and their talk breaks the monotony of plucking chickens or winding yarn. It's easy to understand how crucial female friendship was to helping frontier wives maintain emotional stability.
Other scenes and costuming choices speak to the challenges of such a difficult lifestyle, such as the rope Abigail ties around her waist to keep from getting lost in a blizzard, or the early shot of her scrubbing potatoes in freezing water. These visual cues reinforce the film's underlying themes of women's isolation and oppression, and they make for a powerful story.
The World to Come (2020) is AVAILABLE to STREAM
Watch the TRAILER
Rated R for some sexuality/nudity
---
Abby Murphy writes young adult books about girls discovering their strengths. A member of SCBWI and The Historical Novel Society, she is represented by Laura Crockett of Triada US Literary Agency. You can visit her blog here, where she writes about reading, writing, history, and her incurable Anglophilia.
If you enjoyed this post, wander over to The Period Films List. You'll especially like the Best Period Dramas: Victorian Era List. Also see Portrait of a Lady on Fire, our Gentleman Jack review, our review of Wild Nights with Emily, The Favourite and the list of Strong Women in Period Dramas.