Last Updated on June 8, 2023
In 2020 PBS celebrates its 50th anniversary; in 2021 Masterpiece joins the party. We thought it a perfect time to look back on the period dramas that have aired on Masterpiece, season by season, one post at a time.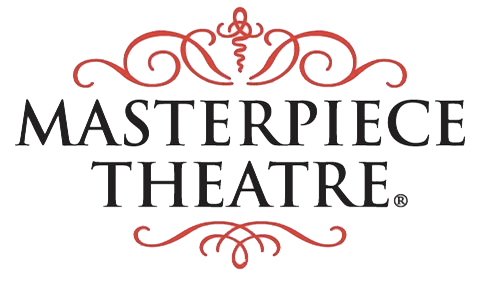 Masterpiece Theatre logo 1971 – 2007 TM and © PBS, Inc., all rights reserved
---
To help keep this site running: Willow and Thatch may receive a commission when you click on any of the links on our site and make a purchase after doing so. 
---
Below, we list the period drama line-up for the sixth season of Masterpiece Theatre, which aired in 1976 – 1977. 
Some of the earliest PBS Masterpiece programming is still available to stream or own, and in the following descriptions, we will let you know when it is (and we'll also link to the books that inspired the adaptations).
Let's take a stroll down memory lane, and see how the choice of British costume dramas and historical series on Masterpiece has evolved over the years. Titles are listed in order of their air date.
For some history of PBS Masterpiece, and the programming in other seasons, see this page.
---
---
Period Dramas on PBS Masterpiece Season 6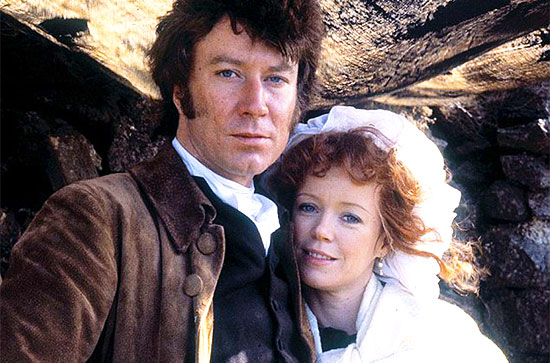 Madame Bovary (1975)
Emma Bovary is the dreamy, frustrated, unfaithful wife of a French country doctor in this National Emmy-nominated BBC adaptation of Gustave Flaubert's masterpiece.
Flaubert's story of the quest for fulfillment in love is an enduring classic. By marrying a local doctor, Emma Bovary feels that she will escape her provincial upbringing.
But it is not long before she feels constrained and frustrated by married life, ignoring her devoted husband and daughter and immersing herself in romantic thoughts which lead, inevitably, to affairs.
Episode 1 – Marriage: Emma Rouault, expelled from convent school, yearns to experience romance. When her widowed father breaks his leg, the handsome Dr Charles Bovary is called to attend. Emma's dreams come true and soon they marry. But the discovery that married life will not bring a continuing supply of new romantic stimulation comes hard to Emma. She cannot help herself as her affections begin to wander.
Episode 2 – First Love: Ill-health has prompted Emma and Charles to move to the village of Yonville. There she meets Leon Dupois and life blossoms again. Passion, willfulness and romantic ideals dominate Madame Bovary's stay in the country.
Episode 3 – Lost Love: Failed by her husband and deserted by lovers, Emma Bovary hides from reality in the dangerous spending of money until a chance reunion brings romance surging back into her life again.
Episode 4: Emma Bovary continues her downward spiral into desperation. Unknown to her husband, Charles, Emma has led the family into financial ruin. Emma sinks deeper into the spiral of deceit and, in order to finance presents and trysts in Rouen, deeper into debt with Lheureux. Emma Bovary's reality is relentless, as her hour of reckoning has arrived. Romance is the stuff of dreams.
Starring Francesca Annis, Denis Lill, Tom Conti, Gabrielle Lloyd, Brian Stirner, John Cater.
First aired on Masterpiece in 1976
---

How Green Was My Valley (1975)
The BBC drama series based on the best-selling novel written by Richard Llewellyn.
This poignant saga of a coal mining family in late 1800s Wales examines the grim, dangerous life in the mines and the labor dispute that divides a tight-knit family presided over by a loving but iron willed patriarch. The Morgans work their hardest to provide for their children, but these are the years before the unions, and times are very hard. However, the community in which the Morgans live is a close-knit one, and they are grateful for all the help they receive, especially from the Rev. Gruffydd.
Episode 1: Life is harsh but uncomplicated and happy for the Morgan family in their coal mining village in the Rhondda Valleys. But as the 20th century approaches, the younger generation is restless.
Episode 2: Huw can walk again. Ifor and Bronwen are married. Ianto devotes himself to union work, but can still watch with interest as Owen's affection for Marged Evans begins to fade.
Episode 3: Huw's first day at school has left him bruised but undefeated. The mine-owner's son, Lestyn, is openly pursuing Angharad – but he has earned a blow from Ianto for his efforts.
Episode 4: Saddened by Marged's death and the failure of the strike, Ianto and Owen leave for London. Their first letter home contains a cutting from The Times concerning Angharad and Lestyn.
Episode 5: Angharad has left the valley to marry Lestyn. Ceinwen has taken Huw for a moonlit stroll on the mountain side. Mr Lloyd, suspecting the worst, is looking for his daughter.
Episode 6: Angharad, Owen and Ianto have returned to the valley. The mine has closed. Unemployment is rife. Having found work with Ifor nearby, Huw has witnessed his brother's death.
Starring Rhys Powys, Stanley Baker, Siân Phillips, Nerys Hughes, Gareth Thomas, Dominic Guard.
First aired on Masterpiece in 1976
---

Five Red Herrings (1975)
Directed by Robert Tronson, and based on the book by Dorothy L. Sayers, the BBC period mystery follows aristocratic British amateur detective Lord Peter Wimsey.
Slick, sardonic, and skilled at untangling the most convoluted crimes, Lord Peter Wimsey and his man Bunter travel to the Galloway Hills artist colony in Scotland, planning a painting and fishing vacation. He is soon called on to catch more than fish when Campbell, an unpopular local artist, is found dead.
Campbell appears to have taken an accidental fall, but his hot-tempered behavior and ongoing feuds with several local men suggest murder. Wimsey feels certain of this when a key piece of evidence is missing from the seaside spot where Campbell was found.
With six possible suspects, Wimsey must use his skills to determine the five red herrings and expose the murderer. In the dramatic conclusion, Wimsey reenacts the crime, casting himself as the murderer and Bunter as the victim.
Episode 1: Habitual drunkard Campbell publicly quarrels with six of his neighbors and fellow artists in the episode; five of them are red herrings but one is apparently a murderer: his dead body is found at the foot of a seacoast cliff.
Episode 2: Wimsey concludes that the painting done by Campbell was done elsewhere by his murderer and one of the art community's artist is the killer.
Episode 3: Some of Wimsey's five red herrings who were formerly missing surface and a key witness comes forward. 
Episode 4: Farren resurfaces and is questioned by Wimsey, who re-enacts the elaborate circumstances of Campbell's murder accompanied by the local police and one of the suspects in hopes of discovering the identity of the murderer.
Starring Ian Carmichael, Glyn Houston, Ian Ireland, Roy Boutcher, David Rintoul, Michael Elder.
First aired on Masterpiece in 1976
---

Upstairs, Downstairs (1976) Season 5
This Emmy Award-winning British drama series tells the story of the wealthy, aristocratic Bellamys and their loyal and lively servants.
The fifth and final season opens Summer 1919. Upstairs, Lord and Lady Bellamy make plans to leave Eaton Place. Downstairs, the servants fear for their jobs. Fortunately, Virginia's young children save the day. As Britain tries to rebound from the war, James Bellamy runs for political office. Georgina and her cohort throw a bacchanal at Eaton Place, with tragic consequences. When James buys a small airplane, Virginia defies Richard and the three undergo quite an ordeal.
It's the new governess against the entire staff when young William and Alice get their wish — an adorable puppy. A lonely James has an affair with the very married Lady Newbury. When spring comes, Hudson's fancy wreaks havoc on the entire household. Later, two bachelors pitch the woo to two ladies in the Bellamy household, and the entire household comes together when a General Strike is called throughout Britain in May 1926.
On the eve of an important dinner party for a French diplomat, Hudson suffers a heart attack. Frederick considers his future when he feels his talents are largely wasted in the Bellamy household. Hudson is back in his element when the Bellamys travel to Scotland for their summer holiday. After an evening of dissipated behavior and a reckless drive into the countryside, Georgina must appear at a coroner's inquest, when one of the locals is killed.
Better the devil you know than the one you don't is the lesson Mrs. Bridges and Ruby learn after a terrible row. Upstairs, Lord Stockbridge proposes to Georgina, but there's a catch. Then, James returns to England, with new found vigor and untold wealth, on the eve of the October 1929 stock market crash.

After nearly 30 years, the Bellamy saga ends with the sale of 165 Eaton Place and a fresh beginning for every member of the household.
13 episodes
Starring David Langton, Gordon Jackson, Jean Marsh, Jacqueline Tong, Angela Baddeley, Meg Wynn Owen.
First aired on Masterpiece in 1977
---

Poldark (1975) Season 1
The original romantic period drama based on the books by Winston Graham, this classic BBC miniseries demonstrates the enduring appeal of a gripping storyline and unforgettable characters. Set in 18th century Cornwall, England the series follows the life of former British Army Officer, Captain Ross Poldark.
Hailed as a British "Gone with the Wind," the British TV series created a sensation on PBS's Masterpiece Theatre with its dashing, romantic hero and his infamous exploits. Returning to Cornwall after the American Revolution, Capt. Ross Poldark finds his life at home has fallen apart. His estate is in disarray. His former flame, Elizabeth, is engaged to his cousin. And his family's copper mines have become targets for the Poldarks' bitter rivals.
Duels, smuggling, and attempted murders unfold as Ross strives to resurrect his fortunes and find true love. This saga dramatizes the deep rifts in British society on the brink of industrialization, played out against the rocky, ruggedly beautiful Cornish coast.
16 episodes
Starring Robin Ellis, Jill Townsend, Angharad Rees, Clive Francis, Ralph Bates, Paul Curran, Mary Wimbush.
First aired on Masterpiece in 1977
---

If you enjoyed this post, wander over to The Period Films List. You'll also want to see The Ups and Downs of Upstairs, Downstairs and check out our list of Masterpiece Classics Streaming on Prime Video.