Last Updated on November 26, 2017
It's time for a period drama giveaway!
Willow and Thatch has added Best Period Dramas: Interwar Era to The Period Films List. To celebrate, one winner will receive fourteen period movies on DVD that take place between 1918 and 1939.
Included are classic period films and mysteries, as well some bigger name theatrical releases that are set between the First and Second World Wars.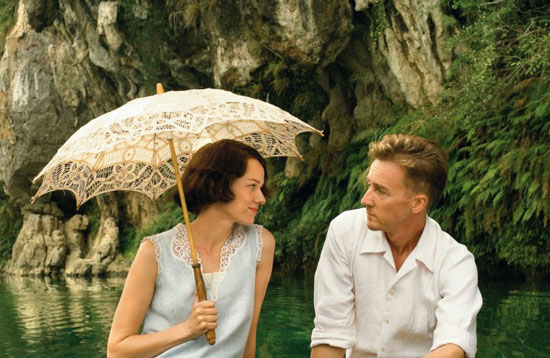 You'll get two chances to win when you share any post from the Willow and Thatch website on any of your social networks. Just leave a comment here saying which post you shared where, and why.
If you want just one chance to win, leave a comment below without sharing a post. (But why not share? Not only will you have another chance at winning these period dramas, but you will help spread the word about Willow and Thatch. Thank you <3)
The giveaway is now closed and Erika M is our winner! Thanks to all who entered, and please enter our future giveaways.
A couple of these DVDs are new-in-wrap, the others are from Willow and Thatch's library and have been gently watched.
The winner will be chosen randomly. Open to residents of the United States only, aged 18 and older. See the Official Rules. Contest closes May 31, 2017 11:59 EST and the winner will be announced here June 1st. Good luck!


Below are the historical, period and costume drama titles you could win. When you are done here, you'll want to wander over to the growing list of Interwar Era Period Dramas in The Period Films List.

Anastasia (1956): An expatriate White Russian general sets in motion a grand hoax after he meets a destitute woman on the banks of the Seine River in Paris. He is amazed at her resemblance to Anastasia, the youngest daughter of Czar Nicholas of Russia, rumored to have somehow survived the Bolsheviks' execution of the Romanoff family in 1918. He trains her to impersonate the missing princess but soon begins to feel she may be the real Anastasia.
Ultimately, the truth can only be decided by one person Anastasia's grandmother, the Dowager Empress.Anastasia is adapted from the popular stage play by Marcelle Maurette. The scene is Paris in the 1920s.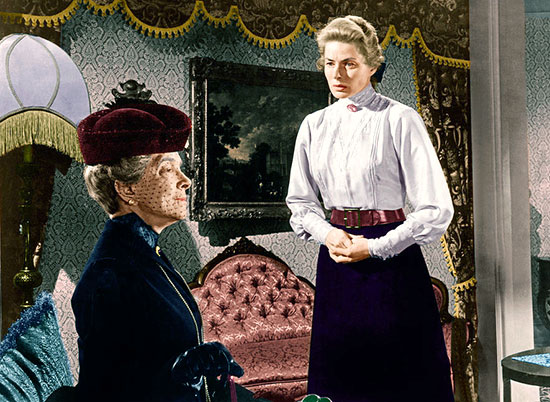 "Ingrid Bergman won a second Oscar for this Hollywood-style melodrama of mystery and romance, playing an amnesiac refugee who may or may not be the real survivor of the Russian royal clan." – Emmanuel Levy
Starring Ingrid Bergman, Yul Brynner, Helen Hayes, Akim Tamiroff, Martita Hunt.
Not rated.

Atonement (2007): Nominated for 7 Academy Awards, including Best Picture, this stunning epic love story stars Keira Knightley and James McAvoy and is hailed by critics as "a ravishing romance." This sweeping English drama, based on the book by Ian McEwan, follows the lives of young lovers Cecilia Tallis and Robbie Turner. When the couple are torn apart by a lie constructed by Cecilia's jealous younger sister, Briony (Saoirse Ronan), all three of them must deal with the consequences.


From the award-winning director of Pride and Prejudice comes a stunning, critically acclaimed epic story of love. When a young girl catches her sister in a passionate embrace with a childhood friend, her jealousy drives her to tell a lie that will irrevocably change the course of all their lives forever. The film critics hailed "the year's best picture" (Thelma Adams, US Weekly).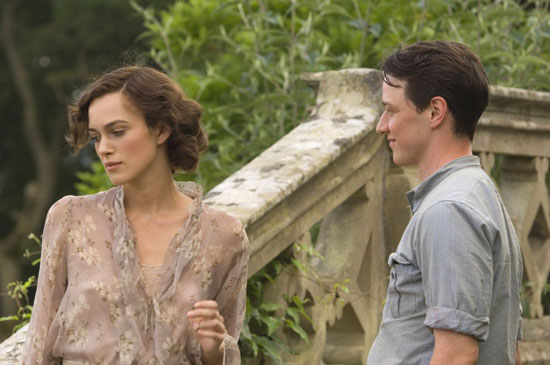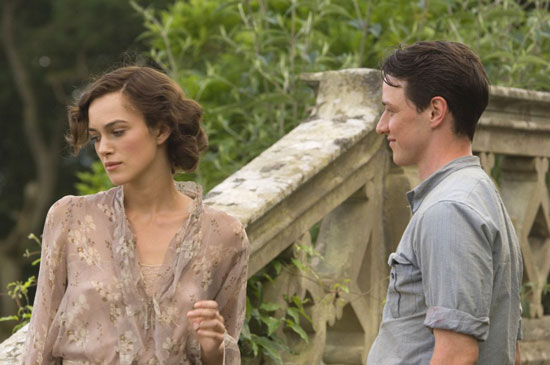 Set during the Interwar era and during the Second World War.
Starring James McAvoy, Keira Knightley, Romola Garai, Saoirse Ronan, Vanessa Redgrave.
Rated R

The Aviator (2004): Leonardo DiCaprio stars as Howard Hughes, the billionaire, the filmmaker, the recluse and The Aviator. After inheriting his father's machine tool company, the young Howard Hughes discovers he can combine his passions–flying, moviemaking and women–by coming to Hollywood.
In 1930, while building one of the world's largest aviation companies, Hughes produces Hell's Angels, a perfectionist's homage to World War I flyers. The man who eventually produces almost 30 films shocks society with The Outlaw, starring buxom Jane Russell, builds the world's largest airplane, sets the world speed record and invents the half-cup bra.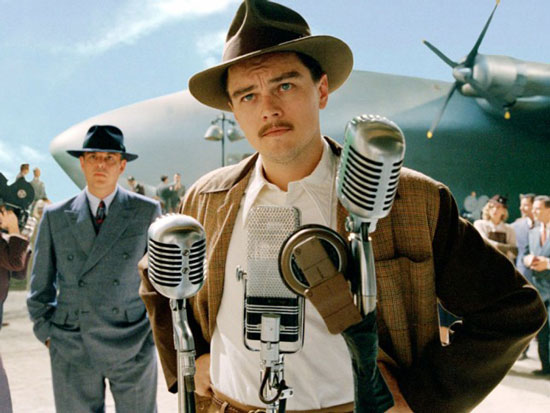 "From Hollywood's legendary Cocoanut Grove to the pioneering conquest of the wild blue yonder, Martin Scorsese's The Aviator celebrates old-school filmmaking at its finest. We say "old school" only because Scorsese's love of golden-age Hollywood is evident in his approach to his subject–Howard Hughes in his prime (played by Leonardo DiCaprio in his)–and especially in his technical mastery of the medium reflecting his love for classical filmmaking of the studio era. Even when he's using state-of-the-art digital trickery for the film's exciting flight scenes (including one of the most spectacular crashes ever filmed), Scorsese's meticulous attention to art direction and costume design suggests an impassioned pursuit of craftsmanship from a bygone era; every frame seems to glow with gilded detail.


And while DiCaprio bears little physical resemblance to Hughes during the film's 20-year span (late 1920s to late '40s), he efficiently captures the eccentric millionaire's golden-boy essence, and his tragic descent into obsessive-compulsive seclusion. Bolstered by Cate Blanchett's uncannily accurate portrayal of Katharine Hepburn as Hughes' most beloved lover, The Aviator is easily Scorsese's most accessible film, inviting mainstream popularity without compromising Scorsese's artistic reputation. As compelling crowd-pleasers go, it's a class act from start to finish." –Jeff Shannon
Starring Leonardo DiCaprio, Cate Blanchett, Kate Beckinsale, John C. Reilly, Alec Baldwin.
Rated PG-13

Changeling (2008):Clint Eastwood directs Oscar winner Angelina Jolie and Oscar nominee John Malkovich in a riveting and unforgettable true story. Los Angeles, 1928. When single mother Christine Collins (Jolie) leaves for work, her son vanishes without a trace. Five months later, the police reunite mother and son; but he isn't her boy. Driven by one woman's relentless quest for the truth, the case exposes a world of corruption, captivates the public and changes Los Angeles forever. This emotionally gripping story illustrates the profound power of a mother's love in "a mesmerizing film that burns in the memory" (Peter Travers, Rolling Stone).
Changeling is a powerful film, with a realistic period feel, a wonderfully muted vibe and color palette, and an understated score by Eastwood himself. –Sam Graham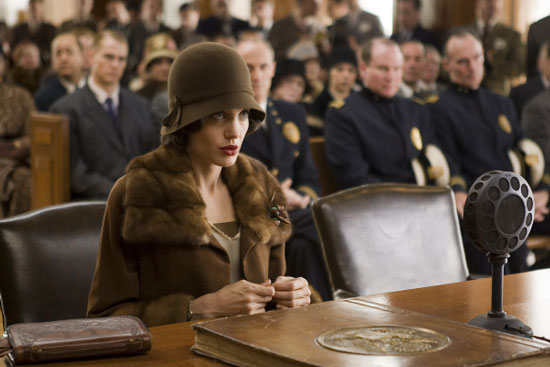 Rich in authentic-looking period detail and punctuated with powerful acting, Eastwood's tale holds you in its firm, grim grip. – America Profile
Starring Angelina Jolie, John Malkovich, Jeffrey Donovan, Michael Kelly, Colm Feore.
Rated R

De-Lovely: The Cole Porter Story (2004): Biography of the life of composer and songwriter Cole Porter, a kid from Indiana who became a household name. The focus is how Porter, a gay man, found his inspiration from the woman he married, socialite Linda Lee Porter.
Set beginning in 1919.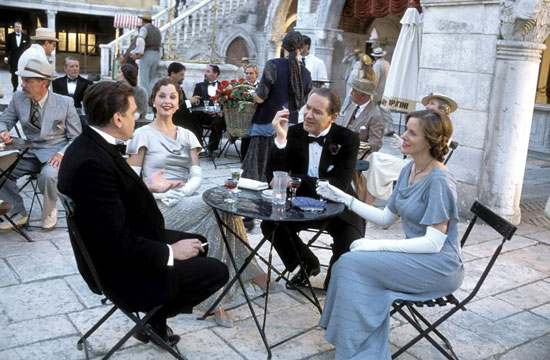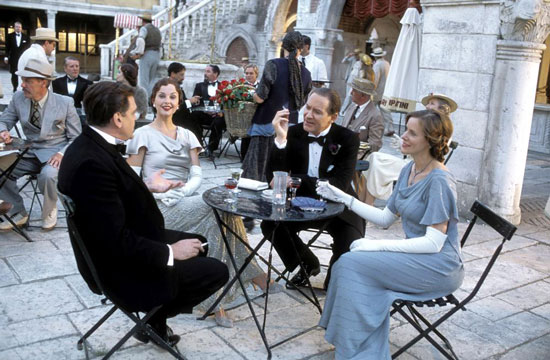 "In voice, manner, patrician charm and private torment, Kevin Kline is perfection as legendary composer Cole Porter." – Rolling Stone
Starring Kevin Kline, Ashley Judd, Jonathan Pryce, Kevin McNally, Alan Corduner, Sandra Nelson, Keith Allen, James Wilby, Kevin McKidd.
Rated PG-13

Giant (1956): In this sweeping drama, wealthy Texan marries a strong beautiful girl and their adjustments to life are interwoven with problems of Mexican workers and an ambitious ranch hand who becomes an oil tycoon.
"George Stevens' sprawling adaptation of Edna Ferber's best-selling novel successfully walks a fine line between potboiler and serious drama for its 210-minute running time, making it one of the few epics of its era that continues to hold up as engrossing entertainment across the decades. Giant opens circa 1922 in Maryland."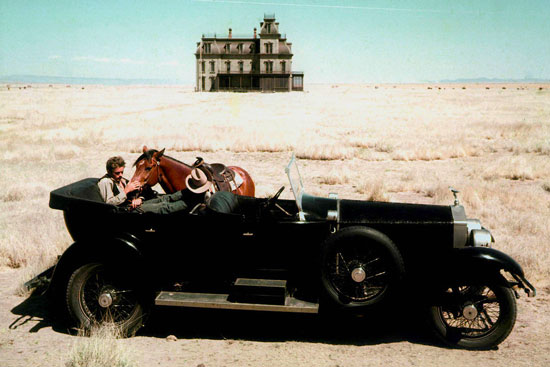 "An excellent film which registers strongly on all levels, whether it's in its breathtaking panoramic shots of the dusty Texas plains; the personal, dramatic impact of the story itself, or the resounding message it has to impart." – Variety
Starring Elizabeth Taylor, Rock Hudson, James Dean, Carroll Baker, Jane Withers, Chill Wills, Mercedes McCambridge, Dennis Hopper.
Rated G

The Natural (1984): Nothing was going to stop Roy Hobbs from fulfilling his boyhood dream of baseball super-stardom. Robert Redford stars in this inspiring fable that begins when 14-year-old Hobbs (Redford) fashions a powerful bat from a fallen oak tree. He soon impresses major league scouts with his ability, fixing his extraordinary talent in the mind of sportswriter Max Mercy (Robert Duvall), who eventually becomes instrumental in Hobb's career. But a meeting with a mysterious woman shatters his dream. Years pass and an older Hobbs reappears as a rookie from The New York Knights. Overcoming physical pain and defying those who have a stake in seeing the Knights lose, Hobbs, with his boyhood bat, has his chance to lead the Knights to the pennant and to finally fulfill his dream.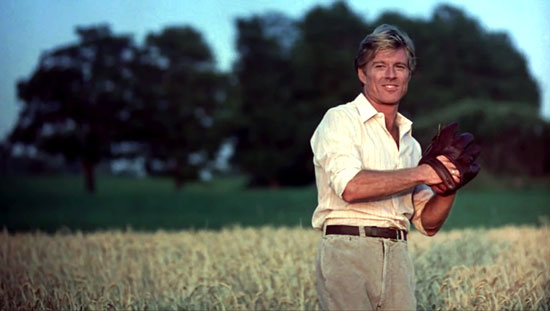 "If you can suspend disbelief and let yourself be drawn into the movie, you'll be rewarded with an emotional and heart-warming experience that will have you cheering." – Radio Times
Starring Robert Redford, Robert Duvall, Glenn Close, Kim Basinger, Wilford Brimley, Barbara Hershey, Robert Prosky, Richard Farnsworth, Joe Don Baker, John Finnegan.
Rated PG

The Painted Veil (2006): A love story set in the 1920s of a young English couple, Walter and Kitty (a doctor and a society girl), who get married for the wrong reasons and relocate to Shanghai, where she falls in love with someone else. The newlywed English couple have traveled to China to find purpose in their lives. Instead, they discover betrayal and estrangement. Given a chance at redemption, thecouple embark on a perilous journey of self discovery deep into the heart of the Middle Kingdom.
The production values are characteristically sumptuous, William Daniels' photography is lustrous, and Boleslawski directs with suitable flair. – Time Out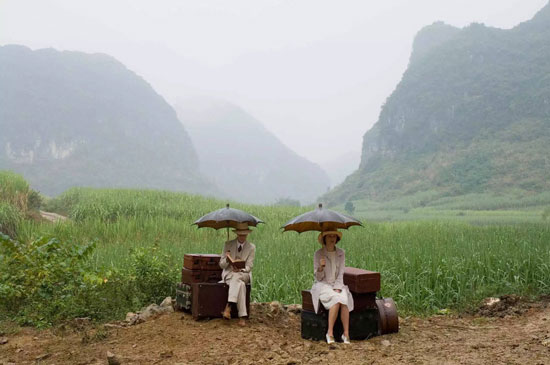 Wonderful scenery, great performances and a superb story. – Daily Mirror
John Curran controls the redemptive spirit of Somerset Maugham's book with merciful restraint, and gets excellent performances all round. – Independent
Starring Naomi Watts, Edward Norton, Liev Schreiber, Toby Jones, Diana Rigg.
Rated PG-13

Paper Moon (1973):Real-life father and daughter Ryan and Tatum O'Neal team up as slick con-artists Moses Pray and Addie Loggins in 1930s Kansas. When "Moze" is unexpectedly saddled with getting the 9-year-old Addie to relatives in Missouri after the death of her mother, his attempt to dupe her out of her money backfires, and he's forced to take her on as a partner. Swindling their way through farm country, the pair is nearly done in by a burlesque dancer (Madeline Kahn) and an angry bootlegger.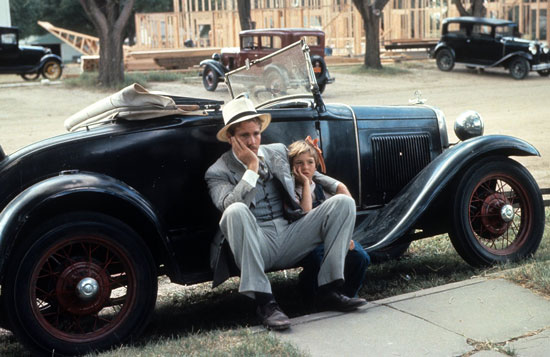 "… honest and affecting… a period piece that uses generic conventions only when they apply, so that we see the Depression through the eyes of characters who are allowed to be individuals. Whatever Addie and Moses do in this movie, we have the feeling it's because they want to (or have to) and not that the ghost of some 1930s screenwriter is prompting them." – Roger Ebert
Starring Ryan O'Neal, Tatum O'Neal, Madeline Kahn, John Hillerman, P.J. Johnson, Jessie Lee Fulton, James N. Harrell, Lila Waters, Noble Willingham, Bob Young.
Rated PG

Poirot Movie Collection: The incomparable Hercule Poirot cracks his most challenging cases in three movie-length episodes from the popular TV series. David Suchet portrays Agatha Christie's brilliant Belgian sleuth in this acclaimed British production, brimming with fascinating characters, elegant 1930s period detail and bone-dry wit. The period movies included are:
ONE, TWO, BUCKLE MY SHOE — A chivalrous gesture leads Poirot to the identity of a murderer.
MURDER ON THE LINKS — On a holiday in France, Poirot gets drawn into a case that he finds eerily familiar.
DEATH IN THE CLOUDS — Poirot is flying home to London when a fellow passenger dies mysteriously.
Not rated.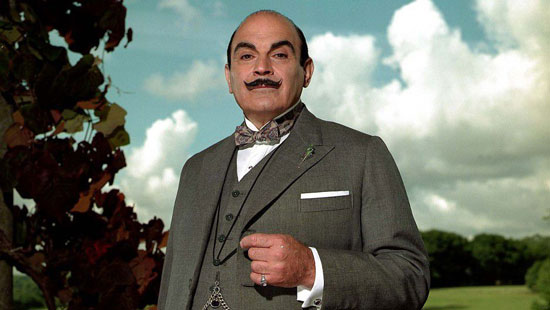 You also get the documentary Being Poirot: As twenty-five years of playing one of television's greatest icons come to an end David Suchet attempts to unravel the mysterious appeal of the great detective Hercule Poirot – and reveals what it has been like to play one of fiction's most enduring and enigmatic creations. In this entertaining and revealing documentary Suchet allows the camera crew to follow him as he prepares for the emotional final days' filming on set. Suchet returns to Agatha Christie's Summer home in Devon, where he first met the author's family after taking on the role a quarter of a century ago, and travels to Belgium as he attempts to find Poirot's roots and discover what the Belgians think of one of their most famous sons.

She Fell Among Thieves (1978) BBC: After the infamous criminal Vanity Fair (Eileen Atkins) sedates and kidnaps a beautiful girl and shuttles her off to a chateau in the south of France, it's up to dashing Brit Richard Chandos (Malcolm McDowell) to rescue the fair maiden. Set in gorgeous 1920s France and adapted from Dornford Yates's classic page-turner, this lively thriller was the first film ever shown on PBS's long-running "Mystery!" series.

"What a lovely, murderous romp." — San Francisco Chronicle
Starring Richard O'Callaghan, Frederick Treves, John Shrapnel, Joyce Redman, Bernard Hill.
Not rated.

The Whole Wide World (1996): In this fact-based film set in 1930s Texas, pulp fiction master Robert E. Howard (Vincent D'Onofrio) is introduced to Novalyne Price (Renee Zellweger), a teacher with aspirations of becoming an author herself, and they begin a unique relationship filled with conversation and imagination. The creator of Conan the Barbarian and Red Sonja, Howard was a small-town writer with an insatiable appetite for larger-than-life heroism and fantasy. Shunned by the prudish locals, he was befriended by a feisty young teacher who offered him an unforgettable chance at love.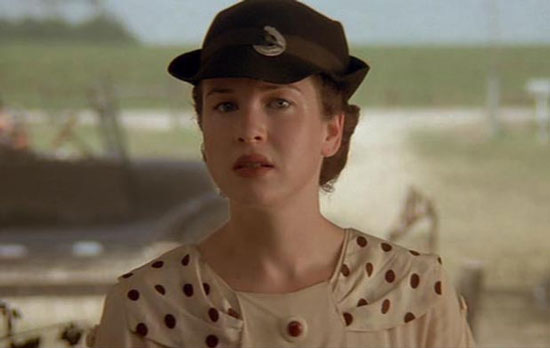 Starring Vincent D'Onofrio, Renee Zellweger, Benjamin Mouton, Ann Wedgeworth, Harve Presnell.
Rated PG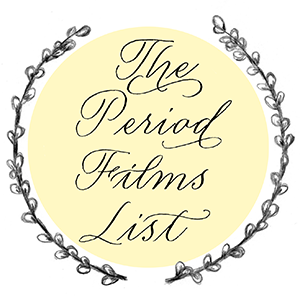 If you enjoyed this post, be sure to visit The Period Films List, after you enter the giveaway.