Last Updated on March 7, 2020
Season 4 is confirmed: James Norton is to make his final appearance as the crime-solving Vicar on the PBS Masterpiece Mystery period drama "Grantchester."
What's next for Norton? Another period drama – alongside a star from "The Crown."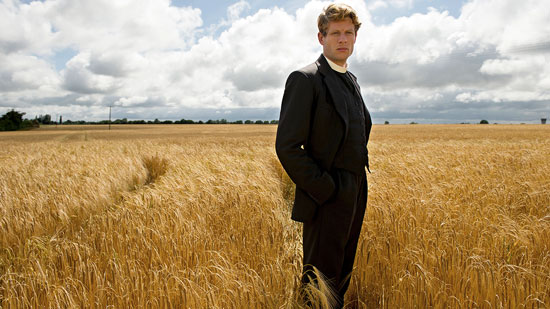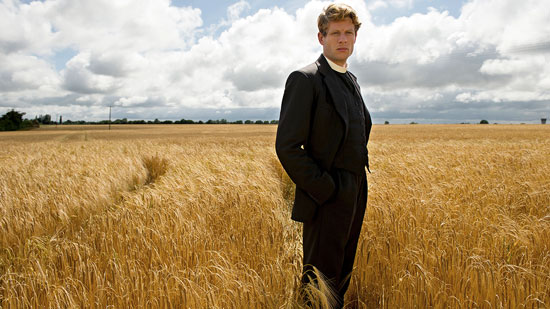 ---
To help keep this site running: Willow and Thatch may receive a commission when you click on any of the links on our site and make a purchase after doing so.
---
MASTERPIECE on PBS and ITV have announced a fourth season of the popular mystery series starring James Norton and Robson Green as the unlikely clergyman/cop duo fighting crime in the English hamlet of Grantchester in the 1950s.
These will be the final episodes for Norton's character Sidney Chambers, the charismatic, jazz-loving vicar who has captured the hearts of millions of viewers. Casting of a new vicar will be announced at a later date. In addition to Mr. Green, returning members of "Grantchester's" ensemble cast include Al Weaver, Tessa Peake-Jones and Kacey Ainsworth.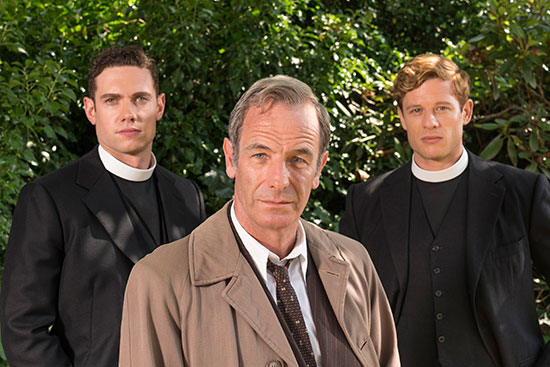 Tom Brittney (Outlander, Call the Midwife) will join the cast of "Grantchester" as Reverend Will Davenport, crime-solving partner to Robson Green's Geordie Keating.
A man of the people, confident, caring and self-assured, Grantchester's young, new parish priest Will Davenport channels his boundless energy into a quest for social justice. He is a man of God, but with the devil inside of him. As Geordie draws him into righting the wrongs of criminal Cambridge, Will's own troubled past is unearthed.
"Grantchester's" fourth season premieres on MASTERPIECE on PBS in 2019.
"It's a bittersweet time for Grantchester fans, who will be cheering the return of the series but crushed to say good-bye to James," says MASTERPIECE Executive Producer Rebecca Eaton at WGBH Boston.
But it's not all bad news for Norton fans. James Norton is currently filming another period drama, "Mr. Jones," which also stars "The Crown's" Vanessa Kirby, premiering April 3, 2020.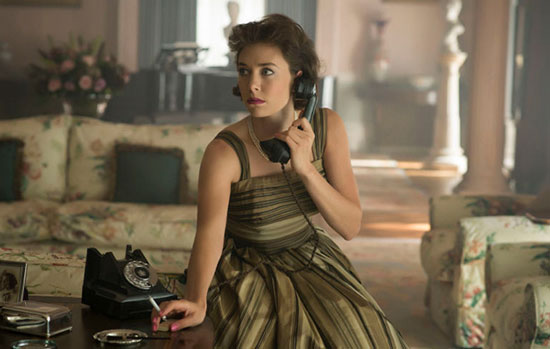 Now that Kirby has finished her run as Princess Margaret on Netflix's hit series, she's to star as New York Times reporter Ada Brooks in the upcoming historical thriller with Norton, filming in Poland, Ukraine and Britain. 
Set in 1930s Russia, "Mr. Jones" is based on the true story of the ambitious Welsh journalist who made Stalin's censorship and Soviet famine known to the Western world. Agnieszka Holland (Washington Square, The Secret Garden, Europa Europa, Angry Harvest), directs the new film. Her hope is that "Gareth's perspective, which is, in some ways a very naive perspective, will help wake up a feeling for the relevance of the story in our day and age."
James Norton plays a risk-taking Gareth Jones, who is committed to reporting the truth about the Stalin regime despite an international cover-up conspiracy. According to the film's synopsis, Jones "gained fame after writing about meeting Hitler, and is now looking for his next big story. The Soviet "utopia" is all over the news, and he can't help but wonder how Stalin is financing the rapid modernisation of the Soviet Union. He decides to travel to Moscow in an attempt to get an interview with Stalin himself."
In an interview with Variety, Holland praised the script by Andrea Serdaru-Barbul, saying it "joins, in a very artistic and original way, a few issues from the 20th century which seem particularly valid today… (it) reveals the mechanisms of totalitarian falsehood, and the terror that can be fought only by resistance to deception and violence."
It's Brooks (Vanessa Kirby) who tells Jones that the true story about the regime is being violently repressed. Hearing murmurs of government-induced famine, a secret carefully kept by the Soviet censors, Gareth manages to elude the authorities and travels clandestinely to Ukraine, where he witnesses the atrocities of man-made starvations – millions left to starve – as all grain is sold abroad to finance the industrializing Soviet empire.
Back in London, Gareth publishes an article revealing the horrors he witnessed: "I walked along through villages and twelve collective farms. Everywhere was the cry, 'There is no bread. We are dying'. This cry came from every part of Russia… I tramped through the black earth region because that was once the richest farmland in Russia and because the correspondents have been forbidden to go there to see for themselves what is happening."
But the starvations are quickly denied by Western journalists living in Moscow, all under pressure from the Kremlin. As death threats mount, Gareth has to fight for the truth. He meets a young author, a man by the name of George Orwell, who he shares his findings of the Holodomor, censorship, conspiracies and mass repressions with… influencing the great allegorical novel Animal Farm.
Gareth Jones' 1935 mysterious death is the subject of the BBC's 2012 documentary "Hitler, Stalin and Mr Jones." George Carey, who directed the program, said "Gareth Jones was almost an Icarus-type character, who knew how close to the sun he was flying, but couldn't seem to resist the temptation to expose tyrannical abuse of power."
James Norton is no stranger to playing strong and driven characters. In addition to his role as Sidney Chambers in "Grantchester," period drama fans will know Norton as Andrei Bolkonsky in "War and Peace," Henry Alveston in "Death Comes to Pemberley," and Oliver Ashford in "Belle." He was the Duke of Wellington in To Walk Invisible: The Bronte Sisters, and Sir Clifford Chatterley in "Lady Chatterley's Lover."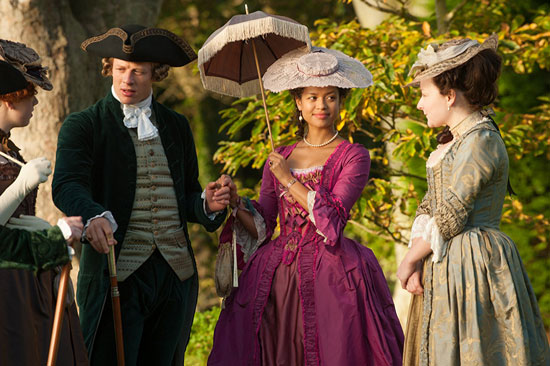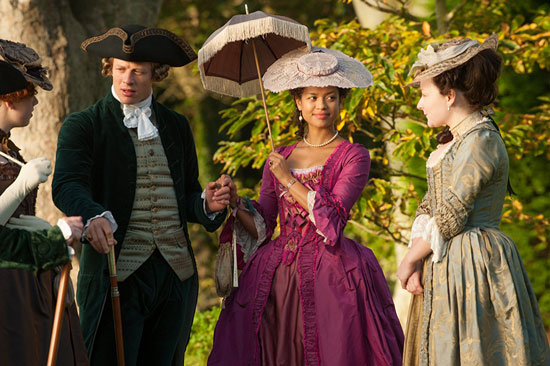 Norton also had roles in the costume drama "Cheerful Weather for the Wedding," the World War II era movie Restless, an episode of the period comedy "Blandings" and played the young Duncan Grant in the BBC series "Life in Squares," which tells the story of the revolutionary Bloomsbury group.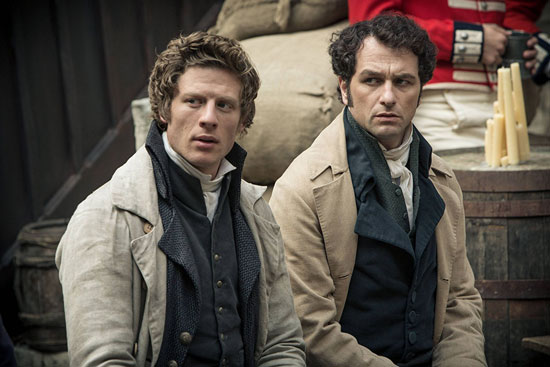 Prior to her role as Princess Margaret, Kirby played Zelda Fitzgerald in "Genius," and Lady Jemima Hervey in the television series "The Frankenstein Chronicles." You may also remember her from "Queen & Country," the period drama follow up to "Hope & Glory," from the Cold War-era espionage thriller The Hour, and as Estella in the 2011 BBC adaptation of "Great Expectations." Helena Bonham-Carter is stepping into the role of Princess Margaret on "The Crown" for Season 3.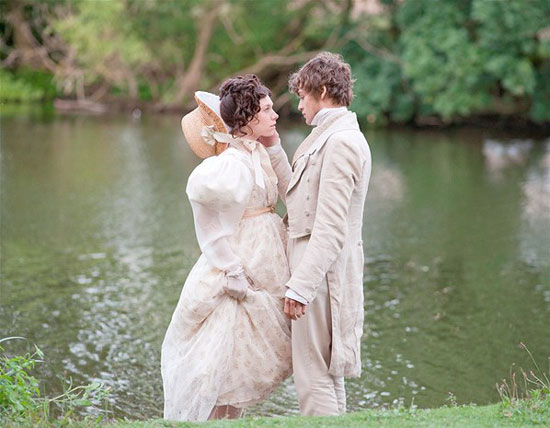 Kirby, Norton and Holland combine to create a tremendous amount talent with backgrounds in historical and costume dramas. Peter Sarsgaard (The Magnificent Seven, Jackie) is cast as Walter Duranty. 
With regard to "Grantchester," PBS Masterpiece Executive Producer Rebecca Eaton wants to assure fans that the series they love will continue "with brilliant new episodes and a captivating new vicar."
"I'm ecstatic that – with Masterpiece and ITV – we are returning to Grantchester with all our favourite characters," says Kudos Executive Producer Diederick Santer. "While I'm sad that these will be James Norton's final episodes, we will make sure he goes out with a bang. We've got exciting plans for where the show is heading and the vicarage won't be vacant for long."
Grantchester's third season found Sidney choosing between Amanda (Morven Christie) and the church; Detective Geordie Keating (Green) working to repair his tattered marriage; Mrs. Maguire (Peake-Jones) becoming Mrs. Chapman, and Leonard (Weaver) on the verge of finding love.
Director Tim Fywell is returning for the opening two episodes. Adapted from the Grantchester Mysteries novels by James Runcie, the series was developed for television by Daisy Coulam and written by Daisy Coulam and John Jackson.
Grantchester is available TO STREAM


If you enjoyed this post, you may also like the Period Films List – the best costume dramas, heritage films, documentaries, period dramas, romances, historical reality series and period inspired movies, sorted by era and theme.