Last Updated on March 9, 2019
If you enjoyed the Spanish television series Cable Girls, The Time in Between, Grand Hotel, or Velvet, now you have a new period drama to watch on Netflix: Morocco – Love in Times of War (Tiempos de guerra).
You'll be transported to the mountainous region of northern Morocco, and tossed into conflict between Spanish colonial forces and the Berber-Morrocan Rif peoples.
The arrival of inexperienced, young aristocratic Spanish nurses provides for a female-driven series filled with emotional drama and romance. The costumes by Helena Sanchis (Velvet, Cable Girls, Grand Hotel) are roughly period accurate, and there's a powerful score. The cast is strong, and somewhat familiar – Amaia Salamanca (Velvet, Velvet Collection, Grand Hotel) plays our lead nurse and Alicia Borrachero (The Promise, Isabel, Love in the Time of Cholera) plays the Duchess Carmen Angoloti.
If slightly soapy but well executed period dramas are to your liking, you'll want to hear about historical fiction author J'nell Ciesielski's experience watching the series. She's been immersed in the world of historical war romance and has just published a novel of about an adventure-seeking woman who signs up to drive ambulances on the WWI Front, and the handsome captain who might distract her from her mission.
Keep reading for her take on the good, the bad, and the wild in Morocco – Love in Times of War, and watch the trailer below.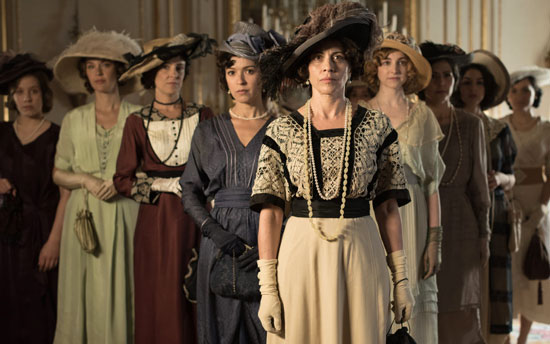 ---
To help keep this site running: Willow and Thatch may receive a commission when you click on any of the links on our site and make a purchase after doing so.
---
Morocco – Love in Times of War (2017): It's the start of the 1920s and the North African territory of Rif is resisting being ruled by Morocco, leading to the War of Rif. During the conflict, Queen Victoria Eugenia sends a group of nurse trainees from Madrid's upper class to open a hospital in the city of Melilla to help Spanish soldiers who have been injured in battle. Along the way, the women find friendship and romance while saving the lives of the soldiers on the front lines.
13 episodes, in Spanish with English subtitles.
Starring Amaia Salamanca, Álex García, Verónica Sánchez, Alicia Borrachero, Vicente Romero.
Rated TV-MA for scenes of war, language and some sexual content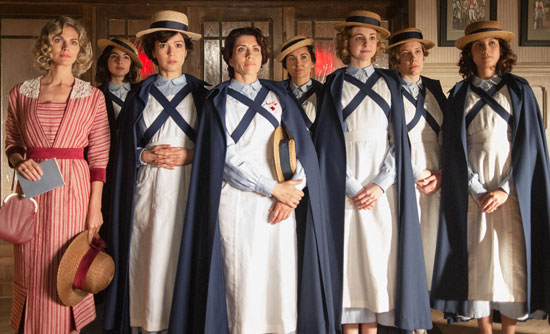 The Good, the Bad, and the Wild
Just about every movie or show has its high points and its low points. Its spectacular moments and its ho-hum moments. Recently, I sat down to watch the latest Spanish period drama about a group of nurses who sail to Morocco to open a Red Cross hospital during the Rif War of 1920. I knew nothing about this war so I eagerly tuned in for what I assumed would be a similar experience to The Crimson Field. Over the course of thirteen episodes, I was treated to the good, the bad, and the wild of Morocco – Love in Times of War.
The Good
This series does a wonderful job highlighting an event I had never heard of, the Rif War which took place between Spain and Morocco during the 1920s. Too often in war dramas it's "we're the good guys and they're the bad guys." There certainly are bad people who do atrocious things, but there are also good people who only want to find peace and happiness without the strife of war tearing their countries apart. This show does a wonderful job highlighting the issues between the classes and religions, prejudices from both sides, and the ties being forged between them.
The cinematography is a visual treat, from climbing desert blooms to the dazzling blue Mediterranean waters. One moment you're standing on a rocky cliff overlooking the crashing foam of ocean waves and the next you're being whisked away to a star-studded Bedouin night glowing with lantern light before settling into a secluded alcove of the hospital. Each landscape is filled with scrolling architecture, the drumming of war in the distance, and the pulse of the hospital as the nurses rush to and fro. It plunges the audience straight into the heart of the story.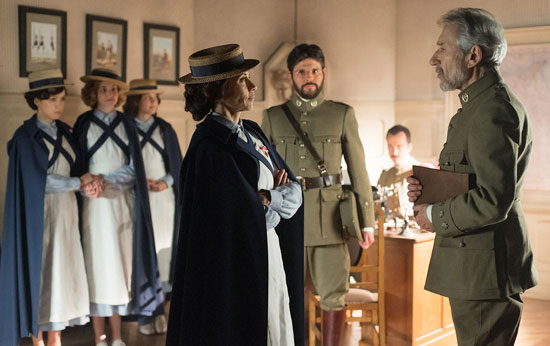 The beauty doesn't stop with the scenery. Elegant young women in their finest are transformed into ward angels of starched white with jaunty little caps balanced atop their perfectly curled hair. It's easy to see why the patients fall in love with the nurses who wear a dab of rouge here, and offer a gentle smile there.
Charms are doled out generously to the male staff as well as the leading men, who are tall, dark, and handsome with healing hands and a penchant for stealing kisses in the storage closet. So many attractive people within such close quarters creates the perfect catalyst for sizzling romances. Patients and nurses, nurses and doctors, rich and poor, new loves and old loves spark to life as they try to find happiness amidst the storm of war and duty. Their journeys aren't always easy, but then it wouldn't be such a riveting story without the many twists and obstacles that hold the audience spellbound.
The Bad
Those who cannot, or will not, read the English subtitles will be subjected to the perils of dubbing. As to be expected, the English dubbing is stilted and lacks emotion which makes the characters feel bland at times, and leads to a storyline that seems more soapy than dramatic. These issues melt away when watching in the original language with subtitles. Being able to listen to the actor's voice in the moment of their scene can make all the difference in helping an audience relate to them.
On a finer point, the series falls prey to telling instead of showing. The audience is repeatedly told what a fantastic nurse Julia (the main volunteer nurse played by Amaia Salamanca) is, but we hardly ever see her doing nurse things. For her to be believable as a medical angel, we need to see her in action, dashing to the patients' side and taking charge. Unfortunately, all we really see is her carrying bandages around and making a few supply lists which undercuts her character development from its full potential.
The Spectacularly Wild
Romance comes second to none in this show. Longing gazes collide like stars over seriously wounded patients with utterances of 'scalpel' and 'morphine' whispering across the operating table like 'strawberries and champagne'. Only the patient's gasp of pain startles them back to work.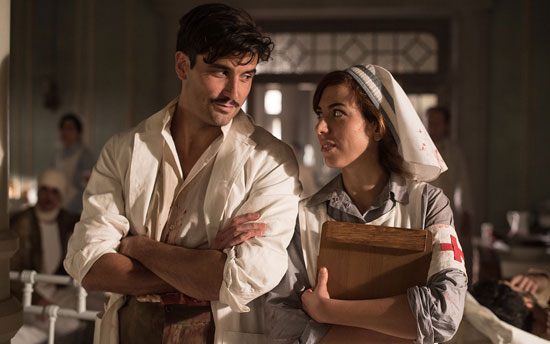 When nurse Julia isn't making eyes at the doctor, we often find her wandering the ward and battlefields in search of her brother after receiving yet another mysterious tip from a random sergeant brought in to the hospital—often ignoring the fact she's on duty and has no idea where said battlefield is located. Doesn't matter! The woman is on a mission, and by golly, she's going to see it done.
The Takeaway
With its roller coaster plot lines, Love in Times of War certainly leaves you breathless. From secret pregnancies and evil plotting siblings to fiancés in denial and hidden illnesses, this show keeps you guessing at every turn. In one single episode expect more plot twists and secret conniving than you usually experience in an entire series.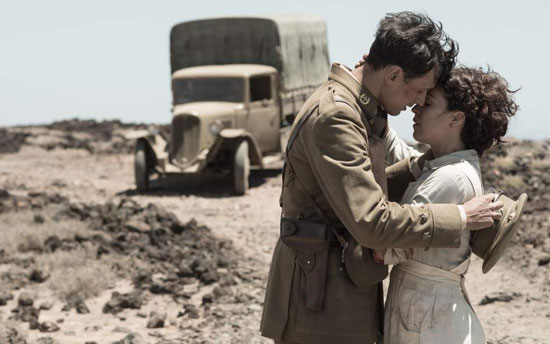 There has been no confirmation for a Season Two, but with the exciting cliffhanger and big names behind the show, hopefully we'll see the Red Cross back in action soon. With the Rif War unknown to much of the world, the series has set itself in the perfect position to delve deeper into unexplored history, more shots filled with stunning scenery, and a wide range of characters full of ambition and promise.
---
---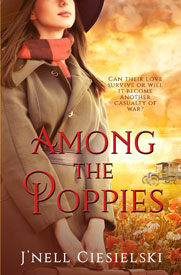 About the author: Believing she was born in the wrong era, J'nell Ciesielski spends her days writing heart-stopping heroes, brave heroines, and adventurous exploits in times gone by.
Winner of the Romance Through the Ages contest and Maggie Award, J'nell can often be found dreaming of a second home in Scotland, indulging in chocolate of any kind, or watching old black and white movies. Born a Florida girl, she now calls Virginia home, along with her very understanding husband, young daughter, and one lazy beagle.
Her first book, Among the Poppies, is available here. 
You can find J'nell Ciesielski at her website, on Facebook and on Twitter.
Willow and Thatch exists because of you: You can shop our Jane Austen Period Drama Adaptations merchandise, click on our links (like these that take you to Etsy and Amazon) and make purchases on those sites, and buy period-inspired products from the Lovely Things Shop. You can also continue to share our articles, or make a financial contribution here. All these things allow us to write feature articles, update The Period Films List, mail out our newsletter, maintain the website and much more. Thank you!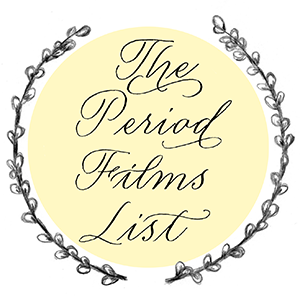 If you enjoyed this post, you may also like the Period Films List – the best costume dramas, heritage films, documentaries, period dramas, romances, historical reality series and period inspired movies, sorted by era and theme. You'll also like 5 Reasons to Watch The Crimson Field.