Last Updated on April 2, 2021
In Victorian England, the state of medicine was no laughing matter. But it is now, in the form of BBC's 1800s-set comedy series "Quacks."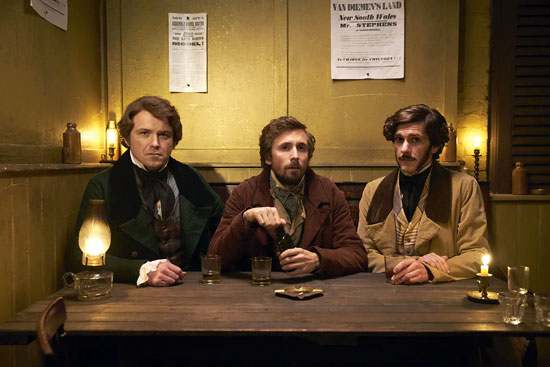 ---
To help keep this site running: Willow and Thatch may receive a commission when you click on any of the links on our site and make a purchase after doing so.
---
If you like the sound of a historically accurate satire fueled by mid-1800s belief systems, combined with medical drama, silliness, and occasional but copious amounts of fake blood, this one is for you. 
---
---
The outrageously unbridled age of Victorian medicine provides the setting for "Quacks," the BBC comedy series about a group of pioneering London doctors. Friends and rivals, they attempt to push the boundaries of the medical field, save lives, and make their mark on the world, one risky procedure at a time.
In the 1840s, the practice of medicine was far from an exact science. Doctors regularly experimented on themselves and their patients, and surgeons were like showmen, performing dangerous – and gruesome – operations in front of enraptured crowds eager to witness groundbreaking feats or fatal blunders.
In each of its six, 30 minute episodes, the period series incorporates many strange, true-to-life historical events. While following the daring doctors who use trial and error to cure their patients, "Quacks" is the perfect playground to play out the adage "Truth is stranger than fiction," but the personal lives of the characters make the series engrossing.
"Quacks," which drew comparisons to BBC's classic comedy period set Blackadder when it premiered in the UK in 2017, comes to us from Decline and Fall writer James Wood. In addition to relying on medical history, Wood leaned on a present-day surgeon, and a consultant anesthetist to make sure the medicine in "Quacks" was accurate. Real Victorian era surgeons provided a concrete background for his characters. Wood shared:
"The middle of the Victorian century, that great era of energy and innovation, was populated with a frankly lunatic bunch of pioneering doctors who were fighting to advance medicine in many areas for the benefit of all. They were often radical young men who pushed against the religious and medical establishments of the time, risking their lives and reputations in the process. These pioneering Victorian doctors have become the basis for my new BBC2 comedy Quacks."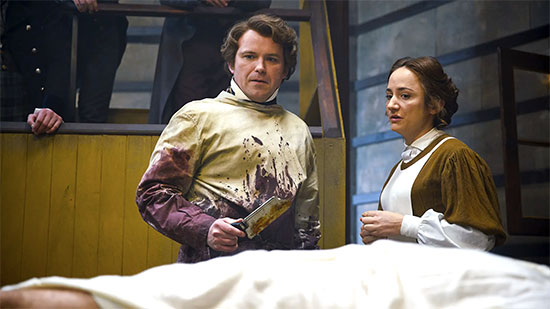 Rory Kinnear stars as Robert, a full-of-himself surgeon who has risen to celebrity status. He thrives on the awe of his wide-eyed, adoring (and paying) audiences in the "operating theatre." Robert winks at the ladies while he puts on his foul operating apron and says "Some say the more bloodier the coat, the greater the surgeon." He lights up a cigarette and begins the unanesthetized amputation. But over the course of the series, we see that his ego is masking his fragility. You'll recognize him from his roles as Minister Panin in the 2019 TV series Catherine the Great, and as John Clare / The Creature in Penny Dreadful.
Lydia Leonard is superb as forward thinking Caroline, Robert's sexually-charged, frustrated, patronized and neglected wife. Leonard is known for her roles in British costume dramas as Mariana Lawton in Gentleman Jack, young Virginia Woolf in Life in Squares and Laura Goodley in the Edwardian London hospital Casualty series.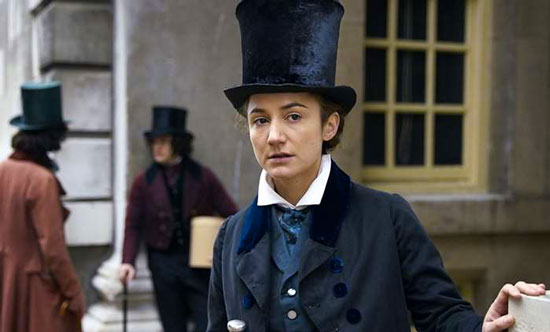 In "Quacks," Caroline is a central character who, despite what may have been seen as sexual "hysteria" at the time, is more rational than the doctors. Intellectual and culturally engaged, she dines with Charles Dickens (Andrew Scott, 1917), who isn't as she expected. She later disguises herself as a man to sneak into male-only lectures because more than anything, she wants to be a doctor. 
Also vying for her place in a man's world, is Florence Nightengale (Milly Thomas, The Crown), who has the audacity to suggest that surgeons should be sober, and that their instruments be clean. Fenella Woolgar (Sister Hilda in Call the Midwife, Alison Scotlock in Home Fires) is a must-see as Lady Campbell, the easily titillated benefactor of doctors.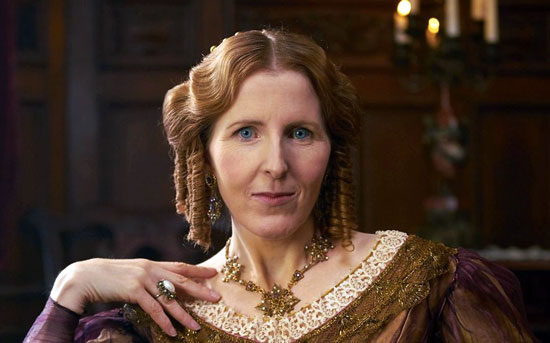 Mathew Baynton is William, the progressive psychologist, also known as an alienist, who believes in talking to patients instead of beating them. Though he is associate and friend to her husband, Caroline turns her attentions to William, who becomes increasingly unsettled by her affection. You may already chuckled at Baynton's comedic chops in Horrible Histories and Drunk History, but Baynton also starred as Bute Crawley in the 2018 TV mini-series Vanity Fair.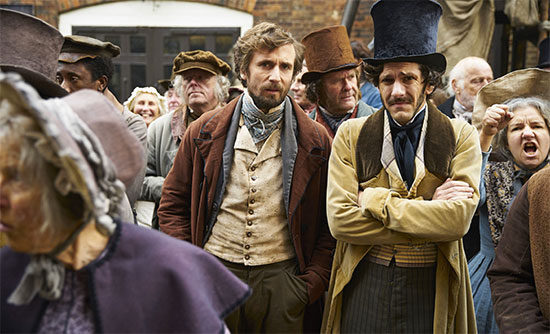 Tom Basden plays John, a laudanum addicted and cocaine wine loving dentist experimenting with anesthesia on himself. He's a kind man, carrying out his experiments in the name of medical advance and easing the distress of the ill. He's perpetually short on cash, which keeps him walking a tightrope with the debt collector. How you may know him: Basden also appeared as Jeremy Corbyn in "The Windsors," the comedic soap opera re-imagining the lives of the British Royal Family.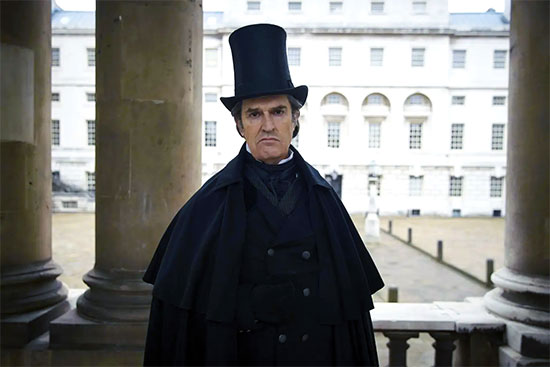 And though he deserves more screen time, Rupert Everett (Parade's End, An Ideal Husband) is still a stand out as the paranoid and anti-Semitic Dr Hendrick. He's head of the medical school, but never gives physical examinations of his patients because he thinks he can diagnose without them.
Even though "Quacks" is a comedy, the period detail was taken seriously. Production designer Lucy Spink relied on the alleyways and cobbled streets at the Historic Dockyard at Chatham to create authentic early Victorian street scenes, and medical illustrations to help set the stage of the operating theatre, to which she added the requisite dirt and knitted doilies. She said "The comedy comes from the characters. Their ridiculous behaviour within a serious and credible setting heightens the jeopardy."
---
---
Similarly, costume designer Richard Cooke (Harlots), looked to what "was happening in society, technology and the arts, as they all influenced what people wore" in the Victorian era. The clothing in the period drama is handsome: the team wanted the look of "Quacks" to be "real, vibrant and unique," and found inspiration in the collection at the V&A.  
Series writer Wood calls "Quacks" a "colourful, period medical comedy full of misbehaviour and pathos, great discoveries and lethal mistakes. But one that is also authentic to the times and faithful to the extraordinary people who changed medicine for ever."
Withstand a handful of playfully gross medical procedures – and the ads that come with free streaming – and you'll be rewarded with an entertaining and clever commentary on society's attitude toward medicine (and women, children, and the lower classes) in the Victorian era.
Rated TV-MA / TV-14 (varies by episode; ep. 5 contains nudity and sexual situations) 
---
If you enjoyed this post, be sure to see The Period Films List, with the best British, historical and costume dramas sorted by era. You'll also like the Best Period Dramas: Victorian Era list, and our interview with the Dead Still writer.