Last Updated on November 27, 2021
It is no small feat to translate the ineffable emotions of young love to the screen—much less the feelings evoked by Romantic poetry—but "Bright Star," written and directed by Jane Campion, manages to do both in a beautifully understated effort.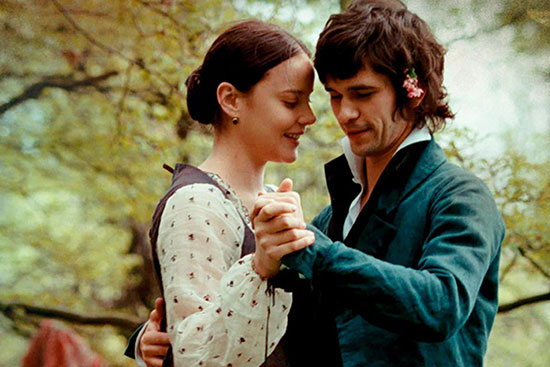 ---
To help keep this site running: Willow and Thatch may receive a commission when you click on any of the links on our site and make a purchase after doing so. 
---
Set in England during the Regency era, the 2009 film traces the passionate three-year relationship between Fanny Brawne and the Romantic poet John Keats (1795 – 1821). Brawne served as Keats' muse during his most creative period, but their courtship was cut tragically short when Keats died of tuberculosis at 25.
Campion focuses on the deeply-felt emotions behind their relationship and the poetry Keats wrote in response.
---
---
Fashionable Fanny Brawne (Abbie Cornish) first meets John Keats (Ben Whishaw) in 1818, when she visits family friends in Hampstead. The Dilkes share a two-family home with Keats and his poet friend Charles Brown (Paul Schneider), a boorish Scot who thrives on teasing Fanny for her pride in her "stitching." She sews all her own clothes, including some colorful "mushroom collars" that set her apart from her understated companions, and she's not ashamed of her talent.
Keats, by contrast, is much more reserved, and at first she doesn't know what to make of him; she sends her younger siblings (Edie Martin and Thomas Brodie-Sangster) to buy a copy of his poetry volume "Endymion" "to see if he's an idiot or not." Fanny isn't sure she understands the work, but she's intrigued enough to seek out poetry lessons with the standoffish Keats.
Gradually their friendship deepens into a romantic attachment, though Fanny is frustrated by Keats' stubborn refusal to court her openly. As her mother (Kerry Fox) reminds her, he has no income—in fact, by this point in his life Keats was already in debt to many of his friends—and therefore no means by which to support a wife and family. Yet the two young lovers can't stay away from each other, and Campion finds sensual beauty in their hands touching after a meal, in stolen kisses in the woods.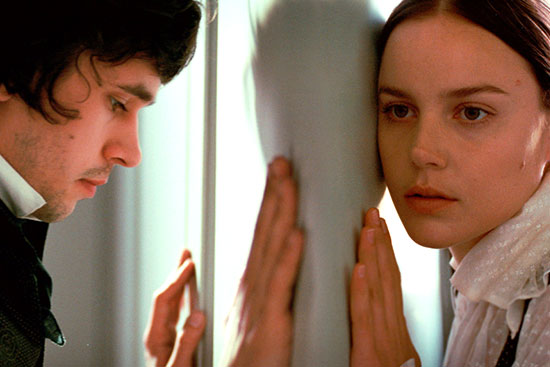 Their romance truly takes off once the Brawnes move into the home the Dilkes once occupied, and Fanny and Keats literally live next door to each other, their bedrooms divided by a single wall. Mrs. Brawne clucks over the gossip in town, but she allows their romance to continue, even as Keats contracts tuberculosis and their hopes of a happily-ever-after grow ever dimmer.
---
---
A different director might have embellished here, allowing the doomed lovers a passionate consummation or desperate farewells when Keats is finally forced to leave for the warmer Italian climate. But Campion keeps her characters stubbornly chaste (again, remaining true to life), instead choosing to emphasize the sensuality of Keats' poetry and the visual beauty of Hampstead. Whishaw and Cornish quote excerpts from Keats' most memorable poems both in voiceover and to each other, and their earnest, understated performances keep the focus on their relationship. Meanwhile, they wander through grassy meadows and pick bright wildflowers in what seems to be a never-ending spring.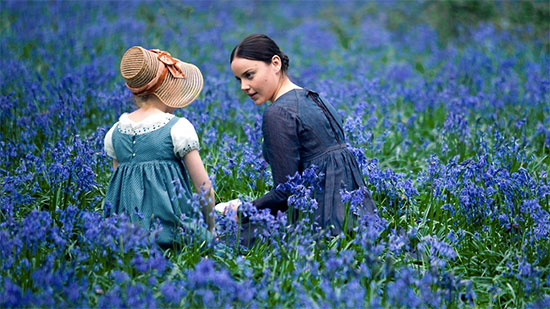 Abbie Cornish is a wonder here, full of fiery passion and forthright opinion as the impetuous Fanny. As she falls more deeply in love with Keats, the range of her emotions widens as well. There's a subtle humor in her histrionics when she realizes he hasn't written for weeks; desperately sad, she sends her younger sister down to the kitchen to fetch a knife so she can kill herself. Yet Cornish doesn't play up the comedy here, and her performance simply immerses the viewer more deeply in the throes of Fanny's relationship.
Similarly, Campion turns to lush visuals to echo the young lovers' attachment. In one stunning scene of the romantic British period drama, overcome by the words in Keats' latest letter, Fanny sinks to the ground in a bed of purple wildflowers. In another, she and her sister allow butterflies to flutter freely in their bedroom, and the camera lingers on the insects' vivid colors as they rest on furniture or alight on the girls' fingers.
In this dream-like atmosphere, we might question the reality of Fanny's experience. Indeed, "[d]o I wake or sleep?" Keats asked in his "Ode to a Nightingale," quoted here over the end credits. Both, it seems, in Campion's eyes. Her deft direction evokes the otherworldliness of young love and of Romantic poetry, while never shying away from the pains of separation and loss.
Bright Star (2009) is AVAILABLE to STREAM
Rated PG
Watch the TRAILER
---
Abby Murphy writes young adult books about girls discovering their strengths. A member of SCBWI and The Historical Novel Society, she is represented by Laura Crockett of Triada US Literary Agency. You can visit her blog here, where she writes about reading, writing, history, and her incurable Anglophilia.
If you enjoyed this post, wander over to The Period Films List. You'll also like 5 Reasons to Watch Desperate Romantics.